Psychotherapy EHR Software
An EHR for Therapists and Other
Mental Health Professionals
ICANotes features many practice management software tools for behavioral health practice management. We designed these EHR software aspects and more for therapists to meet their practice needs:
Therapy Notes
75+ Assessment Templates
Practice Management
Create a Psychotherapy Note in 3 Minutes
Psychotherapy Note Templates
ICANotes is well-liked by therapists and clinicians as it improves efficiency without compromising quality. Our menu-driven mental health progress note templates allow you to quickly create a personalized narrative therapy note without typing.
Clinical content templates cover: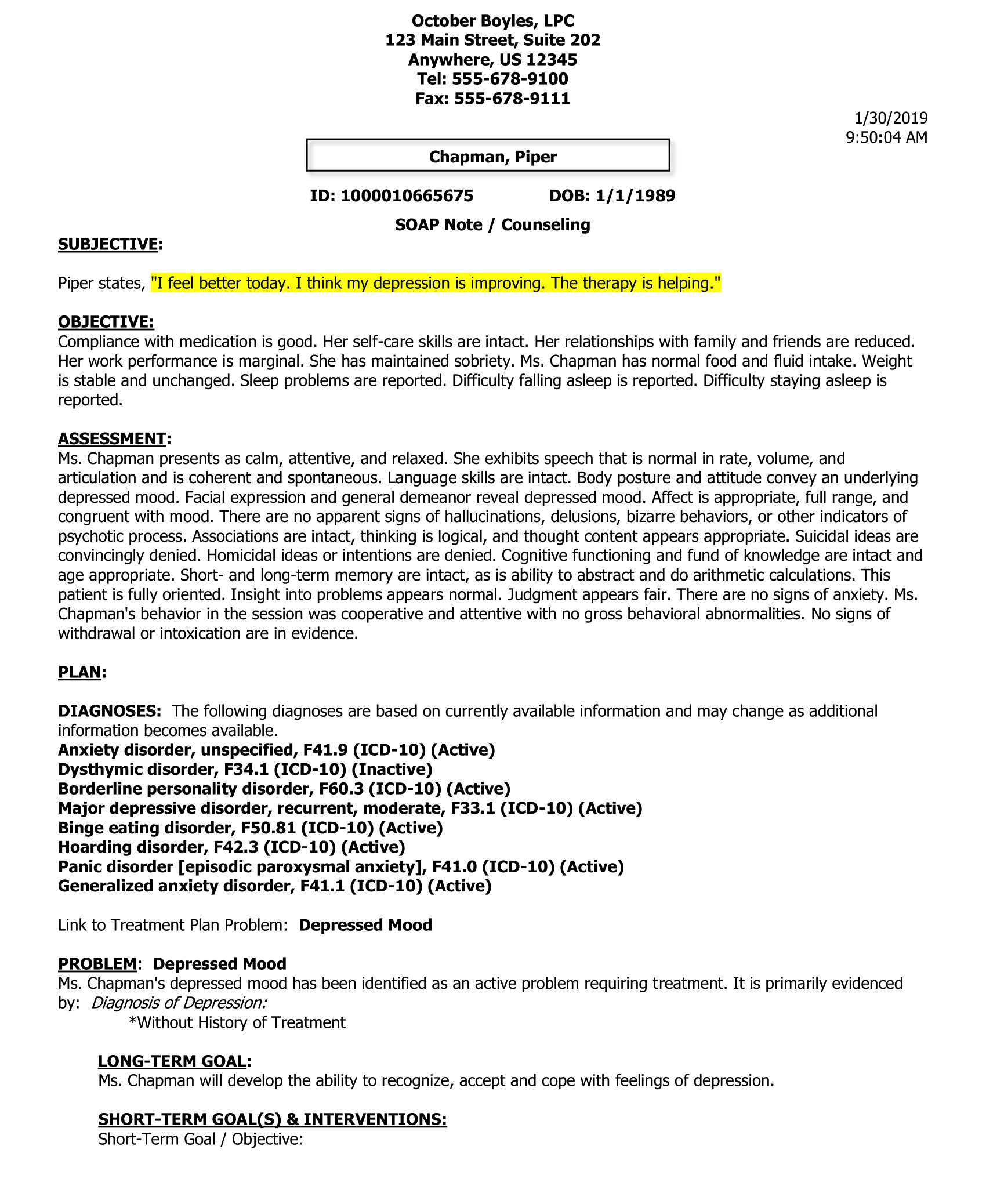 History of present illness
Clinical status
Symptoms
Behavior
Verbal content
Therapeutic focus and interventions
Private notes
Rating scale scores
Mental status exam
Level of care justification
Link to treatment plan
Suicide/violence risk assessment
Diagnosis
Notes and risk factors
Medical history
Instructions and recommendations
Complete Psychotherapy Notes in 3 Minutes
Key information is automatically pulled forward to the next note.
ICANotes is ready out of the box to make your behavioral health documentation quick, comprehensive, and sophisticated enough to meet the most stringent of standards.
ICANotes requires very little training because it is highly intuitive and has a clinically logical chart-centric workflow. It was developed by clinicians with a deep understanding of behavioral health and mental health practice needs.
ICANotes improves practice efficiency by creating narrative notes that are personalized for the patient without time-consuming typing.
ICANotes maintains compliance with MACRA, MIPS, and clinical quality measures reporting requirements.
How ICANotes Can Help Your Therapy Practice
These benefits from ICANotes assist you in improving your quality of care and revenue:
Team Communication
Depending on the plan you choose, you can have multiple team members use ICANotes. Stay coordinated with intra-office messaging and maintain a consistent data record.
Seamless Workflow
The features in ICANotes work together to streamline your therapy practice workflow from start to finish.
Increase revenue and quality of care through these advantages of ICANotes:
Comprehensive solutions: ICANotes comes with connected practice management features that streamline your administrative tasks. The charting and practice management features work together seamlessly for better organization. As a result, you get an all-in-one therapy practice management software tool that makes your practice more efficient.
Accessible from any secure device: As a web-based EHR software, ICANotes gives you access to your data from an Internet browser. Manage your care from anywhere with a secure connection. ICANotes' cloud platform also allows us to make software updates and changes for you.
Simplified practice management: ICANotes EHR software automates many aspects of practice management while providing robust customization tools. Personalize your automated features, then let ICANotes handle the rest of the work. These features give you more time to focus on your practice needs.
Our all-in-one therapy EHR software gives you more opportunities to provide care by saving you time and effort.
Why Do Therapists Prefer ICANotes?
We developed ICANotes with behavioral health professionals in mind. Our ONC-certified mental health software includes the forms and security measures you need to comply with industry regulations.
We developed ICANotes with behavioral health professionals in mind. Our ONC-certified mental health software includes the forms and security measures you need to comply with industry regulations.
Ask us how we can connect ICANotes with trusted services for electronic faxing, clinical document exchange, and HIE. We also offer optional features such as appointment reminders for an added fee.
We make ICANotes available to behavioral health and mental health practices of all kinds through scalable pricing and intuitive technology. Change the way you provide services as a healthcare provider through capabilities designed for mental health professionals. Discover ICANotes capabilities for yourself by scheduling a live demo or requesting a free trial. You may also ask us questions about our software by contacting our team online.
"I used to spend two or more hours per day on clinical documentation. Since switching to ICANotes, I typically spend less than 30 minutes per day on documentation, which frees me to generate at least two additional billable sessions per day."
~ Carl L. Stephens, LCPC
Myersville, MD
More Resources for Behavioral Health Clinicians
Intuitive, Accessible, Time-Saving
ICANotes - the only EHR software that actually thinks like a clinician.