ONC-Certified Behavioral Health EHR Software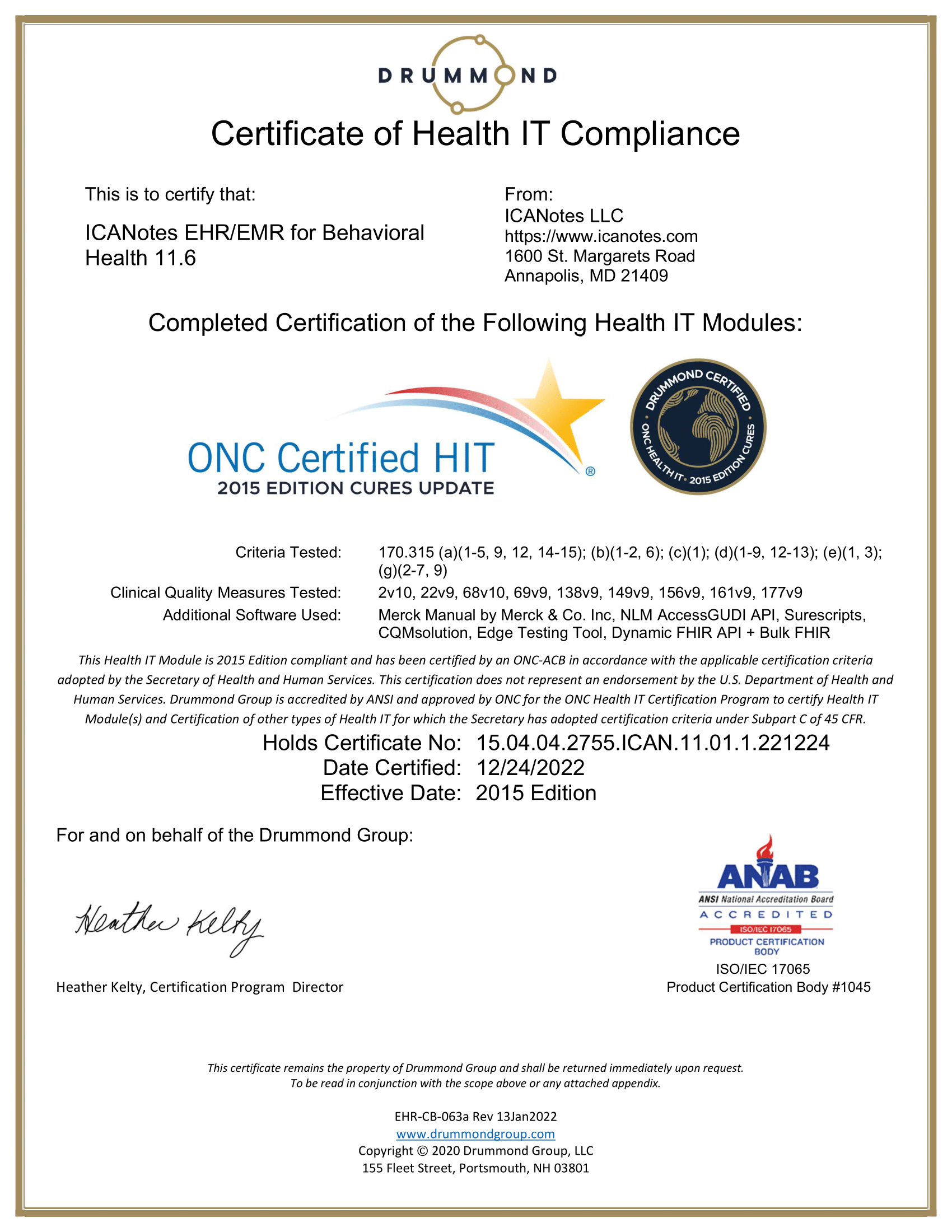 Meeting All
Service Standards
The Office of the National Coordinator for Health Information Technology works with four organizations designated as Accredited Certification Bodies as of February 2017. Also known as ONC-ACBs, these organizations test and certify electronic health record (EHR) systems.
ONC (Office of National Coordinator) Health IT Certification Program is a voluntary program established by ONC to provide for the certification of health IT. ONC establishes the Health IT certification program requirements as well as outcome-focused requirements known as "certification criteria" for health IT developers and health IT modules. ONC has established the 2015 Cures Updated Edition Health Information Technology (Health IT) Certification Criteria, 2015 Edition Base Electronic Health Record (EHR) Definition, and ONC Health IT Certification Program Modifications Final Rule.
ICANotes meets the standards for the 2015 Cures Update Edition Health Information Technology (Health IT) Certification Criteria, 2015 Edition Base Electronic Health Record (EHR) Definition, and was certified by one of the ONC-ACBs, The Drummond Group, on December 24, 2022. Customer support related to MIPS programs which require the 2015 Edition Health Information Technology, is limited to documentation and webinars. There are additional fees associated with individual customer training. A specific provider workflow is required and included in the documentation to ensure that MIPS reporting is accurate.
Meaningful Use in Behavioral Health
The Health Information Technology for Economic and Clinical Health (HITECH) Act requires healthcare professionals to demonstrate meaningful use of EHRs. According to this program, a professional implements meaningful use over three stages:
Stage 1: Data gathering and fundamental EHR adoption
Stage 2: Establishing health information exchange and care coordination
Stage 3: Improving healthcare outcomes through technology
As the healthcare industry changes, so will these stages and requirements. We plan to adapt ICANotes to any future developments to ensure that your practice still qualifies.
How Does ICANotes ONC-Certified Software Qualify?
ICANotes can help you reach Stage 3 of meaningful use implementation as a Stage 3-Certified EHR.
ICANotes qualifies for this program stage through:
Technological Features
Functionality
Security Features
In short, ICANotes qualifies for Stage 3 certification through secure and reliable technology.
The Benefits of Choosing a Stage 3 and ONC-Certified EHR
An EHR software with Stage 3 and ONC-ATCB certification such as ICANotes can provide the following advantages for your practice:
The most advanced qualifications possible: To meet Stage 3 requirements, your technology must meet 2015 Edition certifications. ICANotes meets 2015 Edition criteria and can help you reach Stage 3 of qualifications.
Demonstrated to have the potential to improve care outcomes: Since Stage 3 focuses on improving care for your patients, a Stage-3-certified EHR can help you meet this goal. We designed ICANotes to improve your practice's operations and efficiency.
Medicare EHR requirements: Under Medicare regulations, EHRs must meet meaningful use standards. ICANotes' design and features will keep your records compliant for more successful audit outcomes.
Our ONC certification will allow us to help you provide a higher quality of care for your patients and comply with state HIE mandates for interoperability.
Why Choose ICANotes for Your Electronic Health Records?
We provide an "out of the box" solution that makes documentation fast and sophisticated enough to meet industry standards.
The advantages of choosing ICANotes include:
Designed specifically for mental health: ICANotes features are tailored to the behavioral healthcare specialty. Our team includes clinical professionals who understand behavioral health.
Comprehensive features: As a complete EHR solution, ICANotes has multiple features for integrated practice management including billing software, patient scheduling, clinical notes and chart management.
Increased patient engagement: Some of ICANotes' optional features will help you encourage patient engagement. Text reminders for appointments and a patient portal will help patients manage their care.
Support from behavioral health software experts: Our support team works with mental healthcare professionals in a variety of disciplines. The ICANotes training team includes registered nurses and health IT professionals.
Behavioral health professionals use ICANotes for primary care, therapy, substance abuse treatment, and other clinical settings. Since we designed every part of ICANotes with compliance in mind, all pricing packages come with ONC-certified features. You will receive a Stage 3-certified EHR at no extra cost. Experience ICANotes by requesting a free trial or attending a live demo. If you have any questions, we welcome you to contact us online today.
Intuitive, Accessible, Time-Saving
ICANotes - the only EHR software that actually thinks like a clinician.