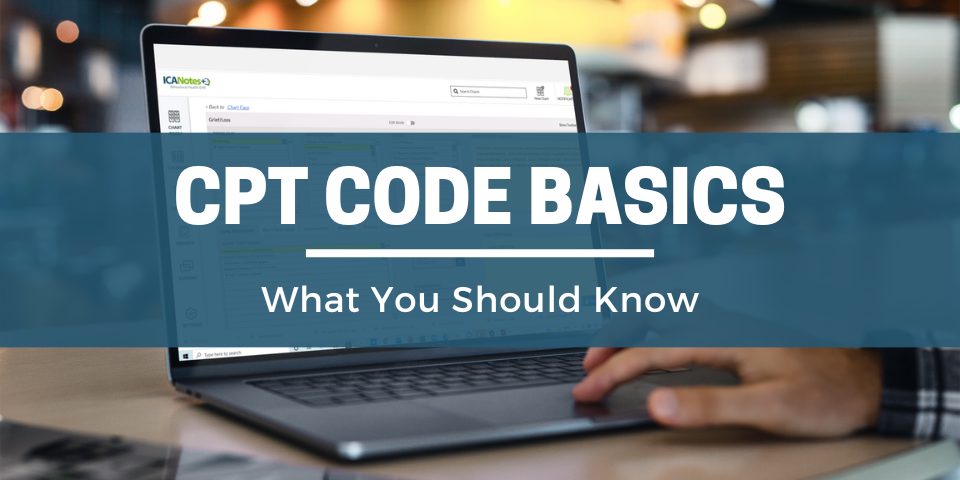 CPT Code Basics — What You Should Know
Current procedural terminology, or CPT, codes are essential to the health insurance billing process. Using the correct CPT codes for medical billing is critical to receive reimbursement for your services and avoid an audit. However, doing so involves understanding a complex system.
There are thousands of codes to choose from and many different guidelines to follow. Nevertheless, using medical codes properly and receiving maximum reimbursement rates for your services is possible.
This post will cover some basics of CPT codes for mental health and provide tips for avoiding claim denials. The better you understand current procedural terminology, the more time you'll have to care for patients, and the easier it will be to get paid.
CPT is a uniform coding system developed by the American Medical Association in 1966 to standardize terminology and simplify record-keeping for physicians and staff. Since its introduction, CPT has undergone several changes. The most recent edition focuses on using CPT codes to report physician services.
CPT codes describe medical procedures a physician performs on a patient, including tests, evaluations, surgeries and other practices. For example, behavioral health CPT codes describe the length of a psychotherapy session with a client or a diagnostic interview. CPT codes are necessary to receive reimbursement from health insurance companies.
Why CPT Codes Are Essential for Clinicians
CPT codes are essential parts of practice management for clinicians and health care staff because they determine compensation and the practice's overall success. To receive the correct reimbursement rates, clinicians must ensure the codes on insurance claim forms accurately reflect the services they provided before submitting the claims to insurance companies.
CPT coding tells insurance payers what you would like to get paid for. Along with the International Classification of Diseases codes, CPT codes paint a complete picture for health insurance companies, and you need both types for reimbursement.
The ICD code set describes the diagnosis and why the treatment was necessary, and the CPT code explains the services provided. Examples of mental health ICD codes include the following.
F41.9: Anxiety disorder
F31.31: Bipolar disorder, mild
F33: Major depressive disorder, recurrent
F42: Obsessive-compulsive disorder
F43.11: Post-traumatic stress disorder, acute
For example, a social worker might use F41.9 with CPT code 90832, which is the code for individual psychotherapy for 30 minutes, to bill for a session with a client experiencing anxiety. You would include both codes on a health insurance claims form.
There are three distinct categories of CPT codes, which we will look at next.
What Are the Three Categories of CPT Codes?
The three categories of CPT codes are as follows.
Category I: Most coders spend the majority of their time working with Category I codes. These codes have different sections based on various health care fields. The six sections of the CPT codebook are Evaluation and Management, Medicine, Surgery, Radiology, Anesthesiology and Pathology and Laboratory. Each has a unique set of guidelines. The CPT codes under Category I are five digits long.
Category II: Category II codes contain four digits, followed by the letter F. Category II codes are optional. They provide additional information and are not a replacement for Category I or Category III codes.
Category III: Category III codes are temporary and represent new or experimental procedures or technology. For example, if you can't find a new practice in Category I, you might use a Category III code. Category III codes are four digits long and end in the letter T.
Since Category I is the most frequently used, here's a look at the numerical range of codes within it.
Evaluation and Management: 99202 to 99499
Anesthesia: 00100 to 01999 and 99100 to 99150
Surgery: 10021 to 69990
Radiology: 70010 to 79999
Pathology and Laboratory: 80047 to 89398
Medicine: 90281 to 99199 and 99500 to 99607
Each section contains subfields to correspond to a particular field and includes guidelines to follow. For example, therapists commonly use psychotherapy CPT codes between 90832 and 90853, under Medicine's psychiatry section. Psychiatrists, primary care physicians and other authorized prescribers might use Evaluation and Management codes for providing general medical services.
CPT codes also have various modifiers. Modifiers have two numbers or letters, and you can add them to a CPT code. They describe specific critical parts of a procedure.
Some codes have instructions below them in parentheses to tell the coder there may be a better code to use. Codes must be as specific as possible for a mental health billing claim to get accepted.
How to Use the Correct CPT Code in Psychiatry
The CPT code set is a complex system. It is not always easy to determine if you've met the required elements to code appropriately for the maximum reimbursement amount. It may help to break the process down into steps for new and established patients.
First, you might bill two types of psychiatric service or procedure CPT codes for new patient office visits. These are:
E/M codes
Psychiatric diagnostic evaluation codes
Depending on the situation and time involved, it may be appropriate to bill for both codes. Here are a few guidelines to follow.
E/M: Use E/M codes when evaluating a new medical issue. With the AMA's 2023 coding changes, you can select an E/M code based on the complexity of medical decision-making or the total time you spent on the patient's care on the day of the encounter. If you provide E/M services with a psychotherapy add-on code, you must choose a code based on medical decision-making, not total time.
Psychiatric diagnostic evaluation: Use psychiatric diagnostic evaluation codes for a diagnostic assessment. You may need to use these codes more than once if it takes more time to complete the initial evaluation.
Regarding established patients, the rules allow you to bill an E/M service with every psychotherapy visit, but they don't require you to do so with every encounter. Only bill E/M services if you addressed and documented a separate medical issue during the visit.
For example, if you address medication's side effects during an encounter, you might bill for an E/M visit in addition to a psychotherapy session.
However, if a patient has been stable and on the same medication for years and attends a psychotherapy visit, you can only bill for the psychotherapy session. You cannot bill for E/M because there are no medical or medication concerns expressed during the visit.
Also, to bill for E/M, your documentation must prove your active management or discussion of a medical or medication problem distinct from the psychotherapy service.
The 3 Major Components of E/M Documentation


According to the Centers for Medicare and Medicaid Services, insurance companies might want to see documentation to ensure the client's policy covers necessary services and confirm the following pieces of information:
The service site
The medical necessity of the services provided
The accuracy of the services reported
Your client's medical records must include the following three components to support the E/M codes you choose.
History: The history section must include the history of present illness, a review of body systems and the family and social history.
Examination: The examination section includes the type of examination performed based on your judgment and the nature of the problem. According to the CMS, the levels of E/M services derive from problem-focused, expanded problem-focused, detailed, or comprehensive exams.
Medical decision-making: The medical decision-making section includes the number and complexity of problems addressed during the specific encounter, the complexity of the data reviewed and the risk of complications.
When selecting an E/M code with psychotherapy, you'll base your choice on medical decision-making. You should also choose a CPT code that reflects the service site and whether the patient is new or established. Take these steps:
Select the type and level of E/M service based on medical decision-making.
Choose timed psychotherapy add-on codes based on the time spent providing psychotherapy.
For example, if you choose E/M code 99202 to evaluate and manage a new patient in an outpatient setting with straightforward decision-making and need to bill for 30 minutes of psychotherapy, you would include the add-on code 90833.
Make sure to keep your E/M code and psychotherapy codes separate. The time associated with the E/M service cannot count toward the time of the psychotherapy service. The E/M service must be significant and distinct from psychotherapy.
Start Your Free Trial Today
With an intuitive, chart-centric workflow, ICANotes is the only fully configured EMR software for behavioral health. Our robust clinical content engine and customizable point-and-click templates reduce the time you spend documenting patient care while enabling you to confidently bill at the maximum level of reimbursement.
Behavioral Health Notes in 3 Minutes
Free training and 24x7 support
Fully HIPAA compliant 30 day trial
Spend less time on documentation and improve your reimbursement with ICANotes+.
The Most Common Psychotherapy CPT Codes
While family therapists and counselors may not use E/M codes like psychiatrists or primary care physicians, they will bill for psychotherapy services. The American Psychological Association lists standard CPT codes used by therapists.
90832: 30 minutes of individual psychotherapy
90834: 45 minutes of individual psychotherapy
90837: 60 minutes of individual psychotherapy
90845: Psychoanalysis
90846: 50 minutes of family psychotherapy without the client present
90847: 50 minutes of family psychotherapy with the client present
90849: Multiple-family group psychotherapy
90853: Group psychotherapy
Though CPT codes describe specific times, such as 30, 45 and 60 minutes, therapists have some flexibility, since sessions might go over or under that exact amount.
When choosing a psychotherapy CPT code, therapists must select the closest one to the time spent in the session. The APA lists the following psychotherapy session durations.
90832: Choose this code for sessions that run between 16 and 37 minutes.
90834: Select this code for sessions that are 38 to 52 minutes long.
90837: This code is appropriate for sessions lasting 53 minutes or longer.
90846 or 90847: Choose these codes for 26 minutes or more of family psychotherapy.
Psychotherapy Crisis Codes
CPT codes for crises allow behavioral health professionals to bill for emergency sessions. Care providers typically use the following crisis codes for patients in significant distress who require immediate attention or are in a life-threatening situation.
90839: First 60 minutes of psychotherapy for crisis
90840: Add-on code for each additional 30 minutes of psychotherapy for crisis
99050: Add-on code for services provided when the office is usually closed
99051: Add-on code for services provided during regularly scheduled hours on evenings, weekends or holidays
If a crisis session falls below 60 minutes, you will bill for a regular psychotherapy code, such as 90834.
Providers may use add-on codes to describe additional services. Behavioral health clinicians can only apply add-on codes in combination with psychotherapy and diagnostic evaluation services. Providers must include the principal CPT code and add-on code on the billing form, and list them separately. Add-on codes include the following.
90785: Interactive complexity
90863: Psychopharmacology with psychotherapy
90833: 30 minutes of psychotherapy with E/M service
90836: 45 minutes of psychotherapy with E/M service
90838: 60 minutes of psychotherapy with E/M service
Clinicians might use code 90785 for factors that complicate service delivery, such as the presence of a client's angry family member or a third party like a probation officer. Psychologists might use code 90863 when reviewing or prescribing medication on the same day as delivering psychotherapy services. Psychiatrists do not use code 90863.
Mental Health Test and Assessment Codes
CPT codes for mental health tests and assessments include the following.
96105: Aphasia assessment
96110: Developmental screening
96112: Developmental test administration with interpretation
96113: Each additional 30 minutes of developmental test administration with interpretation
96116: Neurobehavioral status exam, 60 minutes
96121: Each additional hour of neurobehavioral status examination
96125: Standardized cognitive performance testing, 60 minutes
96127: Brief emotional or behavioral assessment
96130: Psychological testing evaluation services provided by a physician or qualified health professional, 60 minutes
96131: Each additional hour of psychological testing evaluation services performed
96132: Neuropsychological testing services, 60 minutes
96133: Each additional hour of neuropsychological testing services performed
96136: Psychological or neuropsychological test administration and scoring by a physician or qualified health professional, 30 minutes
96137: Each additional 30 minutes of neuropsychological test administration and scoring by a physician or qualified health professional
96138: Psychological or neuropsychological test administration and scoring by a technician, 30 minutes
96139: Each additional 30 minutes of neuropsychological test administration and scoring by a technician
96146: Psychological or neuropsychological test administration via an electronic platform with automated results
96160: Patient-focused health risk assessment
96161: Caregiver-focused health risk assessment
Psychiatrists use CPT codes to bill for psychiatric diagnostic evaluations, psychotherapy and other psychiatric services. CPT codes for psychiatric services include the following.
90791: Psychiatric diagnostic evaluation without medical services
90792: Psychiatric diagnostic evaluation with medical services
90865: Narcosynthesis
90867: Therapeutic repetitive transcranial magnetic stimulation
90870: Electroconvulsive therapy
90875: 30 minutes of individual psychophysiological therapy with biofeedback
90876: 45 minutes of individual psychophysiological therapy with biofeedback
90880: Hypnotherapy
90899: Unlisted psychiatric procedure or service
Psychiatry Evaluation and Management Codes
Psychiatrists may use E/M codes to bill for evaluation and management services, either alone or with psychotherapy. For psychiatrists and other physicians, psychotherapy is an add-on code to the primary E/M service.
99202 to 99205: Outpatient E/M services for a new patient
99211 to 99215: Outpatient E/M services for an established patient
99241 to 99245: Consultations for a new or established patient in an outpatient setting
99221 to 99223: Initial hospital E/M services for a new or established patient
99231 to 99233: Hospital E/M services for a new or established patient after initial visit
99251 to 99255: Inpatient consultations
Common Behavioral Health Case Management CPT Codes
Like licensed counselors, clinical social workers who provide psychotherapy services use CPT codes to get reimbursed. Here's a CPT description list of frequently used codes, according to CMS:
90832: 30 minutes of psychotherapy
90834: 45 minutes of psychotherapy
90837: 60 minutes of psychotherapy
90785: Interactive complexity add-on
90839: 60 minutes of psychotherapy for crisis
90840: Each additional 30 minutes of psychotherapy for crisis
90791: Psychiatric diagnostic evaluation
90845: Psychoanalysis
90846: 50 minutes of family psychotherapy without the patient present
90847: 50 minutes of family psychotherapy with the patient present
90853: Group psychotherapy
Telehealth CPT Medical Coding List
Telehealth CPT codes are especially relevant today. Since so many behavioral health professionals have moved their practices online, it helps to know CPT codes for virtual therapy.
According to the Centers for Medicare and Medicaid Services, telehealth visits are the same as in-person visits and get paid at the same rates. Therefore, you will use the identical CPT code for a virtual therapy session as you would if you were billing for a face-to-face meeting. For example, if you meet with a patient online, you would still use the code 90832 for 30 minutes of psychotherapy. However, you would apply different modifiers for telehealth services, as follows.
95 modifier: Add 95 to the appropriate CPT code. This modifier describes a real-time interaction between a clinician and patient via a telecommunications system, such as through video conferencing. You may use the modifier GT instead.
02 for place of service: Use 02 to describe the place of service as a telecommunications system. It may replace the commonly used POS code 11, which describes providing therapy in an office.
As you'll see, some telehealth codes belong to the Healthcare Common Procedural Coding System. HCPCS codes are not part of the CPT set, and they cover specific services and products needed to provide care. HCPCS codes consist of a single letter followed by four numbers. Here are codes you might use specifically for telehealth.
G2012: Virtual check-in or brief, patient-initiated visit
G2010: Remote evaluation of a recorded video or image provided by an established patient
99421: Online digital evaluation and management service conducted via a patient portal for an established patient, five to 10 minutes of cumulative time over seven days
99422: Online digital evaluation and management service conducted via a patient portal for an established patient, 11 to 20 minutes of cumulative time over seven days
99423: Online digital evaluation and management service conducted via a patient portal for an established patient, 21 or more minutes of cumulative time over seven days
Non-physician health professionals may use the codes G2061, G2062 or G2063 to provide an online assessment and management service for an established patient.
New CPT Codes for Behavioral Health Services
Every year, health professionals can expect revised or new mental health CPT codes. Providers use these services to address psychological, emotional, cognitive or behavioral issues that impact the treatment of a physical health problem. Psychologists may provide these services to an individual, group or a patient's family to help the client cope with physical health conditions.
The most recent changes in 2023 include new HCPCS codes and CPT codes and updated language to improve provider understanding. Psychologists must use these new therapy CPT codes to get reimbursed for health behavior assessment and intervention services from third-party payers.
Health behavior assessment and intervention codes require a physical health diagnosis or an ICD code and are not for mental health services. Here are the code revisions.
Code 96156 replaces codes 96150 and 96151: Clinicians must now use code 96156 to bill for a health and behavior assessment or reassessment. The new code for assessment services is now event-based rather than time-based.
Code 96152 is now 96158 plus 96159: Clinicians must now use code 96158 — previously 96152 — for an individual, in-person health behavior intervention for the initial half hour. For each additional 15 minutes of intervention, use code 96159 separately.
Code 96153 is now 96164 plus 96165: Clinicians must replace code 96153 with 96164 for the first half-hour of an in-person group health behavior intervention. For every additional 15 minutes of service, tack on code 96165.
Code 96154 is now 96167 plus 96168: Clinicians must now use code 96167 — previously 96154 — for the initial half-hour of an in-person family health behavior intervention with the patient present. For every additional 15 minutes of service, separately add code 96168.
Code 96155 is now 96170 plus 96171: Clinicians must replace code 96155 with 96170 for the first half-hour of a face-to-face family health behavior intervention without the patient present. Every additional 15 minutes of service should include code 96171.
How CPT Code Changes Impact the Reimbursement Process

CPT codes also have modifiers to specify the services behavioral health professionals provide in more detail. For example, these modifiers may indicate the reason for the service, whether the provider performed multiple services and where the services occurred. CPT code modifiers ensure that providers receive accurate reimbursement for all the services they provide.
Reimbursement rates change constantly, and a lot depends on the decisions made by the CMS. The CMS accepts the American Medical Association's CPT code recommendations and makes the final decisions regarding code values.
The code selection process also impacts how much clinicians get paid. For example, with the recent E/M coding changes, clinicians can bill for the total time they spend in one day on an encounter, which includes non-face-to-face time, and gets credit for tasks like interpreting exams performed by other physicians.
Clinicians can also choose an E/M code based on total time or medical decision-making, selecting the one that makes the most financial sense.
CPT Code Reimbursement Rates
Reimbursement rates depend on the insurance payer, location and practitioner level. For instance, a psychiatrist will receive a higher reimbursement rate than a social worker.
The CPT code you choose also affects compensation. In general, the longer you spend with a patient delivering services, the more you'll get paid. For example, according to the Mississippi Division of Medicaid's 2020 fee schedule, psychotherapy rates were:
90832: $60.07
90834: $79.90
90837: $119.68
If you're concerned you're not getting the highest reimbursement rate possible, let us know at ICANotes. We've designed our electronic health record software to help behavioral health specialists maximize reimbursement.
ICANotes keeps track of documentation elements in clinical notes and automatically calculates the highest-level E/M code supported by a note. ICANotes makes it easy to establish all the required details of accurate E/M documentation by providing pre-templated buttons and an easy-to-use interface. With ICANotes, clinicians can stay up to date on CPT changes and ensure compliance with the Health Insurance Portability and Accountability Act.
Tips for Maximizing Reimbursement and
Avoiding Insurance Claim Denials
If you hope to avoid issues with claims, you mostly want to remember that medical necessity determines the level of service to bill. It would not be appropriate to document a higher service level if it is unnecessary. Always make sure the documentation supports the level of care you are billing. Here are a few more tips to remember.
To receive reimbursement, a clinician must complete accurate coding. Coding errors can lead to payment delays or rejected claims. Frequent or consistent errors could lead to an audit or fraud charges. Strive for the highest accuracy, and cut down on simple errors like incorrect patient information or policy number mistakes. Always refer to the AMA's most recent CPT manual to make sure you use the correct codes in your practice.
Also, make it a habit to check and recheck work, and thoroughly read all the therapy notes included with the codes. Encourage staff members to do the same. Improper modifier use is a prevalent cause of claim denials. Therefore, make sure to familiarize yourself with modifiers before using them. Modifiers can be the difference between maximum reimbursement and reduced payment, so it's crucial to review the rules.
2. Claim Only What's Medically Necesarry
Medicare and other payers define what's medically necessary in different ways, but in general, it's about doing what's best for the patient at that time. A claim for a service that is not a medical necessity will likely get denied.
To help demonstrate a medically necessary claim, make sure to choose the appropriate ICD code and link it to the associated CPT codes that are valid for the visit. Doing so enables staff and insurance payers to see the reason for each service.
You must submit claims by a specific deadline. For example, Medicare requires you to file no later than 12 months after the date of service. These dates can vary depending on the payer, and some claims may be due within 90 days or 180 days after service. By meeting deadlines, you'll ensure you receive adequate reimbursement.
Missing claims submission deadlines is a typical reason for a claims denial. If your practice has struggled to meet these deadlines, consider coming up with a schedule to complete all paperwork and ensure its accuracy well before the due date. To make things easier, you can also rely on EHR software to help you stay compliant.
4. Emphasize Quality Documentation
Inadequate documentation can affect the reimbursement process. Make sure everyone in your practice understands the value of correct, legible and complete documentation. Otherwise, it will be challenging to make an accurate or complete claim.
In addition to writing quality clinical documentation and therapy progress notes, it's also wise to double-check that your patient's information is correct. While this may seem like an obvious tip, it's easy to accidentally misspell a patient's name or enter an incorrect Social Security number.
Other routinely missed data points include the patient's date of birth, insurance payer, policy number, group number and patient's relationship to the insured. Likewise, leaving any required fields blank on your paperwork may trigger a claim denial. However, most minor errors or omissions do not require an appeal or redetermination.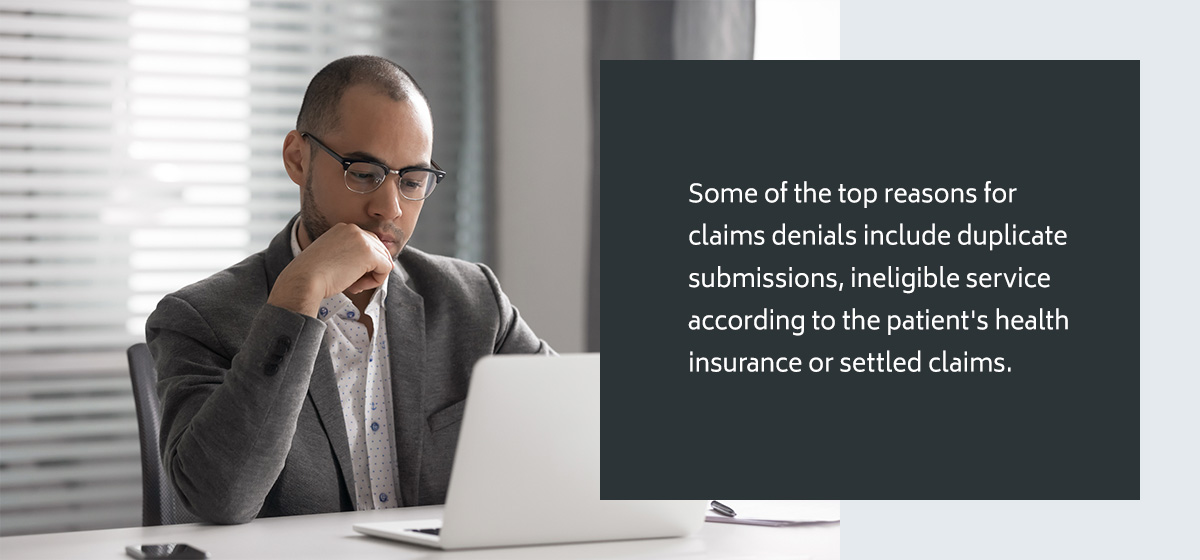 Creating a standard workflow for managing your claims process is an effective way to maintain accuracy. Identify coding errors, review past mistakes and aim to correct the errors by educating staff and staying current on any code changes. Schedule regular training meetings to keep information fresh and share any updates. Once your entire staff is up to date with your protocols, they will be less likely to make a mistake or forget to fill out critical information.
A critical part of educating your staff is to teach everyone why claims get denied. If your practice has been getting more denials than usual lately, there's clearly an ongoing issue. Some of the top reasons for claims denials include duplicate submissions, ineligible service according to the patient's health insurance or settled claims.
Record typical reasons for claim denial and develop a step-by-step plan to help manage this concern. Providing this training, in addition to new technology, allows your employees to work more efficiently.
6. Verify Insurance and Eligibility
Before you conduct a therapy session and get to the billing and reimbursement process, the first step is to collect accurate and complete new patient information. To avoid claims denials, you must check and double-check that each client's plan covers your services.
Patient ineligibility is another reason for insurance companies to deny your reimbursement claims, so you must maintain a thorough process. Each client should have complete verification before you see them for a session, and you should collect their copayments during their initial visit. In addition, your clerical staff should maintain copies of the patient's driver's license and forms. Finally, you should also check the start and end date for the patient's insurance policy.
7. Automate as Much as Possible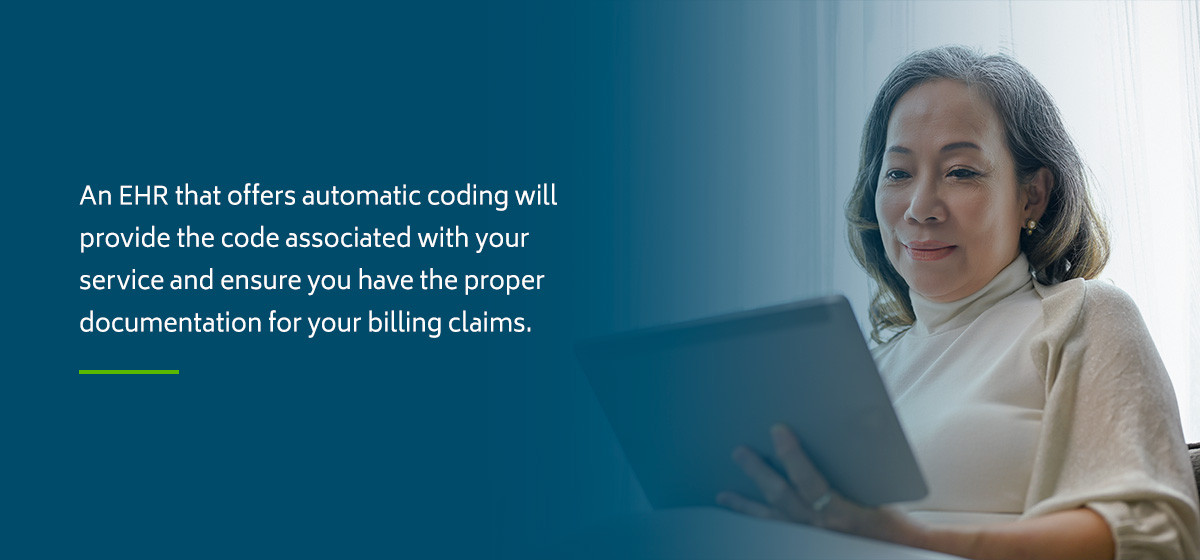 Clinicians spend plenty of time on documentation. From creating treatment plans to completing comprehensive therapy progress notes, it may seem like there's little opportunity left in your day to focus on reimbursement claims requirements. When you use an EHR software, you can automate these processes to streamline your note-writing process. Automating your manual processes can also help reduce rejected claims by ensuring your notes are legible, detailed and meet the strict standards set by insurance companies.
Using technology makes it easier to submit clean claims and eliminates the tedious need to keep up with all diagnostic codes and insurance policies. For instance, an EHR that offers automatic coding will provide the code associated with your service and ensure you have the proper documentation for your billing claims. You can maximize your reimbursement and eliminate the manual burden from your billing and admin teams.
Use ICANotes for Fast and Accurate Billing
Proper coding requires knowledge and practice. Most behavioral health clinicians want to spend their time and energy providing patient care — not worrying about coding and claims. ICANotes can step in and take care of the work for you, so you can get back to doing what you love.
With ICANotes, you can expect automatic coding at the highest reimbursement level possible to ensure claims get accepted and you get paid. Without the need to fix errors or resubmit claims, you'll save time, money and energy. To experience the benefits of our behavioral health EHR software firsthand, sign up for a free trial today!
Start Your Free Trial Today