Guide to Creating Mental Health Treatment Plans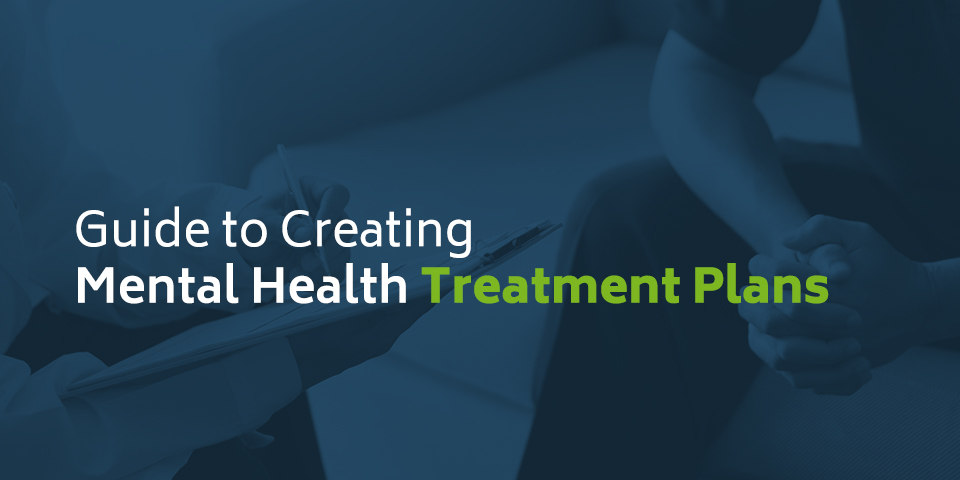 Psychiatrists, psychologists, mental health counselors, social workers, and other behavioral health professionals use treatment planning as a tool to effectively treat patients. Without a clear plan in place, it can be hard to track progress, stay organized, and keep a record of individual patient care.
Every patient needs individually tailored treatment. When a mental health professional creates a comprehensive treatment plan specially designed to meet their patient's needs, they give their patient directions towards growth and healing. Although not all mental health professionals are required to produce treatment plans, it's a beneficial practice to both the counselor and the patient.
In this post, we'll show you why mental health treatment plans are essential and how to create psychiatric treatment plans that will make a difference in your and your patient's lives.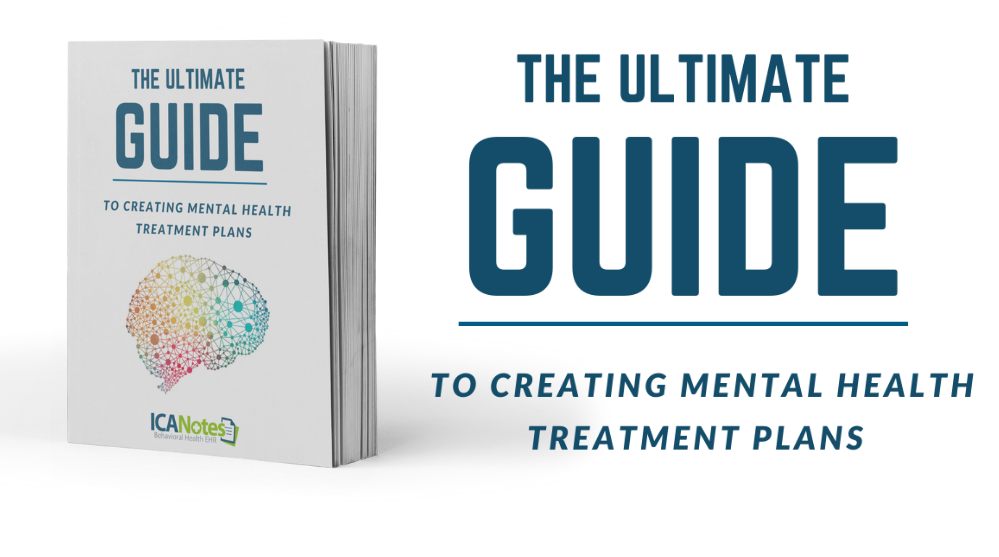 Download The Ultimate Guide
Table of Contents
What Is a Treatment Plan?
A treatment plan is a custom, detailed strategy created to help a patient overcome challenges and reach specific goals. It is a powerful tool for engaging the patient in their treatment. Treatment plans usually follow a simple format and typically include the following information:
The patient's personal information, psychological history and demographics
A diagnosis of the current mental health problem
High-priority treatment goals
Measurable objectives
A timeline for treatment progress
Space for tracking progress
What Is the Purpose of a Treatment Plan?
The purpose of a treatment plan is to guide a patient towards reaching goals. A treatment plan also helps counselors monitor progress and make treatment adjustments when necessary. You might think of a treatment plan as a map that points the way towards a healthier condition. Without a treatment plan, a patient has no clear direction on how to improve behaviors, negative thinking patterns and other problems impacting their lives.
Treatment plans provide the structure patients need to change. According to the Annual Review of Clinical Psychology, researchers have estimated that common factors in psychotherapy, such as structure, modeling, and practicing, may account for roughly 30% of the change in patients. Although this is only an estimate, it helps demonstrate how treatment plans may help patients experience positive therapy outcomes.
Goal-setting, as part of a treatment plan, is beneficial in itself. Setting goals helps patients:
Achieve more
Stay motivated
Feel satisfied
Boost self-confidence
Concentrate better
Avoid confusion
Avoid feeling overwhelmed
Set priorities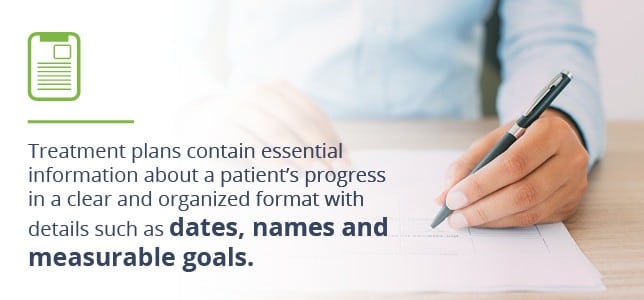 Treatment plans also help therapists and behavioral health staff with documentation. Treatment plans contain essential information about a patient's progress in a clear and organized format with details such as dates, names and measurable goals. With this information readily available, writing a progress note becomes an easier part of the job.
Who Can Benefit From Treatment Planning?
Just about anyone can benefit from using a treatment plan as a tool to reach their mental health goals. This may include individuals who are experiencing common conditions, such as:
Depression
Post-traumatic stress disorder
Generalized anxiety disorder
Social anxiety disorder
Obsessive-compulsive disorder
Treatment plans also help patients address co-existing disorders, such as substance abuse and sleep issues. Many people experience co-occurring disorders, which is another reason why a tailored treatment plan is critical to addressing individual mental health needs. For example, according to the Anxiety and Depression Association of America, almost half of those who are diagnosed with depression also have an anxiety disorder.
Treatment plans can also be used to help clients learn ways to cope with stress, communicate with their spouse more effectively, and overcome any obstacle in life they feel is holding them back from health and happiness.

Mental Health Treatment Plan Goals and Objectives
Treatment planning is a team effort between the patient and the counselor. Both parties work together to create a shared vision and set attainable goals and objectives. A goal is a general statement of what the patient wishes to accomplish. Examples of goals include:
The patient will learn to cope with negative feelings without using substances.
The patient will learn how to build positive communication skills.
The patient will learn how to express anger towards their spouse in a healthy way.
An objective, on the other hand, is a specific skill a patient must learn to reach a goal. Objectives are measurable and give the patient clear directions on how to act. Examples of objectives include:
An alcoholic with the goal of staying sober might have the objective of going to meetings.
A depressed patient might have the objective to take the antidepressant medication with the goal of relieving depression symptoms.
A patient in a recovery program might have the objective of keeping a daily assertiveness log with the goal to learn healthy communication skills.
Simply said, an objective is a specific way to reach a goal.
Tips for Identifying Goals and Objectives for Patients
Everyone is different, and so is every treatment plan. A counselor must use their skills to help a client establish the best goals and objectives for their unique condition. As a counselor, you can ask yourself these questions to help uncover the best goals for your patients:
What is the patient doing that is unhealthy?
What does the patient need to do differently to change unhealthy behavior?
How can I help the patient adopt new behaviors?
After you've realized the goals, you can determine the objectives by asking yourself:
What does the patient need to do to accomplish the goals?
What can I do to help them with objectives?
Patients play an important role in developing their treatment plan. Although you will use your professional knowledge to facilitate treatment planning, patients must participate in the following ways:
The patient must understand they have a problem.
They must understand precisely what their problem is and how it affects them.
They must be willing to learn skills to solve the problem in a healthy way.
How to Write a Mental Health Treatment Plan
Goal-setting is only part of the treatment plan process. You'll need to gather information and conduct a mental health assessment before creating a treatment plan. You'll also need to identify and discuss possible goals with your patient. After an assessment and discussion, you'll be ready to create a treatment plan which both you and your client will need to sign.
Treatment planning is an ongoing process. You'll review and revise the treatment plan as needed, and nothing is written in stone. A mental health treatment plan template will help you stay organized, but the information it holds is unique to the client and open to changes.
Mental Health Treatment Plan Example
A treatment plan is simple but specific. It includes details about a patient's diagnoses at the top, and then addresses each problem below, including the steps a patient needs to take. Although treatment plans vary and can be customized using electronic health record (EHR) software, a mental health treatment plan template or form generally contains the following fields: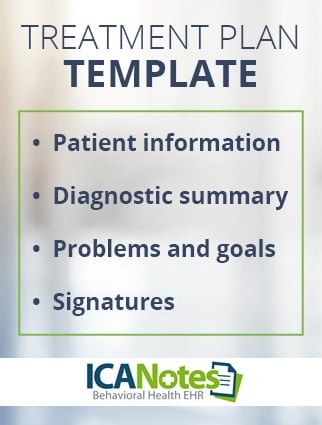 1. Patient Information
At the top of the treatment plan, the counselor will include the patients:
Name
Date of birth
Social security number
Insurance details
Date and time the plan was created
The counselor might also list the names of everyone involved in developing the plan.
2. Diagnostic Summary
Next, the counselor will fill out the following information:
The patient's diagnosis or diagnoses
The duration of each diagnosis
The patient's current medications, including dosage amount
This section may include both past and present diagnoses, treatment history and other relevant information.
3. Problems and Goals
The third section of the treatment plan will include issues, goals and a few measurable objectives. Each issue area will also include a time frame for reaching goals and completing objectives. Counselors should strive to have a healthy mix of long-term and short-term goals. They must also include how they plan to help the client reach each goal through interventions.
For example, in our sample template, one of "Mary's" problems is anxiety. Under the problem, we provide evidence to prove her issue, such as stating she has a history of anxiety. Next, we list the following:
Long-term goal: The client, Mary, will reduce the overall level, frequency and intensity of anxiety, so daily functioning is not impaired. The target date for this goal is 12/20/2020.
Short-term goals: One of Mary's short-term goals is to learn and practice at least two anxiety management techniques to decrease anxiety symptoms to less than three times a week. Mary will work on this goal for three weeks.
Interventions: Under this short-term goal, the counselor lists their interventions or how they will help Mary. The counselor will teach Mary at least two communication strategies that will help her decrease her anxiety to the point where it occurs less than once per day. Interventions should include frequency and duration. For example, the counselor may teach Mary once a week for one hour.
4. Progress
Next to or underneath each short-term goal should be a space to include a target date, completion date, and status. Counselors can use this information to help them document the client's progress and outcomes in the EHR.
5. Signatures
The final section of the treatment plan is where the counselor and the client sign their names. This signifies the patient participated in developing the treatment plan and agrees with the content.
Mental Health Treatment Plan Checklist
To ensure you don't miss any crucial details, use this checklist as a helpful reminder:
Issues: Do the issues reflect the six problem domains, which are medical status, employment, substance abuse, legal status, family or social status, and psychiatric status? Are issues written in behavioral terms and in a non-judgmental manner? Are they prioritized?
Goals: Do the goals address the listed issues? Are they attainable during treatment? Does the patient understand the goals as written? Does the client seem ready to change and accomplish the goals?
Objectives: Do the objectives address the goals? Are the objectives measurable and specific? Can the client take the time or steps necessary to complete the objectives? Is there a time frame for the objectives? Are they realistic for the patient's current situation? Does the client understand what is expected of them?
General: Is the treatment plan customized to suit the patient based on their unique skills, goals, lifestyle, educational background, culture, and socioeconomic status? Are their strengths incorporated into the treatment plan? Has the patient participated in developing the plan? Is the plan dated and signed by all parties who were involved in creating the treatment plan?
Mental Health Treatment Plan Tips
There are no set rules for developing a treatment plan for your patient because every plan is unique. However, we'll look at a few tips to help you through the goal-setting and planning process.
1. Measure Success
To evaluate the effectiveness of the treatment plan, you need to keep score of how the patient is doing. Ask the patient to count and keep track of their thoughts, feelings and behaviors in a log so you can monitor their progress.
2. Set SMART Goals
Work with your patients to set goals and objectives they can actually reach. Use the rules of SMART for guidance. SMART stands for the following:
Specific: Objectives need to be clear and specific, not general or vague. It's easier for a patient to complete objectives when they know exactly what they need to do.
Measurable: Objectives need specific times, amounts, or dates for completion so you and your patients can measure their progress.
Attainable: Encourage patients to set goals and objectives they can meet. If their objectives are unrealistic, it may decrease their self-confidence or discourage them. However, goals and objectives should not be too easy. Goals should be challenging but also realistic.
Relevant: Goals and objectives should be relevant to the issues listed in the treatment plan. When patients complete objectives and reach their goals, they should be closer to the place they want to be in life and as a person.
Time-bound: Goals and objectives must have a deadline. Goals might be considered short-term or long-term, while objectives need specific dates to meet. A deadline creates a sense of urgency, which helps motivate clients.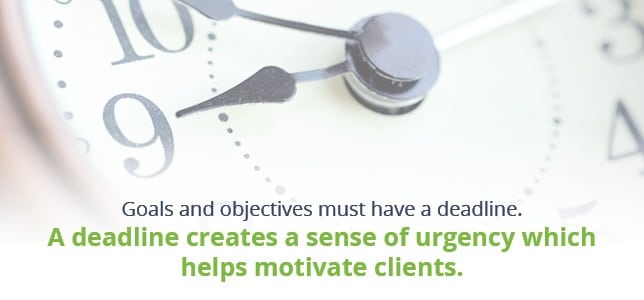 3. Set Goals That Motivate
Patients are more likely to complete objectives and work towards reaching a goal if the goal is personally important to them. If a goal does not add value or meaning to their life, they will not have the motivation to work through objectives.
Ask clients to discuss goals that have the most meaning to them. Make sure the goals are in order of importance so patients can focus on their priorities.
How a Mental Health Treatment Plan Complements Other Therapy Notes
Treatment plans not only to help the patient, but they also serve the entire behavioral health team. A treatment plan is a tool that promotes good communication between staff members and helps provide the documentation necessary for billing. As part of a patient's medical health records, treatment plans also help facilities comply with federal and state laws. Let's look at a few ways mental health treatment plans assist with recordkeeping.
1. Psychiatric Evaluation
A psychiatric evaluation involves using tools to measure and observe a client's behavior. By evaluating a client, a psychologist can determine a diagnosis and develop a treatment plan. A treatment plan helps organize this information in one neat document. The treatment plan also allows for quick reference of the initial evaluation when staff members or counselors need to revisit the evaluation in the future.
2. Progress Notes
Treatment plans and progress notes tend to go hand in hand because progress notes need to incorporate one or more treatment objectives. Progress notes are essential for communicating patient care and getting reimbursed for services. A treatment plan helps staff meet progress note requirements and keep track of how a patient is doing. Progress notes typically include:
The treatment plan
Any changes in the client's condition
Descriptions of a client's response to treatment
The outcome of treatment
3. Discharge Summary
When patients are ready to leave a treatment program, a discharge summary is needed to document how the patient completed treatment and what their plan for continuing care is. A treatment plan can guide the writing process when it's time to produce an accurate, detailed discharge summary.
How an Integrated Treatment Plan Can Improve Patient Care
As more behavioral health practices integrate with primary care offices, therapists should consider how to create treatment plans that help their clients on a holistic level. Integrated treatment plans combine physical health needs with mental health goals. According to the National Institute of Mental Health, integrated treatment plans create positive health outcomes for patients. There are several reasons for this.
First, about half of all mental health care for common disorders is provided in primary care offices. However, many patients who see their primary care doctor for mental health issues are misdiagnosed. By coordinating a treatment plan with a client's primary care doctor, a counselor can help them determine the correct diagnosis.
Secondly, adults with mental health issues and substance use disorders are more likely to have chronic physical illnesses than the general population. Also, individuals with physical health conditions are more likely to have mental health issues. Physicians can work with counselors to determine if a physical illness is causing mental health problems. Together they can develop a plan that treats the whole patient.
The Center for Integrated Health Solutions provides tips for creating an integrated treatment plan. Essential tips include:
Before you begin an integrated treatment plan, ensure your workflow supports integrated services.
Use assessments and screening tools to examine your client's health on a whole level before writing the treatment plan.
Remember to include SMART goals.
Document the integrated treatment in your EHR, so your whole behavioral health team and the patient's primary doctor can access the information.
Encourage the patient to be involved with determining their goals and making decisions about their physical and mental health care.
ICANotes EHR software supports interoperability and offers features such as primary care notes and ePrescribe to simplify care coordination.

Create a Mental Health Treatment Plan With ICANotes
EHR software allows medical professionals to store vital documents, such as treatment plans, evaluations and discharge summaries digitally in an organized, user-friendly format. ICANotes is EHR software designed specifically for the behavioral health field. With ICANotes, you can easily and quickly create unique treatment plans for your patients. You can also use ICANotes' EHR software to record the initial assessment, take progress notes and write a discharge summary all in the same place. The treatment plan module includes the following features:
Easy-to-use interface: An intuitive, user-friendly interface makes it easy to create a treatment plan in a few simple steps with minimal typing.
Comprehensive lists: Users can select from a list of 32 common mental health problems, long-term and short-term goals for each problem and also intervention content for each goal. Users can also customize treatment plans if problems or goals are not on the lists.
When patients are ready to leave treatment, you can use ICANotes to quickly and effortlessly create a discharge summary. The discharge summary module prints a cover page with the initial assessment, provides the option to include all progress notes in a compressed format, and contains the final diagnosis and discharge instructions.
Proper documentation does not need to be a stressful, time-consuming part of the job. ICANotes solves many of the problems of traditional paperwork and offers benefits such as:
Greater accuracy
Convenient prescribing
Improved communication
Consolidated information
Reduced billing issues
Fewer hours spent documenting
Watch a Live Demo
Start a Free Trial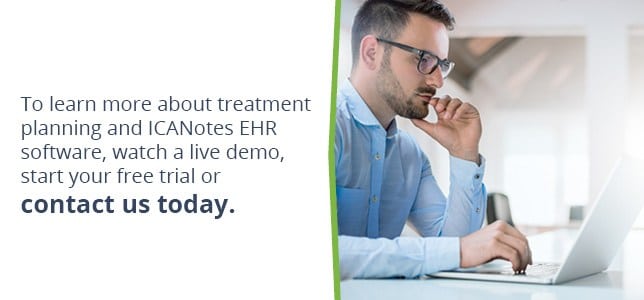 Whether it's time to get reimbursed or undergo an audit, you'll be ready to supply accurate, legible and detailed information upon request. That way, you can keep your practice running smoothly and have plenty of time left over for your patients. To learn more about treatment planning and ICANotes EHR software, watch a live demo, start your free trial or contact us today.
Check Out The Treatment Plan Webinar!
Related Posts:
How to Create a Group Therapy Note
How to Create an Effective Psychiatric Progress Note
The 10 Essential Elements of Any Therapy Note
The Differences Between Psychotherapy Notes and Progress Notes
Tips for Writing Better Mental Health SOAP Notes
Sources:
http://dhss.delaware.gov/dsamh/files/si09_1320_skillbuild_txplans.pdf
http://www.apa.org/helpcenter/assessment.aspx
https://adaa.org/about-adaa/press-room/facts-statistics
https://positivepsychologyprogram.com/mental-health-treatment-plans/
https://www.annualreviews.org/doi/pdf/10.1146/annurev-clinpsy-050718-095424
https://www.cdc.gov/std/program/pupestd/developing%20program%20goals%20and%20objectives.pdf
https://www.cms.gov/Medicare-Medicaid-Coordination/Fraud-Prevention/Medicaid-Integrity-Education/Downloads/docmatters-behavioralhealth-factsheet.pdf
https://www.goodtherapy.org/blog/psychpedia/treatment-plan
https://www.healthandwelfare.idaho.gov/Portals/0/Medical/MoreInformation/Mental%20Health%20Treatment%20Plan%20Template.pdf
https://www.healthline.com/health/gaf-score
https://www.icanotes.com/2018/01/20/trend-toward-integrated-healthcare-mental-physical-health/
https://www.icanotes.com/2018/04/22/how-electronic-health-records-are-improving-patient-care/
https://www.icanotes.com/2018/05/16/reducing-stress-anxiety-burnout-workplace/
https://www.icanotes.com/2018/06/08/the-differences-between-psychotherapy-notes-and-progress-notes/
https://www.icanotes.com/features/charting/psychiatry/sample-notes/
https://www.icanotes.com/features/charting/therapy/
https://www.icanotes.com/features/third-party-integrations/interoperability/
https://www.icanotes.com/sites/default/files/pdfs/Sample%20Discharge%20Summary.pdf
https://www.icanotes.com/wp-content/uploads/2017/10/Sample-Treatment-Plan.pdf
https://www.integration.samhsa.gov/about-us/esolutions-newsletter/esolutions_september_2015
https://www.ncbi.nlm.nih.gov/books/NBK64084/
https://www.nimh.nih.gov/health/topics/integrated-care/index.shtml
https://www.sagepub.com/sites/default/files/upm-binaries/18970_Chapter_5.pdf
https://www.samhsa.gov/integrated-health-solutions
https://www.wikihow.com/Write-a-Mental-Health-Treatment-Plan
https://www.youtube.com/watch?v=NAbLLToAEUA&feature=youtu.be
*Last updated on May 4th 2020