Secure & Integrated HIPAA-Compliant Telehealth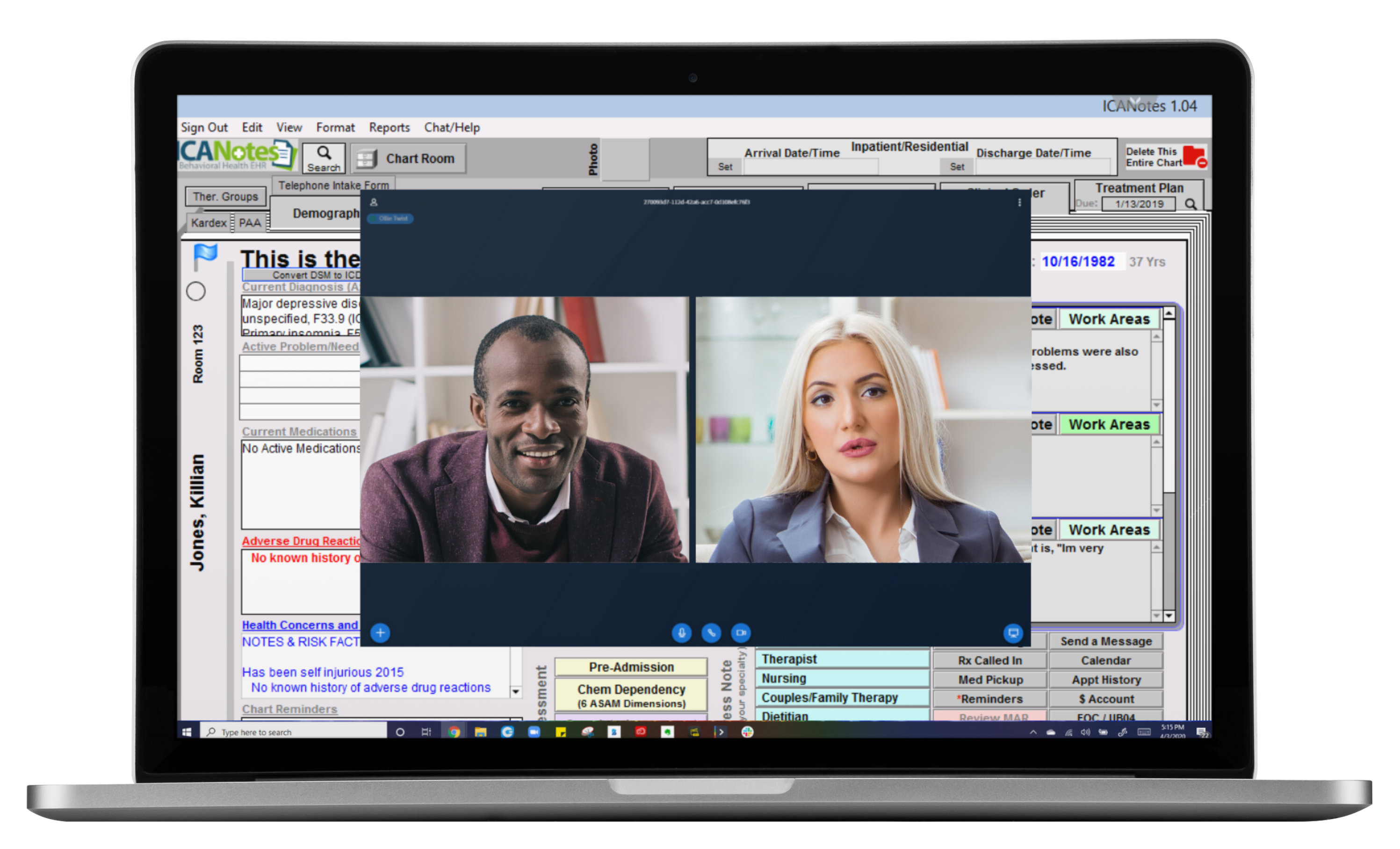 Add telehealth to your ICANotes plan for $10 per user.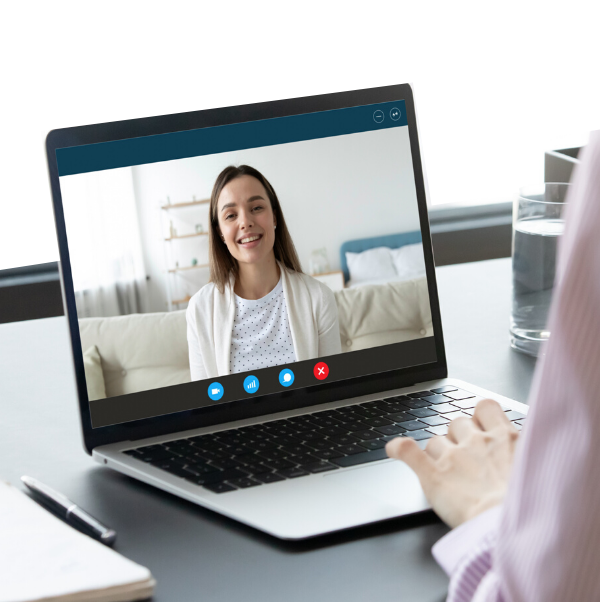 Using the ICANotes Telehealth feature, clinicians can conduct sessions at a distance and continue serving patients without exposing anyone to illness. During a time when experts are encouraging social distancing to minimize the spread of the coronavirus, telehealth offers an alternate solution that protects clients and behavioral health practitioners.
ICANotes Telehealth currently operates for providers on Windows and Mac workstations. Clients can participate from Windows, Mac, or mobile phones and tablets.
After installation, providers simply click a button on the client's chart or the appointment to initiate the session. The provider can choose to send the client a text message or an email with a link that they click to join the session. It's that simple.
A virtual waiting room, screen sharing, group sessions, and interoffice chat are also available features.
ICANotes telehealth is a secure, fully HIPAA-compliant video conferencing platform. You can drag the video session onto a second monitor, and document your session in ICANotes at the same time.
Getting Started With Telehealth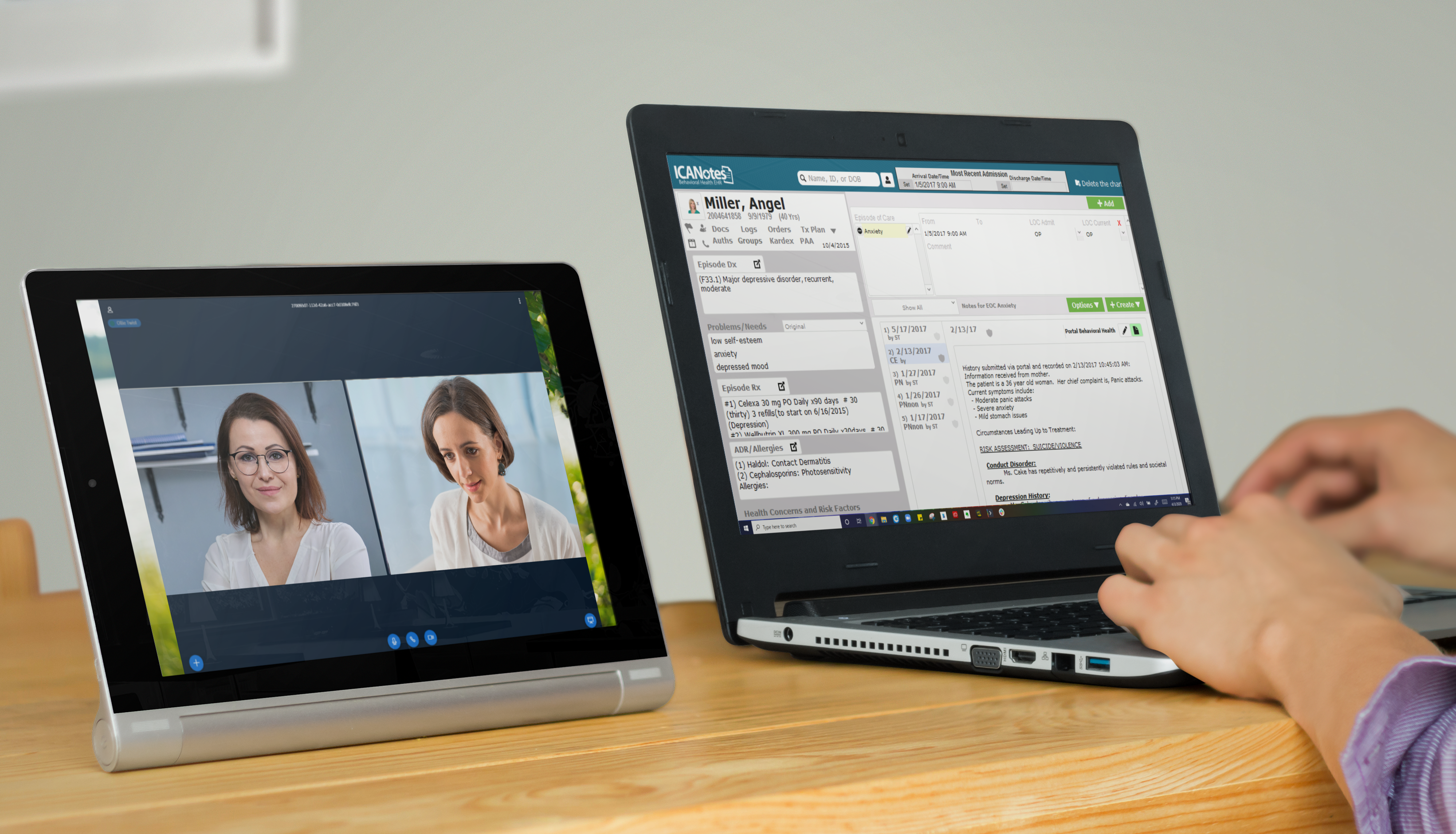 What are the benefits of using a telemental health platform?
Telehealth offers a range of benefits for both you as a clinician and your clients. These advantages include:
Flexible schedule: The flexible format of telebehavioral health appointments enables you to have a more flexible schedule through adaptable or increased hours. Clients benefit from the ability to access care outside of their regular schedule.
Convenience: You and your clients can take part in telehealth from anywhere with a secure internet connection. This ease of access makes telehealth a convenient option for care.
Improves access of care to vulnerable populations: Clients who don't have reliable transportation or medical issues that get in the way of transport can get care at home with telehealth.
Reducing the deterrence of stigma: Telehealth allows individuals that may have been discouraged due to social stigma to seek care in the privacy of their homes.
Increased income: With telehealth, you can get increased opportunities for more income through these benefits:
- Additional hours at non-traditional times
- Opens access to more clients
- Removes barriers for clients
- Fewer no shows
You and your patient will need a computer, phone or tablet with a speaker, microphone and camera to take part in telehealth. Many devices already come with these features. If your device doesn't have one of these features or you want to improve quality, you can also get an external microphone, camera or headphones.
ICANotes Telehealth is a secure, proprietary, HIPAA-compliant solution for behavioral health clinicians. The client receives either a text or an email invitation containing a secure link. The client clicks the link to join the session. No download is required.
How do I perform a telehealth session through ICANotes?
The ICANotes Telehealth feature launches right from the EHR interface. You can start a session through the patient's chart, appointment or chart room. After you launch the session, your client will receive an email or text message with a link to join the session.
What services can I provide using ICANotes Telehealth?
CMS allows clinicians to perform numerous services over telehealth as long as they comply with state and federal laws. These services include therapy, telepsych and medication management. Reference your state's telehealth laws for more information about your options.
Is ICANotes Telehealth HIPAA compliant?
Fully Integrated Telehealth and EHR Features
You can use ICANotes Telehealth EHR as part of a comprehensive practice management system. It works seamlessly with the rest of the software's behavioral health EHR features, including:
Benefits of ICANotes as a Telehealth EHR Software
Behavioral health professionals choose ICANotes for the following advantages:
Designed for behavioral health: We designed ICANotes with the needs of mental health professionals in mind. As a result, the software includes documentation and practice management features tailored to a wide range of behavioral health disciplines.
HIPAA-compliant features: To help you protect your patients' information and maintain compliance, we keep every aspect of ICANotes HIPAA-compliant. ICANotes operates on a secure, cloud-based platform and provides private telehealth sessions.
Simple and scalable pricing: All of our plans charge monthly to enable you to change your services at any time. We base all pricing on the number of users to deliver a solution that scales to your practice size.
Find Out More About ICANotes