Make scheduling and managing appointments easy and fast.
The ICANotes Calendar allows the front desk to indicate when a patient has arrived and facilitates collection of the patient's copay. The clinician can go right from the Calendar to the patient's chart, or start the session note right from the appointment.
An appointment history for the patient which lists canceled appointments and no-shows is easily created. Groups can be scheduled as can block out and availability times.
The Calendar also allows you to view multiple clinicians on one screen to compare calendars and reschedule appointments quickly.
Organized

Behavioral and Mental Health Appointment Scheduling
Features of the ICANotes Calendar include:
Set office hours, assign providers custom colors and easily print the day's appointments
Customizable appointment types
Color coding which shows the various stages of the appointment
Multiple provider scheduling
Day/Week/Month views
No-show tracking
Block provider vacation schedules
These features make schedule management faster and easier so that you can focus on serving your patients.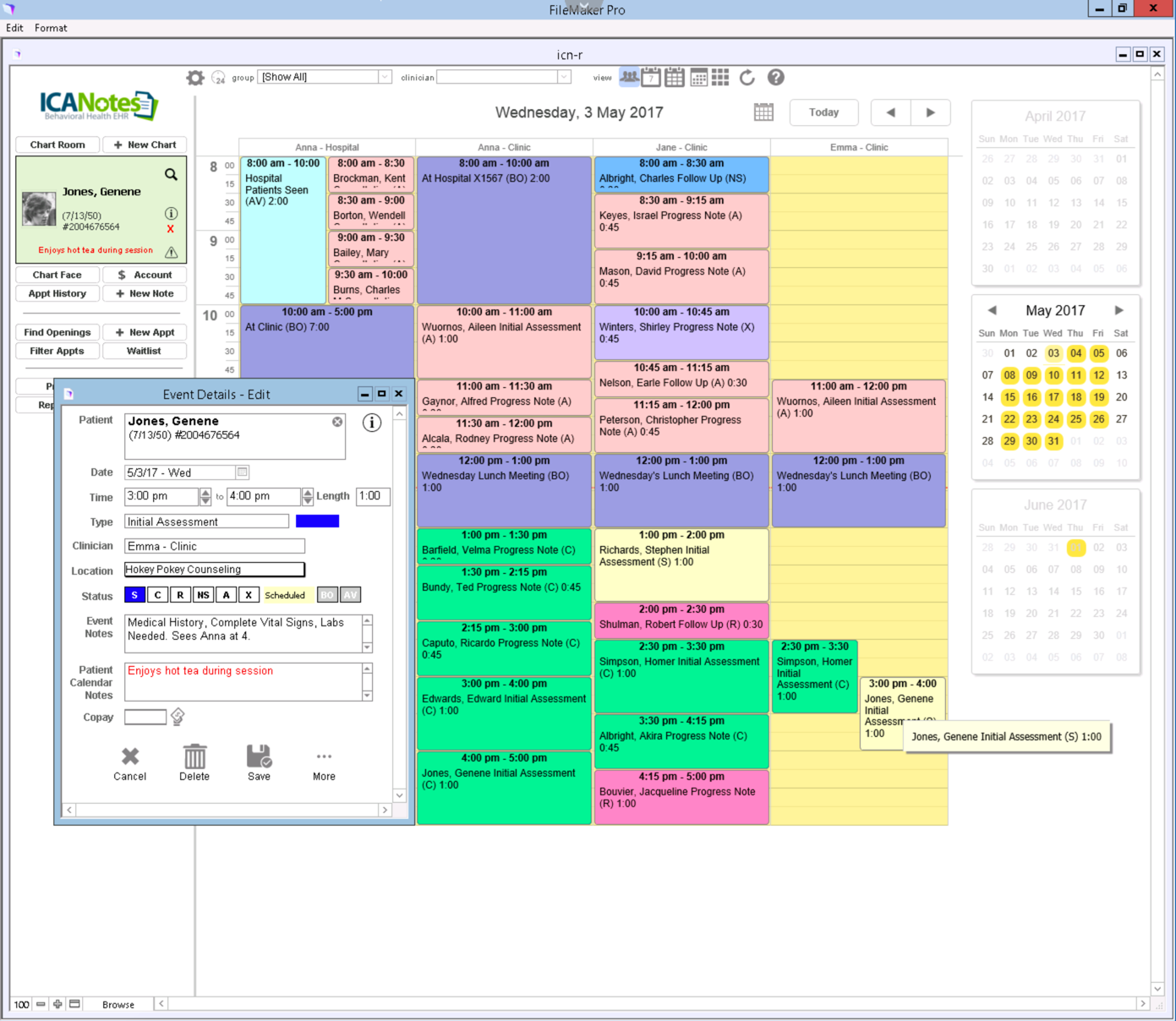 More Software Solutions to Power Your Appointment Management System
For an additional fee, you can further enhance your appointment scheduling with these features:
Appointment reminders: Automatically send text message reminders to your patients before their appointments.
Client portal: Let patients manage their appointments, reminders and prescriptions through an intuitive online portal.
ICANotes will allow you to customize your features to streamline your appointment scheduling. Learn more about our text message appointment reminders and paperless online patient portal.
Benefits of Comprehensive Behavioral and Mental Health Scheduling
Appointment scheduling features from ICANotes provide these benefits to behavioral health practices of all sizes:
Saved time: Organization and customization features will speed up your appointment scheduling times. As a result, you'll get more time to focus on other aspects of your practice.
Patient engagement: Features such as no-show recording and text reminders help patients keep their appointments. Support your patients in their efforts to improve their mental health.
Progress note templates: The clinician conducting an appointment can start session notes through the ICANotes Calendar. They can begin documenting their visit right away using a template modeled after the appointment information.
Fast billing solutions: ICANotes' Calendar allows administrative staff to note when a patient arrives and collect the copay for the appointment. This step links the appointment to billing for a faster process.
By keeping your appointments organized and accessible, ICANotes can help you manage your practice and keep your patients on track.
Reasons to Choose ICANotes as Your Mental Health Appointment Scheduling Software
Behavioral and mental health professionals choose ICANotes for advantages such as:
Availability for all mental health disciplines: A variety of behavioral health professionals can use ICANotes, including psychiatrists, psychiatric nurse practitioners, therapists, social workers and psychologists.
Simple pricing plans: Our contracts charge on a monthly basis, so you'll get a flexible EHR solution. We'll base our prices on your practice's staff and operations so you never have to pay for more than what you need.
HIPAA-compliant documentation: ICANotes will help you comply with HIPAA with multiple security features. The cloud-based platform has built-in security to protect your patients' information.
As a robust electronic health records (EHR) software, ICANotes includes multiple features to help you manage your practice. Record patient information, manage your practice and complete other critical tasks electronically.
Included in the Base ICANotes Package
When you purchase ICANotes, you'll receive the ICANotes Calendar as a part of the software. These appointment scheduling features integrate seamlessly with the rest of the features at no extra cost to you.
Learn More About ICANotes Appointment Scheduling
More Resources on Behavioral Health Scheduling
Deciding how much therapy costs can be challenging for even the most…
Read More
Intuitive, Accessible, Time-Saving
ICANotes - the only EHR software that actually thinks like a clinician.