Appointment reminder services offer these benefits to your practice:
Text & Email

Appointment Reminders
Increase your appointment attendance rates through automatic reminders. Keep patients engaged in their care by helping them manage their visits.
Automatic patient appointment reminders save time so you can put more effort into other aspects of mental health care.
Make appointment booking more efficient by only keeping appointments on your schedule that patients plan to attend.
Additional Benefits of an

Automated Appointment Reminder System
Our email and text message reminders provide these benefits and more advantages to your behavioral health practice:
Keep your patients informed of their appointments through reminders. This process helps your patients feel involved in their care and more satisfied with your practice. As a result, you can raise patient retention rates and improve your standard of care.
All of our reminder options have HIPAA-compliant formats and security measures. Protect your patients' information through industry-leading features. You get to take advantage of our reminder features while maintaining data security.
Text message reminders and more help your patients communicate with administrative staff about their appointments. This simplified communication process streamlines appointment scheduling. With automatic reminders, your team can optimize their scheduling to make operations more efficient.
Implement patient reminders to streamline your operations and provide better care.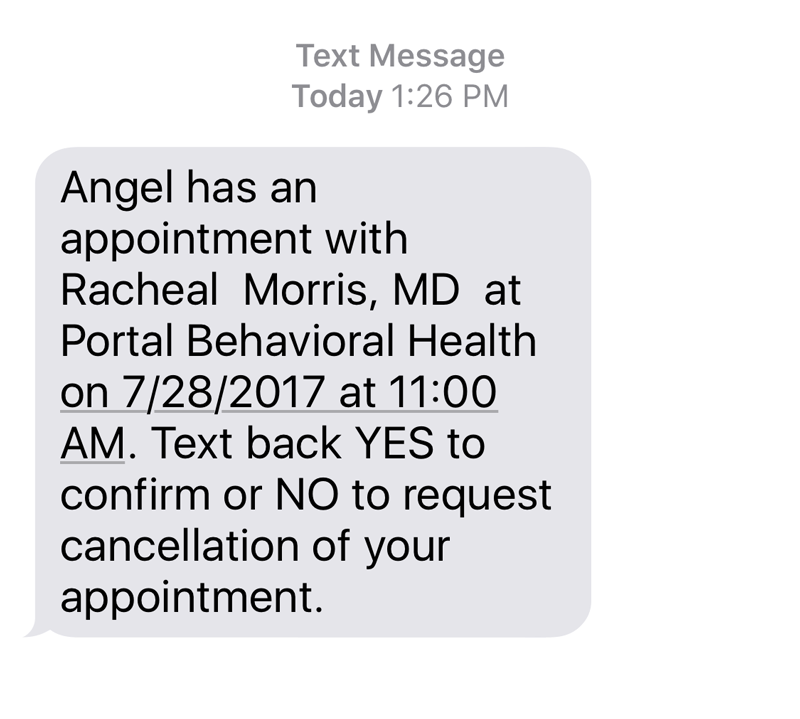 ICANotes offers email appointment reminders in conjunction with our Premium Patient Portal. The Premium Patient Portal add-on includes many additional features that keep patients engaged.
Text reminders are also available for an additional fee. Reminder message text can be customized, and the notification window can be set to your preference. Up to 3 reminders can be sent per appointment.
Appointment cancellations and confirmations are managed via our Reminder Status report, and status updates are easily posted to the ICANotes Calendar. ICANotes' features work seamlessly with your reminders to maintain consistent information.

Phone

Appointment Reminders
Our partner, TelTech System, Inc., provides customized appointment reminders over the phone. A live person records every practice message, so your patients hear a human voice. Each of their phone calls displays your caller ID, so your patients will know it comes from your practice. When they answer calls, your patients have the opportunity to confirm or cancel appointments over the phone.
If your practice prefers phone appointment reminders, please contact our appointment reminder service partner.
Comprehensive Practice Management Solutions

From ICANotes
Behavioral health care providers choose ICANotes for practice management because of advantages such as:
Complete care management: ICANotes includes a suite of practice management solutions in a single mental health software platform. Features include progress note templates, electronic medication management, online scheduling and electronic claims.
System designed specifically for mental health providers: We created ICANotes to meet the needs of the behavioral healthcare industry. Its security features and charting tools fit the field's requirements.
Monthly pricing plans: ICANotes comes in a monthly contract you can cancel 15 days in advance. We price our services based on your practice's size and needs.
Private practices, mental health clinics and a variety of other behavioral health providers can make use of ICANotes' sophisticated features.
Learn More About Our Reminder Pricing Options
All of our automated reminders come as add-ons to your base ICANotes plan. We price each option as follows:
Email reminders: Included in the Premium Patient Portal add-on
Text messaging reminders: Available as a standalone add-on
Phone call reminders: Priced separately through TelTech Systems, Inc.
Find out more about our reminder system plan costs in our pricing guide.
Get More Information on ICANotes' Appointment Reminder Software
Intuitive, Accessible, Time-Saving
ICANotes - the only EHR software that actually thinks like a clinician.