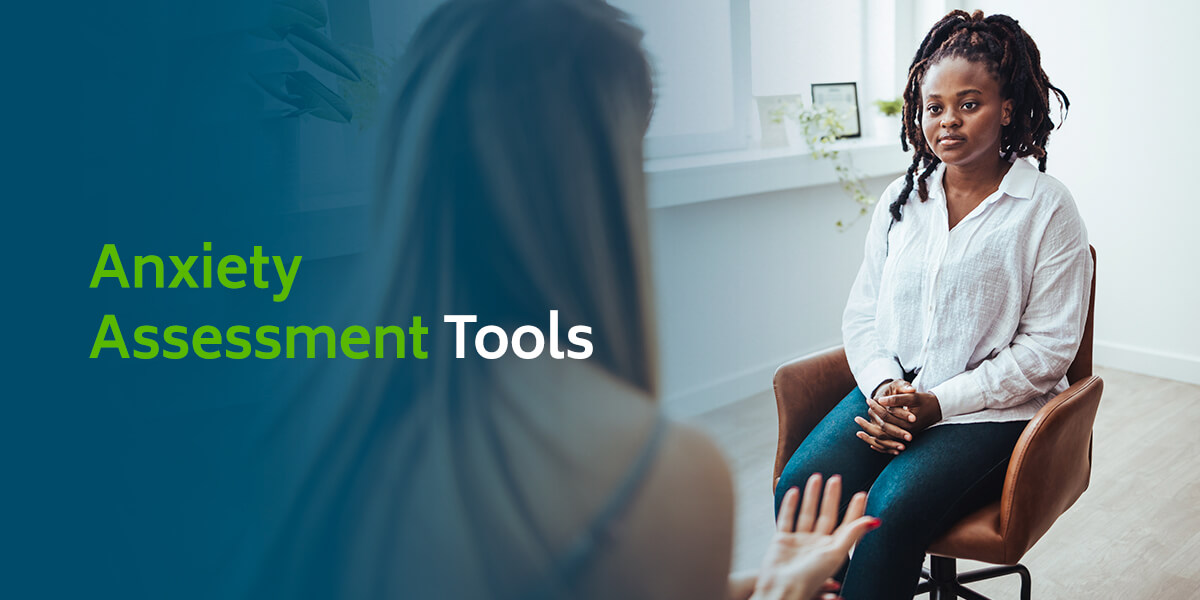 Psychiatrists, counselors, primary care physicians, and many other health professionals conduct anxiety assessments to better understand a patient's mental state and make diagnoses and treatment plans. Like other types of behavioral health assessments, anxiety assessments include collecting and evaluating many types of data. The process can include a range of tools, like informal interviews and formal questionnaires, that help shed light on the situation.
Knowing your assessment tools and everything they can do is a critical part of understanding your patients with anxiety and offering the best care possible.
Signs, Symptoms, and Effects of Anxiety
Anxiety is a broad disorder with different types and presentations, and it can affect one's emotions, cognitive functioning, behavior, and physical health. It shows up in children and adults and often overlaps with other disorders, which can make it hard to identify.
Adults can express their feelings and, thanks to their fully developed brains, can better identify when their thoughts might be irrational or exaggerated. Children, however, may not be able to recognize or vocalize their feelings.
Along with unique presentations for adults and children, anxiety is also comorbid and has overlapping symptoms with many other conditions. For instance, depression can come with irritability, sleep disturbances, fatigue, and other symptoms also associated with anxiety. Clinicians may also struggle to separate disordered anxiety from healthy, everyday anxieties. Assessments are a major part of identifying and differentiating between anxiety disorders and other disorders.
Signs, and Symptoms of Anxiety
Anxiety can include everything from an acute fear of spiders to generalized anxiety disorder (GAD), which is persistent and ongoing. Presentation can vary among different types of anxiety, but some common signs and symptoms include:
While older texts include them, the latest revision of the Diagnostic and Statistical Manual of Mental Disorders (DSM-5) no longer cites obsessive-compulsive disorder (OCD) and post-traumatic stress disorder (PTSD) as anxiety disorders.
Hard-to-control worrying or fear
Difficulty concentrating
Restlessness or an inability to relax
Irritability
Rapid breathing
An impending sense of danger or doom
Avoidance of certain situations or events
Social isolation or being withdrawn
Poor sleep or trouble falling asleep
Sweating, shakiness, or fatigue
Distractibility
Digestive issues
Panic attacks
Aches and pains
Anxiety can greatly impact a patient's ability to function in everyday life. The symptoms listed above can be frustrating enough, causing stress and sadness, but they can seep into other aspects of the patient's life, like their education, work performance, relationships, and social activities.
Adults may begin to seek help when they notice these feelings, but teens and children may not be able to identify when they need help. Parents, teachers, and counselors might look for the symptoms listed above and pay close attention to behavioral changes, such as refusing to go to school, increased crying, or trouble in class.
Anxiety assessments play an important role in identifying and verbalizing feelings for patients of all ages.
Download our Behavioral Health Assessment Guide
Find out which assessments are valid, research-verified, and completely free to use. A complete list of anxiety assessments available in the public domain is included in our guide.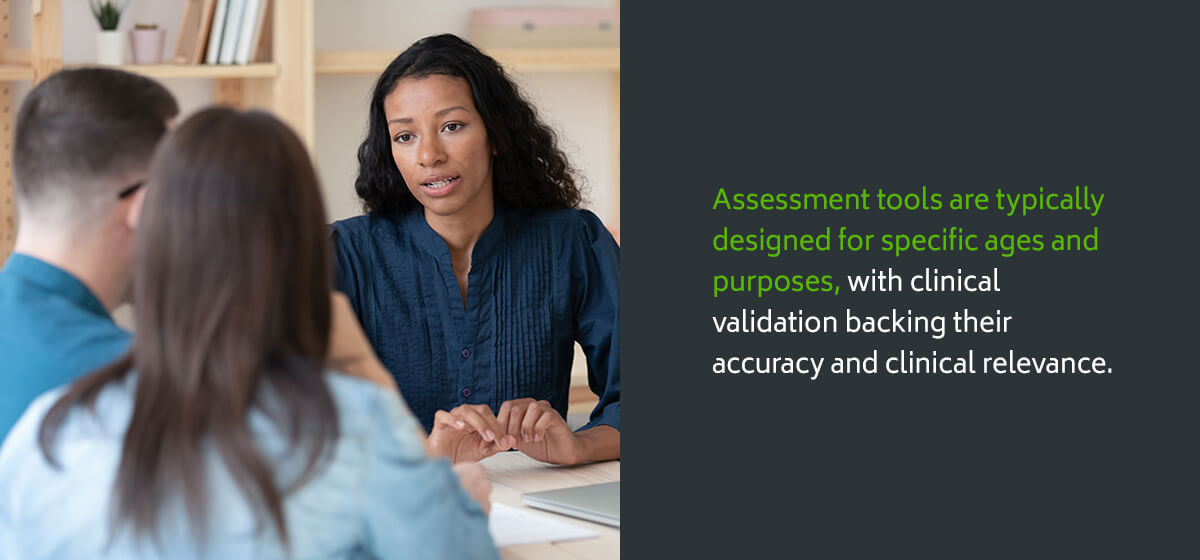 What are Anxiety Assessment Tools?
Professional anxiety assessments include a comprehensive evaluation of the patient to determine the presence, type, and extent of anxiety disorders. They can incorporate subjective and objective, formal and informal, and standardized or non-standardized methods of collecting data, such as interviews, forms, rating scales, and observations. Assessments may involve only the patient themselves or can include loved ones, such as a spouse or parent.
Throughout the process, providers look for signs and symptoms, as well as risk factors and potential comorbidities. Assessment tools are typically designed for specific ages and purposes, with clinical validation backing their accuracy and clinical relevance. For instance, within a behavioral disorder, you might find tools to evaluate the type or severity. If a provider suspects a condition, they can deliver an assessment tool to collect more data and inform their intervention plans or diagnosis.
These assessment tools often come in one of the following formats:
Rating scales: A patient might rate the severity or frequency of a symptom on a 1 to 10 scale.
Checklists: The patient can check off symptoms or prompts that apply to them.
Questionnaires: Questions or open-ended prompts can provide more detail on specific topics.
Since anxiety comes from many different places and has an array of related effects, assessments may cover the patients:
Home environment
Education and/or employment
Hobbies and activites
Drugs or alcohol
Risk-taking or conduct issues
Relationships and sexuality
Feelings of anxiety, depression, anger, etc.
Suicide risk
Benefits of Anxiety Assessment Tools for Clinicians
Assessment tools for anxiety can collect data from many different angles to give clinicians a better view of the whole picture. Some of the advantages of anxiety assessment tools include:
Objectivity: These tools can turn nebulous thoughts into concrete numbers, simplifying the diagnostic process.
Standardization: Test results often provide at-a-glance information about the patient's condition that all clinicians can understand.
Validation: Assessment tools typically go through rigorous validation processes, so you can use them and view the results with much more confidence than, say, a personal interpretation of an informal interview.
Ease of use: Most assessment tools are easy to administer and flexible. You can hand out a form, have the patient fill out a digital copy, or read the questions aloud. They tend to be fast, simple, and easy to get reimbursement for.
Repeatability: Many assessment tools can be reused over and over, making them a great way to get quick insights into a patient's progress. For instance, you could have a patient take a test during their weekly psychotherapy visit and get more data on their progress.
Types of Anxiety Assessment Tools
The list of potential resources is lengthy, but some of the most popular anxiety assessment tools include the following.
Generalized Anxiety Disorder Scale (GAD-7)
This self-report questionnaire has seven questions that ask the patient to rate the frequency of anxiety behaviors on a 3-point scale. It uses scores of 5, 10, and 15 to indicate mild, moderate, and severe anxiety, respectively. This assessment tool for generalized anxiety disorder is great for quick screening and ongoing progress measurements.
Hamilton Anxiety Rating Scale (HAM-A)
HAM-A has a similar structure to GAD-7, with 14 items in a self-report questionnaire. The patient answers them on a 4-point scale. Unlike GAD-7, HAM-A measures anxiety globally, rather than solely GAD.
Zung Self-Rating Anxiety Scale (SAS)
The SAS has 20 items scored on a scale of 1 to 4 based on symptom frequency with phrases like "some of the time," "most of the time" and similar. It assesses overall anxiety levels and includes somatic symptoms.
Depression Anxiety Stress Scale (DASS-21 and DASS-42)
DASS-21 and DASS-42 measure emotional states across depression, anxiety, and stress or tension. The DASS-21 is simply a shorter version, with 21 items instead of 42. It uses a 3-point scale.
Revised Children's Anxiety and Depression Scale (RCADS and RCADS-P)
This in-depth test has 47 items and includes subscales for different anxiety and depression disorders and OCD. It is another self-report questionnaire that uses a 1 to 4 scale. It can be administered to the child or parent.
Screen for Child Anxiety Related Disorders-Parent (SCARED)
SCARED is another child-focused assessment tool that uses a 41-item self-report format. It assesses several anxiety disorders, including symptoms related to school phobias.
Learn More About the Anxiety Assessment Tools ICANotes Offers
Anxiety assessments provide a wide range of insights to help providers diagnose and treat disorders accurately and efficiently, but they require the right tools. ICANotes is an electronic health record (EHR) designed for behavioral health. It includes many clinically validated tools to use within your workflow for assessing anxiety and other mental health conditions. You can even have patients fill forms out electronically, track progress over time, and link results with a patient's file for easy access.
Make sure your EHR supports your assessment tools and processes. See how ICANotes can help with robust features and tools for administering, interpreting, and managing assessments.