The Role of a Social Worker in Behavioral Health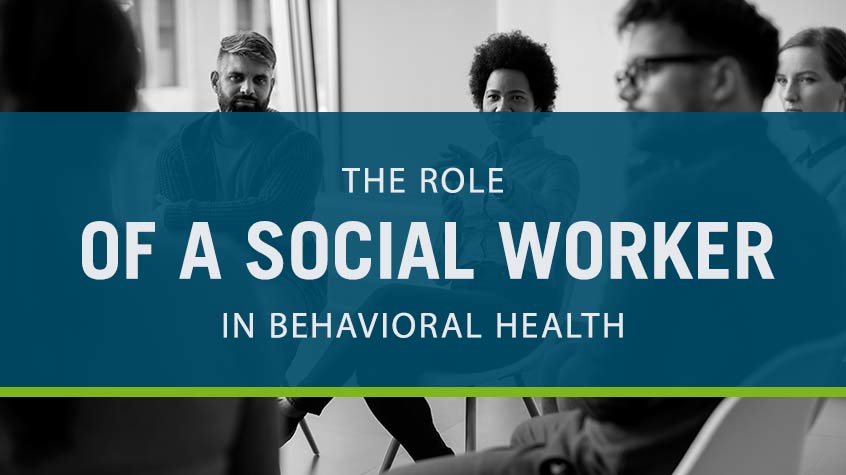 Social workers have been helping to make a difference in communities across the United States for decades. The demand for social workers continues to rise, and today there are well over 715,000 social work jobs across the country. Social workers are versatile resources for a number of people and organizations. There are several different types of social workers, areas they work in and people they serve. As a therapist, you may have crossed paths with a mental health social worker.
Social workers play a vital role in the continued development of behavioral health and the resources available for those with mental illnesses. To understand their role in behavioral health, you first need to understand what a social worker does, how they fit into the mental health field and where you may find yourself working with one.
Table Of Contents
What Do Social Workers Do?
Social workers take on many roles, so there are multiple jobs they may perform. Generally speaking, they help people solve problems and cope with challenges. Social workers assess a client's situation, needs, strengths, weaknesses, goals and support networks to help them adjust to things like divorce or illness. A client's social worker continually follows up with them to ensure they're making progress and their situation is improving. Social workers may work with individuals, families or groups of people going through similar challenges.
Social workers also respond to crisis situations, like a mental health emergency or a report of child abuse. The social worker works to remove an individual or family from the situation and place them in an environment that will help them heal or provide a temporary solution until a permanent one arises.
Another important aspect of social work is advocacy. Social workers research and advocate with and for their clients and other social workers. Most often, they're trying to raise awareness of the need for community resources that will help improve a client's well-being. This might include childcare, food stamps or healthcare. Social workers raise these issues at the local, state and national levels to bring enough awareness to promote change and action.
Part of advocacy is also evaluating current services and programs to ensure they're adequately meeting a client's needs. This often leads to social workers developing new programs that will better benefit their clients. This part of social work is often referred to as macro social work. With community organizations, advocacy groups and policymakers, social workers work to improve and develop policies and services to serve their clients and communities more effectively.
Types of Social Workers
As mentioned before, social workers serve multiple roles. Let's take a closer look at four of the most common areas of social work:
Healthcare:In the healthcare field, social workers work directly with patients to help them understand diagnoses and how they'll need to adjust their housing, healthcare and lifestyle to accommodate. They provide resources and information about services like support groups and home healthcare to help patients better manage their condition. Social workers may also work with doctors and other healthcare professionals to help them understand how illnesses can affect a patient's emotional and mental health.
School:Social workers in schools help improve students' social development and academic performance. They work closely with school administrators, parents, teachers and students to strategize and create plans for helping students. If a student has trouble with bullying, aggressive behavior or is frequently absent from school, their family may be referred to a school social worker for help dealing with these problems.
Child and family:Child and family social workers are often what people think of when they hear about social work. In this area of the profession, social workers help families improve their situation. For example, they may help a family find childcare or housing or help them apply for benefits like food stamps. Child social workers also protect vulnerable children, intervening when there are dangers of abuse and neglect. Other duties in this area of social work may include reuniting families, arranging adoptions and locating foster families.
Substance abuse and mental health:Social workers work in the mental health field to help clients cope with their addictions or mental illnesses. They can recommend support services like therapy, support groups and rehab services to help their clients progress. In addition to providing references for these services, social workers who are clinically licensed may help to provide these services to clients or work alongside therapists and mental health professionals to provide services.
As a mental health professional, it's important for you to know where and how you may cross paths with a social worker.
What Is a Behavioral Health Social Worker?
To work as a behavioral health or psychiatric social worker, the social worker typically needs their master's degree in social work and should be clinically licensed. This enables them to diagnose and treat emotional, behavioral and mental disorders. Licensed clinical social workers can provide various types of therapy for clients to help them cope with situations or work towards changed behavior. They may also work with other mental health professionals to develop treatment plans.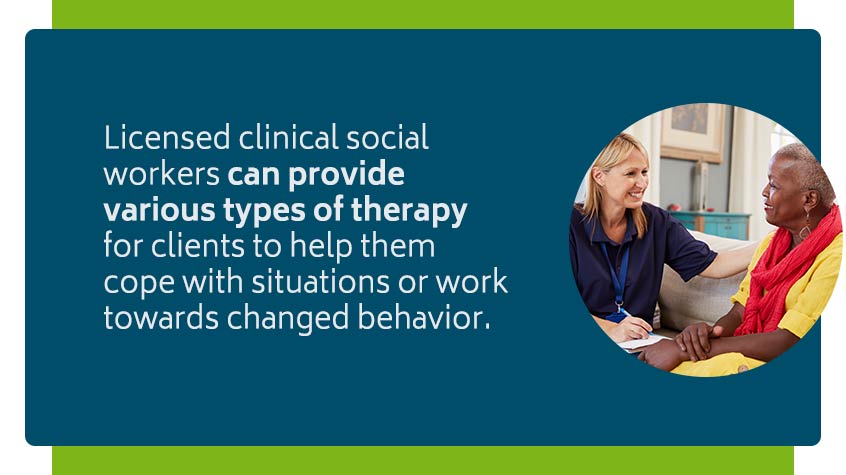 Most often, psychiatric and behavioral health social workers help their clients find solutions to various problems. To do so, they need extensive knowledge of the mental health field and the services provided within the behavioral health field. This lets them conduct assessments of clients to help determine what services will be beneficial to them and then refer the client to these resources.
Social workers stay involved throughout their client's mental health journey. They help educate the client about their condition, reinforce coping skills, assist the therapist during sessions and enhance communication between a client, their therapist and other mental health or medical professionals who may be part of their team. Social workers play a crucial role in helping clients adjust to therapy and incorporate it into their lives.
What's the Difference Between a Therapist and a Mental Health Social Worker?
Mental health professionals like therapists or counselors provide similar services to mental health social workers, so what's the difference between the two?
The key difference between these professions is how they obtain their clients and what they focus on with their clients. Therapists typically work with clients who electively choose to participate in therapy or other mental health services. Social workers are usually connected with their clients differently. Mental health social workers are often assigned to their clients in crises or moments of trauma. Social workers may be called into a dangerous situation to mediate behavior or help clients cope with life changes.
More broadly, a therapist is concerned with their client's mental stability, while a mental health social worker ensures their client has the resources to function in society effectively. This often includes referring a client to a therapist, attending counseling sessions with the client, contributing to and overseeing their treatment plan and helping the client put what they learn into practice.
Where Do Behavioral Health Social Workers Work With Therapists?
Because behavioral health social workers and therapists work in many of the same settings, they can cross paths and share clients in many places. Like behavioral health, social work is involved in many aspects of communities. Let's take a closer look at some places where therapists may work closely with behavioral health social workers and how their roles may overlap.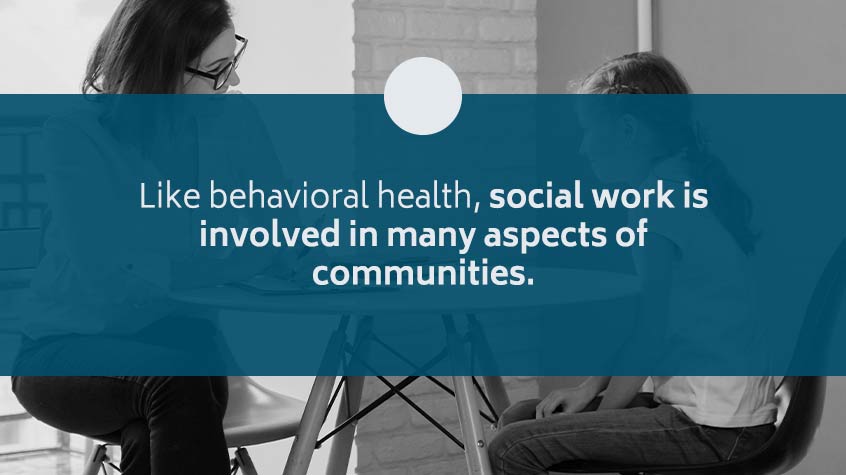 Hospitals
Hospitals are often one of the first places individuals are taken after a crisis or emergency occurs. This may be where social workers connect with their clients for the first time following a crisis like an overdose or child abuse. Hospitals often have therapists or counselors on staff, and they'd likely be present to assist on such a case.
Private Practices
Behavioral health social workers and therapists may work closely within a private practice environment. It's common for therapists and social workers to work at the same private practice. Being in the same practice, they'd likely have different clients. However, their services and knowledge may overlap with consults and collaboration.
Mental Health Clinics
Mental health clinics offer various treatment options, and therapists and social workers are likely to find themselves working together in these types of settings. While they may help different clients, they may work together to offer services at the clinic. For example, a behavioral health social worker may work closely with a therapist to host a group counseling session.
Rehabilitation Treatment Centers
Many behavioral health social workers help clients battle addiction. These social workers may refer clients to a rehabilitation center where they work closely with doctors and therapists to receive treatment and work towards getting better. The social worker would also work with the team of doctors and therapists to track the client's progress and create a treatment plan to continue as the client returns to their life.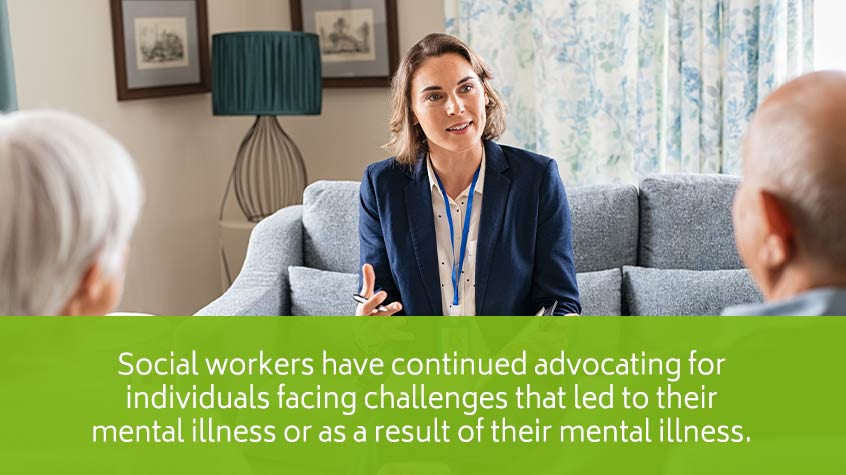 Schools
Therapists and behavioral health social workers often work together in school settings. When a student and their family are referred to a social worker, the school counselor will likely also be involved because they deal closely with student behavior and academic performance. These two professionals would likely work together to develop strategies to help students with behavioral problems or academic trouble.
The Important Role of Social Workers in Behavioral Health
Social workers play an important role in behavioral health because they're able to take on so many different roles to help individuals and families find the resources they need to be contributing members of society. Whether they're providing or assisting with direct services for clients like crisis intervention, managing cases to coordinate a client's services, supervising a mental health program or teaching at workshops, social workers do significant work within and for the behavioral health field.
One of the most important roles a social worker has in behavioral health is developing resources, programs and policies to help their communities. They work with communities as a whole to identify mental illness and develop resources for mental illnesses within the community. A social worker's dedication to advocacy helps change a community's attitude toward mental illness, which creates a more accepting place for clients to receive services.
Social workers have significantly impacted many health and economic-related causes that can directly influence a client's well-being. Social workers had a strong presence in making unemployment benefits, disability pay and social security available for individuals. After mental health social workers help clients and their families overcome challenges affecting their well-being, they help them find resources to help improve their situation. For example, by addressing a client's alcohol abuse, a social worker can help them find employment opportunities and mental health resources for their family.
Why Is Mental Health Important to Social Work?
Mental health and social work have been intertwined since the mental health reform in the U.S. With increasing attention on mental illnesses, the Mental Health America agency began researching, drafting policies and communicating with the public to advocate for mental health awareness. Because advocacy is such a large part of social work, this is where they began contributing to behavioral health.
Since then, social workers have continued advocating for individuals facing challenges that led to their mental illness or as a result of their mental illness. Social workers recognize how traumatic events and lack of resources can lead to mental illness, so they're dedicated to ensuring people have access to resources that will help improve their well-being. If there are no resources available for a client, social workers advocate or work to create and provide resources themselves.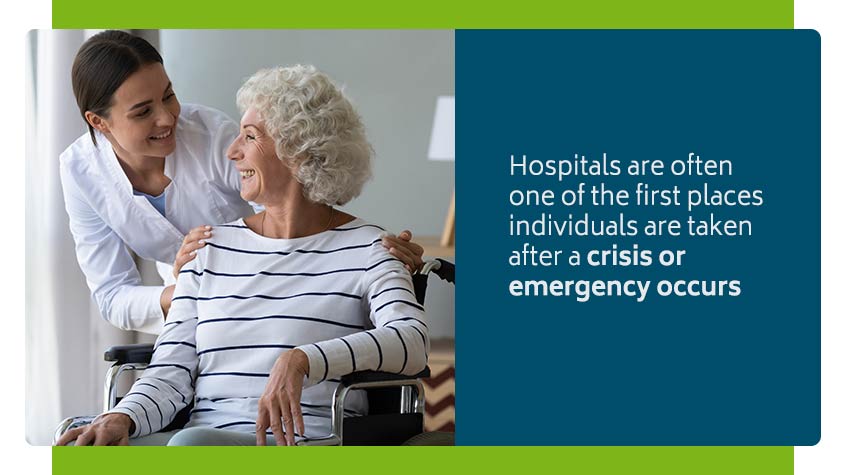 Share Notes and More with ICANotes
Mental health care providers and social workers often work together or are in contact with each other regarding patients. As a therapist, if you're working closely with a social worker, you'll likely have to share client notes with them. Trying to share handwritten notes and hard copies of client files can be challenging and poses a confidentiality risk. Electronic health records (EHR) simplify note writing and sharing to make the process quick and organized. An EHR like ICANotes makes writing and sharing notes easy and secure.
ICANotes can help you improve your therapy notes with a variety of templates made for services varying from individual and group therapy to inpatient settings and substance abuse. Using templates helps organize your session notes, which will benefit you, your clients and other colleagues that may need to read your notes, including social workers you share clients with.
Additional ICANotes features like direct messaging and document management allow you to exchange confidential documents like patient records and copies of session notes securely. This makes collaborating and communicating with social workers, colleagues and even patients simple and efficient. These features and more make ICANotes a beneficial addition to any practice.
To find out more about ICANotes features and benefits of our EHR, contact us today or request a free trial to see the features firsthand.