10 Tips for New Counselors and Therapists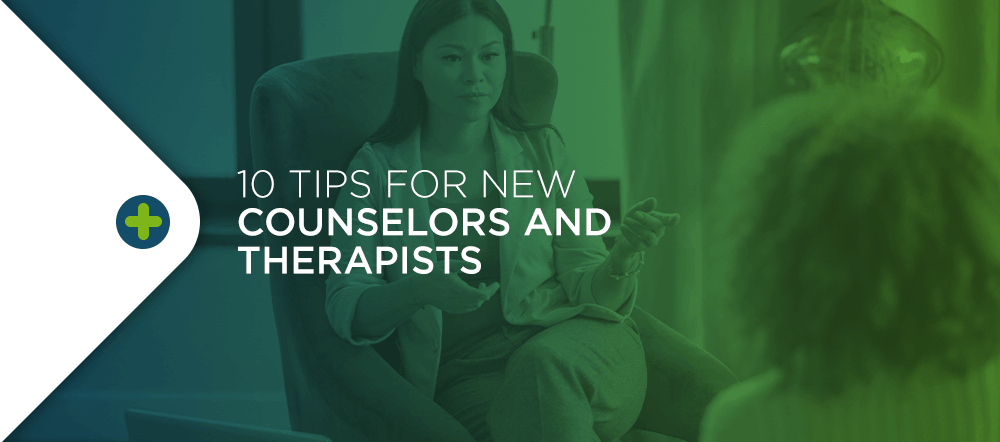 If you've recently entered the behavioral health field or opened a private practice, you may be looking for advice. Starting something new can feel intimidating, and it takes confidence to pursue a dream. In this post, we'll share tips for new therapists and counselors to help you get a positive start. If you have questions about implementing electronic health record (EHR) software in your new practice, we're happy to help you at ICANotes.
Table of Contents
1. Diversify Your Income
As a new therapist in private practice, you may not have a steady flow of clients. Yet, you still need to pay your bills and keep your practice up and running. By implementing various ways to help others and make a profit, you won't have to rely entirely on one revenue stream.
Even if you've been in practice for years, it can be worth it to diversify your income. You can break up long days working with clients and offer your skills, knowledge and compassion in other ways. This can help prevent burnout and make your career more satisfying overall. It may also keep you from needing to raise your rates.
As a therapist or counselor, you have many options for earning money beyond typical therapy sessions. Here are a few ideas:
Write a self-help book or workbook and sell it online to generate passive income.
Teach a class online or at your local community college.
Start a blog and join an affiliate program.
Offer group therapy or monthly workshops.
Provide teletherapy services.
Be a consultant for other businesses.
Sublease your office space.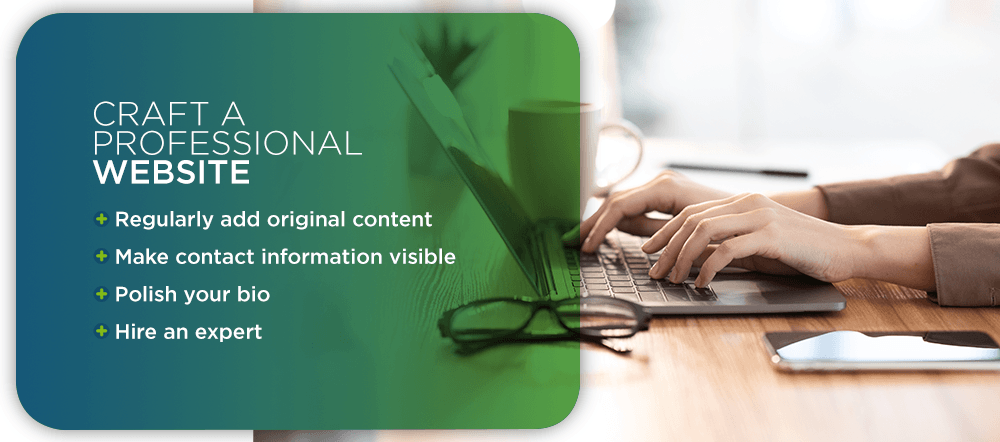 2. Craft a Professional Website
Almost every business needs a website, and counseling practice is no exception. Potential clients will likely search for local therapists online before making an appointment, and your website can help them find you. You can also use your website to share helpful content, show your credibility, build your reputation and provide important information about your practice.
If the idea of building a website sounds like a burden, know that you don't have to be an expert, and it can be fairly simple with a little guidance. Here are a few tips to keep in mind:
Regularly add original content: Your first job is to be a great counselor, so you're not expected to blog eight hours a day. Still, it's important to add fresh, helpful content at least once a month, or once a week if possible. This can help your website rank better in search engines, which can help clients find your practice more easily.
Make contact information visible: Make sure every page on your website includes your practice's address and phone number. You don't want clients having to dig for this information.
Polish your bio: When clients visit your website, they'll likely want to look at your "About Me" page. Make sure this page is easy to find and include a professional headshot and well-written biography.
Hire an expert: Considering that over 80% of Americans go online every day, it's a good idea to invest in your website. This may mean hiring a web designer who's an expert at search engine optimization (SEO). An SEO pro can help you create a user-friendly website that'll appear in the top search results. So when clients look for local therapists online, your practice will pop up — ideally on the first page of search results.
3. Have the Right Forms
As a private practice counselor, you'll need to have the proper forms in your office. These forms will help you coordinate care for your clients, and they'll also protect you legally and ethically. If you wish to have a paperless practice, you can have clients fill out the necessary forms electronically before their appointment. Whether you use paper or electronic documents, all must be kept secure to comply with the Health Insurance Portability and Accountability Act (HIPAA).
Every practice is different, but in general, you'll need to have the following forms:
Informed consent
Release of information
HIPAA Notice of Privacy Practices
Social media policy
Cancellation policy
Credit card payment authorization
The Center for Ethical Practice has sample patient consent forms you can view, or check out ICANotes patient portal. With the patient portal, you can create forms that clients can fill out directly in the HIPAA-compliant platform.
4. Reply Promptly
You'll want to respond to clients' phone calls or emails on the same day, if possible. If you don't return a client's call or message, they may feel they aren't getting attention and lose interest. By responding promptly, you show clients you care, and you're available to help them. If you happen to be the first therapist to reply to someone's call, you can make a great impression, and the client may be more likely to schedule an appointment with you. Overall, your fast response helps you build rapport and motivates clients to continue therapy.
If you're concerned about keeping up with clients' messages, consider using digital tools to your advantage. For example, with ICANotes automated appointment reminder feature, clients are reminded of upcoming appointments via text or email, which they can then confirm or cancel. That leads to less time you'll need to spend on the phone.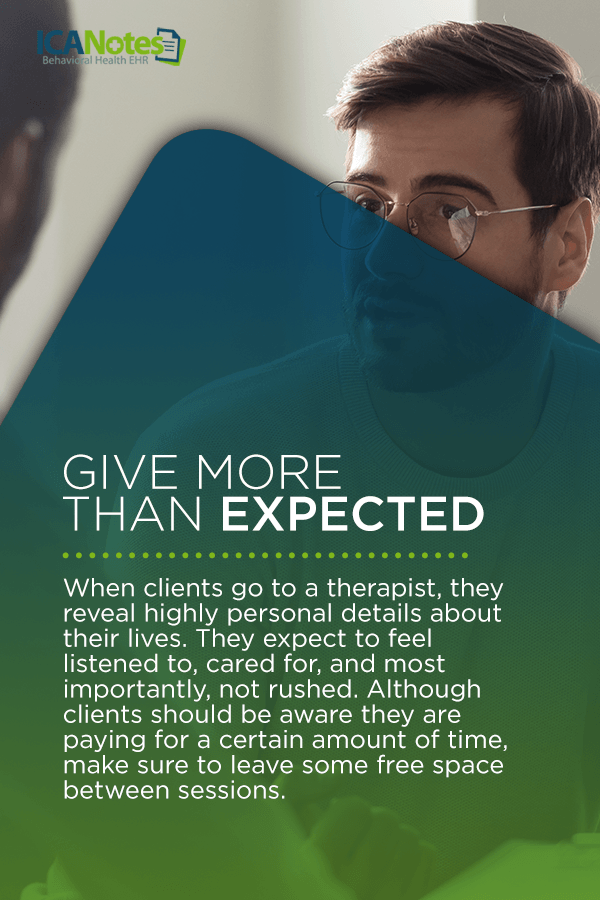 5. Give More Than Expected
When clients go to a therapist, they reveal highly personal details about their lives. They expect to feel listened to, cared for, and most importantly, not rushed. Although clients should be aware they are paying for a certain amount of time, make sure to leave some free space between sessions. That way, if an appointment runs over, you don't have to make a client hurry out of your office. You'll let them know they are important to you, and they'll appreciate the extra time you give them. This can help you build strong relationships with your clients and support your business's success.
6. Welcome New Clients Warmly
Clients may feel nervous visiting you for the first time, and some may have never been to a therapy session before. As the counselor, you may also experience anxiety before meeting new clients, especially with the pressure of making a good impression. Despite any nervousness, you must make clients feel safe and comfortable when they step inside your office.
To help you create a relaxed environment, consider the following tips:
Remember your goal: Your goal is to develop a therapeutic relationship with your client, so ultimately, you can help them. To stay focused on your goal, prepare for your first session days in advance by working on anxious thoughts. Also, be ready to treat the client warmly, show interest and help them feel at ease.
Focus on something external: If you find yourself worrying about your performance during your first session with a client, try to get out of your head by focusing on an external element. For example, you might focus on the color of the client's shirt or the sound of their voice — whatever it takes to calm your mind.
Ensure a positive environment: Before taking new clients, look around your office and consider if the space will make them feel welcome. Is your office warm and inviting? Are receptionists friendly, and do they greet clients with a smile? Make sure every aspect of your practice helps clients feel appreciated.
Reach out to a peer: If you don't feel ready to meet with clients for the first time, consider sharing your concerns with someone you trust who's been in your position before. Sharing your thoughts with another counselor can help you remember your abilities and feel more confident as a professional.
7. Dig Deeper
As a behavioral health professional, it's likely you're an empathetic person and don't want to make clients feel uncomfortable. You probably also understand the importance of confidentiality and building a good rapport with your clients. However, if you're just starting out, it's important not to let confidentiality concerns or worries of making a client uncomfortable overshadow your need to dig deeper. If a client opens up to you, don't be afraid to follow their emotions and go further into a topic. Clients will likely appreciate that you made them feel safe exploring buried thoughts and feelings.
8. Stay Organized
Whether you're a new counselor or have been in the field for decades, organization is key to running a private practice. Staying organized helps you keep track of your clients' records and ensure they are kept confidential. It also allows you to access clients' forms and medical information quickly, so you can spend less time searching for important paperwork and focus on serving your clients instead. If you accept insurance, being organized enables you to submit claims on time and get reimbursed.
One way to keep paperwork like billing information, patient forms and progress notes organized and in one place is to use an EHR designed for behavioral health. ICANotes, for example, is designed specifically for mental health professionals. With ICANotes, you can enjoy features such as automated appointment reminders, a patient portal, integrated billing solutions, customizable note-taking templates and industry-leading security precautions. Overall, ICANotes can help you turn your office into a paperless practice and spend less time on documentation.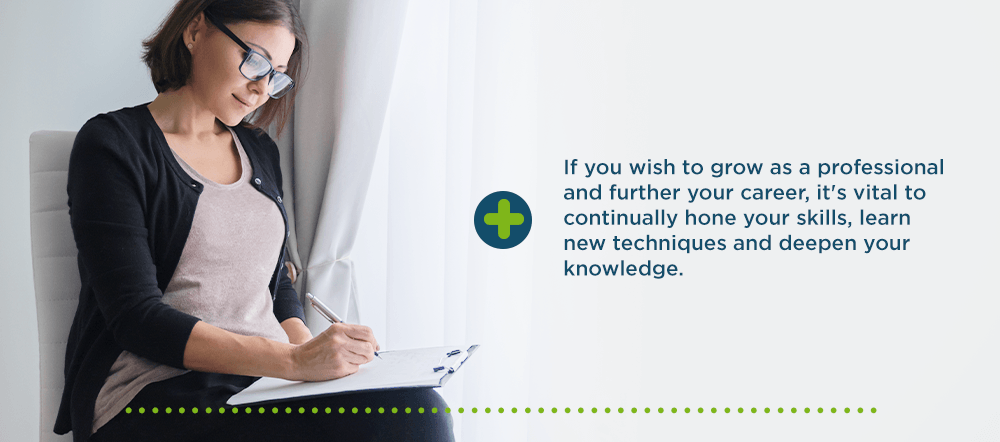 9. Expand Your Skills
If you wish to grow as a professional and further your career, it's vital to continually hone your skills, learn new techniques, and deepen your knowledge. This means going above and beyond your state's continuing education requirements and truly embracing lifelong learning.
To start, think about the skills you need to accomplish your goals as a therapist or business owner. For example, do you want to learn SEO to help your website reach more clients? If so, consider reading a book about the topic or enrolling in an online course. Or maybe it would help you run a more efficient practice if you take a business management class or learn how to meditate. The more you learn, the more well-rounded you'll be, which can help you bring your best to every therapy session.
10. Prioritize Self-Care
Working in the behavioral health field can be highly rewarding, but it can also be exhausting. It's not always easy to listen to difficult emotions and traumas all day, which can take a toll on therapists. To become a better counselor and prevent burnout, you must prioritize self-care.
It may not feel natural to put your needs before others. But self-care is critical to your success and enables you to serve your clients. Here are tips to help you take care of yourself so you can share your talents for a long time:
Take breaks: Avoid waiting until you're exhausted to take breaks and strive to achieve a healthy work-life balance. Make sure to schedule breaks throughout each day and allow yourself to vacation periodically, leaving work-related matters behind. Save time in your workweek to spend with friends, family, hobbies and interests.
See a therapist: Many counselors work with clients who share traumatic experiences. These stories are hard to listen to and can affect counselors. To keep yourself from feeling overwhelmed by your clients' experiences, consider meeting regularly with a therapist of your own. This can help you cope with the job's challenges and allow you to be a better counselor for your clients.
Maintain physical health: It's hard to perform any type of work if you don't feel well physically. Strive to live a nourishing life with regular exercise, a healthy diet and adequate sleep. A healthy lifestyle can give you the energy you need to run your practice and reach professional goals.
Learn to relax: Being a mental health counselor and owning a private practice can be stressful at times. At the end of the day, you don't want to carry that stress home with you. Try to include relaxing activities in your daily routine that have nothing to do with work, whether that be meditating, practicing yoga or reading a novel. This can help you feel much more refreshed when the next day rolls around.
Try ICANotes EHR
If you're wondering how to use EHR in your practice or would like to spend less time on paperwork, we can help you at ICANotes. ICANotes EHR software is intuitive, easy to implement and can help you run an efficient practice. To see how ICANotes works, request your free trial or contact us today and learn about our special pricing options for new counselors and therapists.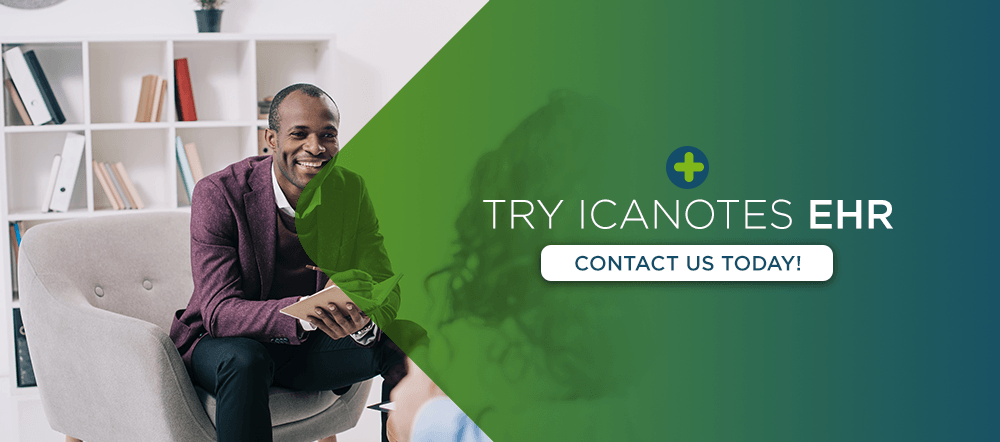 Related Posts:
CPT Code Basics: What You Should Know
Billing Pitfalls for Mental Health Clinicians
How to Make Your Therapy Note-Writing Process More Efficient
Self Care for Behavioral Health Professionals
Client Confidentiality: Best Practices for Behavioral Therapy Patients
Sources: