How to Make Your Practice Virtual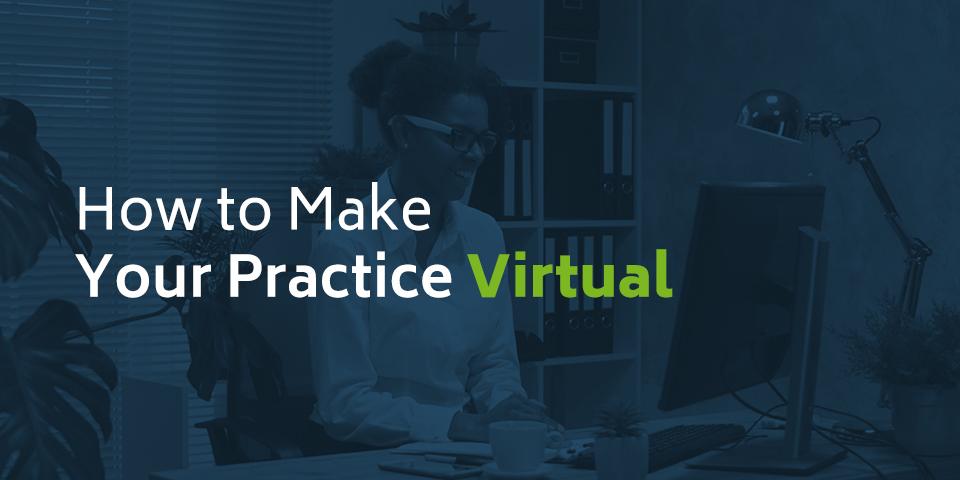 The use and acceptance of virtual therapy have grown significantly over recent years. According to a survey by the American Psychological Association (APA), 48% of psychologists said they offer some service through the internet, and over half reported they would like to deliver at least 10% of their services online in the future.
By providing virtual therapy, behavioral health professionals can reach clients who may have otherwise lacked access to mental health care. Clients also enjoy the convenience of receiving treatment in the comfort of their homes.
If you're considering moving your practice online, you're likely wondering where to begin. Although you'll need to consider privacy laws and ethical guidelines before initiating online therapy sessions, in general, you can complete the process in just a few steps. In this post, we'll discuss the tools you need to manage a virtual therapy practice efficiently and effectively.
What Is Virtual Therapy Practice?
Virtual therapy, also known as online therapy and telemental health, allows a behavioral health professional to provide counseling services and support via the internet. The counselor might meet with a patient through video conferencing, online chat, email or text. Typically, clients can access the service through their computer or a mobile app.
Therapists who provide online services must obtain the same education and training as any practicing counselor. It also helps to learn online therapy guidelines and techniques. The APA offers guidance to help counselors ethically use technology.
To provide online therapy services, you need a secure platform. You might consider an electronic health record (EHR) software that offers integrated telehealth options. Telehealth EHR software should enable the following.
Virtual therapy sessions: Your EHR should allow you to have secure therapy sessions online, whether you hold a video conference or communicate with clients through email. With the appropriate platform, you can send your client a text or email link, which they can then click to join a private video session. EHRs with telehealth capabilities allow you to keep related documentation and patient information in one organized place.
Virtual practice management tools: Electronic documentation tools should be part of virtual therapy practice. You need a way to keep the details of each therapy session and future appointments organized, secure, and easy to access. Online management tools, such as those provided by EHR software, enable you to offer the best patient care possible and enjoy a streamlined billing process.
Before you move your practice to a virtual platform, make sure to check the ethical and legal requirements in your state to learn of any specific regulations you must follow. Also, remember to call your malpractice insurance carrier to ensure you comply with their guidelines.
What Are the Benefits of Telemental Health?
Online therapy offers unique benefits to your clients.
Easy access to care: Online therapy allows clients who have limited access to mental health services to receive the care they need. Telemental health can also serve individuals with physical disabilities who otherwise may find it challenging to attend appointments.
Reduced fear of stigma: Some clients might be hesitant to seek treatment for mental health issues due to stigma. Online counseling encourages clients of all backgrounds to get help in the privacy of their homes, without the fear of someone seeing them.
Convenience: It's much less of a hassle for clients to visit a counselor via their computer than have to get in their car, deal with traffic and drive to a physical location. Virtual therapy removes obstacles for clients who can't drive or do not have a car.
Greater protection against COVID-19: Therapists and their patients must find ways to protect their health during the COVID-19 pandemic. Many therapists are turning to online therapy as a way to connect with clients while reducing the risk of spreading illness. Virtual therapy can be an excellent tool to ease clients' anxiety during this unprecedented time.
Access to effective treatment: Research suggests virtual therapy is just as beneficial, and in some cases, more so, than traditional face-to-face sessions. According to a University of Zurich study, 53% of the study's participants no longer met the criteria for depression after undergoing online therapy. In comparison, 50% of those who participated in face-to-face sessions weren't depressed anymore. Both patient groups reported a high degree of satisfaction with their treatment, whether it took place online or in person.
How Can You Benefit From an Online Therapy Practice?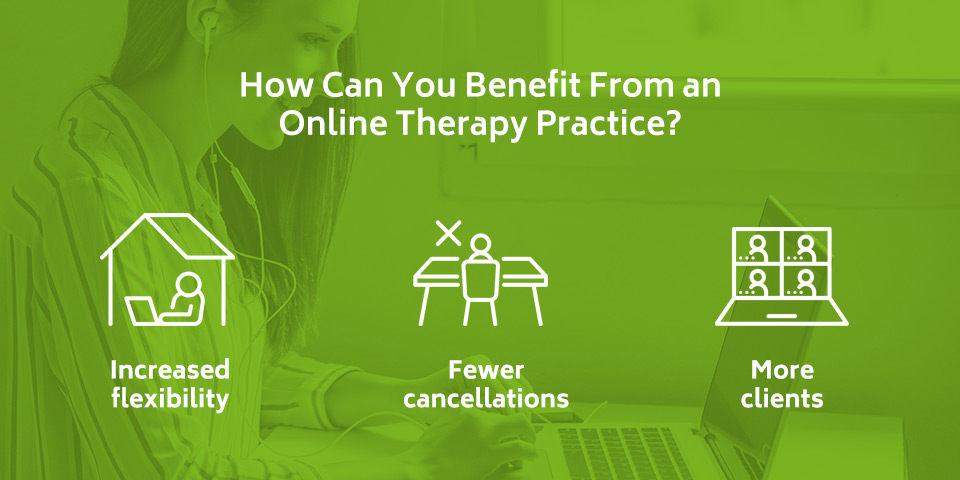 As a behavioral health professional, you can expect to experience the following benefits when you move your practice online.
Increased flexibility: When you offer therapy online, you can work at any location and at any time, allowing you to provide more flexible scheduling options for your clients. It also means you can continue to hold in-person sessions during the day and offer online counseling at night, during the weekend or whenever it is convenient for you and your patients.
Fewer cancellations: Since online therapy is convenient, there are fewer reasons for clients to cancel their appointments. Patients no longer have to take the time or find a way to travel to your office. If they feel physically unwell, they can still take care of their mental health comfortably at home, if they wish. Overall, a virtual practice puts you in a better position to provide treatment under various circumstances.
More clients: By offering online sessions, you can reach clients who may have avoided therapy in the past for reasons such as living too far away or feeling uncomfortable meeting in person. With more appointments in your calendar, you can expect higher income and more opportunities for your business to grow.
Privacy Laws and Online Practice Management
According to the APA, security, and compliance with the Health Insurance Portability and Accountability Act of 1996 (HIPAA) is the primary concern among psychologists regarding telemental health services. To ensure compliance, you must review the Security Rule under HIPAA, which applies to any health care provider who works with electronically protected health information (e-PHI). In general, the Security Rule requires counselors to:
Protect the confidentiality and availability of all e-PHI they create, receive, transmit or maintain
Safeguard e-PHI from threats or unauthorized use of the information
Ensure staff members comply with HIPAA rules
You can readily achieve HIPAA compliance in your virtual practice by using EHR software with security features such as user authentication and data encryption. A reliable EHR system makes HIPAA compliance fast and straightforward, whether you move your practice online or continue to offer in-person sessions.
Free Ebook: Going Virtual
Everything you need to start a virtual behavioral health practice.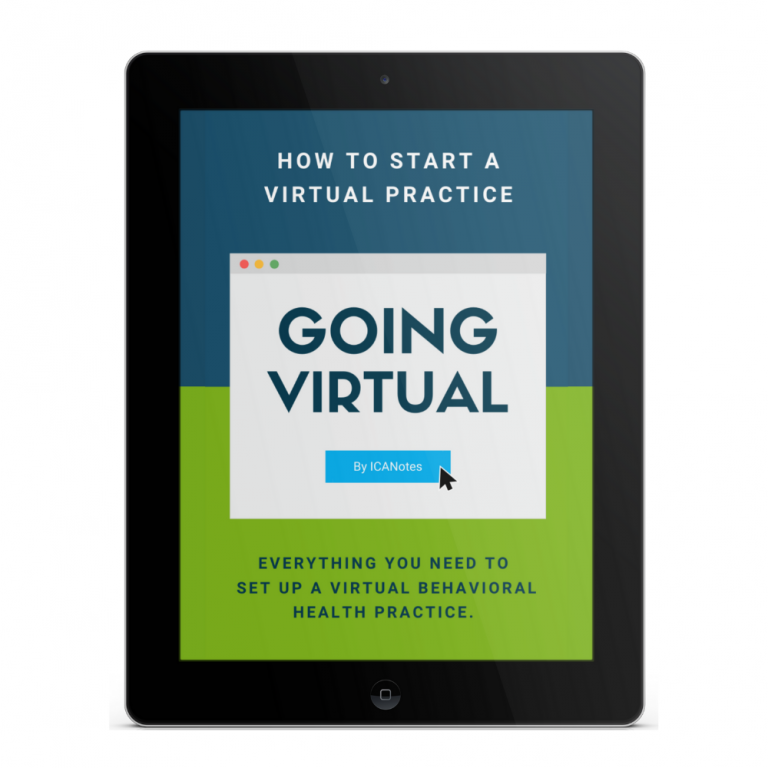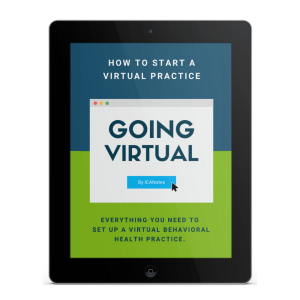 Must-Have Virtual Practice Management Features
You'll need a few tools to run an online practice smoothly and meet your clients' needs. The following features will help you fulfill documentation and privacy law requirements, provide quality care, and get paid for your services quickly.
Try ICANotes' Telehealth EHR Software
As a therapist, it's understandable if you're concerned about privacy laws and how they apply in a virtual setting. The rules and regulations are complex and ever-changing. However, with ICANotes' behavioral health EHR, you can deliver virtual therapy safely and with peace of mind.
ICANotes is HIPAA-compliant EHR software designed to meet the documentation needs of behavioral health professionals. You can use ICANotes as a platform to hold secure video conferences with clients, manage documents, send text reminders, and enjoy a simplified, integrated billing system. To learn more about ICANotes and how it can help you expand your services, contact us today or request your free trial.