How EHR Systems Can Help You Diagnose Patients


With the development of electronic health records, or EHRs, our healthcare system has undergone a significant technological evolution. Until recently, most patient information came in the form of paper records, but now EHRs are being used in eighty percent of physicians' offices and a growing number of behavioral healthcare organizations.
In addition to reducing the burden of paper record upkeep, EHRs offer a number of clinical tools that help healthcare providers deliver the best care to their patients. However, one of the largest advantages offered by EHRs is the ability to diagnose patients more effectively at the point of care.
Table of Contents
Five Ways EHRs Can Help Diagnose Patients
Since the introduction of EHRs, the role of technology has changed. Rather than acting just as a mirror for paper records, an EHR system has to bring providers better clinical value. This can come in the form of diagnostic assistance that helps clinicians pinpoint a diagnosis so patients can receive appropriate treatment efficiently. Here are five of the ways a good EHR can support a clinician in making a behavioral health diagnosis: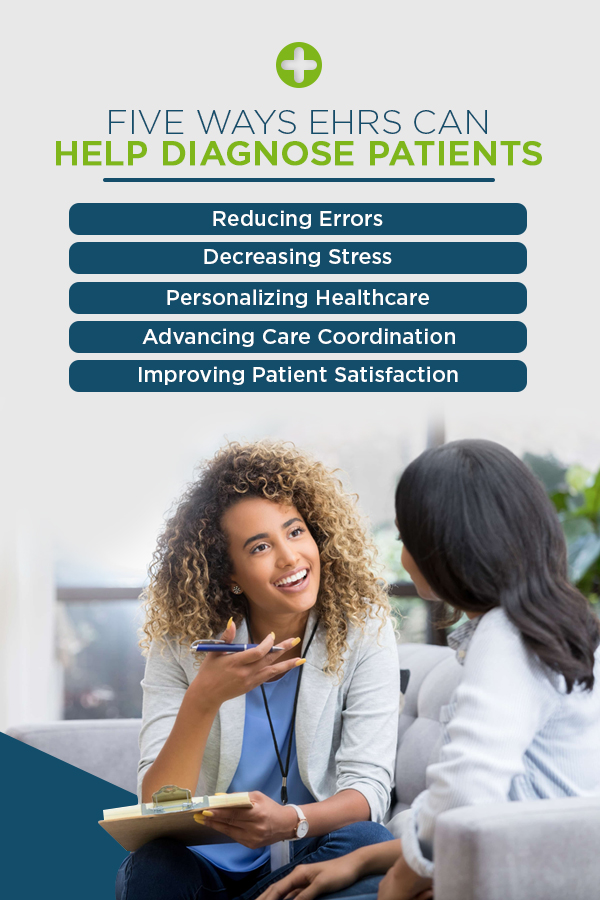 1. Reducing Errors
Unfortunately, diagnostic errors are common. In the medical field, these errors lead to 40,000 to 80,000 deaths annually, making incorrect diagnoses one of the biggest concerns for patient safety in the United States. Medication mistakes are a significant contributor to this problem, especially when a patient receives care from more than one clinician or team.
With paper records, a patient's purposeful or accidental withholding of information can go unnoticed indefinitely or until something happens to uncover the discrepancy. With an EHR, a patient's record is centrally updated by each provider the individual sees, so it is consistently up-to-date with the latest developments in a person's care.
While errors in mental and behavioral health diagnoses may not lead as frequently to life-or-death mistakes, the benefits of EHR over paper charts can still save lives, even when a clinician is not prescribing medication.
2. Decreasing Stress
Like anyone else, a stressed clinician and care team are more likely to make mistakes when they are tired or stressed. For behavioral health professionals, using an EHR designed for physicians can contribute to that stress as they attempt to make templates and interfaces work with the different needs of their field.
However, when clinicians use an EHR designed specifically for the behavioral health specialty, they can see a significant reduction in stress because the software can partially automate a variety of management and administrative tasks. Some of the stress-saving features you can expect include:
Scheduling: A more user-friendly interface enables clinicians and staff to manage patient appointments with minimal effort.
Document management: A good EHR allows you to take scanned documents or photos and upload them or transfer them securely.
Communication: An EHR with a HIPAA-compliant patient messaging portal makes it easy to get in touch with patients and get the information you need.
Billing: Billing is often more complex than it needs to be, so an EHR with the capability to create statements, CMS forms and superbills while accepting multiple types of payment can make a significant difference in stress levels.
EHRs can also change and improve your organization's workflow by helping you:
Manage communication
Schedule patients
Check patients in
Assign rooms or offices
Conduct exams
Renew medications
Check patients out
Spending less time on the administrative side of patient care allows clinicians to focus more on patients, leading to fewer mistakes in diagnosis.
3. Personalizing Healthcare
In behavioral health, strong relationships with patients can lead to more accurate diagnoses. While someone with a physical problem often feels comfortable describing their symptoms and how they affect their daily life, people are often more reluctant to talk about mental health issues due to the widespread stigma of mental illness. To have an EHR help diagnose clients, it needs to provide a more personal experience that the patient wants to engage in.
One way EHRs do this is by providing patient portals that allow clients access to relevant materials. When a person can see all the messages from their clinician, access resources and perform actions like scheduling appointments online, they are often encouraged by having a hand in their own care. More engaged patients tend to open up more and give more information behavioral health professionals can then use to form a more accurate diagnosis.
4. Advancing Care Coordination
People today see more teams of healthcare providers in their lifetime than ever before, so it's crucial that those providers improve care coordination. One person can see a doctor, nurse, technician, specialist and behavioral health provider in the span of just a few weeks or even days, so coordinating care efficiently through paper records is impossible. When every member of a person's care team has limited and specific interactions with the individual, every provider has a narrow point of view that can fragment the full picture of health.
EHRs can integrate patient information and organize it so that each professional involved in a person's care can see the bigger picture rather than just the sliver they have directly contributed to. Errors due to miscommunication between providers can be drastically reduced when EHRs are used properly.
5. Improving Patient Satisfaction
Patients are generally used to filling out several forms each time they have an appointment. This is an inefficiency that affects the patient and the administrative staff, both of whom must re-enter the information into the chart. With an EHR, a patient can fill out a form once and have it added to their digital chart. Then, they will only need to fill out the form again when something has changed.
The advantages of EHR for patients include:
Reduced waiting time for appointments.
Improved scheduling through patient portals.
Reduction of unnecessary tests.
Improved communication between patients and providers.
Reduced time spent addressing billing and clinical questions.
Empowerment to manage and take ownership of healthcare.
Easy access to protected health information (PHI).
Better prescription management through e-Prescribing.
When patients are happier and experience less frustration throughout the process of care, they may be less likely to omit information and give more careful consideration to the forms they do have to fill out. Happier patients are more cooperative and willing to provide critical information to behavioral health clinicians, often resulting in more productive sessions that contribute to an accurate diagnosis.
How Does Meaningful Use of EHRs Improve Patient Outcomes?
There is significant and mounting evidence that EHR use improves outcomes for patients. Because of this growing body of proof, incentive programs have been created to encourage universal adoption of EHR technology among medical and behavioral health providers. The American Reinvestment and Recovery Act (ARRA), enacted in 2009, included a number of measures designed to modernize infrastructure, including health information technology.
One of the measures that still affects EHR compliance today is the Health Information Technology for Economic and Clinical Health (HITECH) Act. HITECH defined the new concept of "meaningful use" of EHR technology. The Centers for Medicare and Medicaid Services (CMS) and the Office of the National Coordinator for Health IT (ONC) worked together to provide incentives for organizations and clinicians who could demonstrate that they were using their new EHR technology in ways that improved care and patient outcomes.


Meaningful use means using ONC-certified EHR technology (CEHRT) that allows providers and other approved entities to exchange health information with the intention of improving overall care quality. Providers report on their use of certified EHR technology to the Secretary of Health and Human Services (HHS). Meaningful use is based on five pillars of outcome priorities:
Improving the safety, efficiency and quality of care while reducing health disparities.
Engaging patients and their families in healthcare.
Improving coordination of care.
Improving population and public health.
Ensuring adequate privacy and security protection for personal health information.
Historically, the meaningful use program consisted of three stages. However, after stage three, changes were made that transitioned incentives to a new program. The stages of meaningful use are:
Stage one: Establish the requirements for electronically capturing clinical data, including the need to provide patients digital copies of their information when requested.
Stage two: Act as an expansion of stage one criteria, focusing on advancing clinical processes and making sure meaningful use aligned with other national pushes toward greater use of health IT. stage two encourages the use of CEHRT to facilitate continuous improvement in the quality of care and information exchange.
Stage three: In 2015, CMS released final rules for the implementation of stage three starting in 2017. The focus of this stage has been to improve patient outcomes through the use of CEHRT and align meaningful use with other programs administrated by CMS.
Meaningful use is now part of the new incentive in the Quality Payment Program (QPP) as Promoting Interoperability (PI). PI improves patient outcomes by facilitating greater and more relevant sharing of patient information for diagnostic decisions.
The Future of EHR Systems and Diagnostics
Although EHR technology has been around since the late 1960s, the majority of development has occurred after HITECH's implementation in 2009. The $30 billion in incentives led to a huge increase in the number of healthcare organizations using EHRs and opened up the market for more vendors to make more advancements in the technology. By 2030, some experts predict that EHRs will continue to advance with developments toward:


1. Richer, More In-Depth Content
The current EHR landscape has an immense range of functionality that varies between vendors and platforms. The most basic EHRs function as a reflection of traditional paper records, without offering much in the way of clinical use. The most high-end EHRs are beginning to provide clinicians with more nuanced and layered representations of a patient's history. A clinician may soon be able to view "maps" of patient histories that provide clickable insights into information at multiple points of care, providing a richer context for diagnosis and decision-making.
2. More Precise Medicine
EHRs will likely become vast repositories of patient data with tools that assist in decision-making. Clinicians can use the information in the database to answer questions like "which patients have a similar presentation to the one I'm working with?" and use the information on diagnoses and outcomes to make more effective care decisions.
3. Increased Patient Engagement
EHRs are already driving increased engagement on the part of patients, and this trend is likely to continue. In the future, it may be commonplace for clients to answer pre-appointment questions in the comfort of their own home using digital forms through patient portals. Companies like Apple are already linking personal devices like smartphones and smartwatches to EHR systems, and it is only a matter of time until behavioral health also has access to this type of engaging technology.
4. A Greater Reach for Remote Medicine
As EHRs continue to achieve greater interoperability, they will likely drive better integration with telemedicine. For behavioral health providers, telemedicine is one of the most effective and adaptable solutions for delivering care to those in under-served areas and those who cannot leave their homes to receive care. Services like psychotherapy and substance abuse counseling are well-suited to being provided remotely, as long as the client has adequate internet service and hardware to provide a clear image and audio for interactions.
5. Powerful Health Partnerships
Interoperability will likely see more and more partnerships between health systems, allowing patient information to be shared between systems safely and efficiently. If a university's medical program partners with a large health provider, for example, the two entities can exchange information that benefits both. The university could enroll the health provider's diabetes patients in a study that yields crucial research information, which then can refine treatment for the health system's patients in a mutually beneficial relationship.
ICANotes: The Most Feature-Rich EHR for Behavioral Health Clinicians
For clinicians looking to continually improve their care and refine their diagnostic process, ICANotes is the best EHR available. Created by and for behavioral health professionals, ICANotes provides the functionality you need with a user-friendly interface that feels natural to use. With electronic patient intake, specialized and customizable content templates alongside a suite of administrative practice management features, ICANotes can change the way you treat your patients for the better.
If you're interested in the many ways ICANotes can improve your workflows and quality of care, sign up for a live demo, get a free trial, or call us at 866-847-3590 to find out more.


Related Posts
What Is Evidence-Based Health Care?
Understanding the Different Types of Mental Health Assessments and Screening Tools for Behavioral Health Clinicians
What You Need to Know About EHRs and Patient Privacy
A History of EHR Through the Years
Sources:
https://dashboard.healthit.gov/quickstats/pages/physician-ehr-adoption-trends.php
https://www.ncbi.nlm.nih.gov/pubmed/29536944
https://www.ncbi.nlm.nih.gov/pmc/articles/PMC5007563/
https://www.healthit.gov/topic/health-it-basics/improve-care-coordination
https://www.ncbi.nlm.nih.gov/pmc/articles/PMC4607324/
https://www.hipaajournal.com/what-is-the-hitech-act/
https://www.cdc.gov/ehrmeaningfuluse/introduction.html
https://informatics.wustl.edu/2017/04/04/the-future-of-electronic-health-records-6-predictions/
https://www.ncbi.nlm.nih.gov/pmc/articles/PMC5723163/