The History of Electronic Health Records

The electronic health record (EHR) is an indispensable tool for medical and behavioral health professionals. It's hard to imagine what patient care would look like today without EHRs, especially when you view these systems as a simple substitute for paper record-keeping. If you had the chance to show a psychologist from the 1950s your EHR system and explain all its functions, they would be shocked beyond belief.
EHRs, as we know them today, are the product of decades' worth of innovation and constant improvement. The capabilities of a modern EHR extend far beyond mirroring paper records. In addition to providing a real-time, patient-centered record of health, EHRs allow authorized medical professionals to instantly access and transmit that record. Faster access streamlines the workflow for providers and increases the efficiency and quality of care for patients.
EHRs allow swift and accurate collaboration between providers, and many systems provide access to a suite of evidence-based tools that can help providers make the best decisions about care. As you can imagine, the systems behind this complex ecosystem of data did not emerge overnight. However, the history of EHRs reaches further back than many people realize. Let's dive into the EHR history and timeline, starting with a new idea developed before the Internet was even a factor.
Table of Contents
The 1960s: Problem-Oriented Medical Records
One of the first and most successful attempts to streamline and improve the keeping of patient records is the problem-oriented medical record (POMR). Developed by Dr. Lawrence Weed in 1968, POMR is still used by some medical and behavioral health providers today.

Weed developed the POMR in response to the stream-of-consciousness-style record-keeping that was commonplace at the time. He recognized that the current medical record system was missing a crucial component — the thought process that led physicians to make the decisions they do. The POMR has five main facets that work together to provide the most accurate picture of a patient's health and treatment needs:
Database: The database serves as the foundation for all the information in a patient's POMR. Much like an EHR, the POMR database consists of the most complete medical history possible, and additional information is added to the database as it is collected.
Complete problem list: After gathering as much information on the patient as they can, the admitting professional creates a comprehensive list of the problems the patient faces.
Initial planning: After the physician or behavioral health professional gauges the issues and their severity, they can decide what to do about the problems. The plan has three subsets — a diagnostic plan, therapeutic plan and a patient education plan.
Daily progress notes: Not every active problem needs notes written every day if nothing has changed. Daily progress notes are meant to construct a narrative around the patient's development and status with all of their identified problems.
Discharge summary: The final progress note accompanying discharge should contain every active problem and define each one to its furthest resolution. The greatest emphasis should be on any problems left unresolved.
The POMR framework is quite rigorous, and many medical professionals refuse to use it. Those who oppose its use say the POMR is too burdensome, too lengthy a process and too likely to result in longer progress notes. The purpose of the POMR is actually the opposite — to provide a system that results in the most complete, accurate and concise records.
When implemented with the proper training, the POMR is a powerful tool in generating information that can be shared among authorized providers — a cornerstone of today's EHR technology. Weed himself promoted efforts to make an electronic version of the POMR.
He stated, "I realize that medicine must transition from an era where knowledge and information processing capacity resides in a physician's head, to a new day where information technology would provide knowledge and the processing capacity to apply it to detailed patient data."
Weed's exceptionally astute observation was correct, to say the least, and stands out boldly in the history of medical records. Within a decade, the first EHR would come to light.
The 1970s: The Dawn of the EHR System
In 1972, the world was introduced to the very first iteration of what we now know as an EHR. The Regenstrief Institute in Indianapolis enlisted the help of Clement McDonald to develop its EHR program. Along with a team of collaborators, McDonald set out to tackle a twofold problem — the design of the database and the multiple issues that arise when attempting to link healthcare organizations, disciplines and professions through one central records system.
McDonald noted that patients leave incomplete trains of medical information at every medical provider they encounter. One person can have disparate records at their primary care office, behavioral health clinic and nursing home, and those information trails may never cross due to differing computer systems and varying terminology.
The Regenstrief team wrote brand new code in consultation with computer science experts from Purdue University, who taught them the core principles that underlie the structure of modern databases. Unfortunately, the actual functioning of the database and EHR came with quite a price tag. Due to the cost of equipment, lack of space for the technology itself and limited evidence of its efficacy, almost no providers adopted EHR at the outset.
The Veterans Administration (VA) was the first major organization to implement an EHR around the same time the Regenstrief system emerged. The VA's system eventually became fully integrated, allowing for the full spectrum of capabilities:
Medication ordering
Procedures
Nursing orders
Diets
Lab tests
X-rays
The system is now called the Veterans Health Information System and Technology Architecture (VistA).
Without the capability to transmit all that information rapidly, securely and affordably, EHRs remained few and far between for the next 20 years.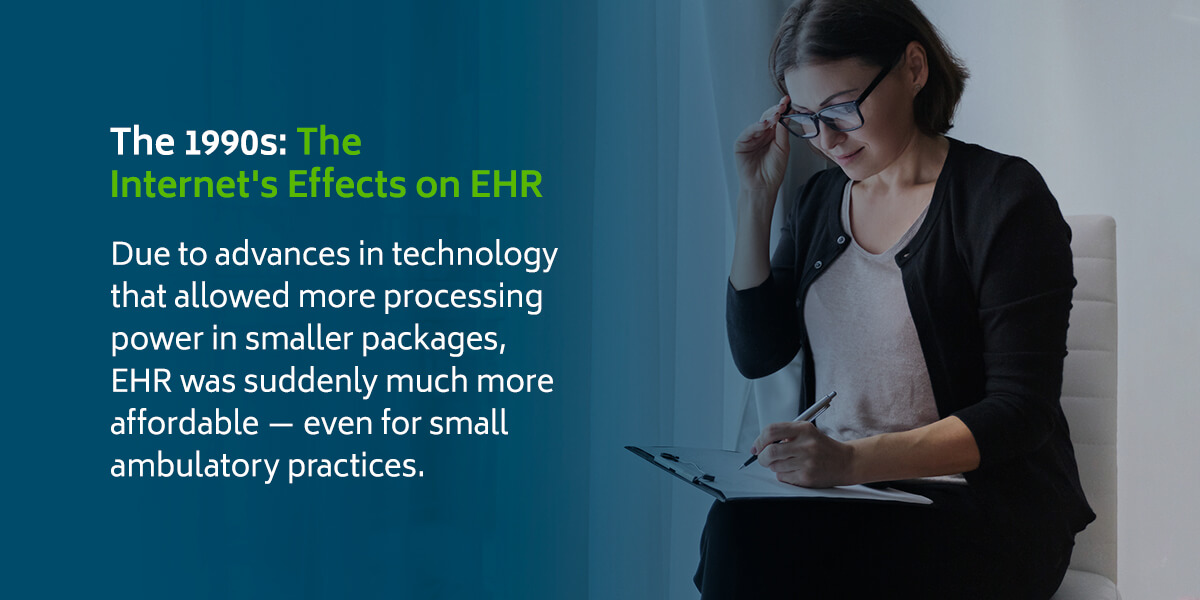 The 1990s: The Internet's Effects on EHR
By the early 1990s, the majority of U.S. industries had already taken the plunge into automating data and transactions. Health care, on the other hand, was struggling to keep up. In 1991, a book titled "The Computer-Based Patient Record: An Essential Technology for Health Care" shook the industry out of complacency and helped drive the adoption of EHRs by breaking down all the challenges associated with the technology.
The book introduced EHRs as "computer-based patient records" (CPR). It was the first time an electronic patient record was viewed as a clinician's assistive technology rather than a basic mirror of old-fashioned paper records. Due to advances in technology that allowed more processing power in smaller packages, EHR was suddenly much more affordable — even for small ambulatory practices.
With the continued development of the Internet, EHRs became deployable on the cloud instead of taking up valuable on-site space. The system also enabled providers to share data with patients for improved engagement over past models that only shared data with other providers. By the mid-90s, a host of organizations were rushing to develop proprietary EHRs. Large hospital systems and academic centers led one half of the charge, along with new vendors offering off-the-shelf solutions to fit a variety of budgets.
The Health Insurance Portability and Accountability Act (HIPAA) was introduced in 1996 as a response to the growing tide of electronic medical information. The protections HIPAA affords patients led vendors to scramble for compliance and laid a structural foundation for the next wave of EHR evolution.
The 2000s: EHR Standardization and Adaptation
The EHRs of the '90s would likely be unrecognizable to today's user base. Before the requirements of HIPAA, EHR capabilities didn't have to conform to any standards. The 2000s saw a new generation of EHRs built around the security requirements that are still in place today. Physical, technical and administrative safeguards began to appear in all new EHR products, including these common protections:
Automatic data backups
Automatic log-offs
Data encryption
Audit trails
Access control
The technology at the time was by no means as sophisticated as a modern EHR, but all the foundational elements were there. Creators of systems became more interested in achieving standardization and courted the leading health organizations of the time, such as Health Level 7 International.

Once EHR was established as a legitimate system format that delivered tangible benefits to both providers and patients, the focus started to turn toward improving functionality. The first improvement seized upon by marketers was the enhanced workflow EHRs facilitate.
Earlier systems were able to collect data from multiple clinical sources and pull them for review by the appropriate medical professional. For instance, a psychiatrist could pull any relevant bloodwork and physical notes from two different sources and interact with them on the same screen. In the 2000s, the leaders of the EHR industry began moving toward integrated and centralized systems, in which all of a patient's data could be accessed through a single system rather than cycling through pages from disparate systems.
In other words, the 2000s were when EHRs became the all-in-one systems we use today. However, adoption rates were fairly slow through the decade. As of 2010, hospital-owned outpatient clinics only had a 54.5 percent adoption rate, and only 29 percent of independently-owned clinics were using EHRs.
EHR Today
Over the course of five years, EHRs became nearly ubiquitous in medicine as well as behavioral health settings. In 2015, the adoption rate for hospital clinics reached 92 percent. Independent clinics, usually due to financial restrictions, were somewhat behind with an adoption rate of nearly 80 percent.
EHRs allow for the highest level of care but also offer the highest level of security for patient information. With the enactment of the Health Information Technology for Economic and Clinical Health (HITECH) Act in 2009, HIPAA restrictions were tightened and subject to stricter enforcement. As a result, all best-in-class EHRs make security compliance easy. Encryption, access controls with individual authentication and audit trails make it simple for even a small practice to remain compliant without sacrificing time and resources.
EHR systems are also expanding to perform functions outside of charting. The leading systems feature practice management tools to help providers streamline their day-to-day operations. Fully electronic intake eliminates the time and waste associated with paperwork, and a secure messaging system reduces no-shows by sending automated reminders. A robust EHR can even make billing easier with an integrated system that allows providers to accept payment as well as generate statements, Centers for Medicare & Medicaid Services (CMS) forms and superbills.
An EHR significantly expands the capabilities of a small practice and simplifies complex communications for larger organizations. Rather than simply being a repository for digitized health records, an EHR makes a patient's information work for them. Behavioral health providers can use EHRs to partially automate the note-taking process for more specific charting in less time. This improves accuracy, helps track patient progress over time and allows for more effective treatment and prescriptions.
Benefits of Electronic Medical Records
Practices that adopt EHR systems enjoy a variety of benefits that apply to both patients and practitioners:
Greater continuity of care: Most people see more than one doctor or behavioral health professional in their lifetime, and EHRs allow each new provider to get seamless access to a new patient's information. Instead of waiting several hours or even days to get the right information to start care, providers can access health information without missing a beat.
Improve care coordination: A patient's care providers need to communicate regularly to ensure a patient doesn't get prescribed medications that interact with each other or treatments that are contraindicated. When all of a patient's medical information is in one place, it becomes easier for providers to work together to ensure the patient gets the most appropriate care.
Improved efficiency: In situations where clinicians must communicate with each other, EHRs cut down on wasted time. Pharmacies, insurance providers and diagnostic centers can all access the centralized chart as appropriate, reducing the incidence of lost messages and eliminating the need for follow-up calls.
Better emergency preparedness and response:In emergencies such as a natural disaster, the time wasted dealing with paper records can lead to worse outcomes for patients. With an EHR, clinicians can get the right information at the right time and drastically increase efficacy in a disaster.
Reduced costs: Paper-based record-keeping can be expensive, especially if providers constantly need to print and mail copies of records to each other. EHRs reduce costs by allowing for digital transfer and reducing redundancies. Provider A can see that the patient has already received a certain test and won't order the same one, for example.
Better work-life balance: EHRs can help practitioners enjoy a better work-life balance. They no longer need to spend hours sifting through paperwork, as the information they need can be easily searched for in the electronic medical record.
Better patient outcomes: EHRs can lead to improved outcomes for patients, as they give healthcare providers easier access to a patient's information, which can mean faster and more accurate diagnoses, better prescribing and improved patient safety.

The Future of EHR
The history of electronic health records is still being written. EHRs have come a long way since the development of problem-oriented medical records, and there's no sign of that innovation stopping any time soon. For behavioral health providers, two particular trends stand out for the future evolution of EHR.
The first is the rise of telemedicine. Access to behavioral health care is spotty for many people, and being able to receive care virtually is a big draw. EHRs are likely to enhance the remote delivery of care by integrating with consumer technologies. For example, a patient may soon be able to use an app to track their symptoms, and that data could be automatically uploaded to their digital chart.
Second, the future may also see EHRs take advantage of machine learning to develop predictive models that can help avert negative outcomes in real time. As EHRs grow and change, they will play an even more central role in diagnosis and treatment.
Some of the other ways EHRs are continuing to evolve include:
Improved accessibility: As more and more providers use mobile devices, such as tablets and smartphones, to take notes and connect with patients, there's an increased demand for medical records that are mobile-optimized and accessible. Accessibility also makes the EHR usable by as many people as possible. Features that increase accessibility include voice assistants and text-to-speech. Interoperability will make it easier for patients to access their records.
Optimized workflows: In the early days, EHRs were little more than digitized versions of paper records. Increasingly, they are becoming an integrated part of a healthcare provider's workflow. Already, EHRs can integrate with scheduling software and prescribing software. Those integrations should continue to develop, streamlining workflow and increasing a practice's efficiency.
Integrated telehealth visits: Telehealth visits are here to stay. As the demand for virtual visits has gone up, so has the need for a way to seamlessly schedule and conduct them. EHRs have stepped in, offering providers a way to hold telehealth visits through the system.
Ongoing automation: While computers will most likely never replace the human touch, especially in behavioral health, digital transformation and automation can aid providers, helping them reach a diagnosis and prescribe the most appropriate treatment and care to a patient as soon as possible.
Timeline of EHR History

Schedule a Demonstration of ICANotes Today
Your choice of EHR should offer you the most current, leading-edge technology. ICANotes is the premiere EHR built to think like a clinician. In addition to all the industry-standard features like HIPAA-compliant security, ICANotes is the only EHR fully configured for behavioral health and addiction providers. You can create charts faster than ever before with an intuitive content engine. Our templates are customizable and allow you to create documentation with a simple point-and-click interface.
If you're ready to see how a specialized EHR can transform your practice, register for a free trial or live demonstration of the system. With ICANotes, you'll get the industry-best technology and world-class support you need to bring your behavioral health care to the next level.
Related Posts
What You Need to Know About MIPS in 2019
How Behavioral Health Clinicians Can Avoid a Lawsuit
How Artificial Intelligence (AI) Impacts Healthcare Technology
How Tech's Big 4 Could Impact Healthcare IT Usability
Sources: 
http://www.stritch.luc.edu/lumen/MedEd/MEDICINE/subint/POMR.pdf
http://www.indiana.edu/~rcapub/v22n2/p24.html
https://books.google.com/books/about/The_Computer_based_Patient_Record.html?id=AZ_Ia21-BosC&printsec=frontcover&source=kp_read_button#v=onepage&q&f=false
http://www.hl7.org/
https://ehrintelligence.com/news/outpatient-ehr-adoption-reaches-92-nears-market-saturation
Last updated 8/3/21