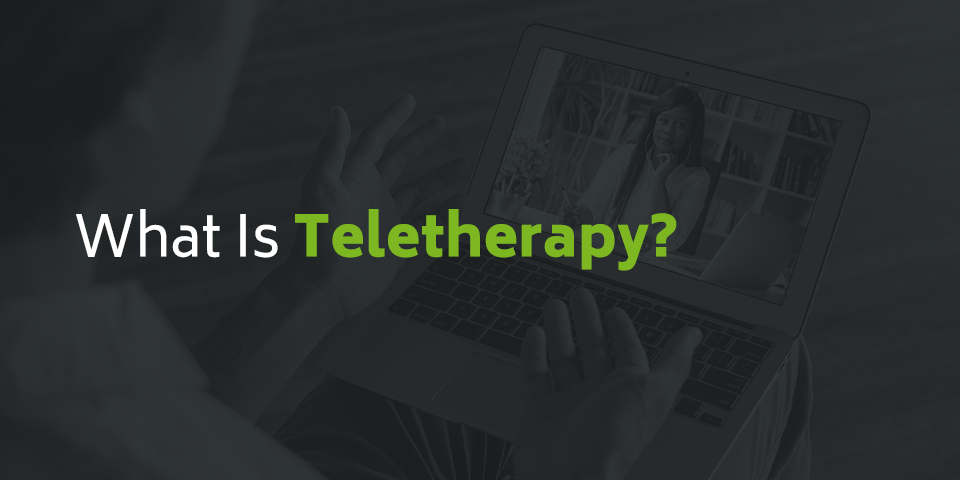 teletherapy? Teletherapy definition" width="960″ height="480″ />
Teletherapy is becoming a booming practice. The current demand for teletherapy and other types of telehealth solutions is so high, providers who offer these services are facing backlogs of care.
Although teletherapy may be the only option for patients who are unable to leave their homes, other clients prefer online counseling because it's incredibly convenient. With teletherapy, patients no longer have to drive to a physical location. They can discuss their thoughts and feelings in the comfort of their home, and they do not have to worry about running into other clients. To therapists, teletherapy means the potential to serve clients who did not have access to their services before.
If you're considering offering teletherapy services, now is the time to start. In this post, we'll explore teletherapy and what it means for behavioral health professionals.
---
Table of Contents
Teletherapy Definition
Teletherapy, also known as virtual therapy or online therapy, allows therapists to perform their services remotely. Typically, counselors use their computers to meet with their clients via video conferencing. Therapists may also conduct teletherapy through email or online chat. The Health Insurance Portability and Accountability Act of 1996, or HIPAA, mandates the delivery of all teletherapy services through a secure online platform.
Although teletherapy did not rise in popularity until the 1990s, it's been around since the 1960s. Today, with 90% of Americans going online to connect with others, teletherapy should not feel too foreign to a lot of clients.
How Does Teletherapy Work?
To deliver teletherapy services, you'll generally need the following:
A computer, mobile phone or tablet with a speaker, microphone and webcam
A broadband internet connection
A private, quiet room
A license to practice, typically in your clients' home state
Malpractice insurance that covers telehealth services

To hold a teletherapy session, you'd first schedule a time to meet your client online, just as you would set a face-to-face appointment. When it's time for the meeting, you will log into the secure platform of your choice. During the session, you and your client will be able to see and hear each other in real time through the virtual platform. 
What Types of Therapy Does Teletherapy Cover?
Teletherapy is a lot like traditional therapy, except you aren't in the same room with the client. Therefore, you can administer a range of treatments online, including:
Cognitive behavioral therapy (CBT)
Dialectical behavior therapy
Eye movement desensitization and reprocessing therapy
Marriage and family therapy
Group therapy
Physical therapy
Occupational therapy
Speech therapy
Through teletherapy, counselors and other health professionals can treat a vast range of conditions remotely, including depression, post-traumatic stress disorder, anxiety disorder and substance use disorder. 
Does Teletherapy Work?
For patients coping with common disorders like depression, online therapy can be a valuable tool and just as effective, if not more so, than traditional therapy. People who are beginning counseling for the first time, live in remote areas or who feel more comfortable in online sessions may be excellent candidates for receiving teletherapy. Some clients, however, like those who are not comfortable using technology, may need to undergo therapy on-site. 

Many therapists wonder if teletherapy is less effective because it doesn't allow them to observe a client's body language or demeanor as they would in a face-to-face session. Although this is something to consider, several studies prove the efficacy of teletherapy. These include:
Who Can Provide Teletherapy?
In general, any licensed therapist with a HIPAA-compliant platform can provide teletherapy services. These may include:
Licensed psychologists
Licensed professional counselors
Licensed marriage and family therapists
Licensed clinical alcohol and drug abuse counselors
Licensed clinical social workers
Licensed psychiatrists
However, the exact requirements to conduct online therapy vary depending on the state. Some states require therapists to receive specialized training first, while others have very few guidelines on how to use teletherapy technology. Many states do not allow therapists to give therapy online to out-of-state clients. You'll want to check your state's latest telehealth laws for guidance.
Therapists will also want to consider ethical guidelines before starting a teletherapy practice. You can view ethical guidelines for teletherapy by visiting the American Psychological Association's and the Canadian Psychological Association's websites.

10 Benefits of Teletherapy
Teletherapy offers many advantages for therapists. Some therapists enjoy the perks of virtual therapy so much that they've moved their practices entirely online. Here are some pros to consider if you're questioning whether teletherapy is right for you. 
1. No Commuting Hassles
Long commutes increase stress levels and impact overall well-being. According to a study from 2019, an absence of commuting leads to greater job satisfaction, more leisure time and an overall increase in subjective well-being.
If you provide teletherapy services, you can work from home if you wish and avoid commuting altogether. You will no longer have to put yourself at risk of driving-related hazards or deal with traffic jams to get to work. You'll also save a lot of time. With the average one-way commute time being about 30 minutes, you'll have an extra hour every day to do something other than drive. 
2. Fewer Cancellations
Since you won't have to deal with the hassle of traveling to your office, you won't have to cancel appointments due to poor weather, a dead car battery or other related issues. Also, if you feel under the weather, you can still keep your teletherapy appointments, since you will not have to physically go anywhere or worry about spreading germs. 

You can expect fewer cancellations from your clients as well. One of the top reasons clients stop going to therapy is transportation issues. Clients do not have to worry about catching a bus or putting gas in their car if they can meet with you virtually. Overall, teletherapy removes many barriers that would have previously led to cancellations. 
3. Streamlined Communication
When you use a platform to set a teletherapy appointment, it will send automated appointment reminders to your client. Your client can then manage their appointment electronically. There will be no need for them to call your office and speak to a receptionist, increasing the risk of miscommunication, if they need to cancel or reschedule their appointment. If you or your client can't remember what time you set the appointment for, you only have to look online to find out. 
4. Increased Safety

When counselors accept a new client, they can't predict how the person will respond to anger or another negative emotion. Teletherapy allows therapists to get to know new patients at a safe distance.
Teletherapy can also help counselors safely connect with clients who have a known history of violence. Using teletherapy to treat violent patients is nothing new. For example, according to The Pew Charitable Trusts, the criminal justice system has used teletherapy to serve inmates since the 1980s. Being able to treat clients who may have made you feel uncomfortable in the past can relieve work-related stress and expand your business at the same time.
If you've ever felt concerned about patients finding out where you live, working remotely will give you greater anonymity. You might be hundreds of miles away from the clients you serve, which means you don't have to worry about bumping into them in public places, either. 
Lastly, teletherapy makes some clients feel safer, as well. These people may be more comfortable opening up, which will help you do your job. Clients who experience social anxiety or who are new to therapy, in particular, might feel much more relaxed attending sessions from their homes. 
5. More Clients
Teletherapy allows counselors to connect with patients who otherwise wouldn't have access to their services. These include people who live in rural areas or hours away from the nearest therapist. Teletherapy can make a significant impact in rural communities, since over 60% of Americans live in areas with a shortage of behavioral health professionals, and more than 90% of therapists work in metropolitan areas. 
You'll also be able to provide services to those with mobility issues or chronic illnesses that make it hard to leave the house. These clients may need mental health services, but find their physical conditions get in their way. For example, people with chronic illnesses such as cancer or heart disease commonly experience depression. Through teletherapy, you can reach these patients without making it more challenging for them.
Overall, you'll be able to reach anyone within your state who needs mental health services, but is unable, or unwilling, to travel to a physical location. These may also include:
People with anxiety or who fear running into someone they know
Incarcerated clients
Military members
Hospital patients
6. Flexible Scheduling

With teletherapy, you do not have to adhere to traditional office hours. You can offer your services whenever and wherever you want, and at times that are most convenient for you and your clients. For example, maybe a client is only available at 8 p.m. While you may not feel like going back to the office at that time, you can easily connect with them at home. 
You also can schedule personal tasks throughout the day because you will be in the privacy of your home. For example, between appointments, you might pay bills or hop on the treadmill and get a quick workout. You'll notice a better work-life balance when you work at home. 
If you were sharing an office space with other therapists, you would no longer have to worry about working around their schedules. You can see clients based on their time preferences, not when your office is available. 
7. More Free Time
Without having to spend an hour a day driving to and from work, you'll have more time to accomplish other goals. Maybe you would like to learn more about a new treatment, teach an online course or add posts to your blog. Perhaps you would like to take power naps throughout the day to recharge your brain. Whatever you wish to achieve, you'll have more time to do it when you work remotely. That, in turn, will help you grow as a professional and potentially attract more clients.
8. Fewer Overhead Costs
Therapists in private practice who choose to work from home can expect substantially lower overhead costs, especially those who can switch to teletherapy full-time. With the money you'll save on rent, utilities, furniture and other related expenses, you can invest more in your practice and professional development. You will never have to worry about finding a new or better location for your business, and can instead focus on making your home office work for you and your clients. 
You might also choose to rent office space a few days a week to serve clients who prefer on-site therapy and save yourself from paying rent for a full month. 
9. Greater Workspace Comfort 

Teletherapy gives you complete control of your work environment. You can design a space that promotes productivity, reduces stress and enhances your comfort levels. For example, you don't have to worry about impacting co-workers with your preference to leave the window open or your decision to paint the walls green.
You can also feel better about the dietary choices you make throughout the day. If you want to eat a snack between appointments, you no longer have to head to a vending machine and grab a bag of chips. All you need to do is walk to your kitchen and prepare a healthy treat.
In general, working at home gives you easy access to many comforts, whether it be over-the-counter medicine to soothe a headache or a cup of tea to help you relax. 
Your clients will enjoy greater comfort, too, and won't have to worry about showing up to appointments parched or hungry. They'll have access to their home amenities as well, so there's less chance of them needing to wait to use the bathroom during or before an appointment. 
10. Improved Health
When you work around others, be it your co-workers or clients, you increase your exposure to germs and your risk of illness. A single ill colleague can get everyone else in the office sick, merely by touching surfaces or sneezing. In small and poorly ventilated offices, the chance of becoming infected by someone else's germs increases sharply.
For example, if someone with COVID-19 comes into the office, the chance of them spreading the coronavirus to others is 18 times greater in a closed environment than an open one, according to recent findings. With teletherapy, you eliminate your risk of catching dangerous viruses and other germs from co-workers and clients.
You likely can't control the air quality in a shared office space, either. Poor indoor air can lead to a range of health effects such as eye and throat irritation, headaches or worsened asthma symptoms. At home, you can adjust the environment to support your mental and physical health.
Clients also do not have to expose themselves to germs or various indoor air pollutants when they don't have to visit an office. They also do not have to experience anxiety relating to virus exposure if they can stay home. Teletherapy is a win-win for everyone regarding infection control.
Teletherapy Tips for Therapists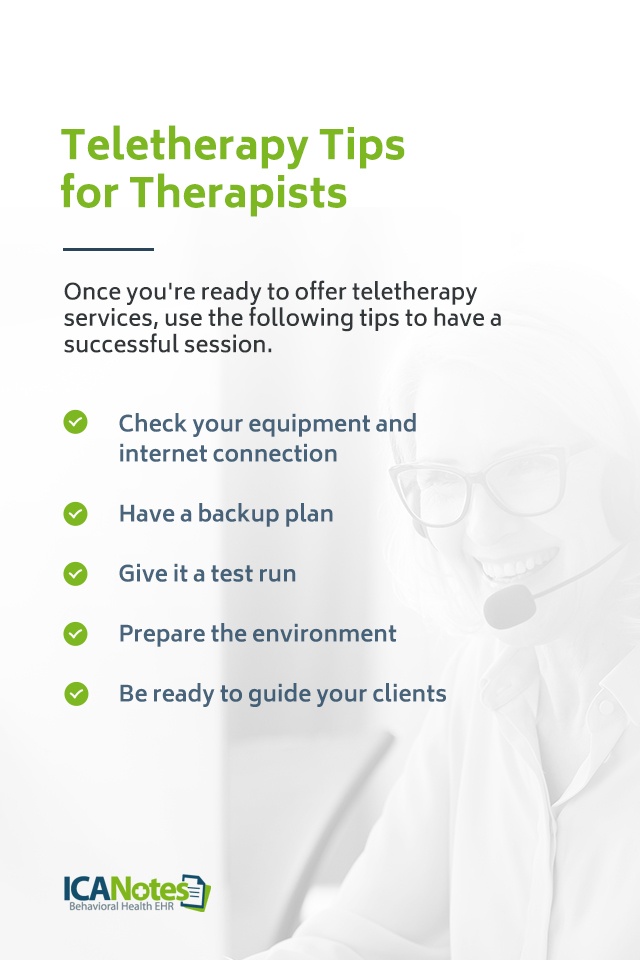 Once you're ready to offer teletherapy services, use the following tips to have a successful session.
Check your equipment and internet connection: Make sure you have all the equipment you need to hold a quality teletherapy session, such as a computer with a camera and microphone. Ensure you have reliable high-speed internet as well. The Office of the National Coordinator for Health Information Technology recommends a bandwidth speed of at least four megabits per second for a single user, but the faster, the better. If family members will also be using the internet as you work, you'll need to consider how that will affect your speed.
Have a backup plan: Have a backup plan in case you run into technological issues before or during a session. If you need to gain a few troubleshooting skills, take time to learn your setup before you begin teletherapy.
Give it a test run: Ask friends or family to test a "session" with you to be sure everything's in order before going live with clients. You'll feel much more confident beginning teletherapy when you've already practiced.
Prepare the environment: Make sure you have a quiet, private space to conduct teletherapy sessions. Remove clutter or anything else you wouldn't want your clients to see. Also, ensure you have adequate lighting so you can make eye contact with your clients, and aim to create a neutral background that will not be distracting.
Be ready to guide your clients: Your clients will require your guidance to start teletherapy sessions. They'll need to know how to join sessions, what equipment they'll have to use and if their internet is fast enough to engage in video conferencing. You might write a list of requirements for your clients to make the process as easy as possible.
Check Out our Telehealth Webinar:
Start Teletherapy With ICANotes
Behavioral health professionals who wish to conduct therapy sessions online face the challenge of finding reliable, HIPAA-compliant teletherapy software. Therapists must use the appropriate platform to avoid privacy law violations and keep their sessions confidential. You may feel overwhelmed by software options, but we're here to help you make the right choice. With ICANotes, you can add a telehealth feature to your electronic health record (EHR) software, allowing you to keep everything in an organized, easy-to-use space. 
With ICANotes' integrated telehealth feature, you launch the session from the EHR and send your client a text or email containing a link to join. From there, you can hold the therapy session knowing the software you are using is private, secure and compliant.
To learn more about telehealth, check out our FAQ page or reach out to our support team. If you're ready to try ICANotes, request your free trial today.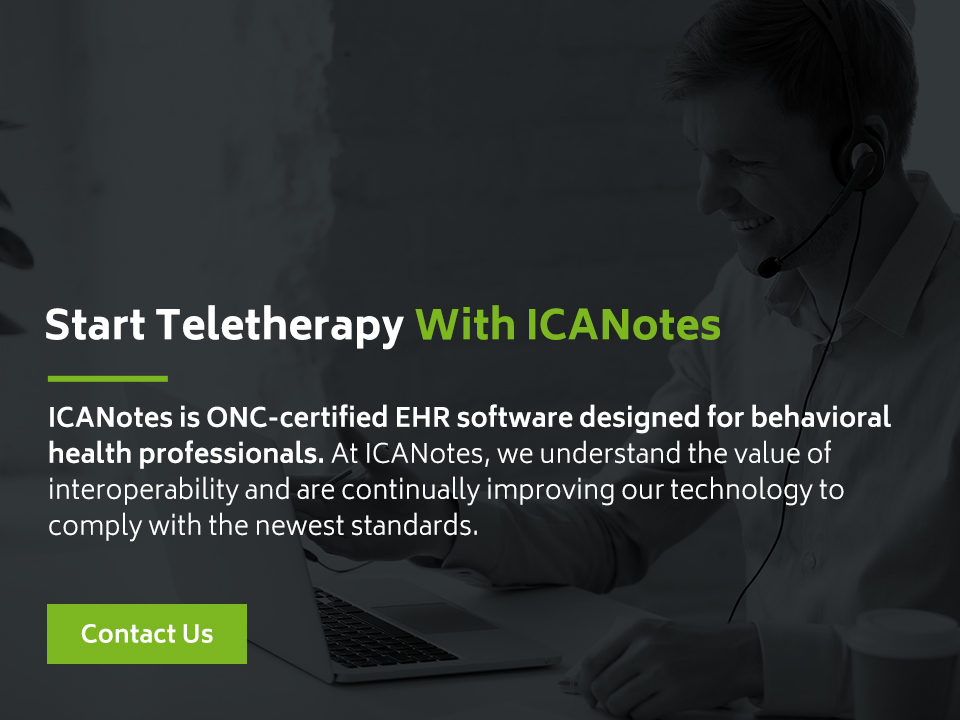 Related Posts
How to Make Your Practice Virtual
Tips for Having a Successful Teletherapy Appointment
Will Insurance Companies Pay for Video & Phone Therapy Sessions?
Is It Legal to Provide Telemental Health Services for Patients in a Different State?
Telehealth Care Becomes More Accessible Amidst the COVID-19 Pandemic