How Technology Affects Mental Health Therapy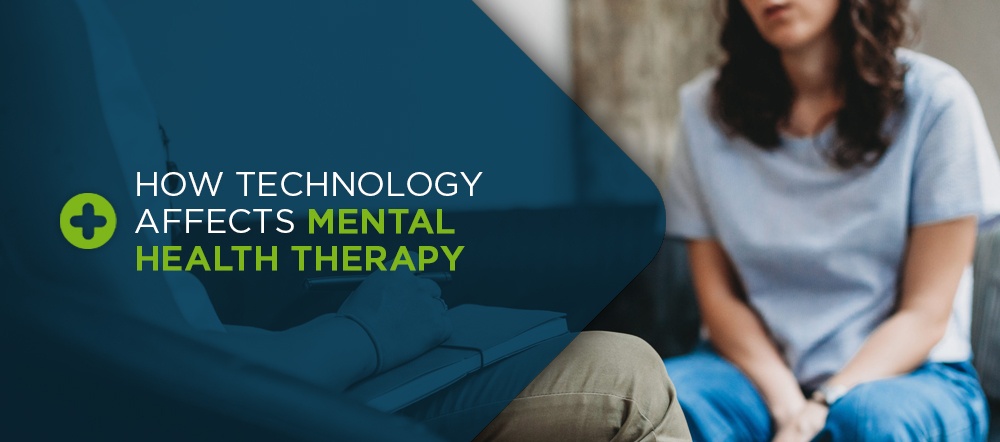 As the stigma surrounding mental health continues to erode, people are discussing the topic more openly, and they are more willing to seek therapy. Modern technology has made it easier to talk about mental health, while also providing avenues in which to receive therapy. The intersection of technology and opportunities to improve mental well-being was inevitable, and it offers whole new methods of counseling.
Table of Contents
Staying Connected Through the Rise of Virtual Counseling
Technology's effect on therapy can be revolutionary for patients, and many people already turn to virtual solutions in their search for mental health therapy.
Considering that one in five people in the U.S. lives with a mental illness, and suicide is the second-leading cause of death for people aged 10 to 34, it's easy to understand why access to mental health therapy is essential. However, limitations — such as accessibility and affordability — make it challenging for some people to get the help they need.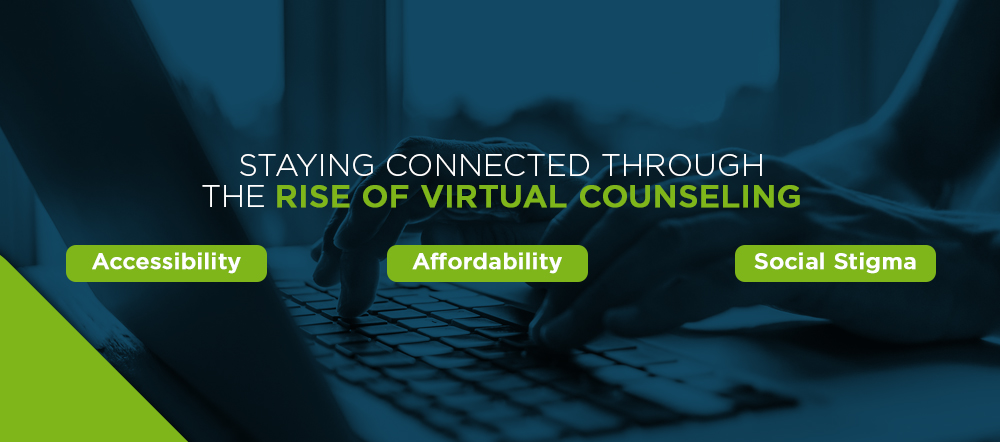 Accessibility
One of the most prevalent examples of how technology impacts therapy is how it improves accessibility. That applies to all types of distance counseling, including appointments using webcams and even email or text-based sessions. The only caveat here is that the platform used should be HIPAA-compliant, which means ensuring only authorized parties can access the patient's health information.
More people can take advantage of therapy when all they need is a reliable internet or phone connection. It's ideal for those who live in remote or rural areas in which there aren't any mental health professionals nearby. It also provides access to therapy for those who are unable to leave the house due to illness or disability. 
When a location becomes irrelevant, it allows broader access to specialized therapists who may not have been available without distance counseling. And patients can receive this care from the comfort and safety of their homes.
Anyone who may be uncomfortable with traditional methods of therapy may find it easier to communicate their innermost thoughts and feelings without direct face-to-face contact. And the potential flexibility of distance counseling —which could be available 24/7, depending on the provider and therapist— allows patients to more easily fit it into their schedules.
Affordability
Fully remote providers, without an office to meet in, can reduce their costs. This lack of overhead can translate to savings for patients as well. Both the counselor and client can also save time and money on all aspects of commuting, including paying for gas, parking or public transit.
It's also possible that clients will need to invest fewer hours in virtual therapy. Patients are more likely to skip the niceties and move on to their concerns much sooner than they would during in-person sessions. Being at home, where they are comfortable and feel safe, they can dispense with small talk and more confidently steer the conversation toward the topic they want to discuss.
Social Stigma
The anonymity and privacy of distance counseling have also made it more accessible to people, especially those who are still worried about the stigma around mental health. Online therapy may lessen anxiety and fear for some patients over running into people they know en route to or from an appointment.
It allows them to get the help they need, without the added stress or worry about what people may think. In many cultures, mental health is still a taboo topic, which becomes a hurdle for anyone who needs therapy. Distance counseling is useful for those who want to maintain their privacy. Virtual therapy encourages people to more promptly get help for their mental health, while they may have hesitated seeking it in person.
While distance counseling helps protect people from the stigma of needing help, it simultaneously helps end it. By seeking and attending therapy, people inevitably normalize it.
Downsides and Ethics of Virtual Counseling
As with all technological advancements, there are ethical concerns to consider, mainly whether therapists can or should virtually treat patients who live in different states or even different countries. Questions about the authenticity of the therapy also come up, as do concerns about confidentiality — has the therapist attained licensure from a legitimate institution? Is the platform used to deliver therapy HIPAA-compliant?
Technological breakdowns and delays may pose additional concerns, as can discomfort or unfamiliarity with technology. Plus, some forms of virtual counseling don't allow for verbal or physical cues, potentially reducing a therapist's ability to adequately advise a client.
The matter of affordability may be an issue if the client's insurance provider doesn't cover virtual therapy, forcing them to pay out of pocket and, thus, costing them far more than in-person sessions would.
Improving Mental Health via Applications
Mental health apps for smartphones and tablets are another way for technology and therapy to come together for the better. Applications to help people relax, meditate and distract from unhappy thoughts are increasingly popular and are a useful supplement to therapy — be it virtual or in person. 
They continue to break the stigma — as well as most barriers — around mental health therapy. They also require little to no time or financial investment, while making therapy more accessible. However, not all mental health apps are the same. While apps that teach meditation, relaxation and focus may be useful, many haven't received backing or endorsement from licensed therapists. While some may find these apps helpful, they are not a substitute for ongoing therapy with a licensed professional. 
Some other benefits these apps provide include the following.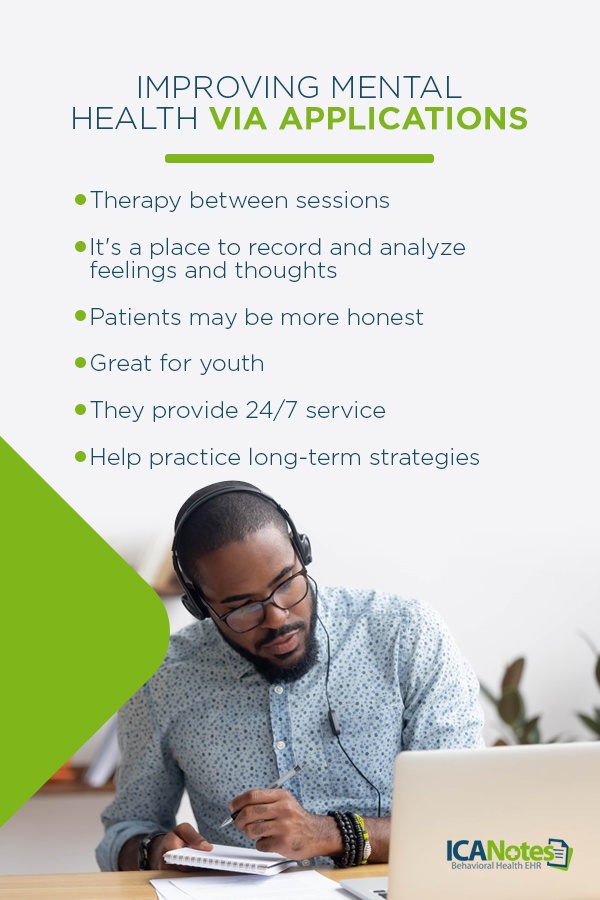 Therapy between sessions: Mental health apps allow patients to get help between therapy sessions, which reduces the amount of time they need to wait. It's also an excellent way for people to get more therapy when they can't afford regular sessions.
Record and analyze feelings and thoughts: Mental health apps rely on the user being honest and open about their thoughts and feelings, which inevitably forces patients to be more in tune with their emotions and reactions. They're also useful for reinforcing strategies developed in sessions.
Patients may be more honest: Without a human being at the other end, people may feel more comfortable acknowledging and expressing any thoughts or feelings they find embarrassing or frightening, without the fear of judgment.
Great for youth: Those who have grown up with smartphones are more willing to try mental health apps, since they're easily accessible and allow them to get counseling privately. They also help normalize therapy, making it something more youth are willing to seek out — be it virtually or in person.
Provide 24/7 service: Whether there's a crisis or a sudden panic attack, mental health apps are crucial in helping talk a person down without needing to disturb anyone. 
Help practice long-term strategies: These methods are also ideal for helping people develop — as well as stick to and practice — long-term strategies for dealing with triggers and emotional crises.
We should give equal consideration to smartphone apps and their impact on our lives. Mainly, it's essential to consider who or what is behind the application. While specific apps do have mental health professionals on board to assist — and some even offer one-on-one chats with mental health professionals in real-time — artificial intelligence backs most of these apps.
Many of these apps require the user to check in several times a day, which may increase the chances of over-reliance and self-diagnosis. An app that diagnoses the user, but provides no further advice regarding seeing a professional, can also end up being more harmful than useful. 
Social Media as a Networking Platform
Businesses of all sizes have taken advantage of the marketing opportunities social media provides. Mental health therapists don't often advertise on major social media platforms, but it can be an excellent place to grow a practice and keep in touch with patients — when handled responsibly.
Since more and more people are searching for mental health resources online, it only makes sense that therapists have started using social media as a way to advertise their practices and earn a reputation as experts in their field. They can do this by sharing articles and opinions on current topics, as well as start or join discussions to engage with the public. 
Establishing themselves as experts allows them to advertise their practice and gain new clients. It's also perfect for maintaining a connection with existing clients by posting details of public events, new research or administrative updates. By sharing articles or videos about topics pertaining to mental health — self-authored essays, links to reputable research, how-to videos, etc. — therapists can give their patients additional resources and assistance between formal meetings. However, while social media platforms are a helpful way to disseminate information to a wide audience, they're not a replacement for one-on-one consultations with clients.
Social media can also be an ideal platform for experts to debunk disinformation or clear up myths and misconceptions, which only helps cement a reputation as an expert in the field. Advocacy — be it social or political — is also an option on social media, bringing attention to little-known or overlooked causes and issues. 
The internet is also beneficial when keeping in touch and connecting with colleagues, allowing therapists to create professional relationships that can lead to referrals as well as advertise their skills to their peers.
Improved Documentation and Organization
A major benefit of technology is how much easier it makes documentation and organizing client notes. Medical professionals are moving away from handwritten notes and bulky files in favor of electronic health records (EHRs). By removing the focus from taking accurate and thorough notes in longhand or by typing them out, medical professionals are better able to treat patients, resulting in more efficient care and up-to-date information.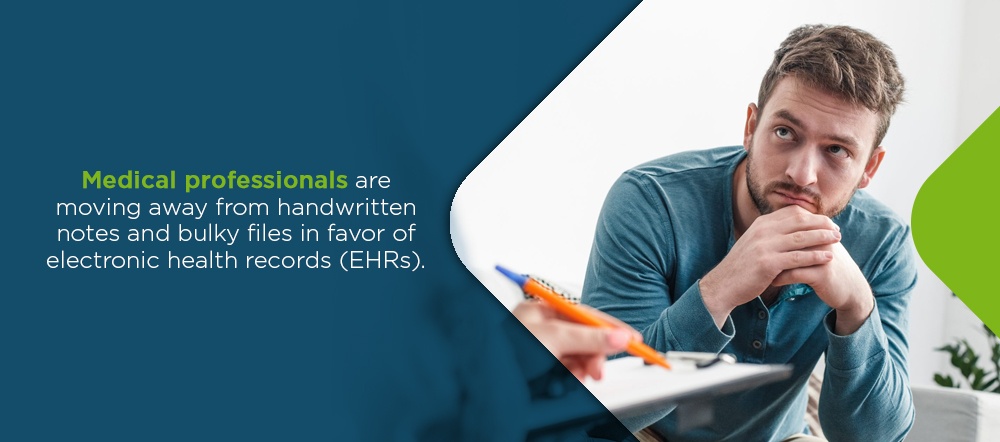 Improved quality of care is a proven benefit of using EHRs, which help reduce medical errors. They're also practical for patients who have multiple doctors or who need referrals to specialists, because of EHRs store people's entire medical history in one, confidential file. And, being electronic, they're much easier to read, which is useful for locums or a transfer of files to new doctors or specialists.
The ease of EHRs inevitably improves the work/life balance for medical professionals, something that extends to therapists as well. That's particularly true of group therapy, where it's essential to focus equal attention on all members of the group while maintaining proper documentation. EHR companies that specialize in behavioral health are the best suited for this task since they have ample experience and knowledge about the ins and outs of mental health therapy. 
Without working overtime to update notes and organize everything, therapists can leave work at work, allowing them to better take care of their physical and mental well-being. In turn, this translates to them reporting for duty with less stress or anxiety, which lets them provide clients with the level of care they deserve.
A detailed and handy EHR is also an excellent way to successfully deal with emergencies and crises since an EHR will be far easier to pull up and read than an overstuffed file. 
Using Technology in Your Practice
Incorporating technology into your practice doesn't have to be a major change in routine. From booking appointments online to maintaining electronic health records, introducing or upgrading technology in your practice can improve your quality of care, as well as patient satisfaction.
If virtual counseling isn't viable for your practice, there are three other ways you can use technology to improve mental health therapy.
Take care of administrative needs: Appointments, payments, keeping notes and monitoring client data are all things you can delegate to technology, allowing you to focus your time on your patients and practice. Switching to EHRs is one quick and straightforward way to incorporate technology into your practice without changing too much.
Use it for communication: Whether it's a post on social media about a new study or a video conference session with a client — on a HIPAA-compliant platform, of course — technology's effect on therapy is broad. 
Use it to network and advertise: Take advantage of the vastness of the internet and the fact that it's the first place people turn to search for mental health therapies and help them find your practice.
To successfully incorporate technology into your practice, you must identify your goals and how technology will help you achieve them. For example, is your objective to be patient-centered? And if so, do you want to focus on gaining more clients, making your existing clients comfortable or both? Or do you want to delegate some of the administrative tasks, like documentation? 
Switch to Electronic Health Records With ICANotes
In an ever-changing world, behavioral health practices are evolving to catch up. ICANotes can help mental health professionals better organize and document their notes so they can dedicate more of their time and attention to their clients.
Requiring very little training and ready out of the box, ICANotes provides templates for initial assessments to discharge summaries and everything in between. And because we want you to be confident in your decision, we offer both a live demonstration as well as a free trial, so you can get a glimpse of how much more efficient your practice can be.
Get in touch by calling 866-847-3590 to get more information or to request a quote or a free trial.
In today's world, technology is necessary and unavoidable. How does technology impact mental health? Learn about the rise in telehealth care and more today.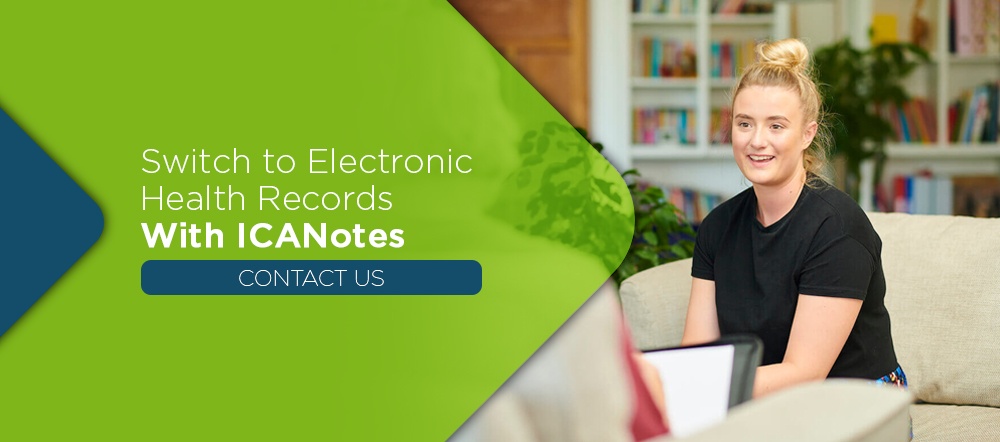 Related Posts
Tips for Having a Successful Teletherapy Appointment
Is It Legal to Provide Telemental Health Services for Patients in a Different State?
What Is E-Prescribing and How Does It Work?
How Amazon's Alexa Can Be Used in Clinical Practice Settings
Will Insurance Companies Pay for Video & Phone Therapy Sessions?
How Online Searches Fuel Health-Related Anxiety