Is Telemental Health Right for Your Practice?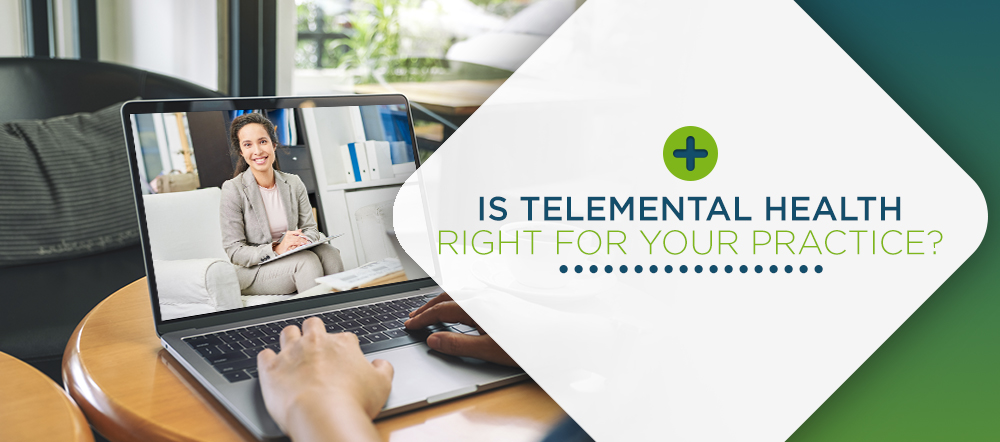 Are you a mental health professional wondering whether telemental health is right for your practice? Telecommunications technology is continually improving to provide the best in video and audio quality. More and more mental health professionals and patients are discovering the benefits of virtual health. Telehealth services can fill in the gaps in care for underserved communications, and remote treatment provides convenience for both mental health practitioners and their patients.
However, some mental health professionals are unsure whether telemental health is an effective alternative to conventional counseling, and if it is right for their practice.
---
Free Ebook: Going Virtual
Everything you need to start a virtual behavioral health practice.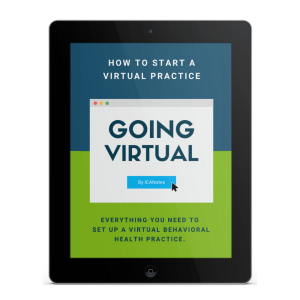 ---
Table of Contents
What Is Telemental Health?
Telemental health, also known as teletherapy or distance therapy, is a growing field in which the therapist provides mental health counseling and support via the internet through video conferencing, phone calls, online chats or email. These health services are particularly helpful for individuals who live in remote or rural areas, who work unpredictable or unconventional hours, who live overseas or who cannot leave their homes.
If you choose to provide these health services to patients, HIPAA requires that you do so via a secure platform online. When you are delivering telemental health services, you will need the following:
A computer, cellphone or tablet with a microphone, speaker and webcam
Internet connection
A quiet and private room
Malpractice insurance with coverage for virtual health services
A secure, HIPAA-compliant platform
For a virtual health session, you will schedule a time to meet with your client just as you would for an in-person appointment. At the time of the meeting, you will log into the platform you have chosen. Through the secure virtual platform, you and your patient will be able to hear and see each other during the session in real time.
You can provide your clients with the following services:
Cognitive behavioral therapy
Family therapy
Marriage therapy
Occupational therapy
You can treat a range of mental health conditions via telemental health services, including post-traumatic stress disorder, depression and anxiety disorder. With so many Americans using the internet to connect with others, this health service may be more accessible and convenient for your clients.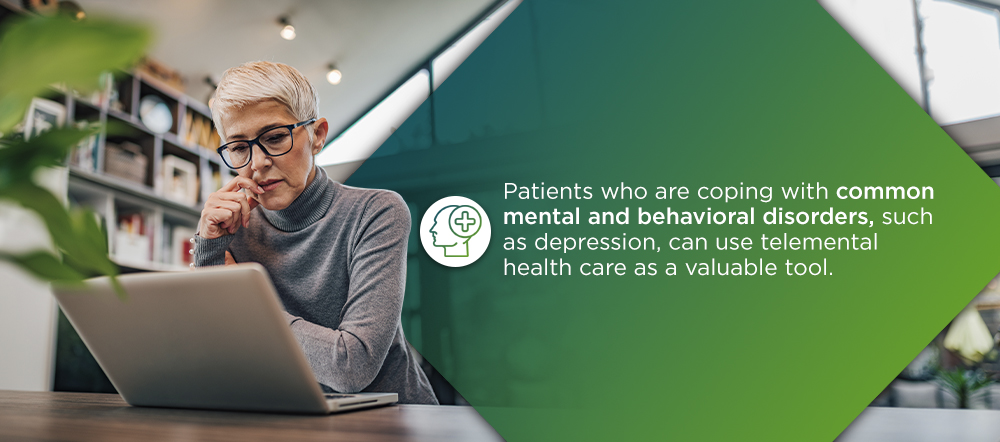 Check Out our Telehealth Webinar:
Is Telemental Health an Effective Alternative to Conventional Mental Care?
Yes, telemental health is an effective alternative to conventional mental care. Not only is virtual health care comparable to in-person therapy, but it is also inexpensive and advantageous through the use of adaptable designs and current technologies, particularly for isolated communities.
Patients who are coping with common mental and behavioral disorders, such as depression, can use telemental health care as a valuable tool. Indeed, these health services can be even more useful for your clients than traditional therapy. If you have clients who live in far-flung areas, who are starting counseling for the first time or who feel more comfortable in virtual therapy sessions, telemental health may be an effective alternative to conventional mental care for your practice.
Several studies have proved the efficacy of virtual health care. The following are examples of what these studies have shown.
Equally or more useful for the treatment of depression: Online treatment can successfully address depression, and has more significant long-term effects.
Equally effective for primary progressive aphasia: Teletherapy is just as practical for those with a neurological syndrome known as primary progressive aphasia as on-site therapy.
Equally or more positive exchanges between therapists and clients: The impact of interactions and conversations between therapists and clients via text messaging and email is similar to face-to-face therapy. In some cases, the effect of these online exchanges was more positive than face-to-face therapy sessions.
Virtual CBT equally effective for the treatment of anxiety and depression: Virtual cognitive behavioral therapy is equally effective in the treatment of depression and anxiety as face-to-face therapy sessions, along with having a high rate of satisfaction.
Benefits of Telemental Health
The following benefits contribute to telemental health effectiveness.
Affordability: In the U.S., mental disorders are the fifth costliest group of diseases. Due to how expensive mental health services have traditionally been, many patients have found it difficult to access them. Fortunately, the ability to conduct mental health sessions remotely has made health care more affordable.
Accessibility: Often,those who live in remote or rural areas have difficulty accessing mental health services, as there may be a lack of health care providers in the area. Through telemental health care, patients can easily access modern, efficient services and receive a reliable diagnosis at an affordable cost.
Safety: Clients, particularly new ones, can be unpredictable — you may not be sure how someone will respond to a negative emotion like anger. Telemental health care allows you to get to know your clients and support them from a safe distance. You will not have to worry about working with people who have a history of violence, nor will you need to worry about clients finding out where you live. Additionally, some clients may feel safer and more comfortable connecting virtually than in person.
Comparability: Teletherapy is comparable in efficacy to conventional in-person care. With some populations, such as children and adolescents, virtual health care may be even better than traditional care. Reports also cite that this service results in improved adherence to medication, reduced length of hospitalization and reduced symptoms.
Flexibility: Telemental health services allow you to work from any location at any hour, making your schedule more flexible for you and your clients.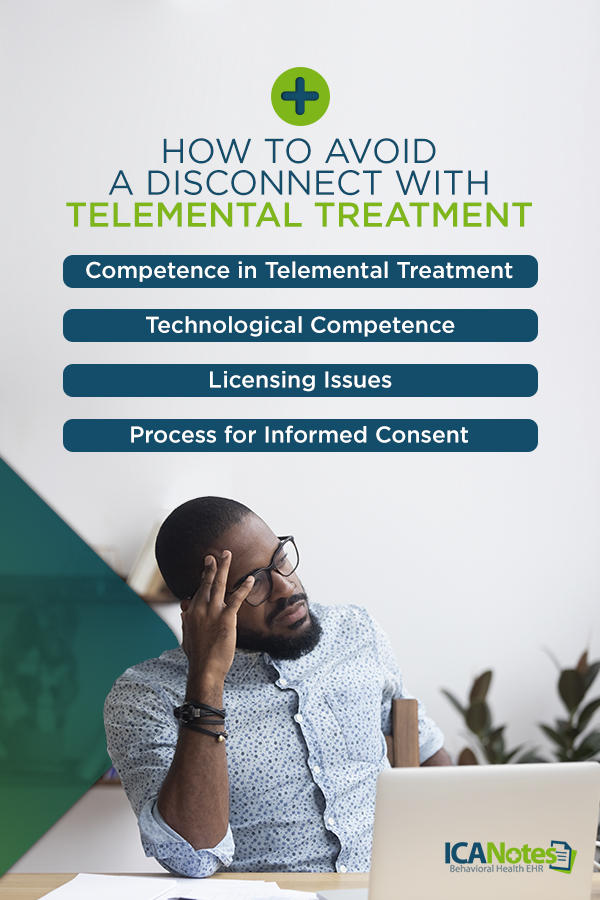 How to Avoid a Disconnect With Telemental Treatment
Providing therapy and mental health assistance from a distance can come with its fair share of challenges. A few of the concerns mental health professionals usually have about telemental treatment surround its efficacy and the client connection. Studies have shown that this form of treatment is just as effective as in-person care, if not more so. Additionally, whentreatment includes video and audio capabilities, therapists can connect just as well with their clients virtually as they can in person.
However, you may wish to consider and address some legal, ethical and technological concerns if you plan on incorporating virtual treatment into your practice.
1. Competence in Telemental Treatment
First, you should be competent in telemental health care before you incorporate this service into your practice. You should possess the skills and knowledge necessary to meet and exceed the minimum expectations for delivering high-quality professional services.
Part of competence in delivering this treatment is the ability to determine which treatment modalities andhealth services are appropriate for each client. Do specific people prefer phone calls, email or video conferences forhealth services? Will a client benefit from a combination of telemental and in-person services, or should they exclusively receive in-person treatment? You should make these choices based on a careful screening process.
Consider the following when determining whether a client should receive virtual health services:
The severity of the client's diagnosis
Whether the client is in crisis
Whether the client has a support system
The level of rapport
The client's motivation to attend therapy sessions
Whether the client has a secure, private space for distance health sessions
Before you provide telemental health services, you should become familiar with the relevant guidelines for practicing this service.
2. Technological Competence
You should also know how to use the various technologies a telemental health session requires. Are you concerned about how well you can use the necessary technology to conduct a remote mental health session? While you may not currently be comfortable using the technology needed for this form of treatment, you can familiarize yourself with various platforms. Interfaces are becoming easier to use, and most mental health professionals can become proficient with the technology after some practice.
Technologies you will need to get used to include:
The hardware
The software
The type of internet connection
Security precautions and privacy safeguards
You should be able to adjust the visual and auditory quality of the technology you are using for the telemental health session. You should also be able to troubleshoot technical problems that may arise before or during a meeting, including loss of internet connection, and have a plan to get in touch with your client if issues occur.
The products you use should be HIPAA-compliant, which means you cannot use non-secure video platforms like Skype. Examples of HIPAA-compliant platforms include Zoom, Breakthrough, VSee, Regroup Therapy and Vyzit. To ensure you are competent with the technology, you can practice with the tools, run through practice sessions and take courses on the software you will be using.
3. Licensing Issues
Another challenge for telemental health care is licensing issues. No federal regulations are currently in place to address providing behavioral health services to clients who live in other states. The Mental Health Telemedicine Expansion Act is currently being considered by Congress and would allow Medicare beneficiaries to access teletherapy services at home, regardless of where they reside. However, this act will not create federal guidelines that address practicing across state lines.
Licensing laws vary by state. While one state may allow you to obtain a temporary license, another may require full licensure. Some states have agreements for reciprocity between their licensing boards, allowing practitioners to practice in both states.
While each state comes with a different set of regulations, every state requires that practitioners be licensed in the states in which their patients reside. Fortunately, 12 states issue certificates or special licenses that allow clinicians to provide telemedicine services. The Interstate Medical Licensure Compact program also allows clinicians to practice in several states. 29 states have joined the IMLC agreement, along with the Territory of Guam and D.C.
Amidst the COVID-19 pandemic, telehealth care is changing rapidly and becoming more accessible. For example, an emergency spending bill has extended virtual health services to populations in need, and the enforcement of HIPAA rules for digital platforms has been waived for the current time.
Obtaining a license in the state in which your patient lives is the safest way to practice cross-state virtual healthcare. If the state does not participate in the IMLC or does not have a reciprocity agreement, this process may be too time-consuming for a single patient. Your next best option is to check the rules for temporary practice in that state by contacting the state's licensing board.
4. Process for Informed Consent
Finally, the law requires you to inform your clients about the nature and expected course of therapy, third-party involvement, fees and limits of confidentiality. You should also provide your clients with sufficient opportunities to ask questions about participating in the services you offer, so they can make an educated decision.
For telemental health services, you'll need to modify the informed consent process from the one you use for in-person treatment. Discuss with your clients the available options and alternatives to help them decide which may be the most appropriate form of treatment services for them.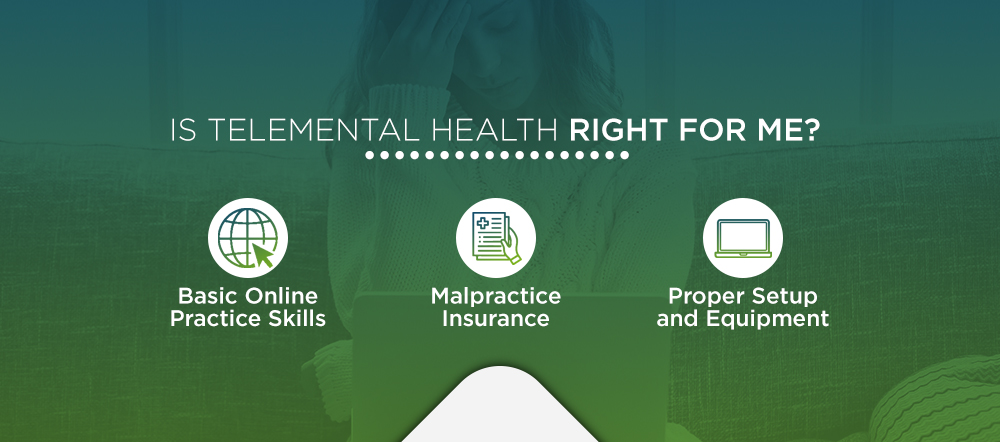 Is Telemental Health Right for Me?
How can you make your practice virtual? What should you consider before offering telemental health services in your practice? If you want to provide superior virtual health treatment, it is vital to have some of the following.
1. Basic Online Practice Skills
Your patients should know how to adjust their video and audio quality and how to troubleshoot technical problems. There are a number of resources you can provide your patients that will help them develop troubleshooting skills for technical problems. If you run into technical problems on your end, consult your IT team as needed.
2. Malpractice Insurance
Does your malpractice insurance provider offer coverage for virtual health services? Reach out to your malpractice insurance provider to confirm that your policy will cover these health services in your state and across jurisdictional lines. While you may have coverage for in-state practice, you may not have it for inter-jurisdictional practice for distance health services.
3. Proper Setup and Equipment
ICANotes Telehealth is a HIPAA-compliant solution for mental health professionals who need a secure platform to deliver telemental health services to clients. With ICANotes, you can begin a session with a client through their appointment, chart or chart room. Your client will receive either an email invitation or text containing a secure link to join the session. There is no download required.
We have designed our telehealth EHR software for behavioral health. Our software includes practice management and documentation features tailored to a range of disciplines in behavioral health. Every aspect of ICANotes is HIPAA-compliant, so you can rest assured your clients' information will remain protected and your practice can maintain compliance.
Start Your Free Trial With ICANotes
At ICANotes, experienced, certified staff support all our services, and they are ready to help you with your telemental health services. Since 1999, behavioral health clinicians have turned to us at ICANotes in the following situations:
When they spend too much time creating documentation.
When they are uncertain whether their documentation will meet regulations.
When they are losing money because their claims get rejected or their notes are under-coded.
When they are feeling frustrated with the turnaround time and the cost associated with transcribing clinical dictation.
When the health care environment's increasing complexity makes their job much more challenging and stressful.
When they are seeking a software solution that combines electronic billing and practice management with charting.
We want to make therapy note creation more efficient and make your job easier. To learn more about telemental health and what we can offer your practice, request your free trial from us at ICANotes today.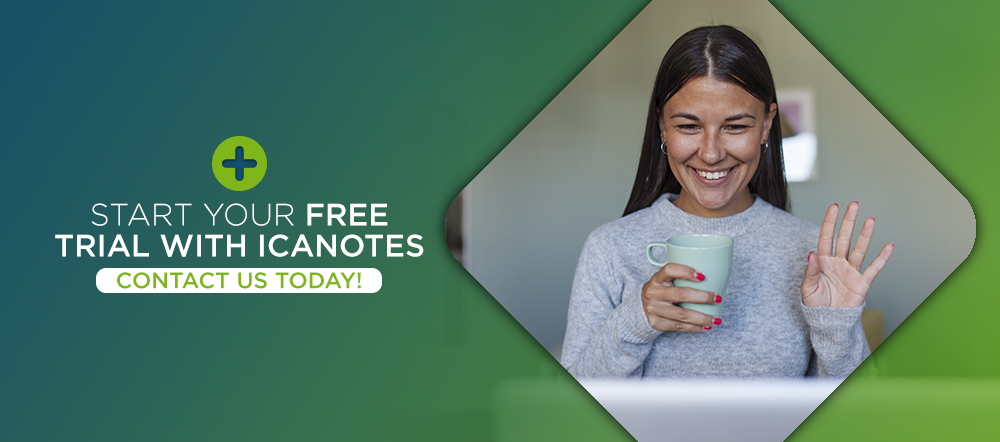 Related Posts:
What You Should Know Before Using Teletherapy for Mental Health Counseling
Tips for Having a Successful Teletherapy Appointment
Is Teletherapy Covered by Insurance?
What is Teletherapy?
How to Make Your Practice Virtual
What Are the Most Important Practice Management Features for Behavioral and Mental Health Clinicians?
---
Free Ebook: Going Virtual
Everything you need to start a virtual behavioral health practice.