Telehealth Care Becomes More Accessible Amidst the COVID-19 Pandemic

In the light of today's rapidly changing coronavirus situation, practitioners can expect to see fewer clients visiting their offices as the public follows guidelines on social distancing. This is still a time of great uncertainty and anxiousness for people who are concerned about their physical health and that of their loved ones. As groups separate from each other and self-quarantine, the need for mental health resources is higher than ever.
We've covered the emergence of telehealth — facilitating care through video and phone calls — and its potential benefits for behavioral and mental health care. It might seem like a consideration still years into the future, but for the patients who have to stay at home and need to reach a specialist today, it's a viable avenue for them to receive face-to-face communication.
Telehealth insurance coverage for therapy, however, has been quite spotty. Right now, national policy and state laws have widely varying mandates on performing telehealth. You can learn more about how regulations differ in your region by visiting the Center for Connected Health Policy website.
In the past, insurance plans have left out coverage for psychotherapy, limited the available providers or required the client to establish that digital calls are their only available option, and these are just some of the hoops to jump through. However, recent events have created some exceptions you need to know about.
---
Free Ebook: Going Virtual
Everything you need to start a virtual behavioral health practice.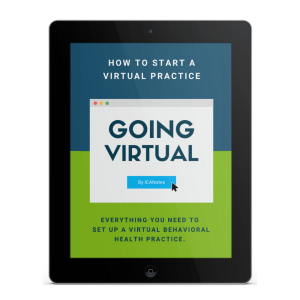 ---
What Telehealth Legal Developments and Policy Changes Have Resulted From the Coronavirus Pandemic?
Coronavirus response has motivated the United States government to allow more opportunities to seek and administer telehealth care throughout the nation. Earlier in March, Congressional leaders submitted an emergency spending bill that extends telehealth services to more populations in need, particularly seniors. Medicare reimbursement is available for providers using telehealth services to see the home-bound elderly.
On March 17, the Office for Civil Rights (OCR) at the US Department of Health and Human Services announced the enforcement of HIPAA rules regarding digital platforms would be waived for the time being.
The OCR won't impose penalties for diverting from HIPAA rules regarding telehealth during the COVID-19 crisis as long as this care is performed in good faith. This provision applies to non-public facing video and audio chatting platforms like Apple FaceTime, Facebook Messenger, Google Hangouts and Skype (while continuing to rule out public-facing applications such as Facebook Live and TikTok).
The OCR recommends that you utilize HIPPA-compliant videoconferencing software, including Skype for Business, Zoom for Healthcare, Upox and VSee. You can also browse other options listed by the Telebehavioral Health Institute's guide to online services.
How Does This Affect Insurance Coverage for Telehealth Therapy?
Whether in a rural or urban area or across state lines, patients can now reach covered providers in more ways. We mentioned that plans haven't always accommodated telehealth, but networks are quickly meeting the need to expand coverage for today's remote landscape. You'll have to contact your client's provider to learn if their rules, limitations and conditions have changed.
The Navigating the Insurance Maze website has been doing its best to keep up with evolving telehealth policies across the country. We also have a blog post that further explains the reimbursement policies that affect behavioral telehealth care.
ICANotes Will Soon Enhance Its Support for Telepsychiatry and Telehealth Care
Shifting your practice towards telehealth for the weeks and months ahead may be something you're considering. Though this requires additional training, proper licensing ensuring you can practice in the client's state, and mindfulness of additional ethical and privacy concerns over these channels, your documentation habits shouldn't change much.
ICANotes helps behavioral health professionals like you take high-quality, accurate notes so you can effectively record sessions with your patients whether in-office or long-distance. We've been working to upgrade our EHR software with more capabilities to address telehealth and coronavirus concerns, including a COVID-19 questionnaire. Once these features go live, which we anticipate will be before April 5, we encourage you to sign up for the 14-day free trial.
Our other ICANotes offerings to support your virtual practice include BillFlash integration to generate email statements, DrFirst ECPS Gold e-prescribing, an ONC Stage 3 certified Patient Portal and text alerts. As a service to our customers who are trying to navigate this epidemic with us,
we've also launched a webinar
involving strategies to communicate with your clients through online portals and alerts.
Our software solution also follows HIPAA regulations and complies with Medicare so you'll be ready to keep using ICANotes as the healthcare system gradually returns to normal. You'll also have our support team to assist you with getting started using the platform.
Learn how you can deploy ICANotes for your online practice by calling 866-847-3590 or requesting a live demo or free trial of the software today.