8 Tips for Virtual School Counseling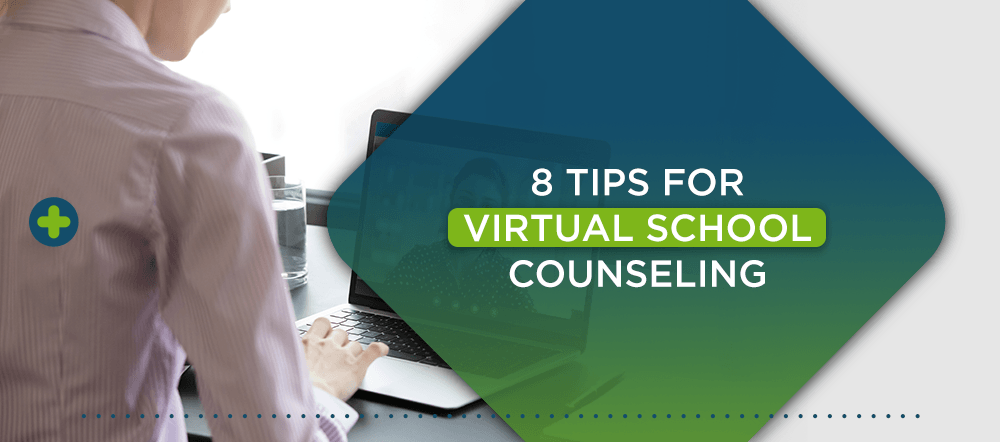 As a school counselor, you provide a range of critical services to students. From academic guidance to emotional support, you help students navigate challenges that may interfere with their educational and personal goals. Your job is vital to the well-being of students in your school, whether you're helping children with behavioral issues or high school students with substance use disorders.
In addition to your regular role, you may be facing a new challenge — counseling students virtually. Due to the coronavirus pandemic, schools across the country have been forced to shut down or initiate partial closures. Full closures mean in-person instruction is not allowed, while partial closures may allow in-person instruction in some areas of the state or for specific age groups. Otherwise, students must attend school remotely.
Switching to an online setting may be entirely new for you. Before the pandemic, many school counselors and psychologists were used to helping students face-to-face. It may feel challenging adjusting to virtual counseling. Fortunately, there are countless helpful resources available. In this post, we'll help you make the transition. We'll cover the pros and cons of online counseling, ethical issues to consider, and tips for helping students virtually.
---
Free Ebook: Going Virtual
Everything you need to start a virtual behavioral health practice.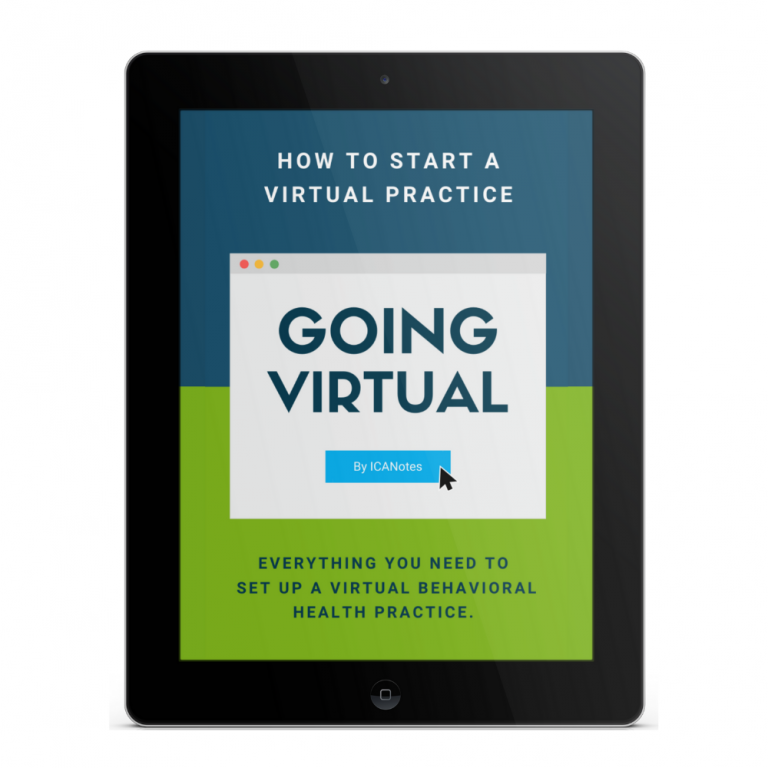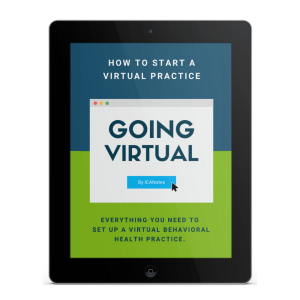 ---
Table of Contents
Supporting Student Wellness With Virtual School Counseling
The COVID-19 pandemic has impacted school counselors in two ways. First, school counselors need to adjust to working in a virtual setting. Secondly, school counselors need to meet the growing demand for mental health support. Students face various pandemic-related factors that are affecting their mental health, such as social isolation and uncertainty.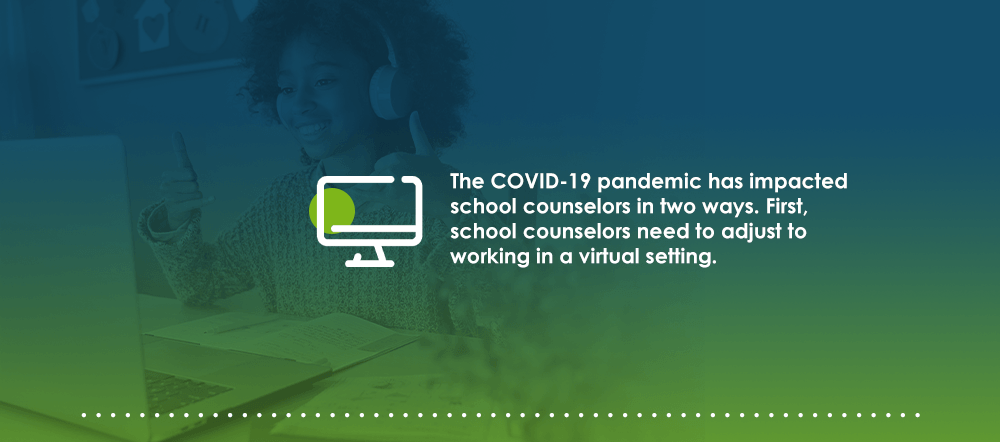 According to a recent survey, researchers found that the COVID-19 pandemic has had a great psychosocial impact on children and adolescents, leading to increased levels of anxiety and depression.Psychiatric Times reports that many studies investigating the effects of the pandemic demonstrate emotional changes in children, adolescents and young adults, including increased loneliness and worrying.
As a school counselor, it's also important to consider that many students are spending more time at home with their families who may be experiencing illness or financial stress. Some students may be exposed to violence, neglect or abuse at home and require increased emotional support and guidance.
You can assume that all students need support from school counselors to cope with pandemic-related stress and develop skills to focus on learning. Online counseling, which may include video conferences, phone calls and email communications, allows school counselors and psychologists to connect with students and offer their support —even when face-to-face interactions aren't safe or feasible. Other advantages of virtual school counseling include:
Form a deeper connection: Some students are more comfortable expressing themselves through a virtual format. When students are more willing to open up about their lives, you can gain insight into academic or behavioral issues they may be having and connect with them on a deeper level.
Remove the stigma of counseling: Students may avoid visiting a school counselor or psychologist because they fear peers will see them. Virtual counseling allows students to talk to a counselor in the comfort of their home.
Meet students' needs despite geographical limitations: Nearly 87% of American households had internet access in 2019. This means that for many students, virtual school counseling is accessible and convenient. Counselors can meet with students no matter where they live or whether they can get a ride to school.
Limitations of Virtual School Counseling
Virtual school counseling is better than not being able to reach students at all, and it offers unique advantages for some students. Still, online counseling has limitations and disadvantages you need to be aware of, such as:
Potential for misunderstandings: Virtual communications do not always provide helpful visual cues. For example, if you communicate with students through email, you can't see if they are smiling or frowning as they read what you wrote. Without being able to read body language, you'll face a greater risk of misunderstandings.
Lack of comfort: Students in distress might feel more comforted by a counselor's physical presence. As a virtual counselor, you'll need to help students feel comforted and cared for from a distance, which can be challenging at times.
Communication delays: Students can't come to your office when they need urgent attention if everything takes place virtually. Instead, they'll need to wait for your reply, which can be frustrating or discouraging. Likewise, you may struggle to reach students at home.
8 Tips for Virtual School Counseling
According to researchers at Harvard Graduate School of Education, counselors report often lacking clear guidance from their schools during the pandemic. You may not have the direction you need to counsel students online from your school, but you're not alone. Many organizations have put together online resources to help you overcome challenges. For example, the American School Counselor Association (ASCA) lists ethical standards to guide you.
Here are eight school counselor tips based on ASCA's ethical standards for virtual counseling: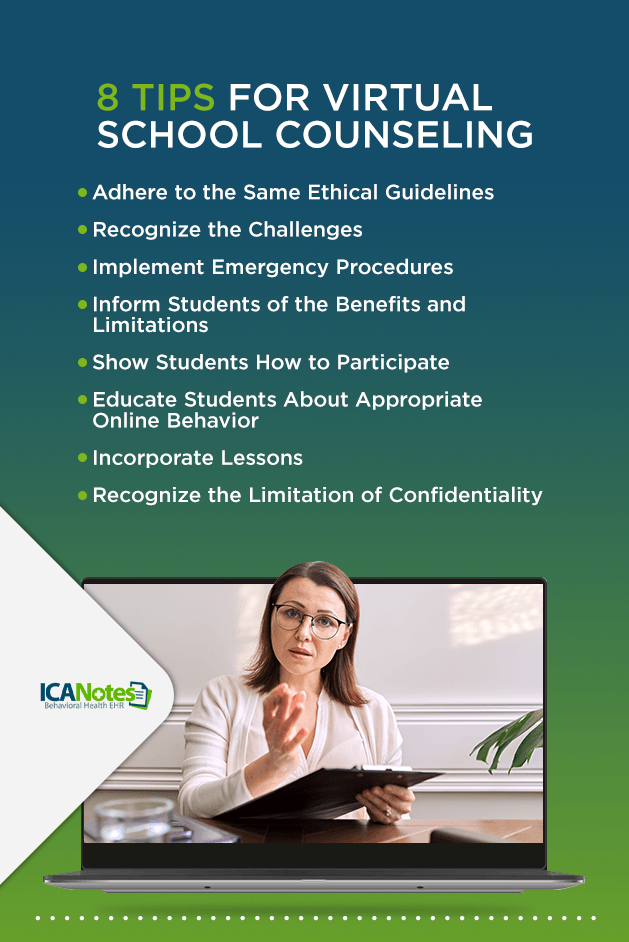 1. Adhere to the Same Ethical Guidelines
As a virtual school counselor, you'll still need to follow the same standards and ethical guidelines as you would in a traditional setting. This includes complying with your school's technology policies and security guidelines.
The ASCA recommends periodically reviewing their set of ethical standards and keeping copies on hand, whether you counsel students remotely or in person. You may also want to review the Family Educational Rights and Privacy Act (FERPA). This protects privacy for students' education records.
2. Recognize the Challenges
Identifying the challenges you may face can help you prepare for obstacles. Some challenges may include:
Lack of available technology: Students may not always have access to technology or the internet at home. For example, students may need to share their computer with other members of their household. You may need to advocate for students who lack internet access or the tools they need to participate in virtual counseling.
Technology failures: As a virtual counselor, you'll need a backup plan if there's a power outage or other technological issue during an online meeting with a student. Make sure you discuss this plan with students and their families and provide them alternative methods of communication.
Safety risks: Students face certain risks whenever they use the internet. For example, they may access inappropriate content when they're online or get distracted by other media. It's important to be aware of students' safety and privacy risks when they use technology and have a plan for handling online incidents.
3. Implement Emergency Procedures
Develop procedures for students to follow in case you're not available during an emergency or nonemergency situation. For example, you might list 24/7 emergency resources on your website that students and families can use if needed. Make sure you also form a protocol for mental health crises.
4. Inform Students of the Benefits and Limitations
Ensure students and their families understand the benefits of virtual counseling and its limitations, so they know what to expect. Be sure to set clear online boundaries and ask students and their parents if they have any questions or concerns.
5. Show Students How to Participate
Students may be unfamiliar with a virtual counseling relationship, and they may not know how to interpret your emails or messages. Explain to them how a lack of visual cues, like body language, can sometimes lead to misunderstandings. Let them know it's OK to ask for clarification if there's something they don't understand.
6. Educate Students About Appropriate Online Behavior
Teach students about appropriate conduct in a virtual setting. You might cover topics such as minimizing distractions and practicing respectful communication. You might also collaborate with parents and students to educate them about the risks of using the internet. Remind students that they can use technology as a tool to reach their academic goals.
7. Incorporate Lessons
Incorporate lessons that will help students progress academically, socially and emotionally and develop career goals. Also, choose lessons that will keep students engaged and encourage them to focus on solutions.
For example, you might ask students to write about what they hope to be doing in 20 years. Then ask them to imagine they are living that life and need to tell their younger self how they overcame challenges and used their strengths to achieve their goals.
8. Recognize the Limitation of Confidentiality
When you provide virtual counseling, there is no way to guarantee confidentiality. You cannot see if someone else is in your student's room reading over their shoulder or listening to your virtual meeting, for example. To help protect students' privacy, consider wearing headphones with a microphone during online meetings and encourage them to do the same. Also, conduct sessions in a quiet, private room. Make sure students know you can only control privacy on your end.
Otherwise, the same confidentiality rules apply to virtual settings as in-person sessions. Go over the limits of confidentiality with students before you begin counseling them.
Spotting Signs of Stress and Grief
As a result of the pandemic, some students may be grieving the death of a family member or friend. Students may also be experiencing grief due to extreme changes to their daily routines. For example, children might be grieving over the loss of playing with friends at the park or celebrating milestones.
In addition, most students and their families have experienced some level of stress, anxiety or uncertainty relating to the pandemic. Stress and grief can make it challenging to concentrate and perform academically. It's critical to look for signs of stress or grief in students, so you and other staff can provide the appropriate support.
It can be challenging to tell if a student is grieving. Depending on the stage of grief a student is in, they may not seem depressed or act as if they're hurting emotionally. You may need to reach out to students who recently experienced a loss to assess their needs.
The Kentucky Department of Education recommends looking for the following signs of stress:
Clinginess
Tearfulness
Agitation
Hyperactivity
Irritability
Impatience
Aggression
Anger
Lethargy
Hopelessness
Depression
Poor concentration and memory
Limited comprehension
Addressing and Helping Students Manage Grief
Grief is a personal experience and students who experienced a loss grieve in their own way. There are different stages of grief that can occur in any order. The basic stages of grief include:
Shock
Denial
Depression
Guilt
Anxiety
Aggression
Acceptance
To help students manage grief, take these steps:
Acknowledge what has happened and how difficult it is to lose someone or experience another type of loss.
Normalize the emotions that a student might experience and encourage them to talk about what happened and express how they feel.
Validate the student's emotions and remind them it's OK to cry or feel numb.
Ensure other staff members or students are prepared to speak and act with understanding and sensitivity toward students experiencing grief.
Ethical Considerations for Virtual School Counseling
As a counselor adjusting to an online setting, you may have numerous ethical questions and concerns. Even though you've likely used virtual means to communicate with students in the past, such as sending and receiving emails, you may need to offer greater emotional support to students online due to the pandemic. The ASCA shares three ethical areas to consider, such as: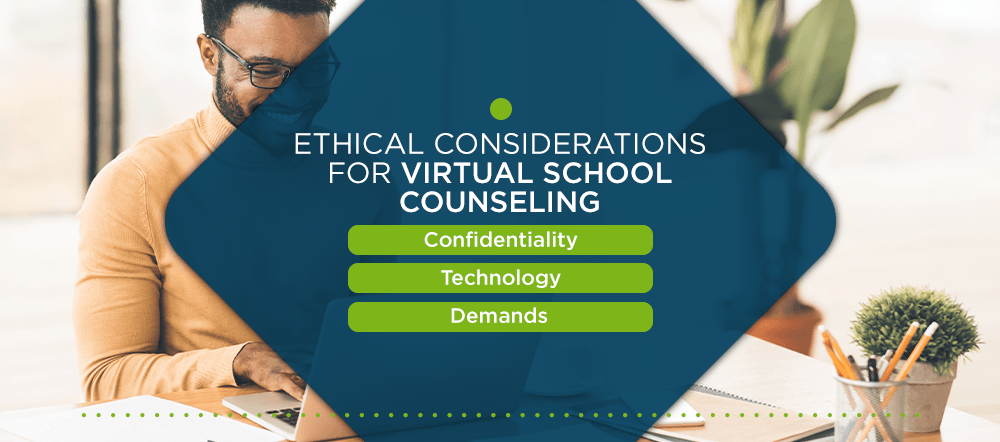 1. Confidentiality
School counselors have to follow FERPA guidelines to maintain student confidentiality, along with their school's policies. Maintaining student confidentiality in a virtual setting raises a lot of questions, including the following:
Are written and video communications considered an educational record? Under FERPA, written and video communications are considered educational records if you "maintain" them. If you erase the message or video, it is no longer maintained and therefore not considered an educational record.
Can parents request access to video communications? Parents can request to access video recordings you used to communicate with students if they are maintained.
Can school counselors take educational records home? School counselors are allowed to take educational records home. However, it's important to make sure individuals who are not school officials cannot access the records.
2. Technology
You'll primarily need to follow your school's technology guidelines. You may have the following questions about technology and what your school provides:
Do counselors have to use a school-issued computer? Unless you're offered an exception, you must use the computer your school gives you for security purposes. If you believe the computer lacks privacy measures, you can advocate for better equipment.
Does the platform need to be compliant with the Health Insurance Portability and Accountability Act (HIPAA)? Schools that receive federal funds are not considered HIPAA-covered entities. HIPAA only applies to schools in limited circumstances. Otherwise, you need to maintain students' records according to FERPA, even if they include health information.
Can school counselors use their personal cellphones to talk to students or parents? It's best only to use devices issued by your school to communicate with students and their families. If your school has not issued you a phone, ask them about using your own device. Either way, make sure to establish boundaries regarding your working hours and discuss these with students and their families.
3. Demands
The COVID-19 pandemic is unlike anything today's school counselors have experienced before. The pandemic is also leading to unprecedented demands, and some of them are unrealistic. Here are some questions you might have about your duties and whether they're appropriate:
Should school counselors visit students at home if it makes them uncomfortable? If your school asks you to make a home visit, you have a right to ask not to. Visiting students at home is not part of a school counselor's job. Schools need to be careful not to put their educators and counselors at risk.
Should school counselors conduct suicide assessments over the phone? If you suspect a student is suicidal, the ASCA recommends contacting their parents and suggesting professional help as soon as possible. Otherwise, administer assessments with extreme caution and ensure a mental health professional follows up with the student if possible.
Should school counselors help with health screenings? Although health screenings, such as taking temperatures, probably isn't part of your job description, you may need to be more flexible during the pandemic. Most staff members will be taking on new roles, like enforcing mask-wearing, so you may accept different responsibilities if you feel they are appropriate.
Virtual School Counseling Resources
If you're looking for resources to help you through the pandemic, there are many guides available online. Here are a few links to school counseling COVID-19 resources to help you succeed in your role as a virtual school counselor:
Work Faster and Better With ICANotes
As a school counselor or psychologist, part of your job involves tackling administrative tasks such as maintaining students' confidential records. If you work for a private school, you may have to comply with HIPAA.
Whether you're concerned about the security of school-issued technology, wish to reduce your documentation burden or need to use a HIPAA-compliant platform, consider asking your school about ICANotes. ICANotes is a HIPAA-compliant, electronic health record (EHR) system designed for behavioral health professionals. With ICANotes, you can quickly and accurately take mental health notes, conduct secure counseling sessions using the telehealth platform, and even bill insurers. To learn more about ICANotes, request your free trial or contact us today.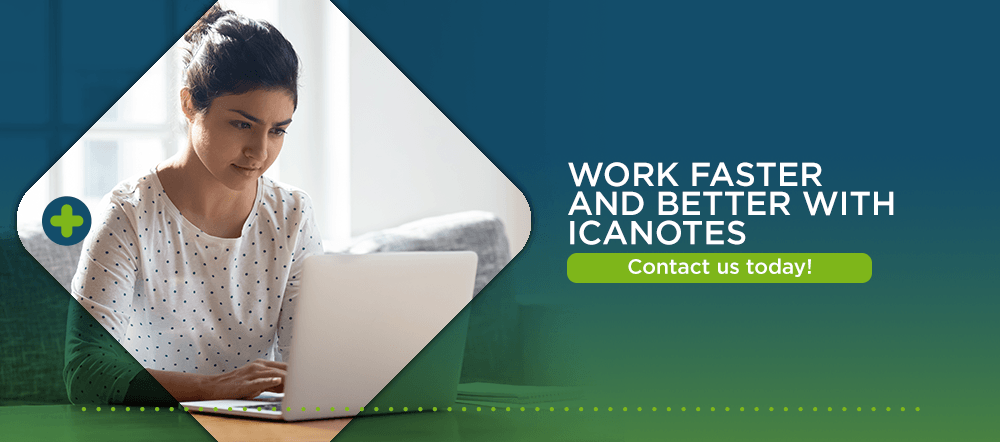 Related Posts
Supporting Emotional Wellbeing During the Coronavirus Pandemic
The Impacts of COVID-19 on Mental Health
Virtual Group Therapy: The Latest Trends & How Your Practice Can Adapt
What You Should Know Before Using Teletherapy for Mental Health Counseling
Tips for Having a Successful Teletherapy Appointment
Understanding the Mental Health Crisis Facing Young People
Addressing Mental Health Issues in School Leads to Improved Performance
Tips for Improving Mental Health in Young Adults
---
Sources:
---
Free Ebook: Going Virtual
Everything you need to start a virtual behavioral health practice.