Does Insurance Cover Teletherapy?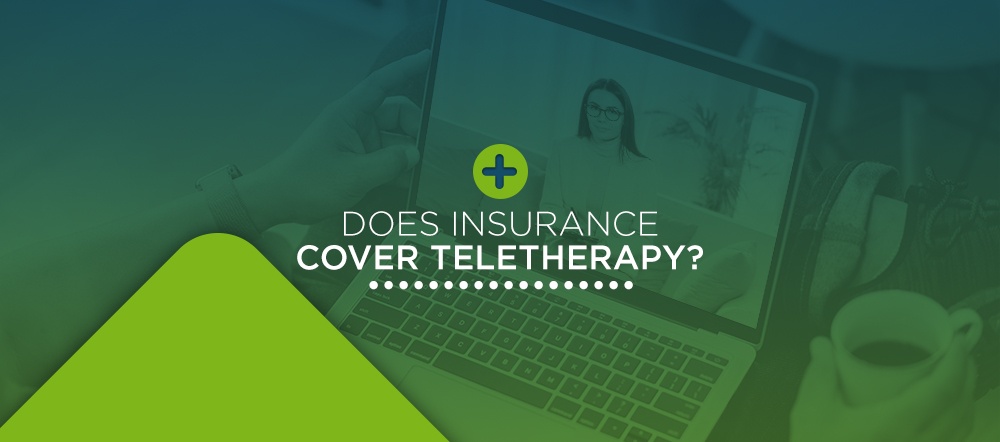 Today's therapists have to think outside the box and find new ways to reach clients who cannot make an in-person appointment. Behavioral health professionals may have the option to provide their services virtually and work with patients in distant locations. While it's evident teletherapy offers numerous benefits for both counselor and client, some aspects of this service, such as insurance coverage, remain blurry. If you accept insurance, you're probably wondering if you'll get reimbursed for online therapy.
Whether an insurer will reimburse you for telehealth services depends on state laws, the insurance carrier's policies, and the help you provide. In this post, we'll answer some of your questions about insurance and teletherapy to determine if this service is right for you.
---
Table of Contents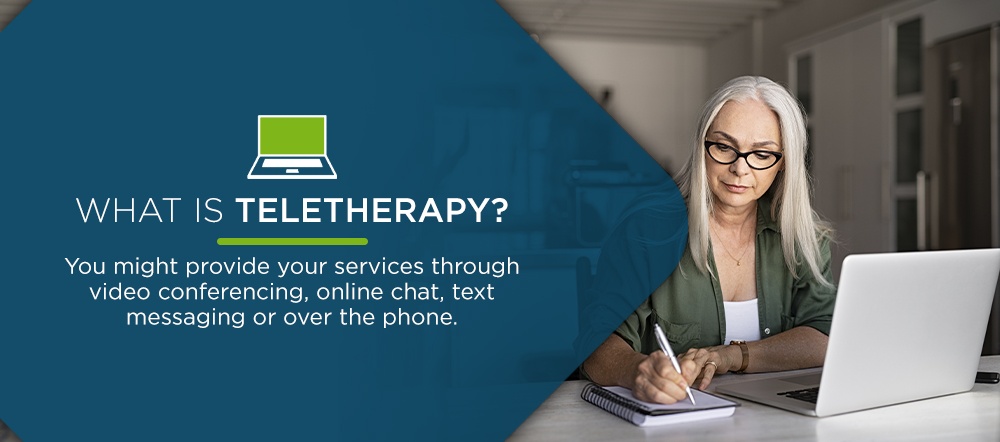 What Is Teletherapy?
Teletherapy, also called online therapy or virtual therapy, allows you to meet with clients remotely. You might provide your services through video conferencing, online chat, text messaging or over the phone. Any licensed behavioral health professional can offer teletherapy, including counselors, social workers, psychologists and psychiatrists.
For example, teletherapy may involve a psychiatrist providing psychiatric evaluations, therapy and management of prescribed medications. It may also mean a psychiatrist coordinating with primary care providers. Teletherapy services include therapy sessions, diagnosis of mental health disorders, medication management and emergency crisis intervention.
To offer teletherapy, you'll generally need a computer with a camera, speaker and microphone, a high-speed internet connection and a platform that's compliant with privacy laws. With these fundamentals, you can see clients from a quiet room in your home or personal office.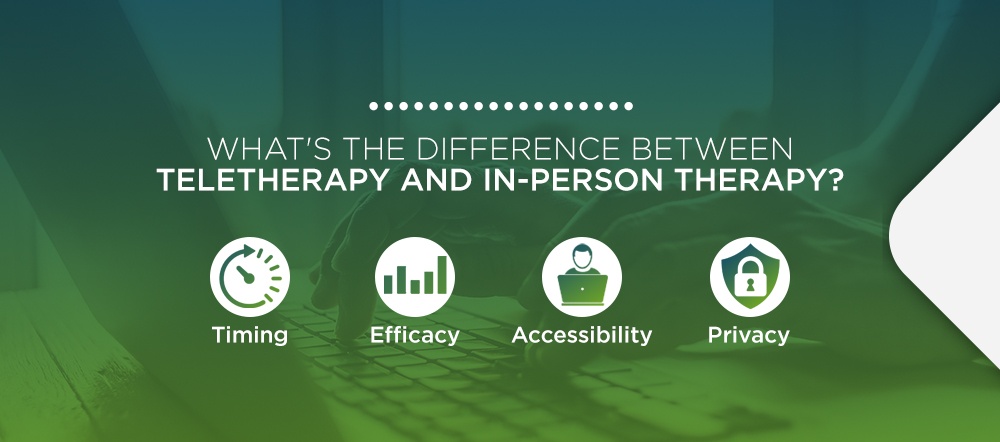 What's the Difference Between Teletherapy and In-Person Therapy?
Teletherapy is not much different than in-person therapy regarding some of the services you can provide, licensing requirements or how much you charge per session. You can still offer treatments like cognitive behavioral therapy, but you won't be in the same room as your client.
Imagine meeting with a friend or family member over a platform like Skype, for example. While the experience may not feel as personal as a face-to-face meeting, it still allows you to connect, share thoughts and feelings and build trust. In other words, you can still listen and guide your clients with teletherapy.
Let's explore the differences and similarities in a little more detail.
Timing
Deciding when you want to meet a client may be slightly different from what you're used to with traditional therapy. You might plan to meet a client online during the off-hours, for instance. Maybe you'll decide to offer unscheduled text services and reply to your client on your time rather than set an official appointment. It's ultimately up to you and what you feel is best for your clients. Regardless, you'll enjoy greater flexibility when you offer teletherapy care.
Efficacy
You may wonder if teletherapy is less effective than in-person therapy. Some clients might communicate their mood better through body language than words. When you provide services through text messaging or chat, you won't observe a client's posture or facial expressions. Although this is worth considering, studies show that teletherapy can be just as effective as in-person therapy for many clients.
For example, a formal review of telepsychiatry in the 21st century shows the practice to be as effective as traditional methods. One of the studies cited found that 83% of patients diagnosed with the Diagnostic and Statistical Manual of Mental Disorders using telepsychiatry received a correct diagnosis. Another study cited showed that rural patients using telepsychiatry received a wrong diagnosis only 1 to 2% of the time.
Another study concluded that online therapy for depression is just as beneficial as in-person therapy and even had greater long-term effects.
Accessibility
Perhaps the most significant difference between online therapy and in-person therapy is increased accessibility. With teletherapy, you can serve clients who cannot travel to an appointment due to distance, a lack of transportation or physical disability. You can also reach patients who experience social anxiety and may have avoided counseling sessions in the past.
However, unlike in-person sessions, you and your clients may have to troubleshoot issues with the internet connection or various technologies occasionally. You may need to help clients set up their computers or smartphones before they have their first session, and you'll need to be ready to guide them through technological issues.
Privacy
Generally, you'll need to use a secure, private platform to perform teletherapy, unlike in-person sessions that revolve around paperwork. However, the laws relating to the Health Insurance Portability and Accountability Act (HIPAA) are ever-changing.
For example, due to the COVID-19 public health emergency, the Department of Health and Human Services released a notice stating the Office for Civil Rights (OCR) will use enforcement discretion regarding non-compliance with privacy laws while providing telehealth services. As long as a provider uses a telehealth platform for a good reason, the OCR will not impose penalties for failing to comply with HIPAA rules. However, psychologists and therapists must still use their professional judgment and always let patients know their privacy may be at risk if they use specific third-party applications.
Keep in mind, the goal of these changes is to accommodate patients during a public health crisis, and they will likely only be in effect until the health emergency ends. Therefore, you'll want to choose a HIPAA-compliant platform if possible, and it's ideal if all communications are encrypted. Depending on the service provider, texts may not be secure, so it's best to hold sessions through a different platform and use texts only to check up on clients.
Is Teletherapy Better Than In-Person Therapy?
Overall, teletherapy is more convenient than in-person therapy, and it can be an excellent option for clients who cannot leave their homes or find transportation. Some patients may prefer online therapy because they feel more relaxed opening up at home. However, clients who require intensive care or are not comfortable using technology may benefit more from in-person treatment.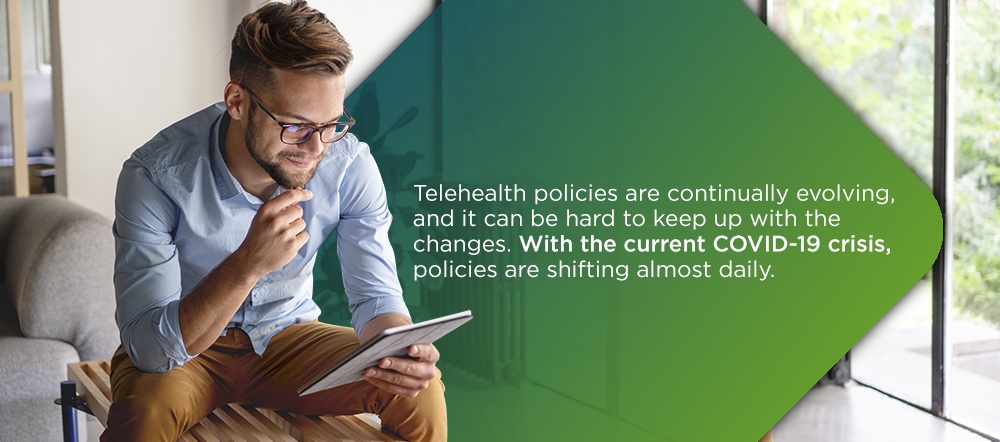 Teletherapy Laws by State
Telehealth policies are continually evolving, and it can be hard to keep up with the changes. Because telehealth laws vary by state, you'll want to research the most current policies in the state where you received licensure. Your state is responsible for regulating private health insurance companies, as well as Medicaid.
You might start your research with this chart created by the Federation of State Medical Boards. Here, you'll find current telehealth modifications by state, including information regarding controlled substance prescriptions via telemedicine and licensing requirements.
To check current state laws and telehealth reimbursement policies, you can also visit the Center for Connected Health Policy (CCHP). You can use their interactive map to click on your state and find information regarding Medicaid telehealth reimbursement, private payer laws, online prescribing and cross-state licensing.
The CCHP also recently compiled a report that details the regulations of all 50 states, which you can use to determine what Medicaid and private payer laws are active in your area. Here are some crucial findings:
All 50 states and Washington, D.C., provide reimbursement for live video sessions in Medicaid fee-for-service.
All 50 states and Washington, D.C., have a definition for telemedicine, telehealth or both.
Eighteen states' Medicaid programs reimburse for store-and-forward services.
Twenty-one states reimburse for remote patient monitoring.
Forty-three states plus Washington, D.C., have laws governing private payer telehealth reimbursement.
It's worth noting that although most states have laws governing private payer reimbursement of telehealth services, not all of them mandate payment. Also, states might require parity regarding the type of services provided — not the amount of reimbursement. A few states, such as California and Washington, have private payer laws requiring equal reimbursement for telehealth as in-person services.
Lastly, you can check your state's emergency orders and reimbursement policies related to telehealth and mental health services through the American Psychological Association.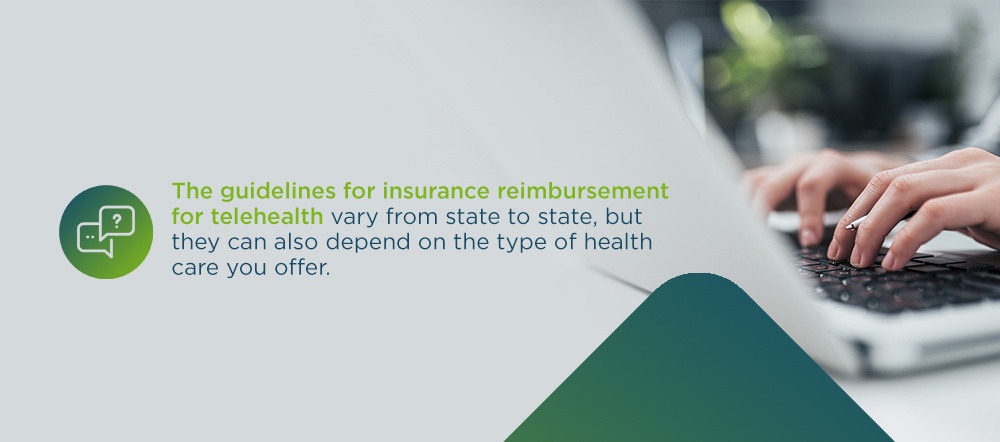 Does Insurance Cover Online Therapy? Will Clinicians Get Reimbursed?
There are no easy answers to these questions. As mentioned above, the guidelines for insurance reimbursement for telehealth vary from state to state. You also need to consider the type of insurance plans your clients have, as some state's Medicaid laws do not govern private health insurance companies. In general, the following factors will determine whether you'll get reimbursed for teletherapy.
1. The Method Used
The method you use to deliver teletherapy might impact reimbursement, depending on your state's laws. For example, even if your state's Medicaid covers live telehealth sessions, you may not get reimbursed for store-and-forward sessions. A store-and-forward telehealth session is where the patient provides essential data for the clinician to analyze and diagnose electronically, but they do not interact directly. These might involve a client sending a document or pre-recorded video through email.
Some states only reimburse clinicians for therapy delivered via live video conferencing and will not provide reimbursement for telephone conversations, text messages or emails. If your state does reimburse for teletherapy delivered over the phone, it may only cover certain services. For instance, South Carolina's Medicaid pays for telephone-delivered telehealth for dental services only. Alabama and Alaska clearly state their Medicaid programs do not cover telephone services. In general, you'll always want to check your state's laws to see what types of telehealth services are covered.
2. The Setting
Where are your clients located when they receive teletherapy? Do they participate in virtual visits from their homes, or are they in school or a hospital? In 27 states, a home is an eligible place for patients to receive telehealth treatment under certain circumstances. Some states also allow schools to be the site of service delivery. Other states, like Iowa, do not consider a client's home an eligible originating site. Instead, under Iowa's Medicaid policy, you can get reimbursed for teletherapy if it's delivered to clients in an office setting, hospital or community mental health center. These sites are paid a facility fee.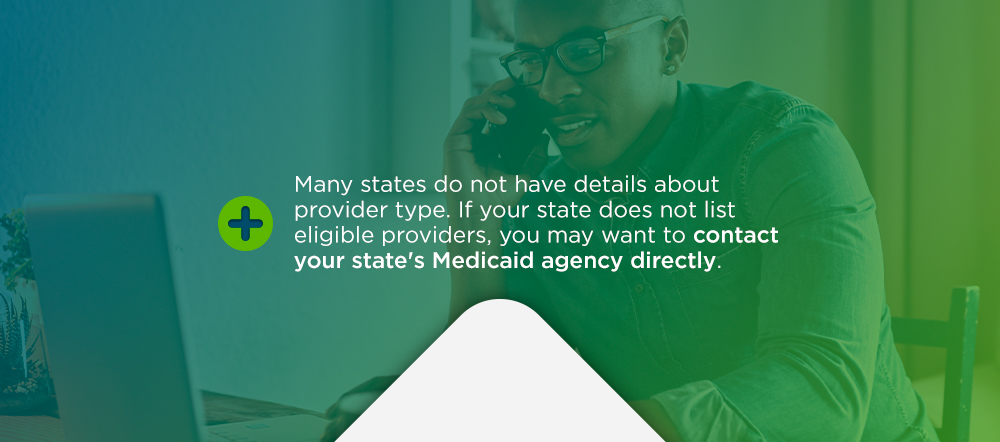 3. The Provider Type
You'll want to consider if your state reimburses behavioral health professionals for teletherapy. Some states are highly selective regarding eligible health care providers, while others provide an extensive list of clinicians. For example, Virginia lists 16 eligible provider types, including psychiatrists, clinical psychologists, professional counselors and clinical social workers. Many states do not have details about provider type. If your state does not list eligible providers, you may want to contact your state's Medicaid agency directly.
4. The CPT Code
Another type of restriction involves current procedural terminology (CPT) codes. Some states have specific guidelines regarding CPT codes. For example, Hawaii Medicaid specifies that clinicians must submit the GT, GQ or 95 modifier with the CPT code. The 95 and GT modifiers describe real-time interaction between a clinician and patient via a telecommunications system. The GQ modifier is used for asynchronous telehealth. To ensure your claims get accepted, review your state's CPT code requirements for teletherapy.
5. The Insurance Plan
Although most private health insurance companies offer some telehealth coverage, each plan varies greatly. Also, insurance policies change all the time, which makes matters more challenging. Figuring out whether you'll get reimbursed by a particular insurance payer can get confusing quickly. To help you answer questions surrounding insurance reimbursement, let's first consider the different types of coverage:
Private insurance coverage for teletherapy varies by state and the insurance plan.
Medicaid teletherapy coverage also varies by state, but currently, many Medicaid plans cover telehealth services.
Medicare has expanded its teletherapy services and waived many of its restrictions due to the COVID-19 crisis.
In general, your client should have coverage for teletherapy if the following factors apply:
Your client's state has a telehealth parity law.
Your client's insurance plan includes mental health benefits.
Your client's insurance plan covers telehealth services.
To confirm you'll get reimbursed, it's always best to contact a client's insurance provider. Find out if they cover teletherapy and how much you'll get reimbursed. Make sure you understand which specific services a client's plan covers.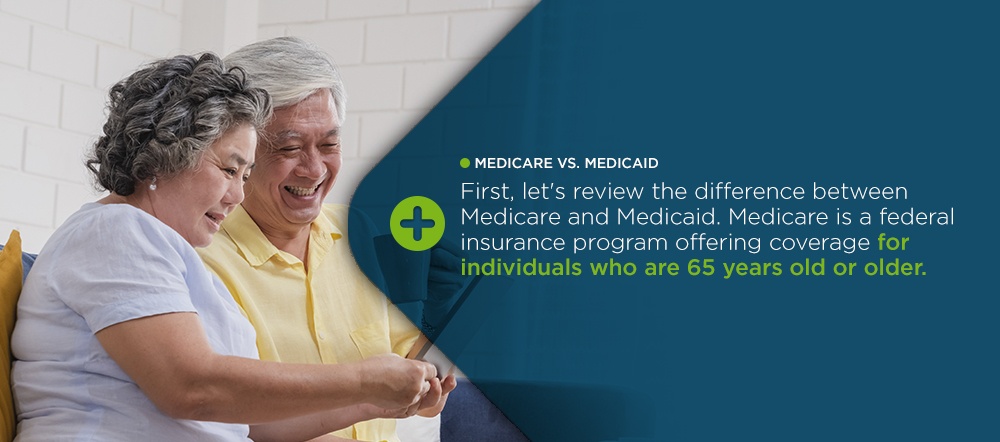 Medicare vs. Medicaid
Millions of Americans receive Medicare or Medicaid benefits. For example, according to a Centers for Medicare and Medicaid Services (CMS) report from March 2020, over 64 million individuals have enrolled in Medicaid. If you accept clients with Medicaid or Medicare coverage and want to offer teletherapy services, you need to know what these programs cover.
First, let's review the difference between Medicare and Medicaid. Medicare is a federal insurance program offering coverage for individuals who are 65 years old or older. It also covers individuals who are under the age of 65 and have a disability. The CMS — a federal government agency — runs Medicare. The program essentially has the same rules everywhere across the country. Clients with Medicare pay for part of their health care costs.
Medicaid is a state and federal assistance program for individuals with low income of any age. Medicaid regulations vary between states but must fall within federal guidelines. Clients with Medicaid may have to pay a small copayment for specific services. Otherwise, they usually do not have to pay any part of a covered medical expense.
So, do Medicare and Medicaid reimburse for teletherapy services? In general, the CMS wants states to expand telehealth services to accommodate patients during the COVID-19 crisis and help slow the coronavirus spread. That's why they have lifted some restrictions to make it easier for providers to offer telehealth to clients and still get paid. For example, under a new waiver, titled 1135, Medicare covers telehealth for clients who live anywhere — not just in rural areas. It also allows telehealth to take place in a beneficiary's home. A range of providers, including clinical psychologists and licensed clinical social workers, will be able to provide teletherapy under this waiver. There are still some rules, such as:
Service providers must use an interactive telecommunications system with real-time audio and video communication.
A physician or other authorized practitioners — such as clinical psychologists, nurse practitioners or clinical social workers — must provide the service.
Medicare will also pay for brief virtual "check-ins" to prevent unnecessary trips to the doctor. Doctors and some practitioners can respond to patients during a virtual check-in through secure text messaging, email, video platform, a patient portal or over the phone, but a few rules apply. For example, patients can't use a virtual check-in if they have a medical visit within 24 hours.
The American Medical Association provides a helpful list of resources to help you navigate recent Medicare changes regarding telehealth. The CCHP also provides useful information regarding Medicare and telehealth coverage policies here.
Regarding Medicaid, states get to determine whether to cover teletherapy services or not, as mentioned above. They also get to choose which services to cover, which types of providers can get reimbursed and how much to reimburse them. You'll have to check your state's Medicaid fee-for-service program to confirm coverage.
Does Teletherapy Get Reimbursed at the Same Rate as In-Person Sessions?
In many cases, teletherapy gets reimbursed at the same rate as in-person sessions, but again, this also depends on a client's insurance plan and whether your state has telehealth parity laws. Some states require private payers to reimburse eligible providers the same amount as an in-person session, while others let the payer decide. However, in response to the COVID-19 crisis, many insurance companies are implementing emergency plans to help beneficiaries pay for telehealth services.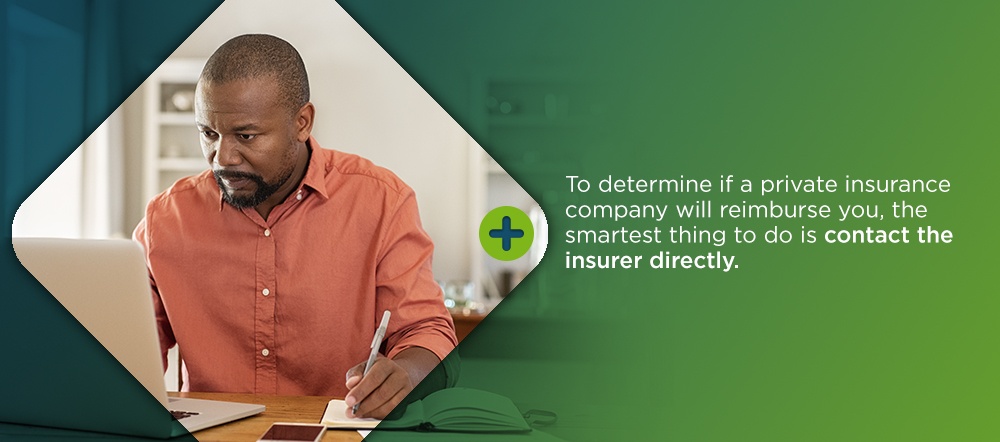 How Do I Determine If Private Insurance Will Reimburse Virtual Therapy?
To determine if a private insurance company will reimburse you, the smartest thing to do is contact the insurer directly. Check and verify coverage and note any limitations in the plan. Even when the same company covers two patients, one might have telehealth coverage, and the other might not. Find out if there are any extra steps you need to take to provide covered telehealth under the plan. You may have to be pre-authorized or be on the insurer's telehealth provider list. Some companies may require some form of proof that you have comprehensive knowledge of the state's telehealth laws. You won't know unless you ask.
Questions to Ask a Client's Insurer
Here is a list of questions you may want to ask a client's insurance company:
Is teletherapy a covered benefit?
Are there restrictions on the location of the client or the provider?
Must I provide services in real time?
Is the reimbursement rate the same for teletherapy as in-person services?
Which providers are eligible for teletherapy reimbursement?
Am I eligible for teletherapy reimbursement based on my license type?
Do I need to include any specific notes in the documentation?
Which CPT codes are covered, and do I need to use a modifier?
What payer ID should I send claims to?
Have there been any recent changes to the policy?
What are your copay and deductible requirements?
Make sure you keep detailed records of the call. Note the number you called, what department you reached, who you spoke to and what they said. If possible, get a call confirmation number. Hopefully, you won't need to use this information, but it may come in handy if you find yourself fighting a denied claim.
How Do I Challenge a Denied Claim?
Claims can get denied for several reasons, such as typing errors or inaccurate information. A payer might also deny a claim if they do not cover teletherapy services. If a claim gets rejected due to a billing mistake, you should be able to correct the error and resubmit it.
In any case, an insurance payer should explain to you why they denied a claim. It's crucial to fully understand the reason for the denial before you take action. If you have questions about a denied claim, call the insurance company's provider service center, tell them your concerns and ask them what you need to do next. They might have a specific process you need to follow to dispute a denied claim.
If you have done your research and are confident a denied claim is not due to a mistake on your part, you can take steps to support your case. Here's what you should do to challenge a denied telehealth claim.
Remind the payer of the relevant laws: Find and copy the appropriate state law and its source. Forward the information to the payer with a link if applicable.
Ask for support if needed: If they do not respond to the legal information, you might get other entities involved. Seek resources from Telehealth Resource Centers or the CCHP to help you challenge the denial. If you are part of a professional association at the state or national level, reach out to their advocacy department to see what they can do for you. Your state's department of insurance may also be a good resource to contact.
Bring the issue to officials: If the problem does not get resolved, you may want to enlist the governor's or other officials' help to bring attention to the issue.
You might also consider asking a third party to perform an external review and evaluate the claim and relevant paperwork.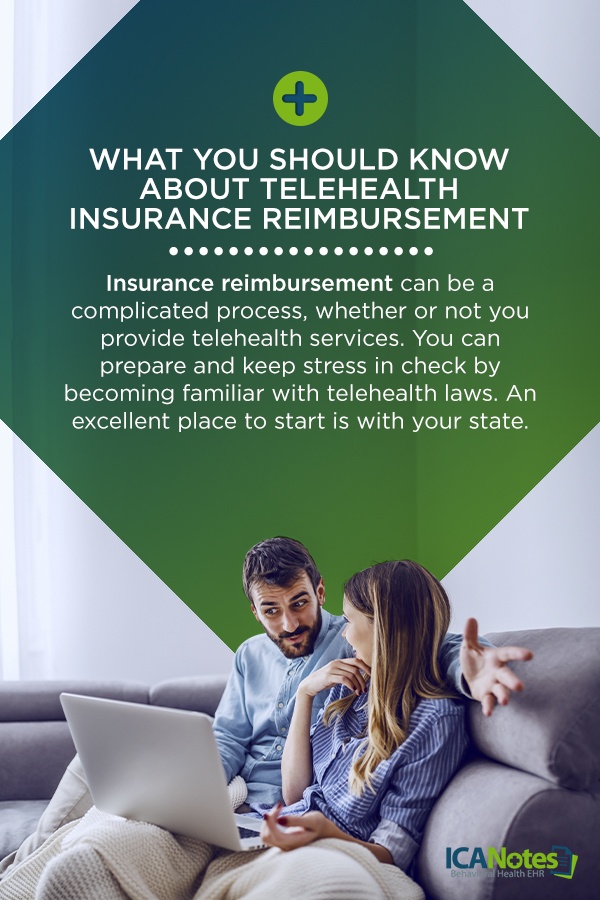 What You Should Know About Telehealth Insurance Reimbursement
Insurance reimbursement can be a complicated process, whether or not you provide telehealth services. You can prepare and keep stress in check by becoming familiar with telehealth laws. An excellent place to start is with your state.
It helps to be aware of pertinent federal laws, too, such as the Mental Health Parity and Addiction Equity Act (MHPAEA). The MHPAEA of 2008 is a federal law designed to stop group health plans and insurers from providing less coverage for mental health problems than physical illnesses. Insurers can't institute higher copays or deductibles for mental health treatment, and they can't set limits on what they'll pay for that care.
The MHPAEA does not explicitly cover telehealth, but it does provide a foundation for telehealth insurance reimbursement. For example, if a group health plan covers telemedicine for medical and surgical reasons, they would likely also have to cover telepsychiatry or other telebehavioral health to comply under MHPAEA. However, the MHPAEA does not require health insurance to offer mental health benefits. The requirements only apply to plans that already cover mental health.
The majority of states have enacted parity laws, specifically requiring that telehealth receive equal coverage to traditional in-person care. Each law is a little different, so it's crucial to be familiar with your state and every state you intend to provide telehealth services in.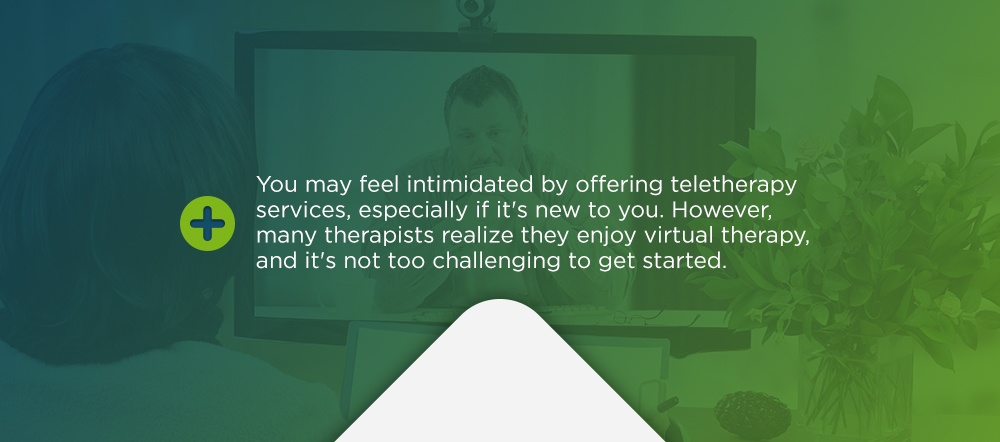 Is Offering Teletherapy Right for You?
You may feel intimidated by offering teletherapy services, especially if it's new to you. However, many therapists realize they enjoy virtual therapy, and it's not too challenging to get started. Likewise, your clients will likely appreciate the convenience of virtual therapy sessions and might choose you over someone who doesn't offer teletherapy care.
Teletherapy has a range of benefits for both you and your clients. For clients, the most significant advantage may be increased access to mental health services. People in rural areas who might live an hour away or longer from the nearest mental health specialist can get the care they need by logging onto their computer or mobile device. The elderly are another vulnerable group that has difficulty accessing medical and behavioral health care. With telehealth, they can receive care from the comfort of their home.
Even people who are otherwise able to attend in-person sessions may be more likely to engage in treatment when they can participate in meetings from their homes. For example, individuals who have busy schedules and need flexible options appreciate teletherapy.
There are plenty of benefits for you, too.
Allows you to treat more clients: The most apparent advantage of telehealth sessions is that it will enable you to provide care for patients who would otherwise struggle to get to your office, either because of distance, a lack of accessible transportation from their location or a health problem that limits their mobility.
Offers more flexibility: With teletherapy, you don't have to plan your schedule around office hours. Instead, if it works better for you and your clients to have sessions at night or on the weekends, you can. You'll enjoy a better work-life balance with teletherapy, and your clients will be more likely to continue going to appointments when they don't interfere with work or school.
Increases your safety: Teletherapy makes you safer in a few different ways. First, you can get to know new patients and learn how they react to difficult emotions at a distance. Second, you won't be exposing yourself or clients to germs that are easy to pick up in an office environment.
Saves you from commuting: You no longer have to sit in traffic on the way to or from work when you can offer services remotely. It will save you gas, time and a lot of stress.
If you're comfortable using technology and are willing to learn how to make your practice virtual, now is the ideal time to offer teletherapy services to your clients.
How Detailed Therapy Notes Can Help Your Virtual Practice
Documentation is always vital to receiving reimbursement for mental health services, but it becomes even more crucial in telehealth. Because remote health care is still relatively new, it faces more scrutiny from payers. The less comprehensive your notes, the more likely it is that a payer will try to find holes in your claim.
Taking clear, detailed notes is part of getting reimbursed for teletherapy sessions and will help you avoid issues with payers. That's one reason telehealth and a high-quality electronic health record (EHR) system go hand in hand. A robust EHR will empower you to quickly and accurately take detailed notes in various formats, such as SOAP notes. You can create thorough, comprehensive psychotherapy or psychiatric notes in just minutes with the right EHR.
ICANotes is EHR software designed specifically to meet the documentation needs of behavioral health professionals. A clinical psychiatrist created this full-featured platform to address multiple pain points found in both traditional and telehealth settings. The suite of benefits includes partial automation of:
Notes and charting
Billing
E-prescribing
Document management
Scheduling
Secure messaging
Patient portal
If you add the telehealth feature to your ICANotes plan, you can easily conduct secure, convenient teletherapy sessions with your clients.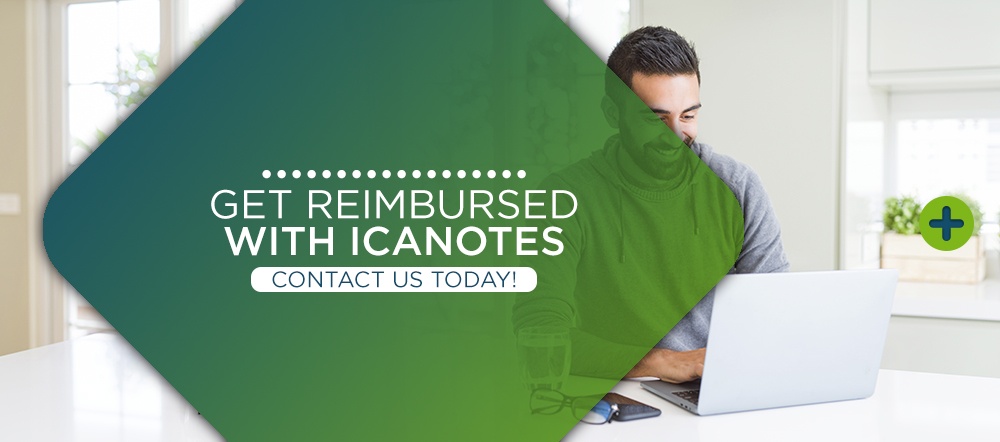 Get Reimbursed With ICANotes
Whatever your state's current policies are on telehealth reimbursement, you must have accurate electronic documentation of all your remote sessions.
ICANotes offers a fully configured EHR software for behavioral health or addiction treatment. With HIPAA compliance built right in, automatic CPT coding at the highest reimbursement rate and a strong support team to help you get started, ICANotes presents a quick and intuitive way to improve your practice's efficiency as you make a move toward offering teletherapy services.
To learn more about obtaining ICANotes for your practice, request a free trial, sign up for a live demo or contact us today for more information.
Last updated on April 20, 2021
Related Posts
CPT Code Basics: What You Should Know
Mental & Behavioral Healthcare Billing: How to Maximize Your Reimbursement Rate
How to Make Your Practice Virtual
What You Should Know Before Using Teletherapy for Mental Health Counseling