What Is E-Prescribing and How Does It Work?

If you are a psychiatrist or other prescribing clinician, you're very familiar with the traditional system of paper prescriptions. The technological advancement of electronic health record (EHR) technology has led to the growing popularity of an alternative — e-prescribing. Taking advantage of e-prescribing benefits can help improve your workflow and quality of patient care.
Table of Contents
What Is an Electronic Prescription?
An electronic prescription is simply a prescription generated and transmitted electronically through an EHR system. 
How Does E-Prescribing Work?
When you create an e-prescription, you use your EHR or e-prescribing software to enter a patient's prescription information into a device such as a tablet, laptop or desktop computer. When you have entered all the relevant information, you submit the prescription for transmission directly to a pharmacy. You don't need to provide the patient with a paper copy of the prescription, as all of the information is received by the pharmacy electronically. Electronic prescribing saves you, the pharmacy and the patient time.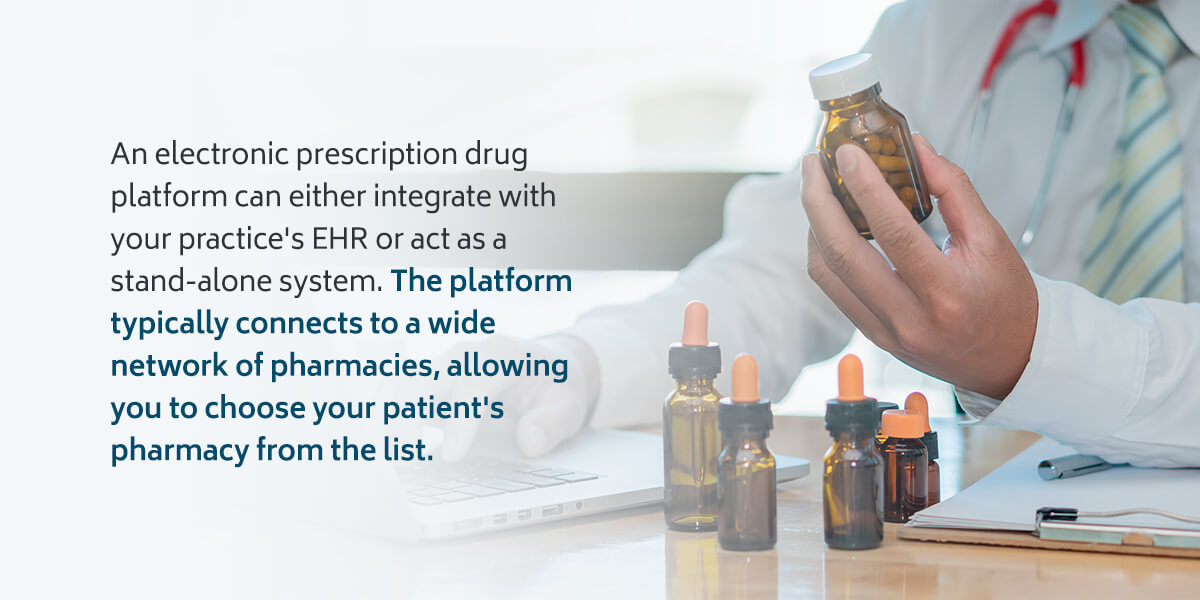 How E-Prescribing Platforms Work
An electronic prescription drug platform can either integrate with your practice's EHR or act as a stand-alone system. The platform typically connects to a wide network of pharmacies, allowing you to choose your patient's pharmacy from the list. From there, you enter information about the medication, such as the brand name, whether a generic is acceptable, the dose and instructions for the patient. The platform will also let you connect with the patient's records so the prescription is connected to the correct patient. 
Once you, the provider, submit the prescription information, the platform sends it to a hub, where it is verified. The hub will confirm that the prescription is associated with the right patient and will also connect to the patient's insurance to verify coverage. If all is well, the platform will then send the prescription to the pharmacy to be filled.
What Are the Benefits of E-Prescribing?
E-prescribing can significantly improve the patient experience while providing benefits to clinicians.
1. Convenience
Patients often have to wait a while for prescriptions. With traditional paper prescriptions, they have to wait for the prescribing clinician to write the prescription, then take it to the pharmacy and wait again as the prescription gets filled. With e-prescription, the information gets sent directly to the pharmacy before the patient even leaves the office. Instead of waiting in the pharmacy, they can go home or run other errands in the time it takes the pharmacist to fill the prescription, leading to improved satisfaction.
2. Reduced Paper Records
E-prescriptions are stored electronically, so you can save on space by eliminating paper prescription records. Eliminating paper can also increase patient safety, as an e-prescription will always be clear and legible. The less paper your practice uses, the lower your costs, as well. You won't have to order new prescription pads regularly or worry about patients losing their prescriptions. You also don't have to worry about a paper prescription falling into the wrong hands or being duplicated and used fraudulently when you switch to e-prescribing.
3. Fewer Pharmacy Callbacks
Handwritten prescriptions can be very difficult to read, leading to calls from the pharmacy asking about what exactly you prescribed. Even typing up a prescription can lead to errors that cause a pharmacy to reject the prescription or call with questions. E-prescribing makes it much easier to identify mistakes before the prescription goes to the pharmacy. When a pharmacist can fill a prescription correctly the first time, it increases efficiency and patient satisfaction.
4. Reduced Contraindications
Your patient might be taking a medication that is contraindicated with the medication you want to prescribe. Or they might have an allergy to a certain medicine but not realize that the allergy connects to what you want to prescribe. Since e-prescription platforms connect to your EHR, you can see at a glance whether or not the medicine you want to prescribe can interact with other drugs the patient is on or if there's a risk of an allergic reaction. 
5. Better Management of Controlled Substances
E-prescribing creates a digital paper trail, which can make it easier for providers to notice patterns of substance abuse. For example, if a patient gets a prescription for a controlled substance from one provider and that provider uses e-prescribing, other prescribers can see the prescription when they log into the system. The e-prescription platform might also flag duplicate prescriptions for certain types of medications, preventing the pharmacist from filling certain scripts.
6. Fulfillment Tracking
When you hand a patient a paper script, you have no way of knowing in the end whether they decided to fill it or not. Using an e-prescribing platform allows you to see if patients followed through on filling their prescriptions.
What Is E-Prescribing Software and How Does It Help Clinicians?
E-prescription software is any software that helps clinicians prepare and transmit electronic prescriptions. The software also helps prescribers select medications and easily look up drug information and interactions. The greatest benefits of e-prescribing software for clinicians include:
Preventing prescription errors
Automated clinical decision support for dosage, route, strength and frequency
Faster reconciliation of medication lists
Prompt notification of drug interactions, duplicate prescriptions or patient allergies
Tracking of prescription fulfillment
Better controlled substance monitoring
In short, e-prescribing offers the double advantage of increasing accuracy while reducing effort.
Why Choose ICANotes?
ICANotes is a behavioral health EHR with fully integrated e-prescribing capabilities. You can provide your patients with accurate, error-free prescriptions using DrFirst EPCS Gold. This esteemed platform meets all electronic prescription requirements and offers a deep database that will alert you to drug interactions and provide clinical decision support tools you can use to ensure your patients receive the best course of treatment.
ICANotes can help you improve outcomes for your patients with simplified medication management and a safer, more efficient prescription workflow. To learn more about ICANotes and its range of features, you can sign up for a live demo or free trial of the software.
Related Posts
What You Need to Know About EHRs and Patient Privacy
Mental & Behavioral Healthcare Billing: How to Maximize Your Reimbursement Rate
CPT Code Basics: What You Should Know
What Is PDMP and What Does It Mean for Clinicians?
Highlights From North Carolina's Project OBOT Program
Last updated 8/3/21