Tips for Writing Better Mental Health SOAP Notes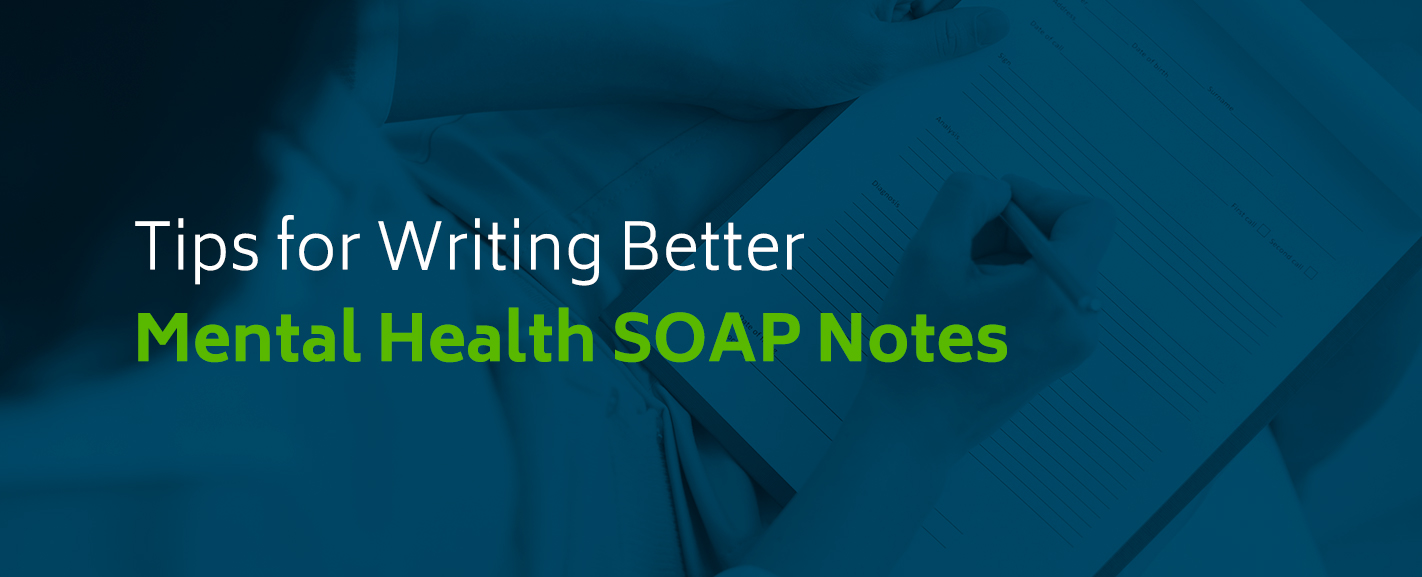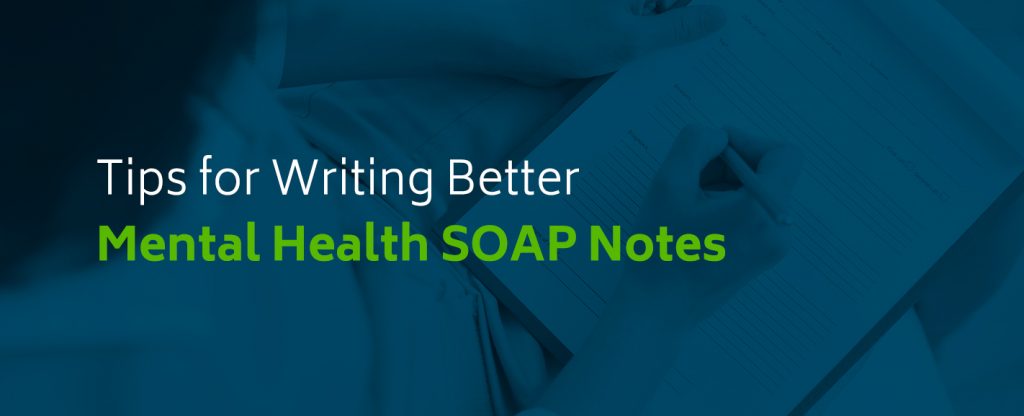 The notes you take as a behavioral health care professional determine the quality of care your patients receive. Having comprehensive, concise notes that are still informative and easy for other professionals to use is a skill that often takes years to master. Using a predetermined framework in your patient notes can help you improve your documentation's quality. One of the more popular methods for creating behavioral health and medical documentation is to take SOAP notes.
The four-pronged approach of SOAP notes grew out of the principles of the problem-oriented medical record pioneered by physician Lawrence Weed. In its early days, only medical professionals used the SOAP method. Today, health care providers of all disciplines recognize it as an effective communication tool to document a patient's treatment.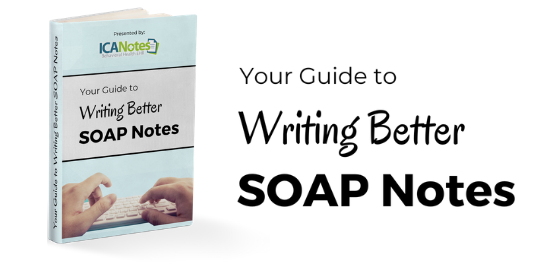 Table of Contents
What Are SOAP Notes?
A SOAP note (an acronym for Subjective, Objective, Assessment and Plan) is a common documentation format used by many health care professionals to record an interaction with a patient. SOAP notes are a type of progress note. The SOAP format includes four elements that match each letter in the acronym — Subjective, Objective, Assessment and Plan. These four sections remind counselors of the information they must collect when enabling appropriate treatment. This highly organized format also allows staff to find patient information quickly and recall essential details when needed.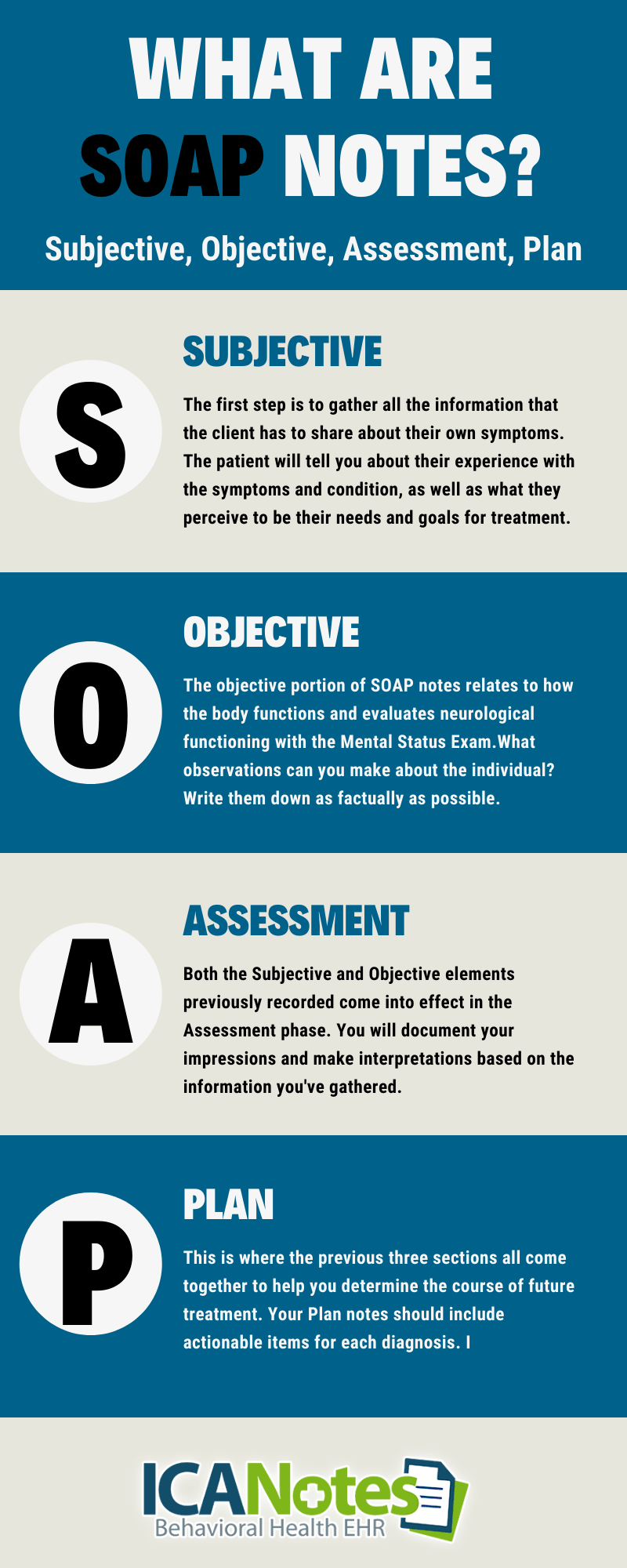 How to Write SOAP Notes
Let's examine each category in detail and drill down on what you need to include in a SOAP note.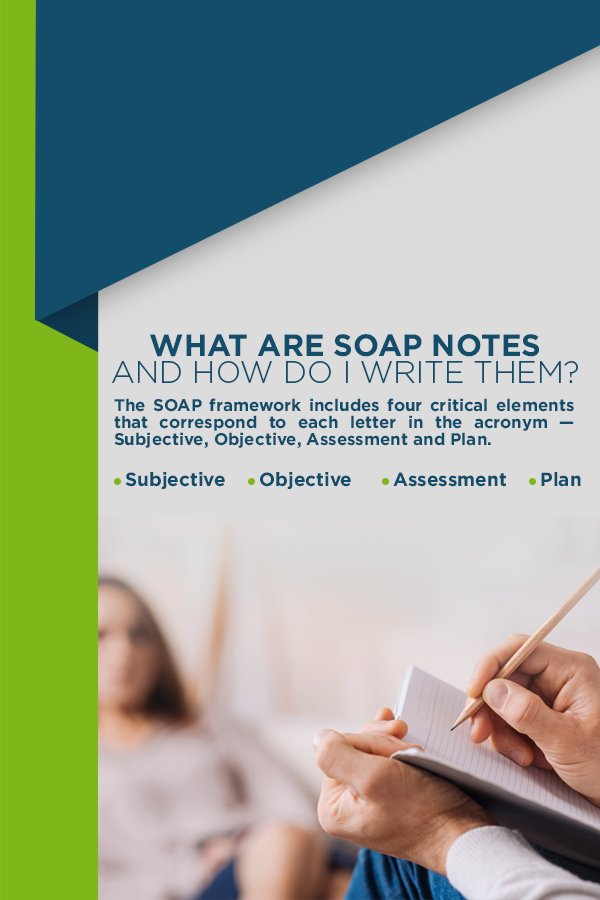 1. Subjective
The first step is to document the client's chief complaint or presenting problem and record all the information they share about their symptoms. The patient will tell you about their experience with the condition and what they perceive to be their needs and goals for treatment.
The Subjective summary should include direct quotes from the client. For example, a client might say, "I want to talk to my spouse about my anger." The counselor would add this verbatim quote. It's crucial to record the patient's words rather than paraphrasing them, so you cultivate the most accurate insight into their condition.
The Subjective category is also an appropriate place to list any comments made by the patient, their family members or their caretakers. This category is the basis for the rest of your notes and your treatment plan, so getting the highest-quality information possible is paramount. The OLD CHARTS acronym provides a smart way to cover a patient's presenting problem thoroughly.
Onset: Determine when each symptom started.
Location: Find out the primary location of pain or discomfort.
Duration: Learn how long the patient has dealt with their symptoms.
Characterization: Examine the types of pain — aching, stabbing, etc.
Alleviating or aggravating factors: What actions or interactions reduce or increase the severity of the patient's symptoms?
Radiation: Find out if the pain radiates to other locations in the body.
Temporal pattern: Do the symptoms appear in a pattern, like in the evenings or after meals?
Severity: How does the patient rate the severity of their symptoms on a scale of one to 10?
Although the SOAP note format for mental health may not always need to include physical details, the OLD CHARTS acronym can help counselors coordinate care with a client's medical doctor. Mental health and physical health go hand in hand, and often, one influences the other. For instance, according to the American Heart Association, up to 33% of heart attack patients develop depression. Therefore, behavioral health professionals might also use the Subjective category to note any physical symptoms a client may express.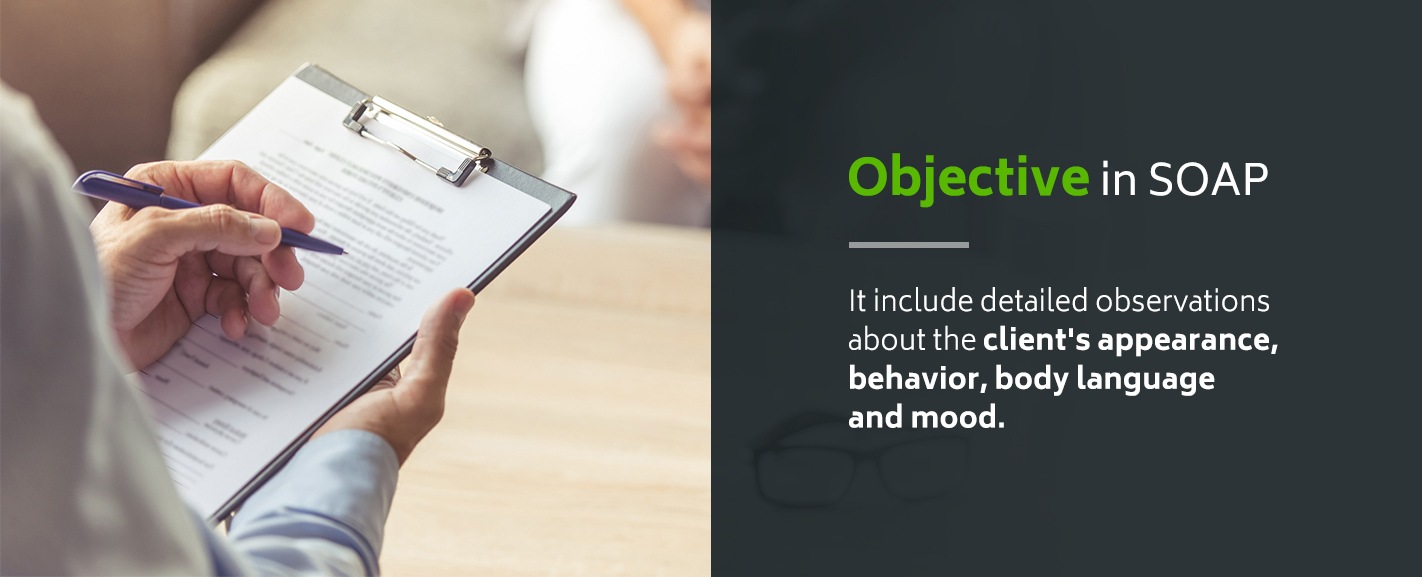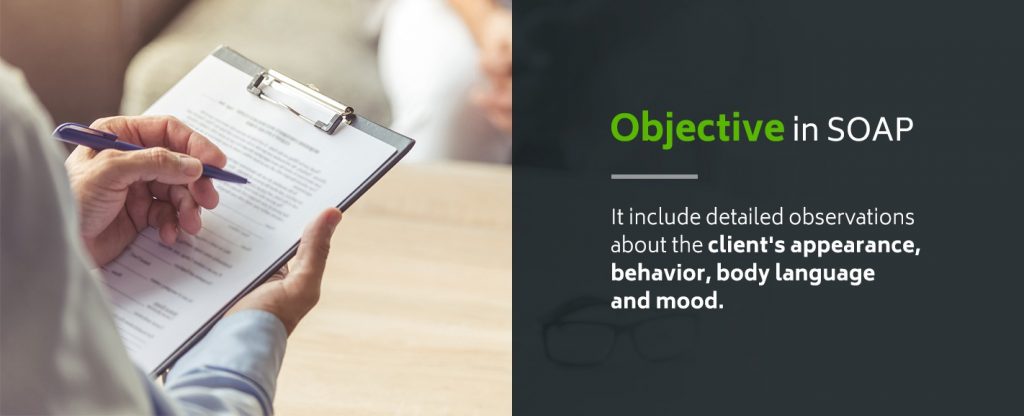 2. Objective
The Objective portion of a SOAP note includes factual information. It may contain detailed observations about the client's appearance, behavior, body language and mood. For example, you might write that the client arrived 15 minutes late to the session and slouched in the chair.
Write details down as factually as possible. The Objective phase is only about raw data, not conclusions or diagnoses on your part. Record any measurable data during the client's session, including applicable test scores.
Documenting the Objective phase brings up the issue of separating symptoms from signs. Symptoms are the patient's experience of their condition, whereas signs are objective observations related to symptoms. If a client reports having anxiety symptoms, such as panic attacks, signs of that anxiety might include visible trembling, clenched muscles and hypertension, determined by a physical test.
You have a limited window for examination, so it's crucial to actively look for any signs that complement or contradict information given in the Subjective section of the notes.
3. Assessment
Both the Subjective and Objective elements previously recorded come into effect in the Assessment phase. You will document your impressions and make interpretations based on the information you've gathered. For an initial visit, the Assessment portion of your notes may or may not include a diagnosis based on the type and severity of symptoms reported and signs observed.
For common conditions such as depression, the Assessment is relatively straightforward and can often lead to a diagnosis in the first visit or two. For rarer and more complex issues or those that appear co-morbidly, you may need more time to gather information on the Subjective and Objective levels before arriving at a diagnosis.
For follow-up visits, the Assessment portion of SOAP notes covers an evaluation of how the client is progressing toward established treatment goals. The Assessment will inform your current treatment course and plans, depending on whether the patient is responding to treatment as expected. It's essential to reflect on whether your client is showing improvement, maintaining improvements already made, worsening or demonstrating patterns of remission.
Like the other sections of SOAP notes, your Assessment should only contain relevant information. Some Assessments will be significantly longer than others, based on the complexity of the patient's condition. Sometimes this section of your notes will contain only a few snippets of information like, "Patient is sleeping better, no change in the incidence of panic attacks." There are more pieces to evaluate in other situations, and the Assessment portion of your notes should extend to include all the appropriate information.
4. Plan
Here is where the previous three sections all come together to help you determine the course of future treatment. The Plan section of your SOAP notes should contain information on:
The treatment that you gave during the session and your rationale for administering it
The client's immediate response to the treatment
When the patient's next appointment will be
Any instructions you gave the client, including homework assignments
Goals and outcome measures for new problems or problems being re-assessed
Your Plan notes should include actionable items for each diagnosis. If your client is experiencing co-occurring conditions, such as post-traumatic stress disorder and a substance use disorder, your notes should include separate plans for each condition.
The goal of this section is to address all the specific deficits listed in the Assessment. When done efficiently, the Plan sets a clear roadmap for the patient's continuing treatment and provides a window of insight for other clinicians to continue that treatment if need be. Consult the Plan on each new visit and adjust it regularly based on the findings in the Assessment section.
SOAP Note Benefits and Why They're Valuable
Medical and behavioral professionals widely use the SOAP format, and for a good reason. Since its development in the 1960s, the SOAP framework has been useful enough for health professionals of all stripes to implement it. Here are some of the many benefits SOAP provides.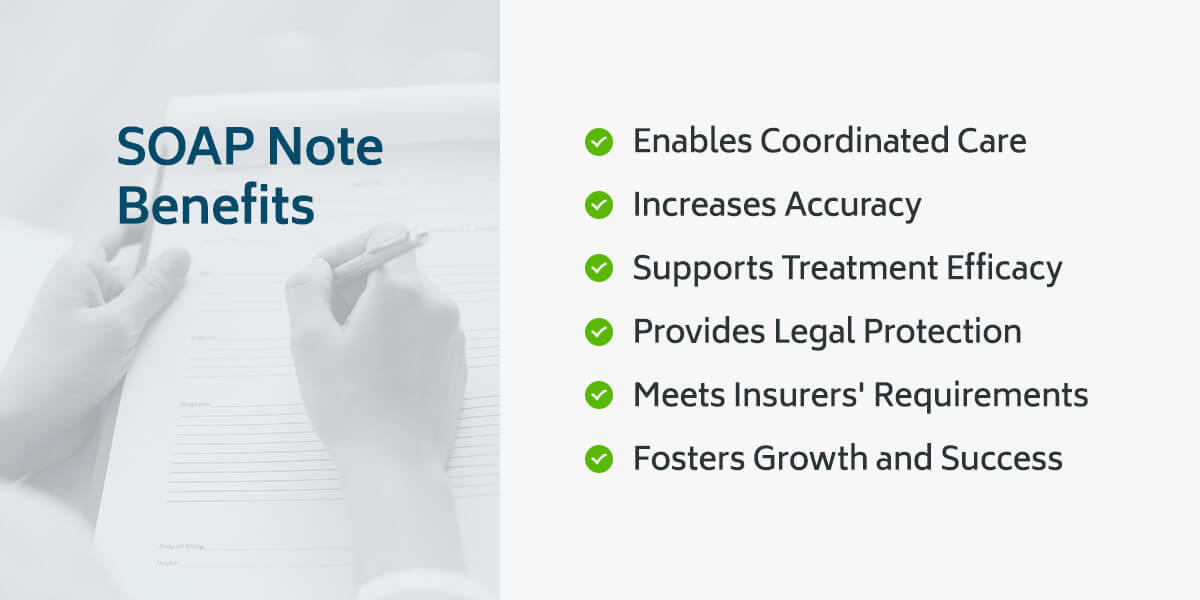 1. Enables Coordinated Care
SOAP notes serve as a communication document between health care providers. Since SOAP notes offer a concise, easy-to-read description of a client's condition at each visit, they enable streamlined communication among practitioners of all specialties, providing better care for each patient. SOAP notes also allow staff members within your practice to quickly learn about a client's condition and medical history.
The SOAP note format is especially relevant today with the widespread adoption of electronic health records (EHRs). EHR software is on the rise, with 89.6% of primary care providers and 61.3% of psychiatric practices using some form of an electronic record. EHRs make coordinated care possible by allowing medical and behavioral health professionals to access each other's notes on patients.
2. Increases Accuracy
When health care providers are not using the same framework for notes, critical information often gets lost in translation when the next provider accesses it. SOAP notes emphasize clarity and brevity, which helps get every provider on the same page with minimal confusion.
The clear structure of SOAP notes increases the accuracy of your documentation in general. Rather than jotting down everything that happens in a stream-of-consciousness style, the SOAP note format helps you organize a session's content, making it easier to recall and accurately input all the necessary notes.
3. Supports Treatment Efficacy
SOAP notes help support your end goal of providing the most effective care and treatment for your clients. The focus on Assessment and Plan keeps progress at the forefront of your sessions and allows you to track a client's growth and see what's working and what isn't. By reviewing SOAP notes before sessions, you'll know what direction to take to help clients reach their goals.
Overall, the SOAP notes format facilitates care continuity and helps you meet your ethical obligations as a counselor.
4. Provides Legal Protection
SOAP notes protect you if a client files a complaint with your licensing board or starts a malpractice lawsuit. With SOAP notes, you don't have to rely on your memory to defend yourself. Instead, you've laid the groundwork to explain the reasons for decisions you've made and can prove you took clinically appropriate actions in response to things a client said or did.
According to a Counseling Today article, it's crucial to maintain carefully written, extensive notes for cases that involve:
Thoughts or behaviors showing an intent to harm oneself or others
Concerns about abuse
Client involvement in illegal activity
Custody issues
Discussion of pregnancy and abortion
A minor's involvement in substance use or sexual activity
You'll also want to keep thorough and precise notes for cases involving workers' compensation.
If you keep SOAP notes, you'll have greater peace of mind and a lot less stress if you receive a subpoena regarding any legal matter.
5. Meets Insurers' Requirements
Insurance companies and agencies have specific documentation requirements for reimbursement. For example, Medicaid requires behavioral health records to reflect medical necessity and be "complete, concise and accurate." The Centers for Medicare and Medicaid Services influence private insurers and what they require regarding documentation.
SOAP notes help prove the medical necessity of your services to any third-party payer during an audit or treatment review. You can also use SOAP notes to push an insurer's approval of services. The better your notes, the easier it will be to treat your clients and get paid.
6. Fosters Growth and Success
Since SOAP notes can help you get reimbursed from insurance companies, you can continue to operate your practice and watch it grow. Also, SOAP notes promote treatment efficacy, meaning you'll have more satisfied clients and opportunities to serve new patients.
SOAP Note Examples for Mental Health

See Sample Counseling SOAP Note
You can incorporate the SOAP framework into any notes taken in a behavioral health care setting. To help you envision how you can integrate SOAP notes into your practice, here are three situations in which the SOAP approach can clarify and simplify your documentation.
1. Psychiatry
Imagine you're treating a patient at an outpatient psychiatric clinic. We'll call him Mr. D. Here's what a psychiatry SOAP note might look like for a follow-up appointment.
Subjective: Mr. D. states that he has "generally been doing well." His depressive symptoms have improved, but he still feels "down" at times. Mr. D. says he is sleeping "better" and getting "decent sleep." He feels his medication is helping him without causing unpleasant side effects.
Objective: Mr. D. is alert. His mood has improved, and he shows a range of emotions.
Assessment: Mr. D. has major depressive disorder without psychotic features.
Plan: Mr. D. will continue taking 10 milligrams of fluoxetine per day. If his symptoms do not improve in one week, the clinician will consider increasing the dose to 20 mg. Mr. D. will continue outpatient counseling.
In this case, the SOAP note may include data such as Mr. D.'s vital signs and lab work under the Objective section to monitor his medication's effects.
2. Individual Therapy
As medications and lab tests are not regular components of individual therapy, SOAP notes are even more straightforward to document. Here's a SOAP note sample for an individual therapy session. With this example, imagine treating a patient named Mr. S., who suffers from substance use disorder.
Subjective: Mr. S. states he has powerful cravings for heroin, and he thinks about leaving his treatment program to get drugs "several times a day." Mr. S. wants to stay sober and says he's "better, but still not strong enough." Mr. S. states, "I can't stop thinking about using, and I can't seem to get it out of my head." The client says he's "improving overall."
Objective: Mr. S. is calm and interested during the session. He does not display any signs of withdrawal, such as sweating or tremors. Mr. S. is still distractible, but his attention has improved, as indicated by talking about his wife for five minutes and reflecting on his past without difficulty.
Assessment: Overall, Mr. S. is improving. He is learning to apply coping skills such as relaxation techniques, and he is more engaged in his treatment. His cravings have decreased from "all the time" to "about six times a day." However, Mr. S. continues to experience intense cravings and has a 30-year history of substance use. Therefore, he needs to learn new coping skills to manage his emotions. Considering the challenges Mr. S. faces, he may be a candidate for medication-assisted treatment.
Plan: Mr. S. has now received information about medication-assisted treatment to discuss during the next session. The clinician will begin to use cognitive behavioral therapy techniques to address Mr. S.' anger issues. The clinician will also continue to hold family sessions with his wife. Staff will continue to monitor the client closely.
3. Group Therapy
Creating group therapy notes is necessarily more complex than documenting individual sessions. You have multiple patients with multiple conditions that you must keep track of, making it even more crucial to be concise and precise in your notes. Each individual should have separate notes from each group therapy session, using the SOAP format.
Each individualized group therapy note should also include the group type, the agenda for that session, the group members present and the group leader's interventions. Creating individualized SOAP notes for group therapy can be somewhat time-consuming, but is essential for monitoring progress over time.
Tips for Writing SOAP Notes
SOAP notes are a crucial part of each client's treatment. To write successful SOAP notes that help you make the most of each session, consider the following tips.
Be concise: Your SOAP notes should be easy to read, so you can quickly communicate the information to other staff members or future physicians. Avoid overly wordy statements, and be as brief as possible. Use active voice and proper grammar. Also, ensure the spelling is correct.
Be specific: Your SOAP notes should be both concise and specific. By including precise details, you'll help prevent confusion and improve client treatment.
Be mindful: Be mindful of others, such as staff members and clients, when writing SOAP notes. Clients may want to read their SOAP notes, so it's critical to write clearly and appropriately, using language focused on their progress.
Use third-person pronouns: Make sure the notes focus on the client and use third-person pronouns such as "he," "she" or "they." Avoid a first-person perspective and words like "me" and "I" to keep the notes professional and remove bias.
Keep notes confidential: As a therapist, the law requires you to keep SOAP notes and other patient records confidential under the Health Insurance Portability and Accountability Act. Using EHR software with various security features helps ensure HIPAA compliance.
Common Mistakes to Avoid
Here are a few common mistakes to avoid when writing SOAP notes.
Writing SOAP notes during visits: To give your client your fullest attention possible, avoid writing SOAP notes during each session. If you need to jot down a few things to help you remember what the client has said, you might keep them with your private psychotherapy notes. Enter SOAP notes into the EHR after each appointment, but avoid waiting too long, so the details stay fresh in your mind.
Using judgmental statements: You'll want to maintain professionalism in your notes and be as neutral as possible. That means avoiding overly positive or negative wording and focusing on giving accurate information. For example, instead of saying something such as, "The client, obviously lying, states their child could speak when they were 3 months old," you should write, "The client reports their child could speak when they were 3 months old."
Naming others: Avoid including the names of family members, other clients or anyone else named by your patient. Instead, you might use initials to indicate the person your client is talking about. By only stating your client's name, you make it clear to other staff members that your patient is the focus of the treatment. It also protects the privacy of others.
Including unsourced opinions: In the Subjective section of a SOAP note, you might include others' opinions that the client shares. For example, if your client states that their mother believes their symptoms are improving, write the word "mother" rather than saying "the client seems better." It's vital to show whose opinion you're recording.
Repeating yourself: In the Assessment section, do not rewrite what you recorded in the Subjective or Objective portions. Instead, include your analysis in this section, and describe the client's progress and areas where they need to improve.
Using acronyms and abbreviations: It's best to avoid acronyms and abbreviations when possible to prevent misinterpretations. However, your agency might have a list of approved abbreviations you can use in your notes.
Writing with adverbs: Adverbs describe verbs and typically end in "ly." Adverbs reflect opinion rather than fact, so it's best to avoid them. For example, rather than say a client spoke angrily, you might say the client raised their voice with you.
Making assumptions: Avoid using words like "seemed" or "appeared," as these demonstrate suppositions and can lead to confusion. Instead, include factual observations, only describing what the client physically does or says aloud.
Write Better and Faster SOAP Notes With ICANotes
The primary drawback to SOAP notes is that they can often be tedious to create. EHRs geared toward medical professionals don't always cut it for behavioral health specialists and don't offer the features clinicians need to write practical mental health SOAP notes.
ICANotes is the one EHR that knows what you need to create behavioral health documentation with ease and accuracy. With our menu-driven templates, you can create a clinically significant psychotherapy note in just three minutes with hardly any typing. Our system is highly intuitive and easy to learn and comes with the ability to create custom templates in addition to using our clinically geared variety.
Whether you're a clinical social worker, psychologist or another type of mental health professional, you'll spend less time creating better documentation with ICANotes. Curious to see how it works? Register for a live demo of our platform, or contact us with any questions you may have. Higher-quality SOAP notes don't have to complicate your job responsibilities. ICANotes is proud to provide behavioral health professionals with an EHR that understands your documentation needs.

See Sample Counseling SOAP Note
Related Posts
How to Create a Group Therapy Note
How to Create a Psychotherapy Note
How to Create an Effective Psychiatric Progress Note
The 10 Essential Elements of Any Therapy Note
The Differences Between Psychotherapy Notes and Progress Notes
Guide to Creating Mental Health Treatment Plans
Last updated March 31, 2021
Check Out Our Recent SOAP Note Webinar