What to Include in Your Notes When You Don't Accept Insurance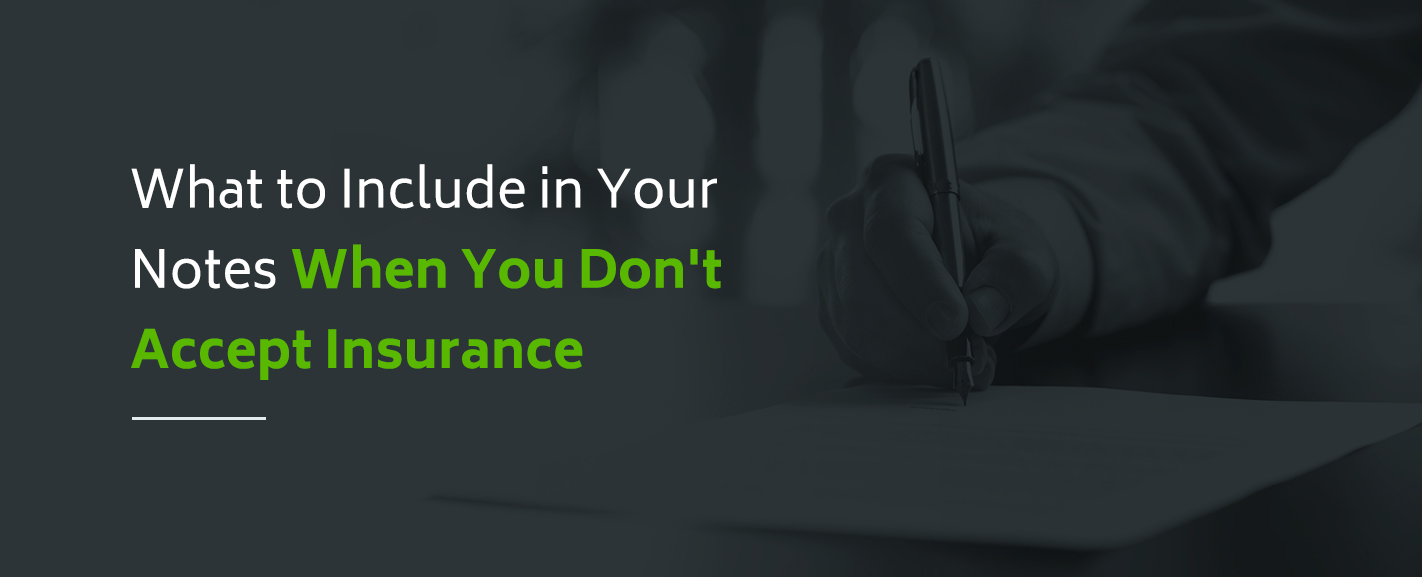 More and more behavioral health professionals are turning to a cash-only model of business, no longer accepting insurance as a form of payment. There are several benefits to this type of practice. However, private practitioners and out-of-network care providers are still responsible for keeping and maintaining accurate notes.
Let's look at why some practitioners no longer accept insurance and how that affects the note-taking process.
Table of Contents
Why Some Practitioners Don't Accept Insurance
Practitioners who do not accept insurance are known as cash-only doctors. Cash-only does not mean patients are unable to pay via check or bank card — it simply means that the office does not accept insurance. These practices are also called direct-pay doctors and are part of the "pay-as-you-go" healthcare system.
Every cash-only practice operates differently. Many medical facilities operate on a monthly payment fee. Patients pay a set amount each month, and that fee covers the cost of appointments, tests, call-in questions and even house calls in some cases. Many practitioners prefer this cash-only model because of the following benefits:
Confidentiality: If a patient is using insurance for therapy, their diagnosis, treatment and progress notes are legally accessible to their insurance provider. Insurance companies require progress notes before approving or rejecting coverage for your patient. It is important to note that project notes do not include psychotherapy notes — those are kept separately from your patient's medical and billing records.
Quality of care: Rather than seeing as many patients as possible in a day to meet insurance standards, cash-only practices allow doctors and patients to spend more time talking one-on-one. Doctors can spend more time listening to their patients' concerns, leading to a higher quality of care. Because cash-only doctors typically have fewer patients, this also means more appointment flexibility.
Insurance requirements: For an insurance company to cover the cost of a therapy session, they need proof that the therapy is medically necessary. This usually involves an official diagnosis. Insurance companies then require regular progress notes regarding treatment and progress. This is problematic for many doctors, as not every patient who requires therapy has an official diagnosis. This may lead to doctors over-diagnosing patients, or labeling a patient with a mental health diagnosis they may not have so they can get insurance coverage. Without the pressure of conforming to insurance company requirements, practitioners can diagnose and treat patients as they see fit.
Time: A recent study found that most physicians spend an average of 43% of their workday on electronic health records (EHR) and paperwork. The same study reports 37% of the time spent between directly between doctor and patient is also spent on paperwork. Insurance requirements, such as patient progress notes, are one of the biggest culprits behind these percentages.
Transparency: Direct-pay practices usually offer more straightforward, transparent pricing to patients. In turn, patients are more likely to be financially prepared to cover the cost of their appointments.
Why You Should Still Keep Accurate Progress Notes
Although detailed progress notes are not required for cash-only practices in the same way they are for traditional models, there are several reasons you should still keep accurate, up-to-date notes.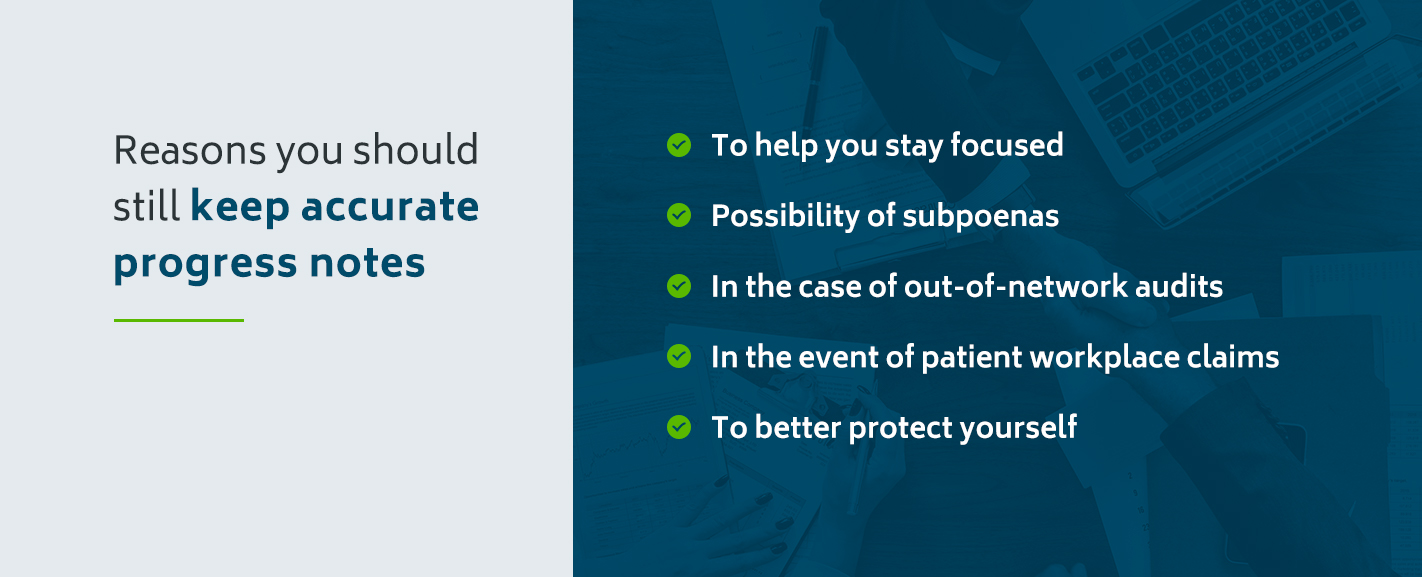 To help you stay focused: Progress notes are an excellent way to focus your sessions and track the progress of treatment goals. For many clinicians, maintaining accurate notes helps them focus on each patient. These notes are also a good way to re-familiarize yourself with a case before each appointment.
Possibility of subpoenas: A counselor's progress notes — and even psychotherapy notes — can be subpoenaed. Maintaining accurate and HIPAA-compliant notes as you progress will make this process easier if you are ever subpoenaed.
In the case of out-of-network audits: Even if you operate a cash-only practice, patients who use an insurance provider with out-of-network benefits can use insurance. In the event of an out-of-network audit, you will need notes to support medical necessity. Cash-only clinicians are not required to accept out-of-network claims.
In the event of patient workplace claims: If your client seeks workers' compensation or claims disability benefits, progress notes may be required to justify these requests.
To better protect yourself: If you are ever sued by a patient, you will want detailed progress notes containing dates and start/stop time of all appointments, clinical and non-clinical details of each session, collateral contact notes if the patient is a minor, discharge summary documentation and so on. Additionally, if a patient becomes a danger to themselves or others and you are called into question, progress notes will demonstrate what you did in response.
If you choose to keep patient progress notes in addition to psychotherapy notes, remember to keep the files separate from one another and that both are safely secured after each session.
What to Include in Your Notes If You Don't Accept Insurance
There are two main types of counseling notes — progress notes and psychotherapy notes. What to include in your notes depends on which kind of note you are taking.
Psychotherapy Notes
Psychotherapy notes are notes you actively take during a session. These notes may include:
Your thoughts and feelings during the session
Observations of your patient
Your hypothesis for diagnosis
Any questions you have
Psychotherapy notes are kept separately from progress notes and your patient's medical and billing records. Patients do not have the right to access these notes, and you are only permitted to share them with a third-party if your patient authorizes it.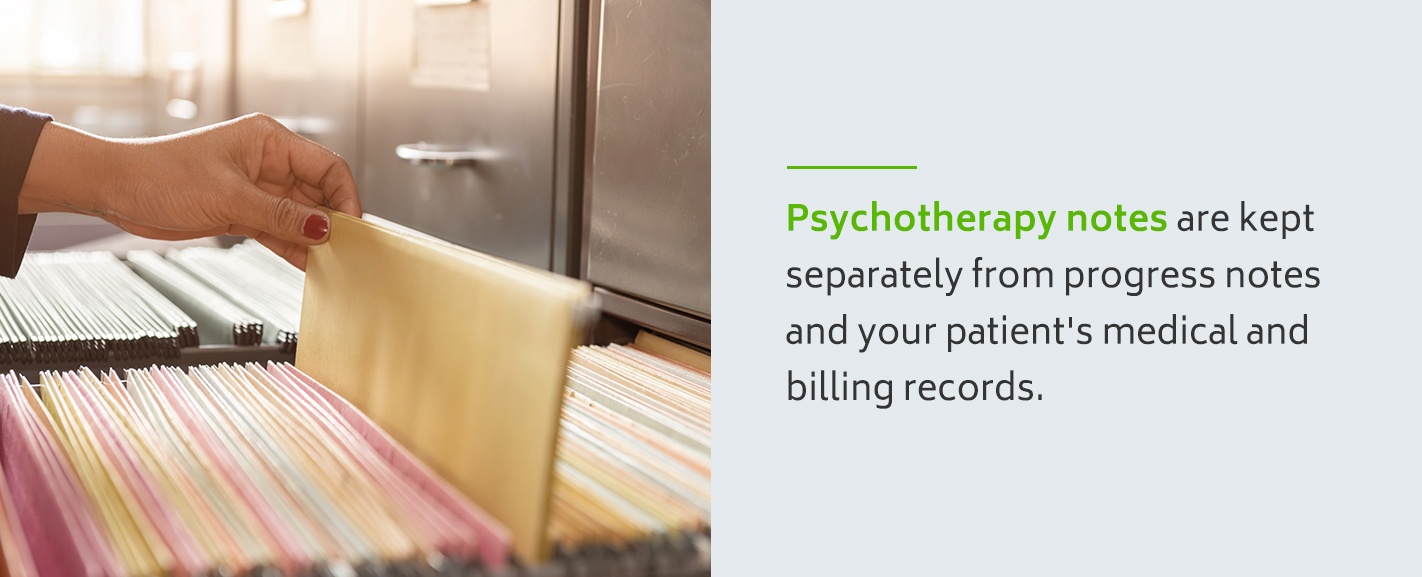 Psychotherapy notes do not have specific requirements — in fact, many doctors' psychotherapy notes are written ineligibly or in shorthand. What is important is that you understand your notes and can consult them as you diagnose and treat your patient.
In some cases, psychotherapy notes can be subpoenaed. For this reason, maintaining HIPAA compliance with mental health records is still essential in psychotherapy notes.
Progress Notes
As discussed earlier, progress notes may still be required, especially if your patient is using out-of-network benefits to pay for their session. Progress notes must show evidence that:
You have conducted a thorough assessment
The diagnosis is justified
The patient's issue is being addressed with qualified service
Your anticipated treatment plan
How a patient is progressing toward treatment goals
When keeping mental health progress notes, it is important to keep the following in mind:
Always address each condition listed.
Familiarize yourself with the insurance company's requirements for proving medical necessity.
Be prepared to adjust diagnosis and treatment as needed.
Have a patient progress maintenance plan in place.
Frequently Asked Questions About SOAP Notes and Insurance
Many clinicians use a notetaking format called SOAP to provide insurance companies with all necessary information regarding a patient. But what is SOAP, and why is it important? Keep reading to learn more about this industry-standard template.
What Is SOAP?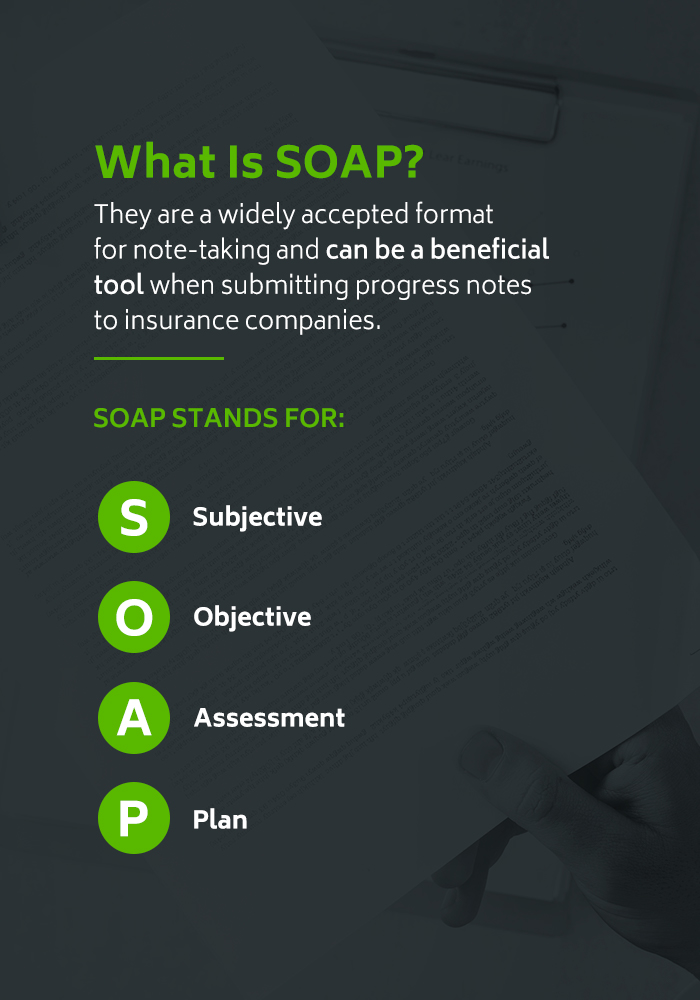 SOAP stands for Subjective Objective Assessment and Plan. SOAP notes are a framework used to create patient progress notes. They are a widely accepted format for note-taking and can be a beneficial tool when submitting progress notes to insurance companies.
Subjective: The subjective section of your SOAP notes is all about how the patient describes their symptoms, as well as any additional information they provide. Use the acronym OLDCHARTS to guide you through the first part of your SOAP notes. OLDCHARTS stands for Onset of symptoms, Location of discomfort, Duration of symptoms, CHaracter of the pain, Alleviating factors, Radiation to other parts of the body, Temporal patterns and Symptoms associated.
Objective: The objective category is factual and based on your observations as a professional. This may include results of mental assessments, vital signs, physical manifestations of symptoms as well as any other raw data relevant to your patient's case. Be as detailed as possible here — the goal is to be so specific that another doctor could look at your notes and easily pick up where you left off.
Assessment: The assessment section contains all of your impressions, theories, conclusions and any diagnosis you have. Make sure to include your reasons for these conclusions. In the event of multiple sessions, track progress in this section.
Plan: Plan refers to your program of treatment, as well as your plan for the next appointment with your client. Include your patient's response to your plan, as well as any tasks you have given them to complete before your next session. Be as specific as possible. If you plan to continue treatment, why? If you change something about your treatment plan, what will the new plan look like?
The SOAP method of note-taking is a widely used template. The uniformity of these notes makes it easier for other medical professionals to understand your sessions. SOAP notes are also the easiest way to make sure you are checking off each of your patient's insurance company's requirements, as well as justifying your patient's medical necessity.
What Are the Benefits of SOAP?
In addition to keeping your sessions focused, there are many benefits to using the SOAP template for your client's notes. SOAP notes:
Help you easily connect with other doctors regarding your patient's diagnosis and treatment.
Guide you through the process of submitting paperwork to insurance companies.
Provide you with a clear picture of each client's progress and details of their sessions with you.
Provide proof-of-interaction and can help protect you if you are sued or subpoenaed.
How Do I Write Effective SOAP Notes?
Some tips for writing effective SOAP notes for mental health include:
Double-check all important information.
Always remain HIPAA compliant.
Notate any trends or patterns that emerge.
Know when to be subjective and when to be objective. Some parts of your notes require your opinions and input — other sections need only facts and data.
Write legibly, including proper grammar and concise language. Avoid slang and abbreviations.
Keep your notes in a secure place.
Use a secure EHR software to save you time.
How Soon After a Session Do I Need to Complete SOAP Notes?
To provide notes that are both accurate and up-to-date, complete SOAP notes as soon after a counseling session as possible. If you wait until later, you risk forgetting important details.
What If I Make a Mistake in a Patient's SOAP Notes?
Never alter a patient's SOAP notes with deletion, white-out or scratch-outs. Instead, cross the error out with a single strikethrough and write "error" next to it. Explain the mistake and provide the updated information.
Am I Required to Disclose a Patient's SOAP Notes?
SOAP notes are a format for writing better progress notes. Progress notes are often used to inform insurance companies and other health care providers of the results of your patient's appointments with you. In some instances, you may be asked to submit progress reports by a court of law or even by patient request.
How Do I Explain Client Confidentiality to My Patients?
To provide the best care possible, your patient must trust you with their confidential information. Although your patients sign confidentiality agreement forms before your appointment together, it is considered best practice to go over the specifics of client confidentiality in person to avoid any confusion and provide an opportunity for your client to ask questions.
Explain to your client which information will be kept private and which information you may be required to disclose. Address their concerns and, if necessary, explain the processes involved. Assure them that all sensitive and identifying information, as well as any session notes, are always safe, secure and kept private.
ICANotes for Out-of-Network Behavioral Health Services
ICANotes is an intuitive EHR software solution for both in-network and out-of-network behavioral health services. Our software provides assessment tools, therapy note templates and secures all information safely away until your next session. When your practice uses ICANotes, you receive:
Secure platform: ICANotes is a firmly secure, HIPAA-compliant platform that includes user authentication, access controls, audit trails, alarm and event reporting, prevention of destruction of records, encryption and more.
Time-saving benefits: A fully templated system means more time for you and your patients and less time spent on paperwork.
Paperless platform: Eliminate the need for bulky paper files, as well as printing and scanning.
One-on-one support: Every ICANotes customer receives free of charge, one-on-one web-based training sessions and has access to our support experts via chat, email and phone.
Request a Free Trial of ICANotes Today
Note-taking is an integral part of your mental health practice, regardless if you accept insurance or not. Understanding the difference between progress notes and psychotherapy notes and learning practical note-taking skills ensures you are meeting industry standards and providing the best possible care for your patients. If you have questions about insurance and therapy notes, or if you want to learn more about the best EHR practices for behavioral health therapy, contact ICANotes today. See for yourself what ICANotes EHR software can do for your private practice.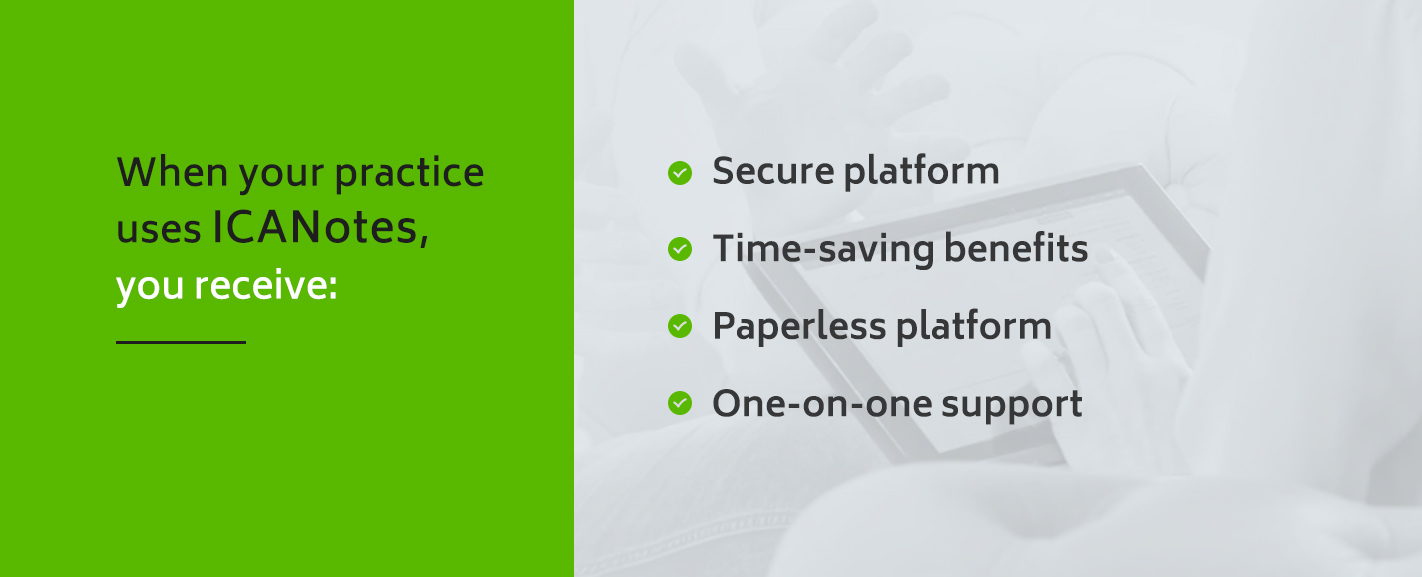 Related Posts
What Every Therapist Needs to Know About Insurance and Progress Notes
Tips for Writing Better Mental Health SOAP Notes
The 10 Essential Elements of Any Therapy Note
What Every Therapist Needs to Know About Insurance and Progress Notes
Sources:
https://www.hhs.gov/hipaa/for-individuals/medical-records/index.html
https://annals.org/aim/article-abstract/2546704/allocation-physician-time-ambulatory-practice-time-motion-study-4-specialties
https://www.apa.org/monitor/2016/07-08/ce-corner