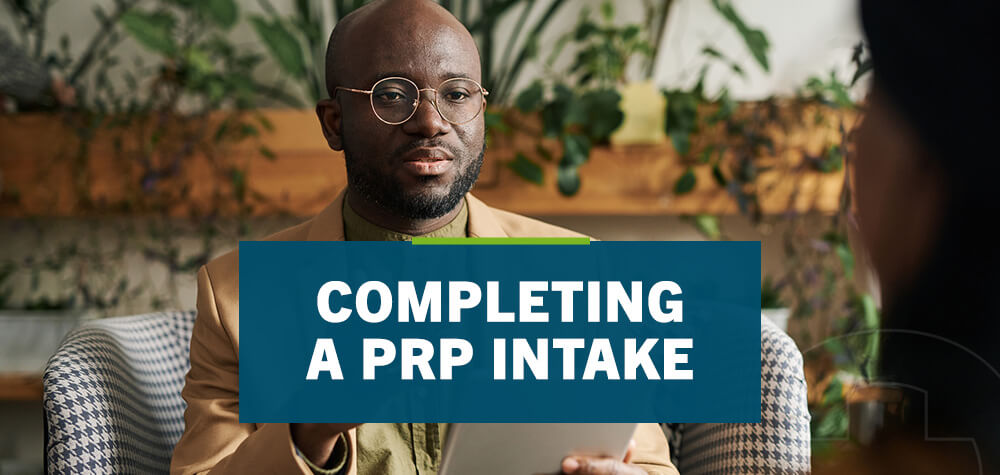 According to the National Institute of Mental Health, nearly 1 in 5 adults live with a mental illness — and many experience severe symptoms. While the stigma around seeking therapy and other types of treatment for these conditions is much milder than in the past, some people with serious mental illnesses may require rehabilitation. A psychiatric rehabilitation program (PRP) provides treatment and support to adults with serious mental illness (SMI), such as schizophrenia and bipolar disorder.
These programs are critical for helping individuals manage their symptoms, integrate into their communities and reach their treatment goals. If you're a behavioral health professional, you know documentation is imperative to successful psychiatric rehabilitation program intake and discharge. Let's discuss what you need to include on a PRP intake form and some tips for streamlining this documentation process.
What Are Psychiatric Rehabilitation Programs?
A psychiatric rehabilitation program provides services and treatment to help people with severe mental illnesses and supports them in determining the goals they want to achieve. As a result of deinstitutionalization, many adults living with severe mental illnesses or disabilities may not be fully prepared to integrate back with society and perform certain tasks and functions, such as getting a job, finishing their education, communicating effectively with family and friends or performing the role of a parent.
Severe mental conditions can impair an individual's ability to complete everyday tasks, fulfill responsibilities, lead meaningful lives and participate in their communities. PRP programs are collaborative and individualized services that promote full community integration, recovery and improved quality of life. Patients can choose a residential or day PRP program depending on the severity of their mental illness and their ability to care for themselves. Some PRPs offer housing options that enable choice and independence during a patient's stay.
When adults enter this program, therapists and other behavioral health practitioners will help them develop skills and access resources needed to become satisfied and successful individuals in all aspects of their lives and ultimately achieve their goals. Often, PRPs help each patient focus on maximizing their independence by identifying their strengths and limitations. From there, the PRP therapist or social worker will determine what steps the patient needs to take to achieve their treatment goals.
What Information Is Needed in a PRP Intake?
To conduct a successful PRP intake, you should document the following general information from each patient:
Full name
Birth date
Address
Contact information
Insurance, if any
Personal and family medical history
Current medications
Current symptoms
History of behavioral health treatment
Relevant hospitalization and medical records
Any previous psychiatric diagnoses
Mental or behavioral health referrals
Once you gather the basic intake information, you can move on to the documentation that will contain more specific details of the patient's individual needs and goals for the PRP, including:
Initial treatment plan: Behavioral health providers use treatment plans to engage patients in treatment and guide them toward rehabilitation. These plans should include the patient's current mental health issue, high-priority treatment goals, a timeline for progress and other information that helps the therapist monitor and adjust treatment.
Goals and objectives: When patients have measurable and realistic goals to work toward, they may feel more motivated and confident in their ability to complete treatment. Therapists should help patients set general goals of what they want to accomplish, such as coping with negative feelings. They then create objectives that act as stepping stones toward those goals.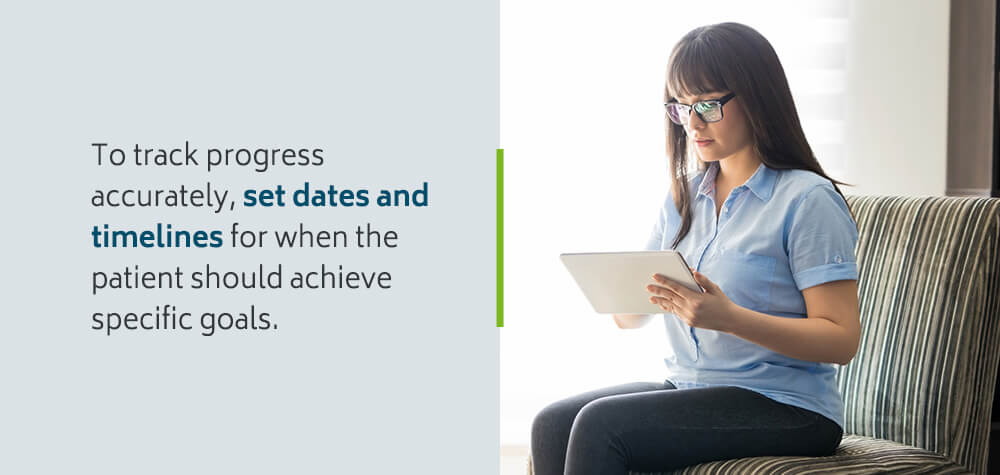 Patient progress: An essential part of any behavioral health treatment is recording patient progress to determine if the treatment plan should be adjusted. To track progress accurately, set dates and timelines for when the patient should achieve specific goals. Reviewing their progress regularly can help you and your patient identify barriers to success and ensure they're moving toward their goals.
Changes in behavior: As your patient moves through the steps of the PRP, it's important to document any positive or negative changes in behavior, such as disengagement with treatment or accomplishing a goal. Recording these changes creates an accurate timeline of the patient's progress and helps track whether they're meeting the goals and objectives you set together.
Support, wellness and prevention: Because individuals in PRPs often need support in learning essential skills and functions, you may also want to document resources and prevention options you discussed or provided to your patient throughout their treatment.
What Types of Assessments Are Used to Evaluate Patients for a PRP?
Psychiatric rehabilitation program intake forms vary between practices. Depending on the type of program and severity of a patient's mental condition, your assessments and evaluations may require more extensive documentation. These assessments give therapists, counselors and social workers an understanding of the patient's awareness, commitment to change and engagement in their treatment. Here are some general assessment types you may complete as a PRP therapist:
Readiness assessment: Can the patient assess themselves in terms of self-awareness, their environment, commitment to change and their need for rehabilitation?
Readiness development: Does the PRP have the appropriate treatment, services, activities and resources to help the interested participant prepare for rehabilitation?
Overall rehabilitation goal: What is the patient's chief primary goal? What do they intend to do within the next few months during treatment?
Skills assessment: What skills and strengths does the patient possess? How might these impact their ongoing rehabilitation?
Behaviorally defined: What measurable and observable actions or skills can the patient contribute to their goals?
Comprehensive by skill type: What are the patient's strengths and limitations in terms of everyday tasks and functions, such as expressing their feelings, completing physical actions or practicing intellectual engagement?
Resources assessment: What outside support does the patient have? Are they financially competent? Do they own or rent a home? Do they have a supportive, responsive family?
Tips and Best Practices for Completing a Successful PRP Intake
PRP documentation must meet stringent standards for compliance. Creating initial assessments, clinical summaries, case management notes and other types of documentation can take up much of your time and lead to errors. Here are some tips for making PRP documentation more manageable and efficient:
Eliminate paper use: Manual documentation using paper forms can be time-consuming and result in misplaced files. Using an electronic health record (EHR) system, you can complete intake forms more quickly, eliminate paper use and keep your notes organized.
Covert paper documents to digital files: If your practice or program still uses paper documents, you can convert them to digital files using an EHR. Simply by scanning images of these documents, you can upload them to your patient's records in various file types.
Extend access to other providers: EHR software makes it easy to exchange clinical documents and patient records securely with other authorized health providers to improve collaboration and enable simultaneous treatment.
Use an automated solution to access notes faster: With an EHR, you and other providers treating your patient can pull up progress notes instantly, create comprehensive initial assessments and develop treatment plans for different services. This allows you to communicate more effectively with other mental health professionals, speed up intake and improve your patient's overall care.
Make Conducting PRP Intakes Simple With ICANotes EHR Software
Like all clinical documentation, psychiatric rehabilitation program intake forms must meet certain standards for legibility, accuracy and thoroughness. As a PRP therapist or behavioral healthcare clinician, you likely spend the better part of your day filling out forms, writing notes and ensuring your assessments meet regulatory requirements. Such manual documentation can often be time-consuming and even result in human error, leading to downtime and extra expenses.
With ICANotes, you can eliminate the frustration that comes with clinical documentation with our EHR designed for behavioral health specialties. Our clinically robust and intuitive charting solution makes PRP intake easier with note-writing templates for assessment, inpatient settings, individual therapy and other psychiatry needs. If you're ready to reduce documentation time and stress that comes with PRP intake and discharge, schedule a demo online or request a free trial today. We also invite you to contact us for more information.