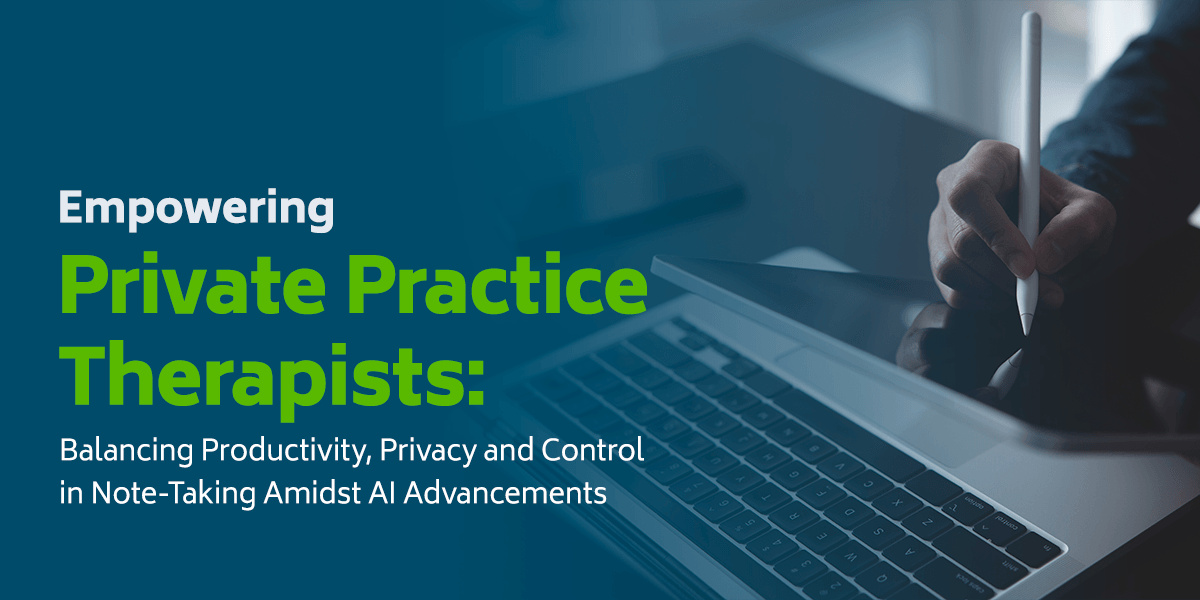 Empowering Private Practice Therapists: Balancing Productivity, Privacy and Control in Note-Taking Amidst AI Advancements
A growing number of industries are incorporating artificial intelligence into their operations.
Behavioral and mental health facilities are no exception. While some may say that AI in therapy is revolutionizing medical scribing, others may feel concerns over preserving essential values, including patient privacy and clinician control.
Fortunately, there is a solution that combines the time-saving benefits of AI while presenting an accurate representation of the patient's experiences. Electronic health records (EHRs) are designed to ease your specific pain points when it comes to documentation. As a therapist, this means you can maintain both ethical integrity and efficiency.
The Landscape of AI in Note-Writing
AI-powered tools are used widely to help businesses identify market trends, generate insights and understand consumer behavior. Professionals can also use AI tools for note-writing. As a therapist or mental health professional, you might consider using one of these tools for your own records. After all, taking manual notes can be quite time-consuming and leave you feeling overwhelmed. 
Some therapists might find it beneficial to use AI for patient therapy notes because they can get their notes done quickly and move on to the next task. This means spending less time at your desk and more time providing care for your patients. AI tools can relieve the mental burden on behavioral health professionals who struggle with the turnaround time for therapy documentation. 
There are certain risks and limitations of using AI in the behavioral healthcare space. Artificial intelligence therapy notes are never guaranteed to be accurate. Despite what many may think, AI tools do not always consistently and correctly put out generated responses or notes. There are specific examples of writing by AI being disastrous for even journalists. According to an automated article about compound interest, a $10,000 deposit earning 3 percent interest would earn $10,300 after a year. Unfortunately, such a deposit would generate a mere $300 in earnings. Mathematical calculations and writing information are not always reliable tasks for AI.
Having a tool do all the work for you speeds up the process, but it can lead to a lack of personalization. If therapists aren't engaged with the documentation to some capacity, it may be more difficult to retain information about patients and their experiences.
Patients may also have concerns about therapists using AI tools. A study found that 60% of Americans feel uncomfortable with the idea of providers relying on AI for their care. Many clients are not comfortable with the idea of AI listening and transcribing their conversations.  This can be due to the concern of patient privacy as therapists input sensitive patient data into AI generators to create summaries of a session. In addition, clients often discuss traumatic events and experiences that they may have difficulty sharing with their mental health professional and may omit to share them if they feel they are being recorded.
Relying solely on AI for behavioral healthcare brings up the discussion of the responsibility mental health professionals have to provide ethical, compassionate, human-centered care. Though automation and technology certainly have their benefits, AI cannot replace therapists and counselors. 
The Strength of Pre-Configured Intuitive Note Templates
Therapists can access a hybrid solution that lets them harness the benefits of technology while maintaining their ethical responsibilities. Pre-configured therapy note templates facilitate efficient note-writing while preserving therapist control. Without solely relying on AI, therapists and patients can feel more confident in privacy measures and personalized care.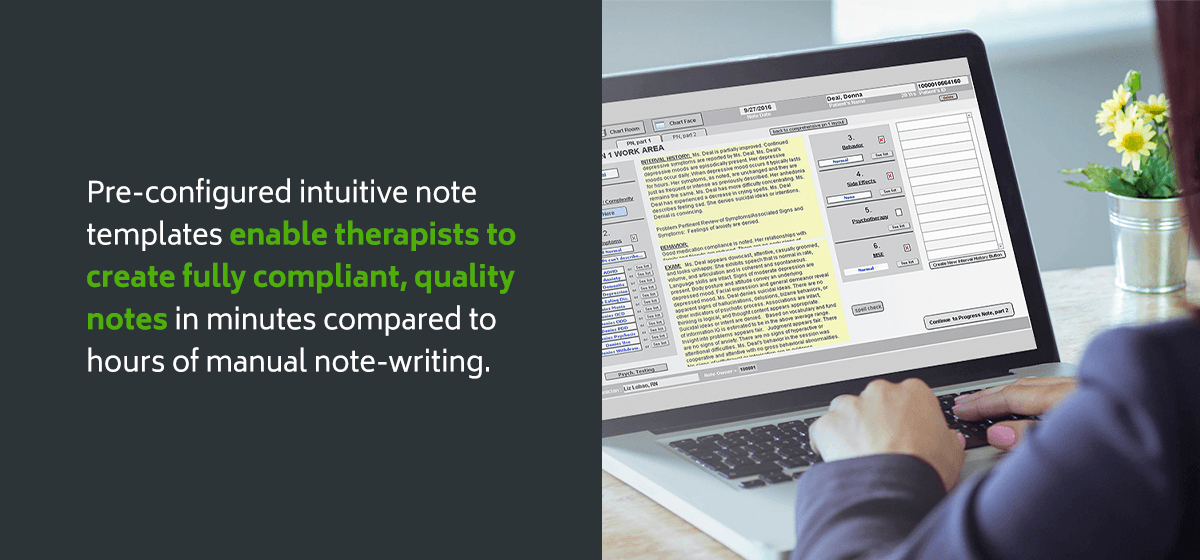 Pre-configured intuitive note templates enable therapists to create fully compliant, quality notes in minutes compared to hours of manual note-writing. These content templates make it easier to create personalized notes for your patients, including their:
Behavior

Symptoms

Present illness

Chief complaint

Family history

Clinical status

History of present illness

Mental status exam

Rating scale scores

Diagnosis

Risk factors

Medical history

Biopsychosocial assessment

Therapeutic focus and interventions

Verbal content 

Instructions and recommendations 
Therapists and counselors can also document faster using various assessment templates, including:
Anxiety

Addiction

Mood disorders

Depression

Personality disorders

Suicide

Trauma

Eating Disorders

Behavioral 

Children and Youth
With pre-configured note templates, behavioral health professionals can even fill out detailed summaries of patient progress using SOAP or BIRP notes to streamline documentation. These types of notes can be easily interpreted for proactive treatment. As with AI, pre-configured note templates generate content for therapists based on the patient's needs. However, these note templates remain compliant with regulatory standards and allow therapists to create comprehensive notes with minimal typing. 
With AI-generated notes, therapists may find they have to continuously check for errors or generalizations that may not align with the client's experience. This may actually lead to more time on documentation. Intuitive note templates make it easier to manage documentation and other critical aspects of patient care without compromising important details. Additionally, intuitive note templates can pull key information from initial evaluations and treatment plans and input it into other notes to reduce the need for reiteration.  
Unlocking AI: Growing Your Mental Health Practice with AI
Thursday, December 7th, 2023, 1:00 PM EST
Join us for an enlightening webinar where we'll explore innovative strategies for growing your mental health practice through the power of artificial intelligence (AI) in digital marketing.
In this webinar, we'll uncover the potential of AI-driven marketing to enhance your outreach, engage with your audience, and ultimately get more clients for your practice.
All attendees will receive our free PDF "AI Tools for Mental Health Professionals".
What You'll Learn:
How to Use AI to Get More Clients
Maximizing ChatGPT for Your Practice
Using AI to Enhance Social Media Marketing
Creating AI Outlines for Content Creation
Tools and Platforms for Marketing Automation
Value Proposition 1: Safeguarding Patient Privacy
Privacy and confidentiality are critical in every healthcare sector. As a therapist or behavioral health professional, it's your top priority to ensure patient privacy in your notes and documentation. For this reason, many therapists may avoid AI tools due to uncertainty about who has access to the inputted information. 
Privacy laws like HIPAA are outdated in terms of AI developments, the lines become blurred for behavioral health professionals using data to develop efficient AI tools. For example, hospitals may sell or share anonymized patient data to help develop AI healthcare tools. 
While these AI tools may present their own benefits for patient care and enhanced treatment, they leave many patients and healthcare professionals concerned about whether these technologies have been thoroughly vetted to protect patients. The same data privacy implications apply to the behavioral health setting, where professionals are unsure how exactly the data is being used, accessed and secured. 
As a therapist, maintaining patient data confidentiality becomes more challenging when the widespread use of AI comes into play. This is why some behavioral health professionals seek other ways to implement automated tools that meet all service standards. 
Using secure electronic health record (EHR) software with pre-configured note templates solves this issue. This tool remains compliant with all applicable regulations and laws, including:
HIPAA

Medicaid

Medicare

HITECH Act

Meaningful Use

CARF
With EHRs built specifically for the mental healthcare sector, therapists can feel confident in their capabilities to document accurate, personalized records and notes without the worry of breaching client confidentiality. While patient privacy is a legal obligation, it is also an ethical choice. This is why it's so critical to rely on a robust tool that follows both federal and state laws and ethical guidelines. 
Value Proposition 2: Nurturing Clinician Control
Behavioral health professionals have an ethical duty to uphold patient autonomy. However, a therapist's autonomy also plays a key role in providing care. Therapists should have the option to decide how they document their client notes within the parameters of compliance. For instance, some therapists may prefer to write notes manually or use software that streamlines their routines. For example, you may have unique ways of personalizing your notes, such as making abbreviations or highlighting important comments. 
With AI technology, clinician autonomy no longer exists. Professionals who rely solely on AI to generate notes, treatment plans or summaries of client progress do not have full control over their documentation. This can have adverse effects, such as rejected insurance claims, inaccuracies or depersonalization from client to client. 
With pre-configured intuitive note templates, therapists maintain their autonomy because they can customize their notes to fit their needs and their patient's diagnosis. When the therapist reviews their notes before a session, they'll feel much more connected to their patient than reading generated AI therapy notes that may or may not be accurate. 
Clinician control is critical because it supports the value of the individual therapist. Technology like AI, which sometimes aims to do all the work for the professional, can become especially concerning in human-centered care industries. After all, your patient is not seeking help from an AI machine — they're seeking an educated and experienced therapist who can provide them with the treatment they need. While the implementation of AI may help clinicians make better decisions, it cannot replace clinical judgment. 
Therapists can benefit from solutions that cater to their needs without reducing their purpose. Pre-configured note templates can help therapists strike a balance between reducing documentation time and maintaining full control over their notes. You can even create quick custom buttons with statements that you as a clinician approve and are used in your everyday verbiage to fit your client's unique needs for optimal efficiency and quality.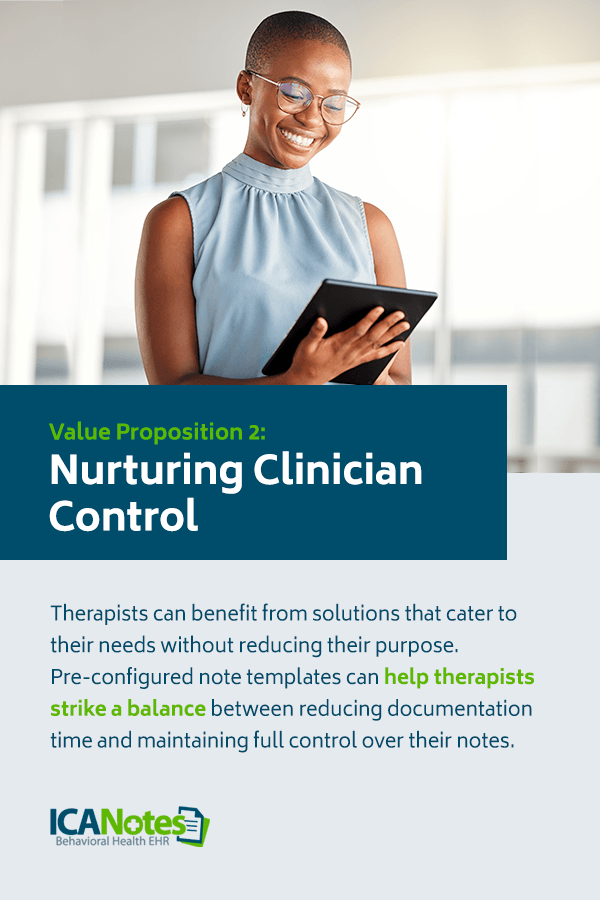 Value Proposition 3: Streamlined Documentation
Research indicates that the longer clinicians spend on documentation, the more likely they are to experience burnout. Documentation burden impacts every sector of healthcare, including behavioral and mental health. Therapists, counselors and psychologists may find themselves working on notes outside of work hours to pass regulatory scrutiny. 
This burden can lead to reduced workplace wellness and clinical care quality. Therapists who have to spend more time creating notes may find it difficult to juggle their schedules or be fully engaged with patients during their sessions. Though documentation is a critical aspect of patient care, it shouldn't be a source of excessive stress and effort. 
Good therapy notes are compliant and detailed enough for the therapist to recall details between sessions. This helps professionals avoid repeating past interventions or asking patients to repeat their experiences in a session. However, this doesn't mean you have to spend hours writing progress notes. 
Intuitive note templates streamline the documentation process by having all the content and individualized tools you need right at your fingertips. Depending on your patient and their needs, there may be minimal or no typing required. This means you can create comprehensive, individualized narrative notes that accurately align with your client's experience in just a few minutes. 
These pre-configured note templates give you full control over your notes, so you can choose from content buttons on the menu to add data to your notes or free-type at any time. Therapists can also streamline the overall care process by being able to quickly and easily share these patient notes with other clinicians or doctors who are providing concurrent treatment. 
Efficiency With Ethical Integrity 
Pre-configured intuitive templates are superior and more effective than AI tools. Instead of looking at a blank page or screen, you'll quickly be able to customize your records to fit your client's diagnosis or treatment needs and fill in progress notes. Unlike with AI, you can feel confident that you're upholding your ethical integrity responsibilities. 
If one of your goals is to reduce documentation time, you can achieve this without compromising control or privacy. Whether you prefer to take notes during your session or afterward, pre-configured note templates make it easy to streamline your workflow without using risky tools.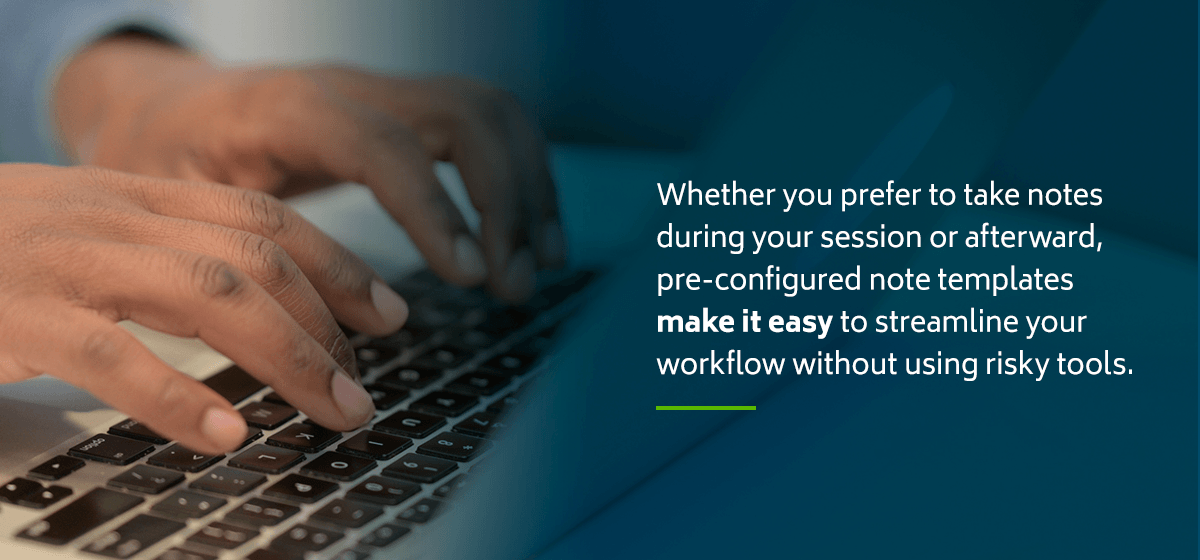 Ethical dilemmas are present in every conversation about AI technology. Due to the uncertainty of the tools, it's important for professionals to understand the key risks of AI. Data privacy is one of the top concerns. In addition, therapists who use any AI tools have a responsibility to perform informed consent to use data. Because AI will be increasingly used in healthcare, it must be held morally accountable by avoiding biases.
AI cannot be held accountable, which is why therapists must use caution when replacing approved methods of note-writing with such tools. 
For example, it is not legal or ethical to use patient data to train an AI tool without a patient's consent and understanding of how their data will be used and protected. With pre-configured note templates that meet compliance standards, therapists and counselors do not have this burden. You can quickly and easily develop your notes without leaving your patient's data vulnerable to breach or other ethical concerns. 
Future-Proofing Your Therapeutic Practice
From handwritten notes to electronic documents to AI-generated notes, the evolution of technology will continue to affect the behavioral healthcare space. Therapists and other professionals have a responsibility to ensure the tools they use are made ethically and protect patient privacy. Because we are still learning about the risks and benefits of AI, it's best for therapists to stick to efficient ways of documentation that do not overlap with these concerns. 
Adopting pre-configured intuitive templates enables you and other clinicians in your practice to keep secure, accurate patient records without risking security. A robust EHR can future-proof your practice by making it easy to create comprehensive notes for all disciples and settings. 
From intake to discharge, you can rely on intuitive templates to help you arrange mental health notes in clinically logical ways. Clear, accurate documentation is key to effective patient treatment, reimbursement and compliance. Pre-configured note templates can help you achieve this. 
Learn How ICANotes Can Help You Boost Productivity While Protecting Autonomy
Your patient's privacy is a top priority. However, this doesn't mean you can't streamline your note-writing processes as you would with an AI tool. At ICANotes, we believe in helping behavioral health professionals spend less time on documentation with our intuitive and clinically robust charting solution. 
Our pre-configured note-writing templates are the forward-thinking solution you need without compromising quality. With the current landscape of AI, it's not always easy for therapists to navigate the intersection of technology, privacy and ethical practice. Our behavioral health EHR solution helps therapists like you optimize productivity while maintaining ethical control over your notes. Start your free trial today or schedule a live demonstration to learn how ICANotes can make your job easier. 
Start Your Free Trial Today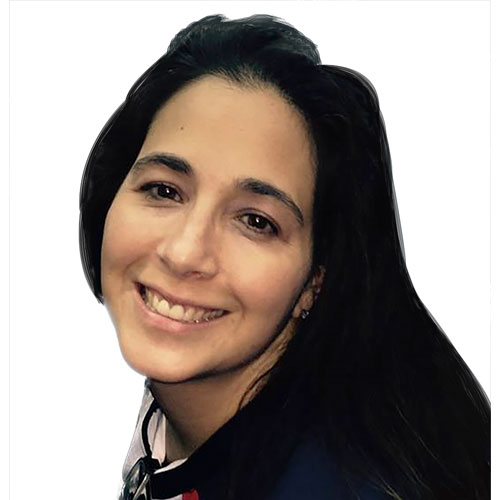 October Boyles, MSN, BSN, RN
Clinical Director October has been a Registered Nurse for over 15 years. She is board certified in Mental Health and Psychiatric Nursing. She holds a Bachelor of Arts from the University of North Carolina at Greensboro. She also graduated with bachelor and master degrees in Nursing from Western Governors University.