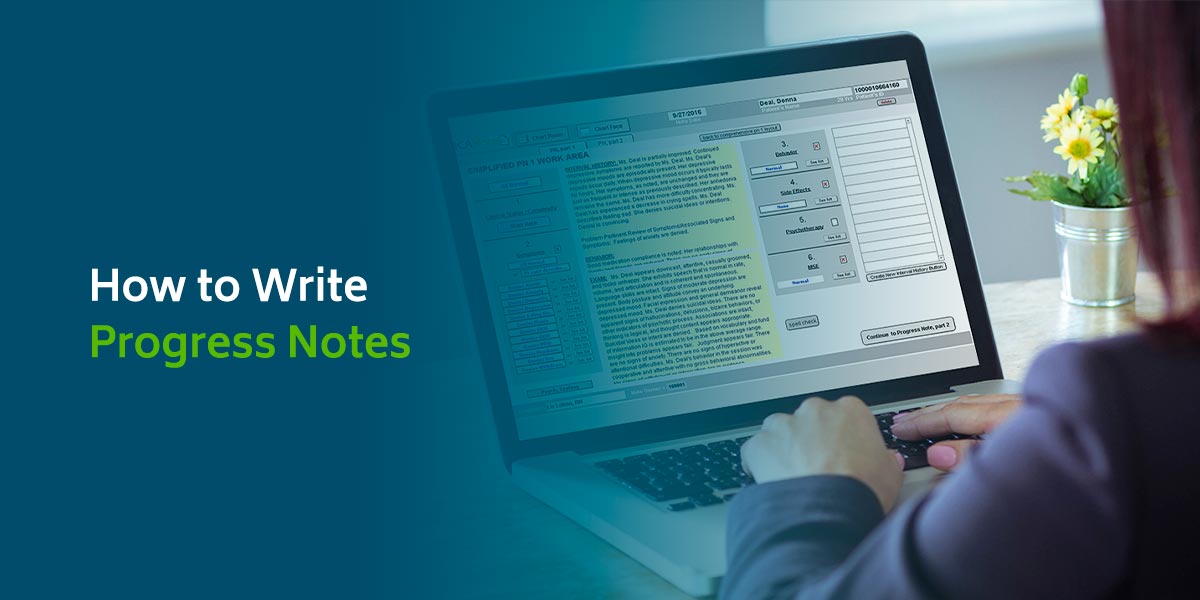 How to Write Progress Notes
As a therapist, progress notes are necessary for you to track your patient's progress and ensure they are receiving effective treatment options. Progress notes contain critical information about an individual, couple, or group therapy session you can reference to adjust or modify your methods as needed.
However, if your notes are often illegible, confusing, unorganized, or not detailed enough, it can be difficult to translate them later and may cause you frustration and wasted time. To provide effective and efficient care, it's critical to keep your progress notes organized, specific, relevant, and concise. Below, we'll examine the differences between progress and psychotherapy notes, documentation styles you can use, and how implementing EHR software can enhance your note-writing processes.
Learn How To Make Your Notes Simple & Meaningful
Sign up for our instant webinar Rethinking Notes and take your behavioral health notes to the next level.
How Progress Notes Differ from Psychotherapy Notes
Though you may have heard progress notes and psychotherapy notes used interchangeably, they have a few significant differences in their purpose, formatting and who has access to them. For starters, psychotherapy notes are generally for a therapist or other mental health professional alone to view and reference to help remember patient encounters. These are your personal notes to use as needed in individual, couple, or group counseling sessions which may contain your unique interpretations and impressions of patients.
The Health Insurance Portability and Accountability Act (HIPAA) regulates psychotherapy notes. These notes may not be included in any other documentation about your clients, such as billing or medical information, and cannot be shared with anyone else, including the client, unless in some cases where you may need their permission to share them. Psychotherapy notes should never contain information about your patient:
Medication
Results of clinical tests
Diagnoses
Treatment plan details
Symptoms
Progress notes, on the other hand, have a much more formal structure and include your client's medical and treatment plan details. These notes help therapists and other treating practitioners stay updated on their work with a patient and help inform insurance companies of the efficiency of your methods.
You may have to write your progress notes according to specifications by the insurance company, but these notes can also protect you if questions arise about your quality of care. Other behavioral health providers working with your client, the client themselves, and their family members are generally allowed to view your progress notes.
Progress notes serve as a communication tool between you and other clinical staff about your patient's overall care and treatment plan. With consistent, updated notes, you can focus more easily on your patient's progression and streamline your billing and reimbursement processes. These notes are also protected under the HIPAA Privacy Rule, so it's important to know what information is protected, like individual identifiers.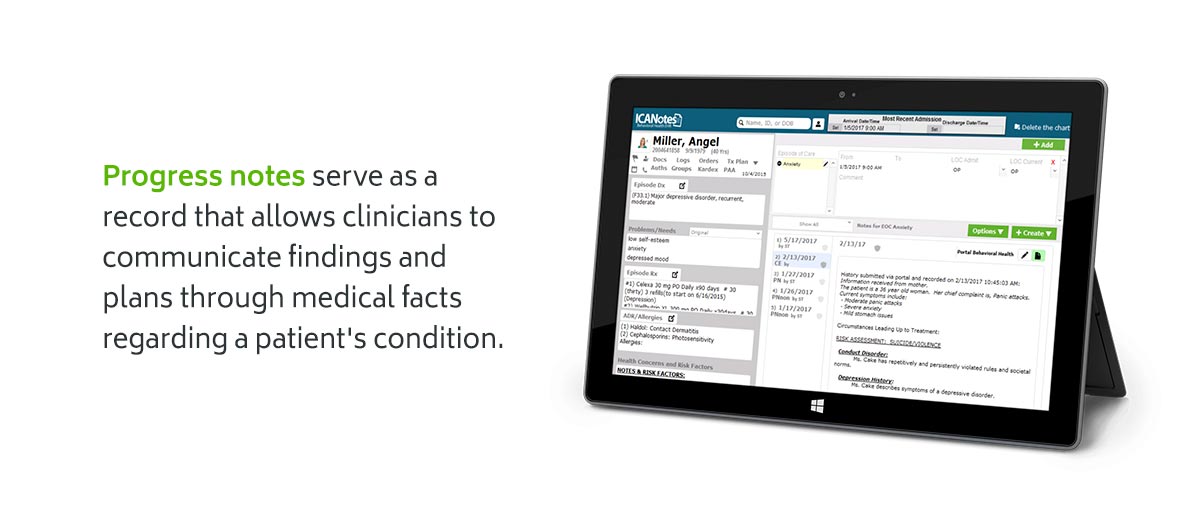 Examples of What Makes Up Progress Notes
Though we briefly mentioned the general structure of progress and psychotherapy notes above, let's look at more specific progress note examples and what therapists and other behavioral health professionals must document.
Progress notes serve as a record that allows clinicians to communicate findings and plans through medical facts regarding a patient's condition. The specific elements you must include in your progress notes may depend on the insurance company, your state requirements, your licensing board, or your professional organization or practice. It's critical to check with these channels and confirm your note formats and templates are compliant.
In general, all progress notes should include a variation of the following:
Demographic information: You may include your client's name, date of birth, start and end times of each session, and your signature.
Description of client behavior: Describe your client's behavior, appearance, mood, symptoms, diagnosis, changes to medications, and a safety assessment. You can also use a mental health status checklist to help consolidate this area of your notes.
Treatment plans: List the treatment modalities, recommendations, coping skills, and assignments you used during the session. You should also include your client's response and progress toward their established goals and what you plan to work on in the following session. Note any referrals you've made for the client or if you've collaborated with other mental health professionals regarding your client.
Your progress notes should never include anything that cannot be validated or justified through clinical evidence and investigation, so there should be no references to your subjective opinion, judgments, feelings, or hypotheses. Your progress notes should only contain precisely what you observe through your professional opinion and what was discussed between you and your client during your session. In some cases, you may need to make an exception in your notes, such as if your client brings up a critical incident, significant changes, or risk of harm to themselves or others.
Here's an example of patient symptoms/behaviors in a progress note:
"Jane denied having suicidal thoughts in the past week. She reported feeling anxious and sad most of the time. She received a write-up at work this week. She expressed frustration with her management. Jane was tearful as she talked about feeling incompetent at her job and not understanding how she can progress. She noted that after speaking to her manager about the write-up using a recommended therapeutic exercise, he was more understanding and offered to help improve her training".
Because there are many different ways you can conduct your notes to meet your needs, let's look at four different documentation styles therapists commonly use to keep their progress notes organized, relevant and concise. While you can use these documentation formats for other types of notes, we'll focus on structuring them to fit progress note criteria.
In DAP notes, you will construct your progress notes in a Data, Assessment, and Plan format. These notes should include:
Data: Include descriptions of major events or topics discussed and interventions you provide. Collect objective and relevant information, including behaviors, actions, and descriptions from the patient that may affect their treatment methods.
Assessment: Your observations of your client's status and functioning, including risk status, are considered the assessment. Analyze the data you've collected and include your client's response to the methods you use during the session.
Plan: List any plans for the future or changes to your client's treatment plan, such as recommendations, alternative treatments, homework assigned, and additional resources.
DAP notes may also sometimes be referred to as DARP notes, which include the acronym for Response. In these notes, you will fill out the Data, Assessment, and Plan section as usual, but include a "Response" section after your Assessment. This section will include your clinical rationale and reasoning for providing specific treatment based on your most recent interactions with your client.
The four sections of the SOAP method include:
Subjective data: Though progress notes should remain free of your unsourced personal opinions and judgments, such as describing a client as "hysterical," you may be able to list a patient's direct quotes, experiences, feelings, thoughts, or observations.
Objective data: Note your patient's general and mental health status and other relevant details from your therapy appointment. List your descriptions as if you were performing a physical exam of your client, including their body language or other facts.
Assessment information: After collecting your subjective and objective details, provide your professional interpretation and a summary of your patient's diagnosis. Include your conclusion about the interventions and goals you addressed during the session.
Plan: List any details regarding the next steps or adjustments to your patient's treatment plan. Note any follow-up information, referrals, lab orders, review of medications, and your plan for your next therapy session.
Like SOAP notes, BIRP notes involve four different sections to help therapists and mental health professionals document patient progression and treatment. However, BIRP notes focus more on patient behavior. The four sections of BIRP notes should include:
Behavior: Document the chief complaint or primary problem the patient presents, including their actions, willingness to participate, and observations of their behavior.
Intervention: Provide a detailed account of the methods you used to intervene and help your patient reach their treatment goals, such as the questions you asked and decisions you made to adjust treatment or techniques.
Response: Describe your patient's response and reaction to your intervention techniques and treatment methods. Record what they said, the questions they asked, and whether they changed their minds about therapy.
Plan: Create a plan for your next session with the patient and note the time and date when you will meet again. Note what you plan to discuss in the next appointment and whether you assigned any exercises for your patient to complete before their next session.
How to Write Effective Progress Notes
Here is a step-by-step guide for progress notes that can help ensure you have all the important details and information needed to create more effective documentation:
Note header: Write a brief review of session information, such as the practitioner and patient name, the time and date of the appointment, and relevant service or billing codes.
Diagnosis: Include any DSM-5 or ICD-10 codes if you have diagnosed your patient with a mental health condition.
Patient Appearance: Provide an objective description of how your patient appears, including their behavior or cognitive functioning.
Safety concerns: Note any critical information regarding your patient's safety and well-being, including risks.
Medications: Psychiatrists may only need to use this section, but as a therapist, you can list a patient's medications and their relationship with them, such as if they feel they're effective.
Symptom description report: Include direct quotes and reports about your patient's status, such as how they're feeling, their opinions on their treatment plan, and how they view their progress.
Relevant information: Describe any valuable, objective data such as therapy notes, documents, and test results to help keep your progress notes updated.
Interventions: Document the treatment modalities and interventions you applied during the session, such as relaxation techniques, cognitive restructuring, or mindfulness training.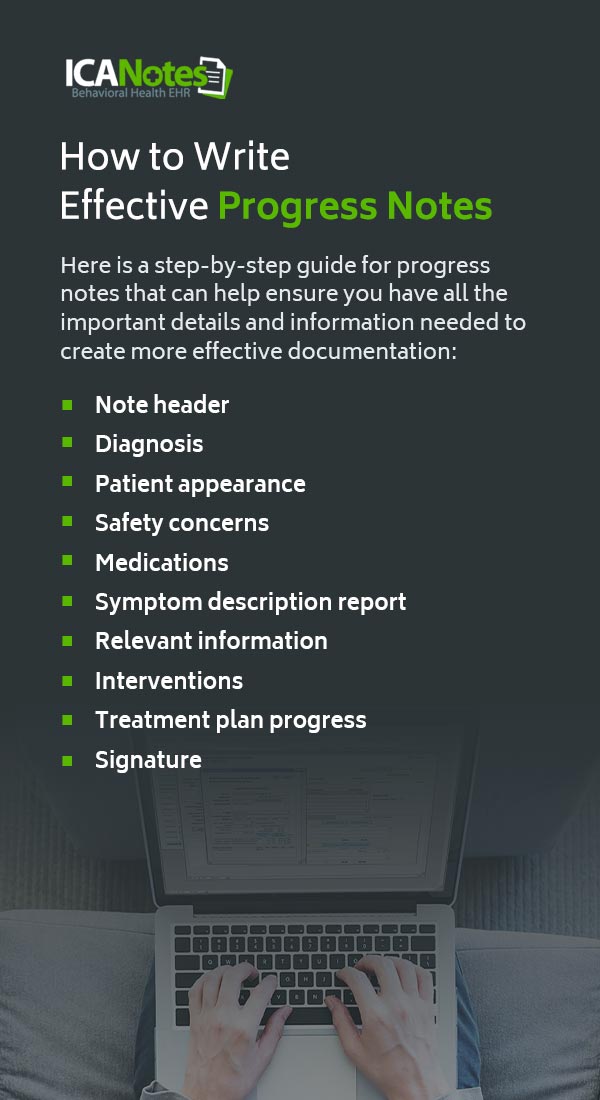 9. Treatment plan progress: With each progress note during each session, you should mention whether you and your patient are successful at achieving their treatment plan objectives.
10. Signature: You must always include your signature on your progress note documents to keep them compliant. You may also need to include your credentials.
As part of the overall therapy treatment for your client, you may also have an admission and discharge/dismissal note, which are important to keep in your records:
Admission note: Following the initial assessment session with your client, your admission progress note will include the presenting problem, the participants in the session, your observations, acknowledgment of informed consent and patient rights, and your recommendations.
Discharge/dismissal note: Following termination with your patient, corresponding with your final session, your discharge note will include a summary of the treatment provided, the level of progress achieved through the treatment plan, the reason for termination, and your recovery plan recommendations.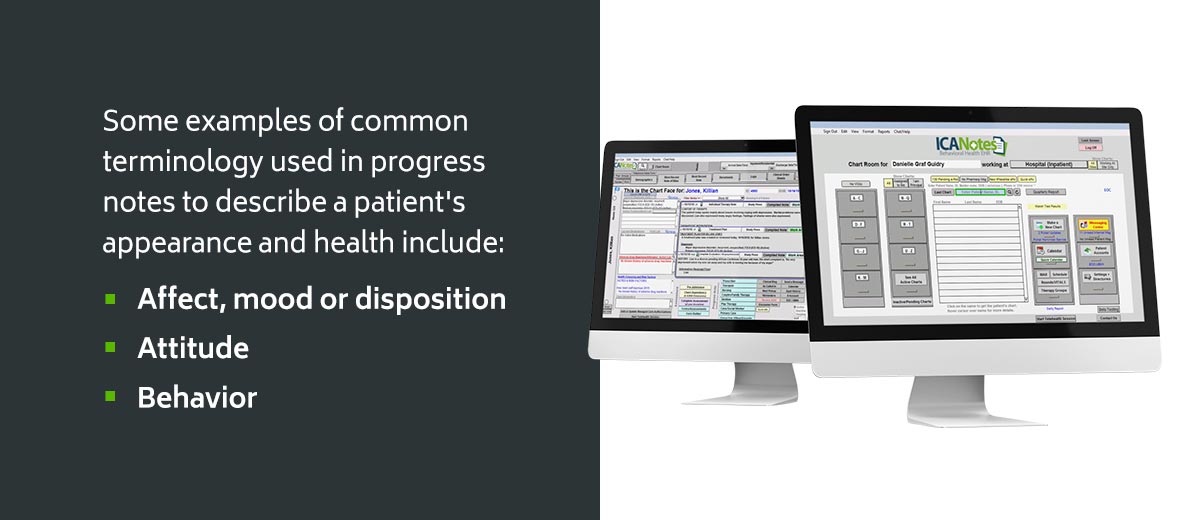 Common Terminology and Interventions to Reference
When documenting progress notes, it can be helpful to refer to common terminology and different interventions you can use to keep your notes professional and objective.
Some examples of common terminology used in progress notes to describe a patient's appearance and health include:
Affect, Mood, or Disposition: Depressed, dejected, lighthearted, disheartened, carefree, listless
Attitude: Disagreeable, apathetic, inert, quarrelsome, absence of effect
Behavior: Lethargic, spontaneous, immediate, over-cautious, sluggish
You may also include descriptions of a patient's cognition, orientation, or work habits from their direct quotes or your observations.
Here's a list of frequently used interventions you can reference to help you and other practitioners understand different treatments a patient might be undergoing with other specialists:
Behavior reinforcement
Collaborative problem-solving
Anger management
Communication skills development
Cognitive restructuring
Mindfulness
Progress or objective review
Coping strategies development
Imagery
Stress management
Problem-solving skills development
Eye movement desensitization and reprocessing
Identifying triggers
Best Practices for Writing Progress Notes
Since you need to update your progress notes after each session with every client, here are some tips to keep in mind that can help boost efficiency in your note-writing process:
Read your progress notes before meeting with your patient to refresh your memory and know what to discuss.
Ensure your notes always mention the time and date of entry, the duration of your sessions, and your signature.
Refer to your previous progress note entries for continuity.
Document your notes as soon as possible after each session so you don't forget any important details.
Avoid using acronyms, abbreviations, and jargon in your notes, because it can be difficult for you and other practitioners to understand later.
If you make a mistake, cross it out and continue. Don't tamper with your entries.
Write down all relevant information or details about your sessions you think can be useful for developing or adjusting your treatment plan. Remember, if you don't write it down, it didn't happen.
Keep in mind, your progress notes contain confidential information and must always be kept in a secure location and only accessed by you, your patient, or other authorized behavioral health staff.
Why You Should Use EHR Software for Progress Notes
Depending on how many patients you see and how frequently, you can end up spending several hours every day writing your progress notes. Not to mention, hand-written, paper progress notes can present many issues, such as getting lost or damaged. Paper progress notes will also take you much longer to complete than electronic notes, such as those within electronic health record (EHR) software.
Research shows that clinical documentation contributes heavily to staff burnout because it takes significant time that therapists and other mental health professionals could instead spend with patients. One study found that clinicians welcome a serious redesign of documentation processes to restore autonomy, eliminate the number of actions that do not add value and return time to staff for more essential care activities.
By introducing EHR software, you can lift the burden of documentation with these benefits:
Making your notes legible, easy and quick to read
Reducing documentation errors or missing information
Preventing lost revenue due to under-coded notes or claims being rejected
Reducing time spent on documentation and record-keeping
Using client progress note samples and other templates for various types of therapy
Increasing your peace of mind that your notes will pass regulations
Simplifying and minimizing the expense and turnaround time of transcribing clinical dictation
ICANotes Can Help You Write Your Progress Notes
As a mental health therapist or practitioner, improving your note-writing processes can help you create more effective, useful, and legible progress notes that make it easier to communicate with other professionals about your patients. With ICANotes, you can access several charting and note templates for quick, comprehensive documentation.
Our behavioral health EHR contains many specialized features designed to help you reduce your documentation time, comply with regulatory requirements, get paid faster, and spend more time with your clients. To learn more about our service and features, contact us today or start your free trial to see how our software can enhance your progress notes.
Start Your Free Trial Today