How Confident Are You in Your Notes?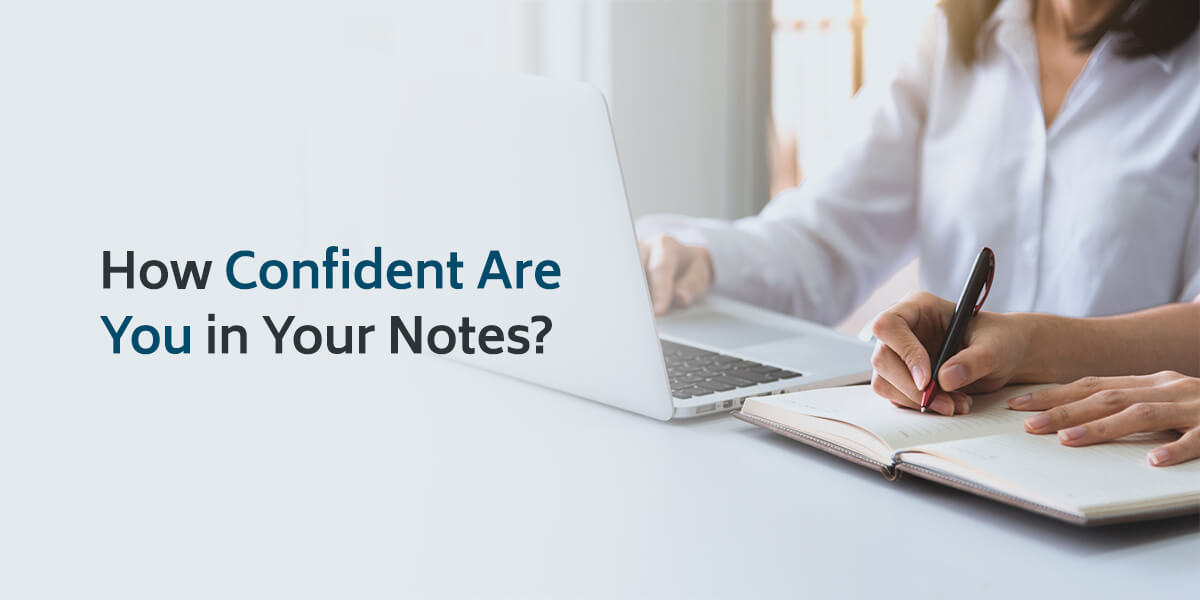 Mental health professionals often deal with sensitive topics, and your note writing will likely reflect that. The sensitive nature of progress notes sometimes makes sharing them with others nerve-wracking. Thanks to the new open notes implementation in the 21st Century Cures Act, healthcare providers are required to provide patients and clients with access to their records. As a mental health clinician, you'll also have insurance companies asking to review your notes. These can be stressful situations that often result in providers lacking confidence in their notes.
Learn why you may be lacking confidence and what you can do to write better notes you can be confident in when sharing them with insurance reviewers.
Table of Contents
Why You May Lack Confidence in Your Notes
If you're worried about writing adequate notes for insurance companies, you're not alone. Many mental health clinicians lack confidence in their own notes. So why do so many clinicians stress about an insurance audit? While there can be any number of stressors, below are some of the most common reasons you may lack confidence that your mental health notes will pass an insurance review.
You've Fallen Behind
If you wait to write your notes until hours, days or weeks after a session, it becomes easy to fall behind. Clinicians often have sessions that run back-to-back, issues can arise and other things may need your attention before you can get to your notes — it happens to the best of us. Falling behind in your note writing can lead to inaccurate notes because as time passes, it's easy to forget details or confuse the session with another one, which makes insurance reviews that much more stressful.
You're Wondering if Your Diagnosis Is Justified
In many cases, insurance companies require mental health professionals to make a diagnosis and justify it in their notes. This aspect of note writing can make a clinician question their abilities because it's essential to make the most accurate diagnosis possible. Over- or underdiagnosing a client is fraudulent, and insurance reviewers will be looking for a justified diagnosis and will likely notice if the diagnosis is exaggerated. Some diagnoses can be difficult to determine, which makes a clinician second-guess themselves during an insurance note review.
You Need a Solid Plan
Insurance reviewers will also be looking for a solid treatment plan. They want to see that you have a plan in place and are tracking the client's progress. Insurance reviewers will look for a treatment plan that is specific to each diagnosis you provided. That means that if your client is diagnosed with depression and anxiety, you should have a separate plan for treating both diagnoses.
You Worry Your Care Won't Be Seen as a Medical Necessity
Behavioral health professionals often lack confidence in their notes because they worry insurance companies won't find medical necessity in a client's therapy treatment. In this case, the insurer wouldn't pay for the services you provided. It's up to you as the note writer to clearly show whether or not a client has a medical need for your services. This can be stressful, and many clinicians worry their notes won't prove there is a medical necessity.
Boosting Note Writing and Note Sharing Confidence
Keeping clear, accurate notes for insurers is essential because they need to see that therapy is medically necessary before reimbursing a therapist. Now that you have an idea of what may cause your lack of confidence, what can you do to write better notes to feel more confident? Here are five tips to help you feel more confident sharing your notes with insurance companies.
1. Stay up to Date
With a heavy workload and client appointments, it's easy to fall behind in note writing. For some behavioral professionals, it's common practice to write notes days or even weeks after a session. However, this habit is less effective than writing your notes within the same day as a session. Writing your notes as soon as possible after a session will also help you reduce work from piling up.
Staying up to date on your notes ensures you're ready if and when an insurance company requests to review your notes. Knowing that your notes are already complete will help you feel more confident throughout the process.
2. Keep a Strong Focus on Signs and Symptoms
Your notes should keep a detailed record of your patient's reported symptoms as well as any signs that lead you to your diagnosis. Having a thorough written record of signs and symptoms in your notes will help you be more confident when sharing your notes. Insurance companies will want to see proof that your client needs your services, and accurate notes of symptoms will help you confidently provide that proof.
3. Have a Well-Constructed Treatment Plan
Insurance companies will be looking for a complete treatment plan when they review your notes. Having a solid, thought-out treatment plan will show collectors that you put time and effort into your client's care and are actively working with them to achieve progress. Constructing an effective treatment plan will help you feel more confident in the quality of your notes and back up your care decisions when an insurance reviewer looks at your notes.
4. Write Clearly
For some mental health professionals, sharing their notes can be nerve-wracking because their notes are unorganized and illegible. If you keep messy notes, sharing them with insurance companies could be a source of stress. If you're hand-writing your notes, write clearly and be concise. Using templates like SOAP can help you gain confidence in your note organization and content. EHRs are also effective ways to keep clear notes so you can share them with confidence.
5. Ensure You're Being Compliant
A lot of the stress associated with sharing your notes with insurance companies can come from stress about complying with regulations and standards. There are a number of privacy laws and organizations that require mental health professionals to include specific information in their notes, and many insurance companies have their own requirements for notes, as well. Understand the various laws you need to comply with and review insurers' standards to gain confidence in sharing your notes.
Enhance Your Note Writing With ICANotes
Do you struggle with what to include in your notes, resulting in a lack of confidence? At ICANotes, we understand how stressful sharing your notes with insurance companies can be. With ICANotes software, you can forget about the common stressors that cause a lack of confidence in your notes. ICANotes can help your practice write accurate, comprehensive notes to get reimbursed faster.
Our software includes buttons with industry-standard language to allow you to quickly and confidently create notes that will help maximize your insurance reimbursements. Add any custom details in the note tool to be precise. ICANotes was designed with behavioral health professionals in mind to include templates and other features that will be helpful to your specialties.
Contact the ICANotes support team for more information, or try a free trial today.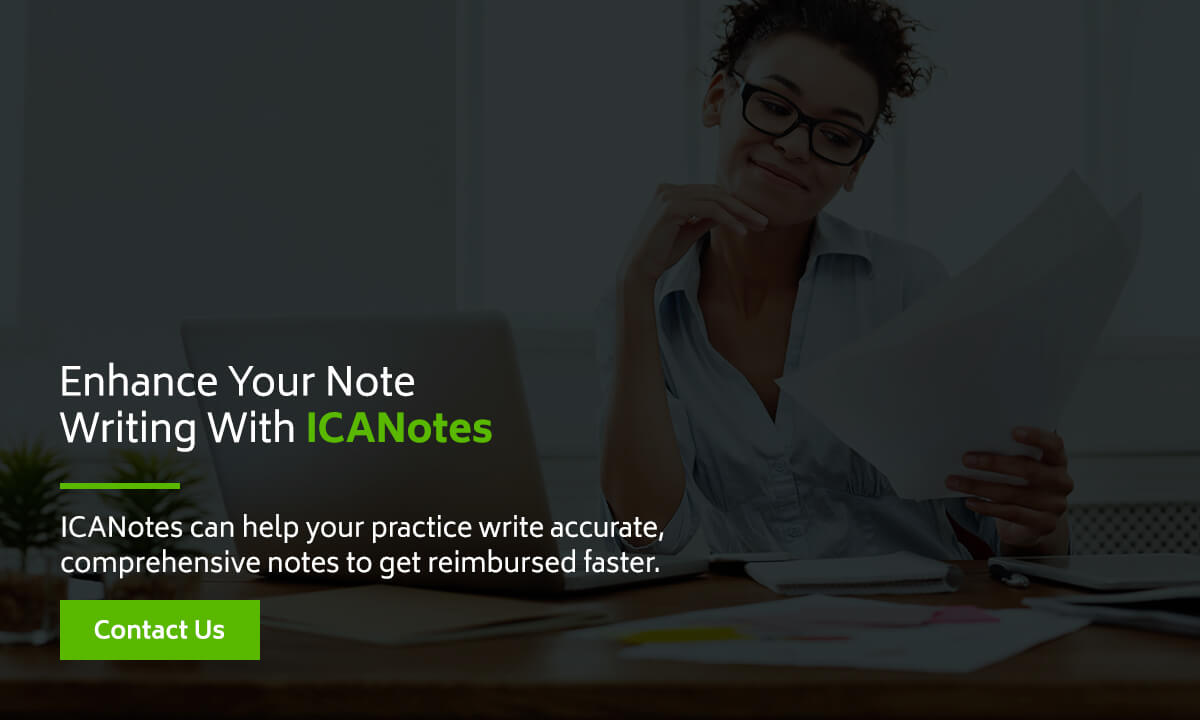 Related Posts
Tips for Writing Better Mental Health SOAP Notes
Guide to Creating Mental Health Treatment Plans
How to Write a Bio-Psychosocial Assessment
What Every Therapist Needs to Know About Insurance and Progress Notes
Billing Pitfalls for Mental Health Clinicians
Upcoming 21st Century Cures Act Changes
Sources: