Therapy Notes for Private Practice Counseling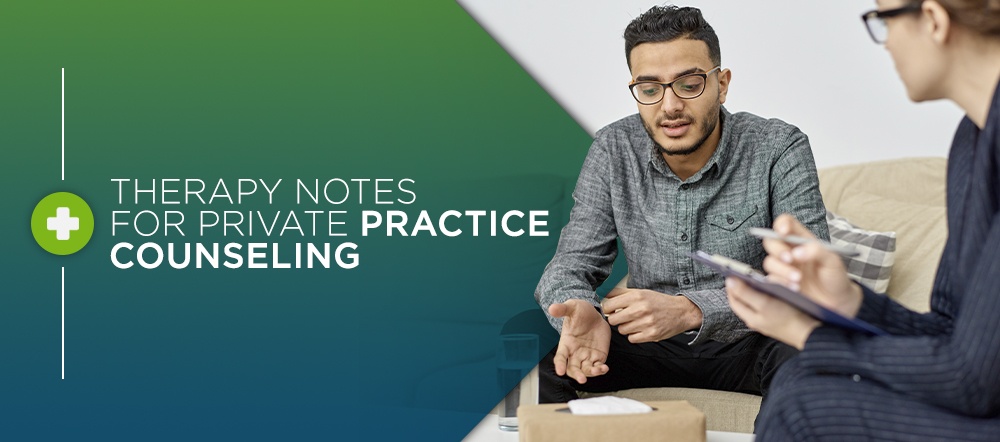 Have you decided to follow your dream of starting a private counseling practice? If so, you're not alone. According to an American Psychological Association survey, almost half of psychologists work in private practice. Running a private practice offers flexibility and a way to explore your passion in a particular niche. There are many rewards to operating an independent practice, but it also comes with challenges. Luckily, you don't have to face these blindly. We encourage you to get out your notepad and jot down some advice. Here, we'll show you what to expect, including some of the obstacles, and provide tips along the way.
Table of Contents
What to Expect When Starting a Private Practice
When you start a private practice, you become a business owner. That means you need to know how to operate a business along with using your counseling skills. Running any business requires organization, patience, perseverance and the ability to make decisions quickly. If any of this sounds overwhelming to you, take a deep breath. You can conquer new challenges by knowing how to prepare and asking other professionals for advice when you need assistance.
To help get you mentally ready for the journey ahead, here's what you can expect and some of the obstacles you might face.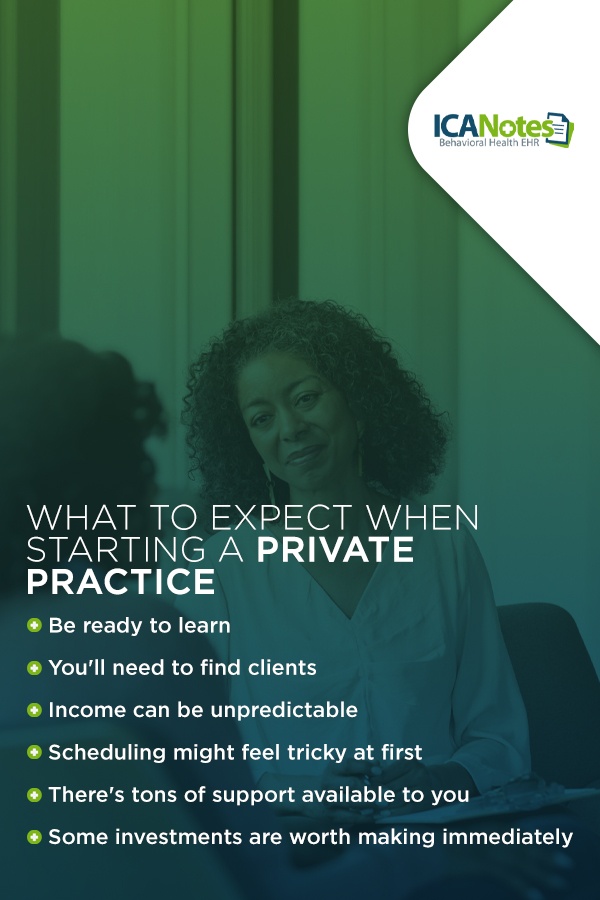 Be ready to learn: Starting a private practice in counseling requires learning new skills. You'll have to learn the legal side of operating a business, how to market your practice and how to balance a range of tasks without getting too overwhelmed. Like any new endeavor, it may take some trial and error before you develop a routine that works for you.
You'll need to find clients: In the beginning, you may not have a presence online or in the community, and potential clients might not know who you are or how to find you. You'll have to do some work to reach them, including marketing your practice through a website, social media or traditional advertisement forms. With time and effort, you'll build a client base.
Income can be unpredictable: Sometimes, earnings can be unreliable when you run a private practice, so you'll need to prepare to have less financial security. Operating a private practice can be both rewarding and profitable, but it may take some time.
Scheduling might feel tricky at first: If you're transitioning from an agency or other full-time job, you may be used to working regular, weekday hours. When you go into business for yourself, you'll have the freedom to limit the number of days and hours you work. However, as a private practice therapist, you also have to earn money whenever you can. You may have to cater to your clients' schedules and work weekends or evenings.
There's tons of support available to you: Initially, you might feel like you have to tackle business-related challenges alone. However, there are countless resources available to you for guidance. You might connect with other private practice professionals in your area, join an online community or listen to helpful podcasts. If you feel discouraged at any point along the way, know there is someone who can help you.
Some investments are worth making immediately: While you might not need to splurge on new office artwork just yet, you'll want to invest in some items right away. One of those is an electronic health record (EHR) system. EHR software will save you from cluttering your office with paperwork, and you won't have to spend as much time on administrative tasks. For example, you can automatically send appointment reminders rather than manually, and you can store all of your files, from progress notes to intake forms, digitally.
Notes for a Successful Practice
You need to consider every aspect of your practice, from the office location to the color scheme you choose for your website. All the components of running a private practice will feel more manageable if you prioritize tasks and stay organized. Here are tips to guide you in the right direction.
1. Choose Your Office Space
Every business needs the right location, and your practice is no exception. Most importantly, you want to choose a place that's convenient for your clients. That doesn't mean you have to rent office space downtown. If it suits you better financially, you might work from home or share a lease with another therapist. You can even consider starting a virtual therapy practice, in which case you wouldn't need a physical location for clients to visit. No matter where you are, here are some aspects to consider.
Compliance with the Americans with Disabilities Act (ADA): Depending on your qualifications and business size, you may need to ensure your office location and layout complies with the ADA. For example, if you're a psychologist in private clinical practice, you'll need to comply with the ADA. You ight want to follow ADA guidelines when choosing your office regardless of legal requirements, so you can accept patients with a variety of different needs.
Zoning laws: Your office location should comply with local zoning laws. Business owners can usually use neighborhoods for residential or commercial purposes, and businesses must follow specific rules. You should be able to find zoning laws online through your city or county, or you can contact your local planning and building department.
Business license: Depending on your office's location, you may need to obtain a business license in your municipality. Every city or town has different requirements, so you'll need to contact your local licensing department.
Client needs: Think about your clients and how your location will impact them. Aim to choose an office that's easy to find and remember. You also want your office to be in a secure, safe neighborhood.
Confidentiality: Whether you work from home or have an office in a large building, make sure you have a quiet, private space to hold therapy sessions. Try to choose an office with thick walls and doors and plenty of space between the therapy room and the waiting area. Think about your neighbors and whether they'll cause distractions.
2. Undertake Legal Requirements
Probably not surprisingly, you'll have some legal requirements to meet when you start a private practice. Speaking with a lawyer and therapists with experience running private practices can ensure you comply with all the local, state and federal laws. Here are some legal elements you'll need to consider.
Malpractice insurance: Malpractice insurance protects you against claims of medical negligence. You'll want to have this before you start accepting clients. You may also want liability insurance to cover medical expenses if you or a client gets injured.
Registering your business: You may or may not need to register your business as a legal entity, depending on your location and the type of practice you run. Even if you don't have to, you might consider registering your business to reap specific tax and liability benefits. You can visit the U.S. Small Business Administration site for guidance.
Business license: As mentioned above, you may need a business license to run your practice, depending on your city or town.
Tax identification numbers: You won't have to get an employer identification number (EIN) or national provider identifier (NPI), both of which are free, if you only accept cash-paying clients. If you plan to take insurance or provide superbills, you'll need an EIN and NPI.
3. Build Communication
You'll need to invest in a secure communication system, so you can easily interact with clients. Depending on your office, you might want to include essentials such as a computer with internet access and a copier and printer. Also, consider if Wi-Fi will benefit you as you work. Other communication necessities include the following.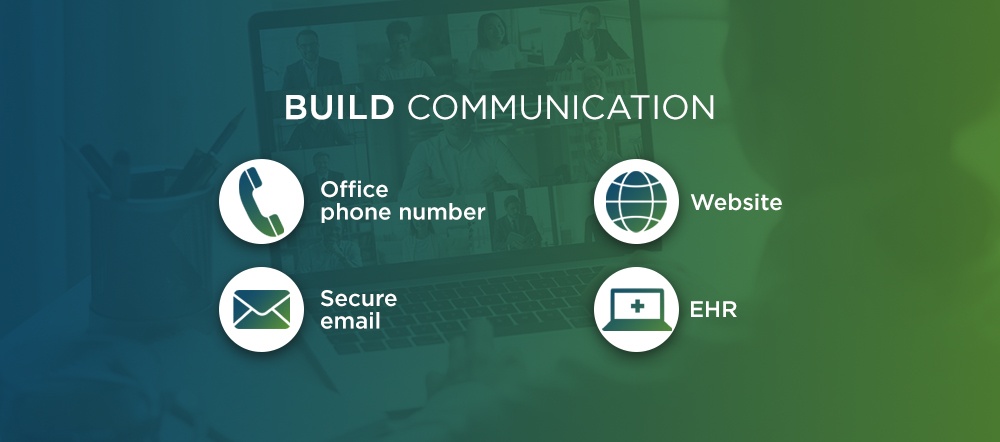 Office phone number: Rather than carrying around two cell phones, consider signing up for a call forwarding service. It will allow you to have an office number for clients, but will send them to your regular mobile phone.
Secure email: You'll need to set up a secure email account to comply with the Security Rule under the Health Insurance Portability and Accountability Act (HIPAA). It'll be up to you to choose an email service that takes all the required security measures. As an alternative to email, you can use a HIPAA-compliant patient portal through your EHR system to message clients.
Website: Though you don't need a website to see clients, it can help you attract new clients and business opportunities. Make sure your website includes a friendly, professional photo and details about your practice and qualifications. Always respond promptly to messages on your site. Remember that if you use your website to transmit or store protected health information, including brief interactions like setting an appointment, you'll need to ensure it's HIPAA-compliant.
EHR: A comprehensive EHR system is a vital tool in managing an efficient practice. Choose secure EHR software with features like a patient portal, note-taking templates and billing solutions. You'll save money on printing costs, and you'll spend a lot less time on documentation and worrying about privacy laws. Plus, clients appreciate the convenience of being able to manage their appointments online.
4. Establish Policies
You'll have to set some policies for your practice, so clients know what to expect. Write them out in an easy-to-understand way. Here are some questions you'll want to answer:
What are your fees?
Do you offer a sliding scale?
What type of payments do you accept?
Do you take insurance?
What is your cancellation policy?
How do you respond to missed appointments?
What is your confidentiality policy?
What is your social media policy?
Under what circumstances will you release information?
How do you respond to hazardous weather conditions?
5. Expand Your Network
One of your priorities as a counselor with a new practice is to network with other behavioral health and medical professionals. By connecting with peers, you'll increase your referrals and start to build a client base.
Network with therapists: Other therapists in your area might get clients they can't help, either because they don't have the right qualifications or have full schedules. If they know you seem like a good match for a client, they might send them your way. You can connect with therapists by joining an online discussion board, attending a networking event or reaching out to other professionals in your area.
Connect with doctors: It's crucial to reach outside your area of expertise and meet primary care physicians or other medical professionals who might refer their patients to you.
Communicate with non-medical professionals: Try to network with professionals in a range of fields whenever you can, because they might help you grow your business. For example, if you meet a journalist, you might get an article in a magazine, which will get your name into public view.
Create business cards: Sometimes, networking is as straightforward as handing your business card to someone. Make business cards that include essential details like your contact information, website and credentials.
6. Organize Clinical Forms
You'll need some paperwork ready to go when you begin to accept clients. If you have an EHR with a patient portal, you might ask clients to complete intake forms online before their appointment to save time and give you a chance to learn about each person in advance. In addition to intake forms, you'll need the following documents ready for each client:
An informed consent form
A release of information form
HIPAA Notice of Privacy Practices
Authorization for credit card use
Office policy forms or guidelines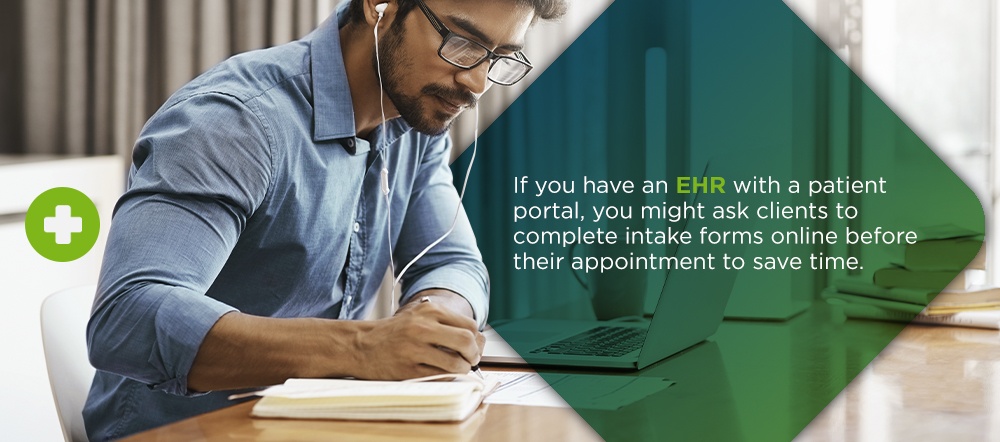 7. Market Your Business
When you start a private practice, you'll have to invest time in marketing your business. How much time you spend on marketing, networking and building your practice depends on your goals. Generally, you'll need more time for marketing in the beginning, because you may need to set up a new website and social media accounts. Once you have everything running, you might spend about two to four hours a week marketing your business. Here are some tips to get your name out.
Use your website for blogging: Blogging about your niche can be an excellent way to show your expertise and reach clients looking for answers online. Keep blog posts brief, around 500 words, and aim to post a new piece about once a week.
Use social media locally: Use social media sites like Twitter or Facebook to connect with other therapists and related businesses. You might spend time following other businesses, sharing resources, adding them to lists or tagging them in posts.
Contact local media: You can spread your message and awareness of your practice by reaching out to local newspapers, radio stations and magazines. See if you can be an interview subject on a public service show with a radio station or write a guest blog post for a magazine or local news site.
Join online directories: Consider creating a profile with an online directory to increase your visibility and reach clients interested in your niche. To choose a directory, search for one that is most relevant to your location and specialty.
Check out ICANotes
Now that you have some background information to keep handy, you're ready to take the next step. Let ICANotes' EHR software be part of your journey to building a successful and efficient practice. ICANotes is comprehensive EHR software designed to help behavioral health professionals with practice management. With ICANotes, you'll have access to features such as a patient portal, telehealth capabilities, automatic appointment reminders and documentation management — all making your daily operations easier. To experience ICANotes, request a free trial today!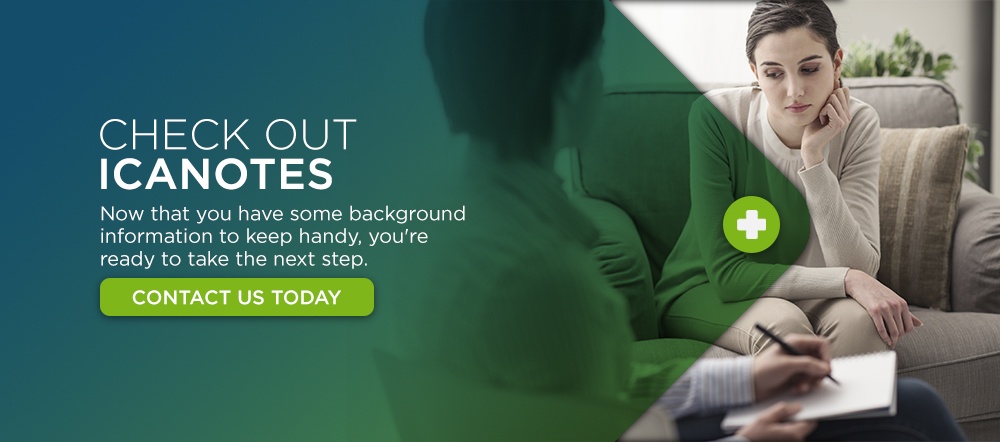 Related Posts:
7 Things You Need to Know About Starting a Private Practice
How to make your therapy note writing process more efficient
Understanding the Different Types of Mental Health Assessments and Screening Tools for Behavioral Health Clinicians
How to Train Your Staff on Using an EHR
Billing Pitfalls for Mental Health Clinicians