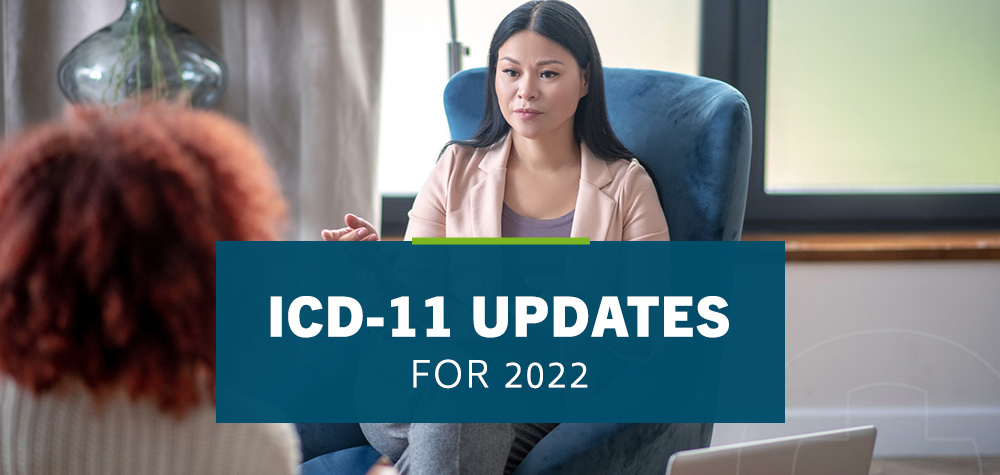 The International Classification of Diseases (ICD) has been the foundation for medical coding, clinical workflows and research across the world, but the current version is about 30 years old. The Centers for Disease Control and Prevention (CDC) even says it's outdated from clinical and classification perspectives and is well beyond due for a major update. Enter ICD-11. This updated version of ICD-10 was approved by the World Health Assembly in 2018 and officially available for use on Jan. 1, 2022.
Although the United States hasn't officially transitioned to ICD-11, the process is underway and could be completed as early as 2023. To make the update as painless as possible, we'll explore what's changing in ICD-11 and what it means for your practice.
Table of Contents
When Is ICD-11 Coming Out?
There is no firm date for when ICD-11 will be implemented in the U.S., but we can look to the process from ICD-10 for some clues. Before it's ready for full adoption, the new version must go through:
An evaluation
Hearings from the National Committee on Vital and Health Statistics (NCVHS)
A Notice of Proposed Rulemaking (NPRM)
A final ruling
ICD-10 was approved by the World Health Organization (WHO) in 1989. Evaluations finished in 1997, NCVHS hearings in 2003 and the NPRM in 2008. Then, final rulings were handed down in 2009 and 2012, with an interim final ruling in 2014. Finally, in October 2015, the U.S. implemented ICD-10.
We're currently in the evaluation stage of ICD-11 with no information on further stages. However, there's a big difference between ICD-10 and ICD-11. ICD-11 is built for a digital industry, and experts say the transition should be much faster, partly because the U.S. likely won't need to modify it for use, as it did with ICD-10. Plus, we've learned from the first time and should be able to make the move more easily. It will likely appear within the next few years.
What to Expect With ICD-11
ICD-11 was built to keep up with advances in science and medicine, ensuring an accurate reflection of our latest understanding of disease treatment, diagnosis and prevention. Like its predecessor, ICD-11 is intended across use cases, offering a platform for mortality and morbidity statistics, administration, clinical research and health monitoring.
One of the biggest changes between ICD-10 and ICD-11 is the latter's focus on electronic resources. For the first time, ICD is completely digital, designed for use across diverse IT environments and integrated solutions. It offers easy integration with electronic health records (EHRs) and terminologies such as the Systematized Nomenclature of Medicine Clinical Terms (SNOMED). Interfacing with digital health solutions should be much easier. ICD-11 is also "IT-friendly," with full functionality on web-based software and options for offline services.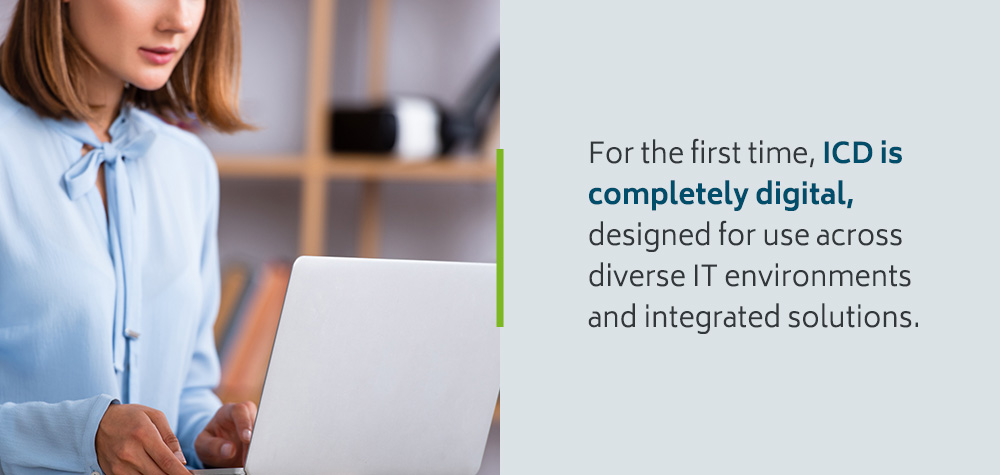 Other changes include:
Better language translations and cultural guidance
Reorganization of some chapters and disorders, offering more specificity
A simplified code structure with extension codes and a clustering system
Codes for documenting patient safety according to the WHO patient safety framework
Tabular lists for specific purposes
Additional content with 27 new chapters
Emergency use codes for COVID-19 responses
New and improved tools for coding, translation, browsing, mapping and proposals
New methods through precoordination and stem codes, post-coordination extension codes, sanctioning rules and linearizations
Some of the valuable new additions cover issues like antimicrobial resistance, HIV subdivisions, melanoma types and basalioma, all of which were functionally missing or outdated in ICD-10. ICD-11 also simplifies coding and offers more detail in several areas, like diabetes, heart valve diseases, external causes and detail for cancer registries. Extension codes provide a more flexible way of adding relevant details.
In terms of content, ICD-11 offers 27 new chapters, including:
Disorders of the immune system
Sleep-wake disorders
Disorders of blood and blood-forming organs
Traditional medicine
Conditions related to sexual health
Mental Health Changes
The mental health field has seen extensive changes in the last 30 years. With ICD-11, the WHO and the American Psychiatric Association aimed to harmonize the structure of the new codes with the DSM-5. ICD-11 made a few important changes, including adding new disorders and conditions and removing separate disorder groupings for disorders with onset during childhood and adolescence. These disorders were moved elsewhere and reflect developmental continuity across the life span.
In ICD-11, some descriptions were modified to improve understanding and address changes to diagnostic criteria. Some say ICD-11's new diagnostic criteria may affect prevalence rates. The new descriptions provide information on differentiating between normal human functioning and disorders.
ICD-11 has new disorders and conditions and brought the number of disorder groups up from 11 in ICD-10 to 21. New conditions include:
Bipolar type II disorder
Body dysmorphic disorder
Hoarding disorder
Complex post-traumatic stress disorder (PTSD)
Prolonged grief disorder
Binge eating disorder
Body integrity dysmorphia
Gaming disorder
Premenstrual dysphoric disorder
ICD-11 Codes
The ICD-11 codes list got a fresh new look, with over 55,000 alphanumeric codes ranging from 1A00.00 to ZZ9Z.ZZ. In comparison, ICD-10 had just 14,000 codes. The code structure in ICD-11 has a hierarchical design for more specificity and simplicity. It introduces two important concepts: Extension codes and code clustering.
Extension codes — which start with an X — can now offer more specificity and detail for different factors, like severity, anatomic detail, dimensions of external causes, etiology, histopathology and consciousness.
Cluster coding allows you to link core codes or stem codes with additional clinical concepts in extension codes. A forward slash connects two stem codes, while an ampersand connects a stem code with an extension code. For example, the code DA63/ME24.90&XA9780 tells us about a duodenal ulcer (DA63) with a manifestation of acute gastrointestinal bleeding (ME24.90) within the specific anatomy of the duodenum (XA9780).
The coding scheme itself looks a little different, too. Chapter numbers no longer use Roman numerals, opting for Arabic numbers instead. The codes always have a letter in the second position to avoid confusion with ICD-10 codes. The first character always relates to the chapter number and might be a number or letter. Codes also force a number in the third position to prevent confusion between similar-looking characters like the lowercase L, capital I, capital O and the numbers 1 and 0.
Prepare for ICD-11 Changes With ICANotes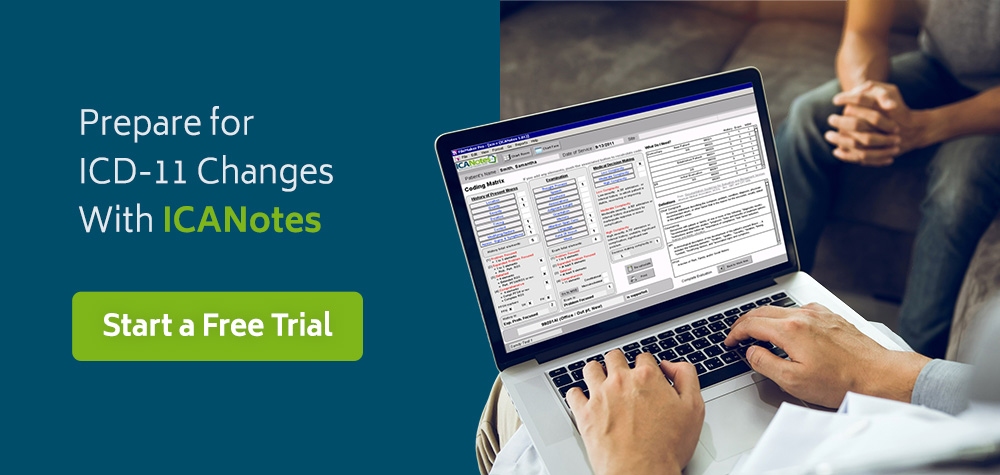 While the ICD-11 implementation should present a smoother transition than ICD-10, preparation is key for a painless process. Maximizing reimbursements and minimizing errors requires either a well-trained team or a powerful billing tool. With an automated platform, you can avoid hefty training requirements and errors that come with everyday manual billing and, of course, the ICD-11 transition.
If you work in behavioral health, ICANotes is the most clinically robust EHR, with note-writing tools, integrated billing and coding resources. ICANotes can identify and generate billing codes associated with your visit notes and identify gaps in supporting documentation to streamline your workflow and increase reimbursements. After ICD-11 implementation, using ICANotes will allow you to keep up with the latest billing requirements while staying focused on your practice. Our attentive support team will also be on call to answer any questions about the transition.
Learn more about the ICANotes platform, and reach out to us with any questions or to request a demo and see how we can help you master ICD-11.