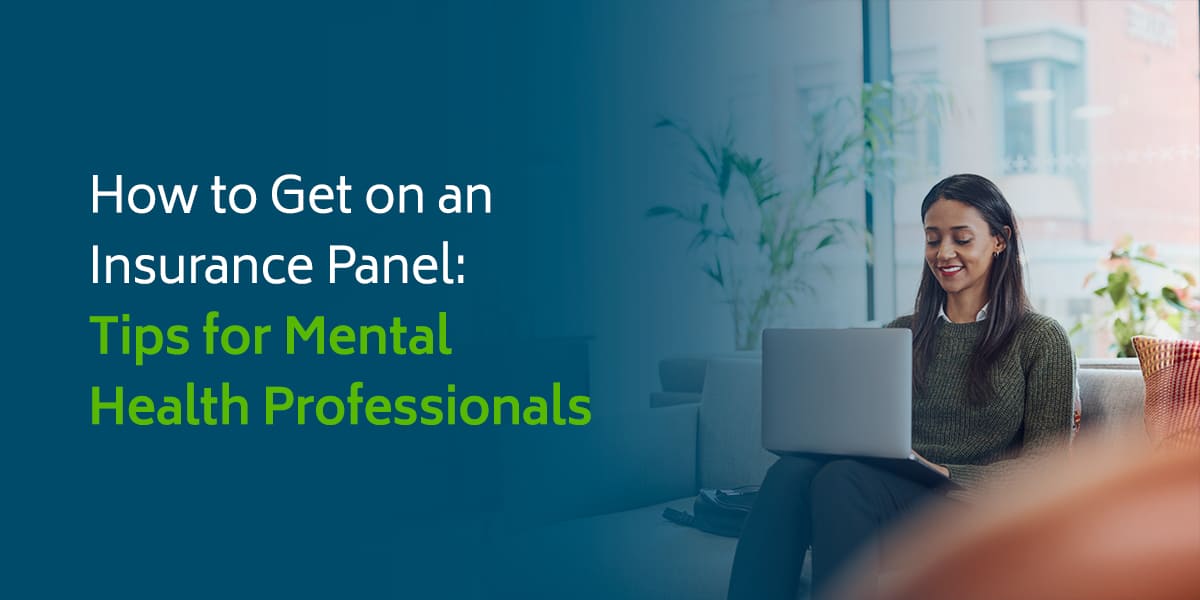 How to Get on an Insurance Panel:
Tips for Mental Health Professionals
Insurance has made behavioral health affordable for many people, but getting your practice listed on a panel can be a daunting task. It has some sizable benefits but can also affect the way you work and the patients you can attract. Before submitting any applications, you'll want to make sure it's right for your practice.
Part of making that decision involves researching the process. How long does it take, and what steps do you need to go through to get on a panel? To make things simple, we've put together a guide on how to get on insurance panels for mental health providers, complete with information on requirements and tips for a smooth application.
Why Should You Get on an Insurance Panel?
Before applying, you'll want to make sure that an insurance panel is the right move for your practice. An insurance panel is a collection of healthcare providers to whom an insurance company will pay for services for their customers. It's also called credentialing, and each insurance provider selects its own panel. So, for each insurance company you're looking to work with, you'll need to submit another application.
Some advantages of an insurance panel include:
Built-in referrals: After credentialing, the insurance company becomes another referrer for your practice. Most people with insurance will start their search for a provider on their insurance company's website. They want to get care from the cheapest option, and that's the best way to find places they know they're covered. More referrals can reduce your need for marketing tactics or networking and lessen the burden of outreach to collect more patients.
Casting a wider net: When it comes to mental health, many still consider professional services a luxury. If outside of someone's insurance network, mental health care is simply unattainable for many people living on lower budgets. Even if it isn't, people will often opt for a covered provider when given the choice. Considering about 10.3% of adults with a mental illness are uninsured, taking insurance can help your services be viable and affordable for more clients.
Boost to reputation: The process for insurance credentialing is rigorous, and many people see it as an indicator of the quality of care. While it provides these benefits to practices of all sizes, the legitimacy of insurance paneling can be especially useful for those still building up their client base.
Insurance can be a significant barrier for potential patients, as finding in-network care is often difficult, and self-pay care is expensive. For those that choose self-pay, the higher costs can cause them to attend less frequently, if at all.
The National Alliance on Mental Illness (NAMI) found that mental health is more likely to require out-of-network patient care than other areas of healthcare — 28% of people receiving psychotherapy went out of network. In comparison, only 7% of people did so for medical specialists, and just 3% needed to go out of network for primary care.
One factor that contributes to these numbers is the difficulty of finding in-network psychiatric support. In the NAMI report, 55% of respondents had trouble finding a psychiatrist that was accepting new patients, and 56% struggled to find one that accepted their insurance plan. If you live in an area with few in-network mental health providers, getting on a panel could be a chance to position yourself as that provider with little competition. And, of course, you'd be helping more people access affordable care.
Cons of Getting on an Insurance Panel?
While there are considerable benefits, placing yourself on an insurance panel will affect how your business runs. It isn't desirable for every provider. Some cons of getting on an insurance panel include:
Long payment periods: When paying out of pocket, many clients pay instantly. Joining an insurance panel means getting payments requires paperwork and a longer wait time before getting paid. While you'll get the money eventually, your cash flow will look a little different. Keep in mind, though, that insurance payments are often more reliable. Collecting payments or incorporating payment plans for clients can be time-consuming and difficult on your part. Depending on the nature of your practice and clientele, this may or may not be an issue.
Strict and time-consuming billing requirements: The paperwork of filing insurance claims can require a lot of labor. Automating software can make this much easier, but if you don't join an insurance panel, you can save on the administrative costs of working with insurance. You may be able to see more clients, and you can avoid worrying about non-covered services or prior authorization requirements. Notably, you'll also be able to charge what you want for service rates, rather than being bound to what the insurance provider determines.
Reduced privacy: Some patients are protective of their mental health details and don't want to share them with an insurance provider. If this is something your clientele is interested in, they might prefer a self-pay model. Assess how the addition of an insurance company might affect the privacy between therapist and client. Many providers choose to take both insurance and cash payments to appeal to these clients and those without insurance.
Long process: Insurance paneling is a long process. If you get everything through without hiccups, you're likely looking at two to four months for approval. If there is an issue such as petitioning or appealing, the timeframe can easily double. If you're working on starting a practice, you'll want to get the process started ahead of time.
The simplicity of billing is one of the more common reasons for providers to forego an insurance panel. They can often direct resources toward patient care, but they'll be limiting their pool of potential customers. Consider your clientele and whether the increase in covered patients from insurance can outweigh the costs of meeting the insurance company's billing requirements.
The complexity of these requirements will often determine their effects on your practice. For example, offering a high number of services and many therapists in a building will add complexity, while an electronic health record (EHR) with billing tools can simplify billing and reduce overhead costs.
What Every Clinician Should Know About Working With Insurance
How to Get Paneled with Insurance Companies:
Step-by-Step Process
If you've decided to get credentialed, you have some work ahead of you. Follow the steps outlined below for submitting your insurance panel counsel application.
1. Decide Who to Work With
Not all insurance companies are created equal. They can vary widely across factors like reimbursement rates and restrictions. Some may even require a few years of experience before applying. Do some research and try to speak with your industry network to get recommendations. See which insurance companies are popular in your area, which of your competitors are on their panels, and which ones might offer you a unique advantage.
Other factors to consider include:
Payment reliability and speed: Do they make payments on time and without hassle? Is their typical payment timeframe a competitive one?
Additional services: Does the insurer offer any additional benefits like marketing tools?
Provider support: Are they typically easy to get ahold of and supportive of providers?
Contact potential insurance companies and ask them about these processes, along with what their unique clinical needs are. By addressing these needs in your application, you may be able to stand out.
2. Collect Your Information
You'll need to submit plenty of details about your practice, so it helps to have it all together from the start. Gather up information such as:
Your National Provider Identifier (NPI) number
Licensure information
Taxonomy code
Resume
Proof of malpractice insurance
Proof of liability insurance if renting
Advanced training or credentialing paperwork
The Council for Affordable Quality Healthcare (CAQH) creates a standardized application for credentialing providers. The tricky thing about CAQH is that you must be invited to submit it. You'll need to start by applying to an insurer and following up with them after submission. After receiving your application, the insurer should generate a CAQH number for you, with which you can access the application. Fortunately, once you've submitted it, you won't need to do it again for other insurance companies you apply to.
The CAQH form must be immaculate. Triple-check it and make sure everything is accurate. Any errors can greatly increase the processing time. Hold onto a copy of the form. Keep in mind that you'll need to re-attest the CAQH every four months, and you should respond to these requests quickly. If you don't, an organization that needs to access your data — such as an insurance company performing a re-credentialing process — won't be able to. This could impact the claims process.
Be sure to complete the CAQH online. On paper, it can be an arduous process. It only prints correctly in color and is very long. Plus, it will eventually be digitized anyway, which creates an opportunity for errors during the data entry process.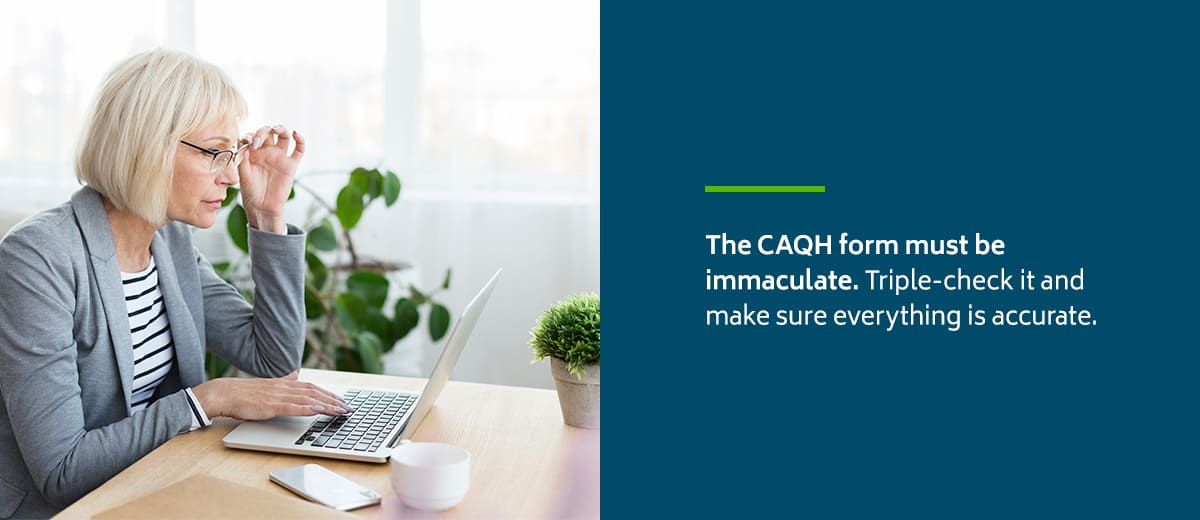 4. Submit the Application and Follow Up
Keep a copy of your application and be ready to follow up on it. Some companies ask that you wait 45 days before following up. If not, consider checking it after about three to four weeks to confirm they've received your documentation. Continue to keep an eye on it because if your application becomes stuck in limbo, it could expire.
If your application is not accepted or the panel closes, don't despair. Stay in touch with the insurer and ensure they know what you have to offer. If you make changes that improve your capabilities, mention them. These might include expanded hours, multilingual staff, or experience with special populations.
5. Review Terms of Approval
Once you finally get that exciting approval, spend some time reviewing the insurer's requirements so you can accurately abide by them. Know each insurance company's requirements for documentation, claim processes, fee schedules, current procedural terminology (CPT) codes, and appeals processes.
You'll also want to find different ways to contact the insurer and make these methods known to employees and providers. You might want to put together a list of phone numbers for different departments such as claims and pre-authorization. Explore the online portal on the insurer's website, too.
Important Tips to Keep in Mind
Whenever you're working with insurance, there are going to be a few caveats to consider. Keep the following tips in mind when submitting or thinking about applying for an insurance panel:
Have board certification: While it isn't always required, most major providers such as Aetna and Blue Cross will require board certification for credentialing. Some smaller companies may not ask for it.
Have your NPI numbers: The NPI number attached to a provider is required for most billing purposes. You may be working with an NPI 1 number, which goes to an individual, or an NPI 2 number, which goes to an organization. If you don't already have one, the process to apply doesn't take too long — anywhere from a few days to a week.
Consider your interns: Generally, unlicensed interns cannot be credentialed individually, even if they have completed their master's. Some smaller, state-sanctioned providers like Medicare and Medicaid may allow interns to bill under a supervisor in certain states. In other situations, however, this can be considered insurance fraud. You'll need to look into the laws for your state and the insurance company you're considering.
Know the time required: The general consensus is to set aside about 10 hours to finish an application.
Understand how disciplinary action comes into play: If you've received disciplinary action in the past, it won't necessarily hurt your chances of approval, but it can cause a delay in processing. In these cases, the application gets sent through a special committee that reviews additional documentation, such as a written explanation of the event, allegations, and outcomes.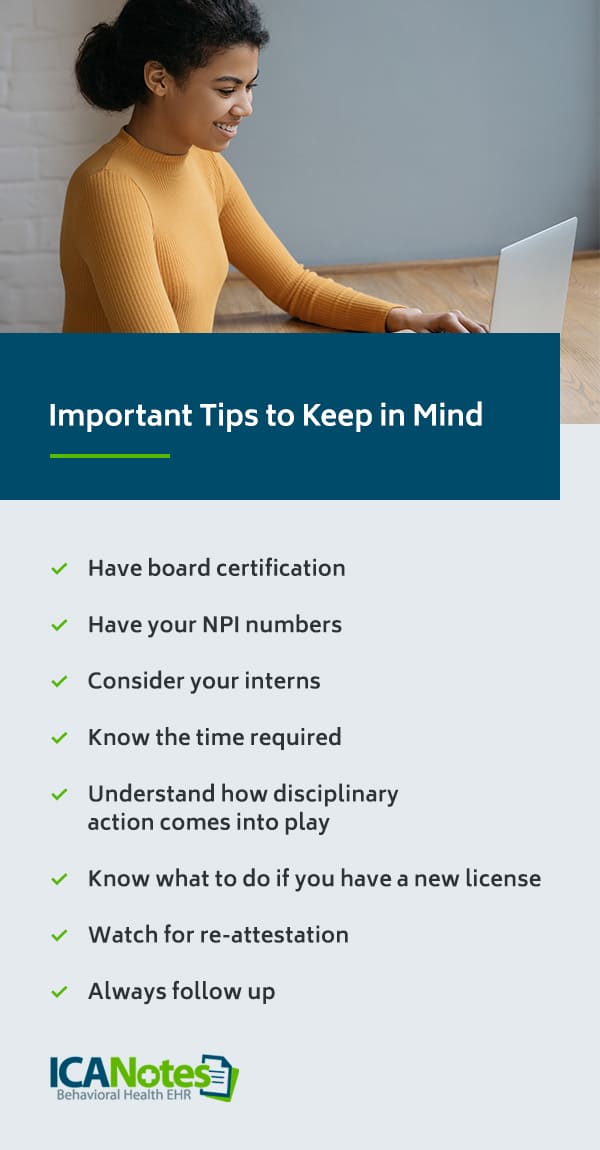 Know what to do if you have a new license: Most insurance panels allow you to apply as soon as you receive your license. Some states and companies will require one to three years of experience before allowing you to apply. Again, check your state and insurer's requirements.
Watch for re-attestation: Remember to keep an eye out for re-attestations to your CAQH after submission. This information is shared with insurance companies and can affect your standing with them. It only takes a few minutes to do and can save you from a big headache down the road.
Always follow up: Put reminders in your calendar and stay on top of all insurance panel applications. There are many people involved in the process and many opportunities for documents to get lost. The insurance company isn't as invested as you are in making sure your application gets processed correctly.
While it might seem daunting, if you stay organized, follow up, and know your requirements, you can make insurance panel credentialing a smooth process.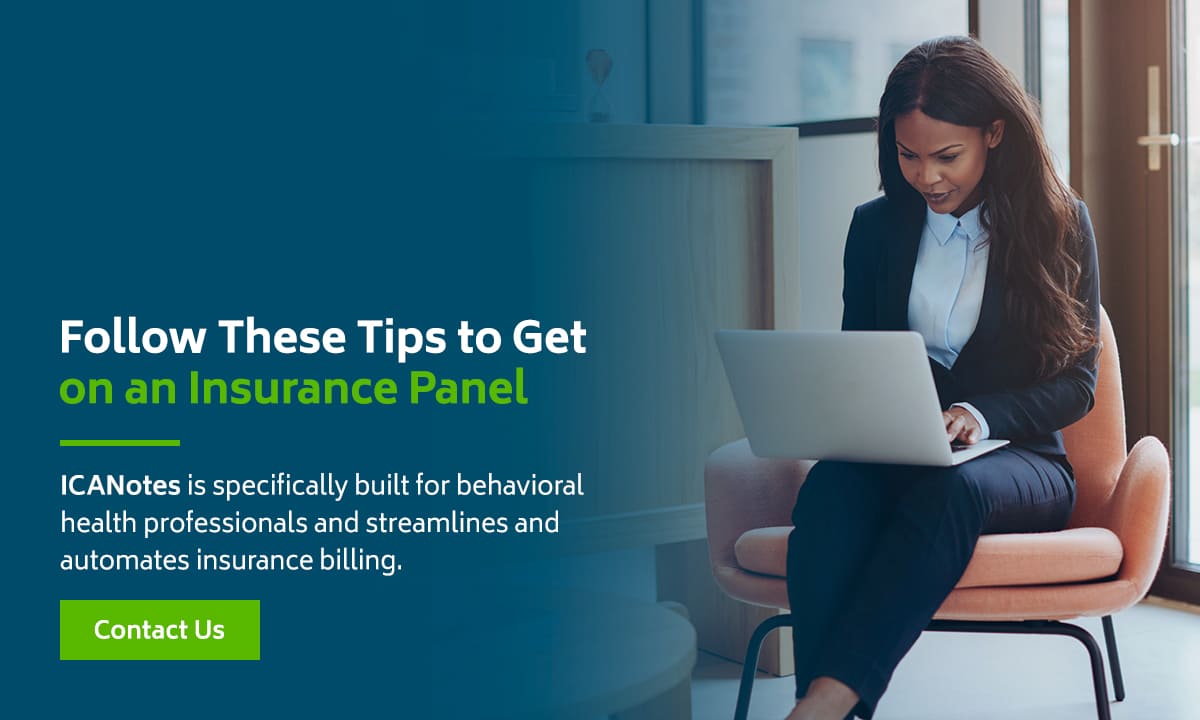 Follow These Tips to get on an Insurance Panel
If you're looking to accept insurance for your services, credentialing is a necessary step. Hopefully, these tips on how to get paneled with insurance companies have helped you gain a better understanding of the process.
One of the reasons many choose to avoid insurance paneling is the complexity of billing. If this is holding you back from working with insurance, consider an electronic health record or EHR program designed for the job. ICANotes is specifically built for behavioral health professionals and streamlines and automates insurance billing. It can even track content and automatically bill at the highest applicable coding level to help you get the maximum level of reimbursement.
Even if you don't plan to bill insurance, ICANotes can help with a wide range of topics like charting, prescribing, telehealth, compliance, and scheduling. Learn more about all the ways that ICANotes can simplify medical billing, or contact us for more information!