Creating Mental Health Treatment Plans For Addiction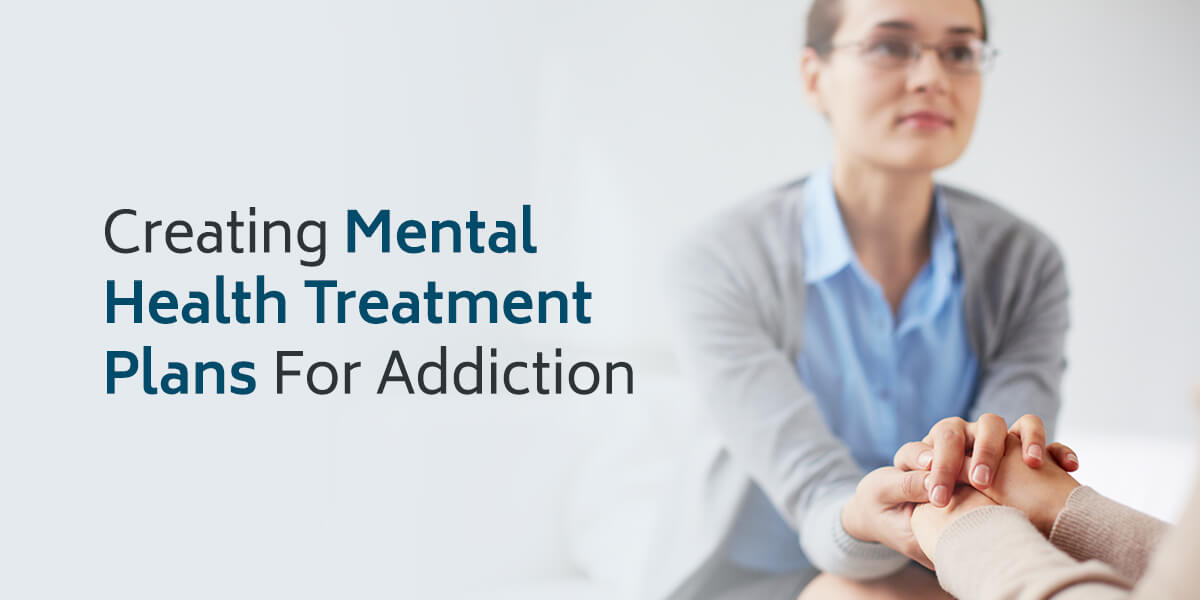 A mental health treatment plan is like a roadmap — it identifies the intended destination and establishes the best route to get there. When working with patients entering into addiction treatment, creating a mental health treatment plan is essential to the overall success of therapy. Besides giving you a plan for moving forward, it also lays out what's expected of a patient during their treatment.
Table of Contents
But creating an addiction treatment plan isn't just about setting goals — it's also about establishing markers and regularly evaluating progress. This structure allows room to adjust plans and landmarks to account for the personal successes and trials of your patient along the way. Creating and following a mental health treatment plan is an essential part of treatment for addiction. Addressing the two components simultaneously allows patients to achieve and maintain recovery over longer periods. Follow this addiction treatment plan guide for therapists to learn more.

The Importance of Therapy for Addiction Treatment
Addiction can best be defined as the non-sanctioned or non-medical use of a substance — controlled or illegal — over a period of time that results in both psychological and physical dependence. Addiction, which is also referred to as a substance use disorder, impacts 20 million Americans over the age of 12.
In many cases, the first step toward recovering from an addiction is to go through a detox program, but that's not the end of the process. While it's important to go through the physical process of detoxification, a true addiction program treatment must address the root of the problem — what caused the addiction in the first place. When they undergo therapy, patients develop:
1. Engagement in the Treatment Process
Therapy is an active process that requires the patient to engage in their own treatment. It goes beyond the physical addiction to look at the situations and emotions that led to addiction in the first place. By engaging in therapy, whether individual, family or group therapy, the patient becomes engaged in their own recovery and overall wellbeing. They understand more about what contributed to their addiction in the first place, as well as what they need to do to move forward and stay sober.
2. Incentives to Remain Sober
Often referred to as "motivational incentives," these incentives provide patients with the motivation and drive to move forward in the treatment process. Incentives can take different forms, depending on the patient's overall goals for recovery.
Some examples of motivational incentives include clean urine or drug tests or increased visitation opportunities with a child. It may seem like these are just external rewards. But by giving patients smaller, manageable goals to work toward, they see treatment and recovery as an attainable goal rather than an insurmountable hurdle to jump over.
3. Attitude and Behavior Modification
Besides certain emotional issues that may lead to addiction, repetitive behaviors may trigger a desire to engage in addictive behaviors even after detox. In some cases, the patient's natural reaction to sudden stress occurring without warning may be to seek out addictive substances. In other instances, their environment may play a major role in addiction and can be addressed in therapy. For example, visiting a certain neighborhood or hanging out with a certain group of friends may contribute to a desire to abuse substances.
Engaging in therapy can help these individuals address their responses to sudden stress and equip them with positive, alternative reactions. It can also help them build confidence to seek out more positive relationships and avoid places and people that may contribute to their desire to use destructive substances. Patients ultimately gain the knowledge and skills they need to manage stress appropriately and effectively.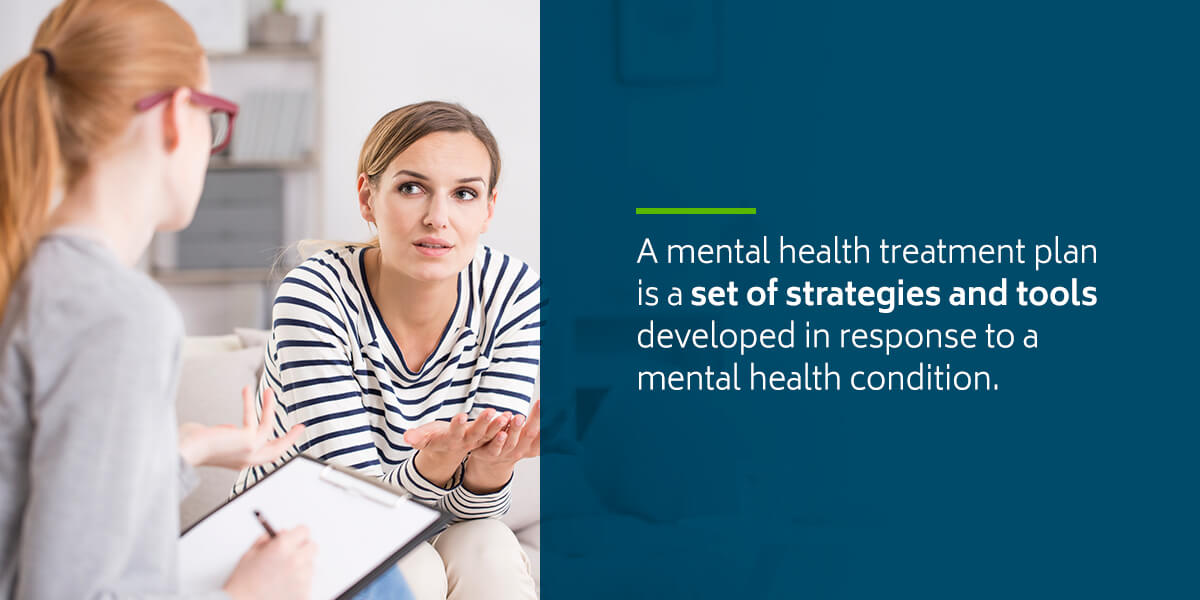 The Role of Mental Health Treatment Plans
The role therapy plays in addiction treatment cannot be understated. Effective mental health treatment requires a clear, concise treatment plan to provide patients with long-lasting results they need to recover from their addiction and resume a normal life.
A mental health treatment plan is a set of strategies and tools developed in response to a mental health condition. In the case of addiction, a mental health treatment plan is developed to address the addiction. It looks under the surface to understand what drove the patient to use dangerous substances. The treatment plan will also address what patients need to move beyond their addiction and function without the use of substances.
Besides simply identifying problems and solutions, a treatment plan breaks down the steps needed to work through all the mental health issues associated with addiction. It lays out a timeline for processing through problems and developing solutions. It also identifies short-term objectives and long-term goals to provide clear direction for both the clinician and the patient.
Treatment plans are highly individualized because each person — and addiction — is different. What one person needs will not necessarily be the same as another, even if they both are abusing the same substance. Treatment plans cannot be replicated without significant modification between patients. For effective treatment, clinicians need to develop individualized plans so they can guide their patients through the treatment process and account for patients' personal circumstances and needs.
What elements should be included in an addiction mental health treatment plan? It should include:
Personal information, including patient demographics and psychological history
Affirmation of the diagnosis of the problem — addiction — as well as short- and long-term goals for recovery
Objectives that can be appropriately measured and tracked
A tentative timeline for tracking progress
Space for notes and tracking the patient's progress
How to Write an Addiction Treatment Plan
There is a lot of information out there about writing a mental health treatment plan. When working with addiction, it's critical to develop a treatment plan that addresses the patient's specific needs and the challenges associated with addiction and substance abuse. A comprehensive treatment plan should include: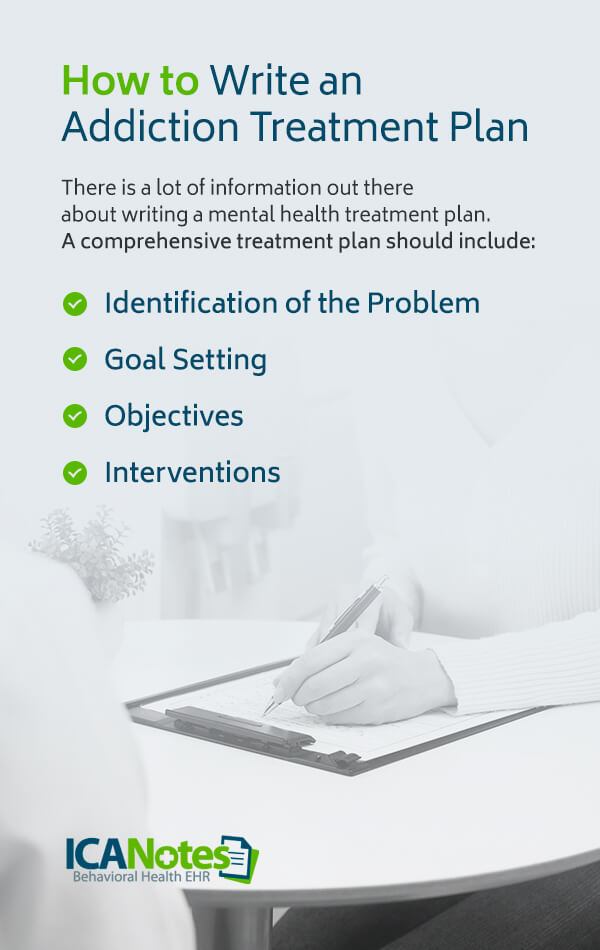 1. Identification of the Problem
Problem identification begins with a biopsychosocial assessment. This assessment is designed to identify the key biological, social and psychological factors that likely contributed to the individual's addiction. Although patterns of thought, behavior and circumstances often increase the risk of addiction, this step is essential to developing a successful treatment plan because each person is different. Without taking time to get to know their differences and identify key patterns and similarities with others you've counseled in the past, you may miss something important.
Identification of the problem should include a thorough assessment of the patient's employment, family, medical and legal status. Besides identifying potential contributors to thought and behavior patterns, evaluating these areas can also identify any pitfalls or barriers to effective treatment. For example, if a patient is stressed because they do not have a stable housing situation for their children, it may impact their ability to focus on their treatment and recovery from addiction.
Once the problem or problems have been identified, a "Problem Statement" can be created. The Problem Statement identifies a select few concerns that are strong contributing factors to the addiction. It should be concise and focused on the problem at hand. If the patient indicates they are facing a number of issues that could potentially be addressed, use this step to narrow down the most essential issues to address first.
2. Goal Setting
Once an assessment is complete, it's time to develop a treatment plan. While the ultimate goal in an addiction treatment plan should be recovery from addiction, that shouldn't be the only goal. Recovery from addiction often includes addressing the factors that contributed to substance use and abuse over time. This goal may involve addressing significant events and other medical and psychological diagnoses, such as ADHD, depression and anxiety.
3. Objectives
It's common for people to confuse goals and objectives. After all, both terms are used to indicate a desire for forward movement. In an addiction treatment plan, these items serve two very different purposes. A goal can't be seen, such as reducing anxiety or accepting a circumstance that can't be changed. An objective, on the other hand, is something tangible, such as attending an AA meeting or completing an entry in one's journal.
Objectives are often seen as a way to develop certain skills. There are clear, measurable ways to determine whether or not they are met. If an objective states the patient will attend a weekly AA meeting, their success can be determined by whether they went to a meeting each week during a specified time period. An objective gives patients a way to practice what they are learning and discussing in counseling to become more comfortable with the skills they're learning and the habits they're breaking or reforming.
4. Interventions
Interventions are what you, the therapist, do to help the patient achieve their objectives and, ultimately, meet their goals. Considering the patient's assessment, goals and objectives, what do you need to do to guide them through this portion of their recovery process? Possible examples of interventions include:
Challenging the patient to talk during a group therapy session
Assigning "homework" to help them work on skills addressed in therapy
Identifying certain biases or behaviors during therapy sessions
Develop these interventions and write them down ahead of time to create and stick with a detailed plan for treatment over time.
Sample Treatment Plans
Although treatment plans may vary, below you'll find a sample of addiction treatment plan ideas to guide your own documentation process.
Sample 1
Problem: "Alcohol has ruined my life and impeded my ability to care for my family."
Goal #1: To stop drinking alcohol and figure out how to avoid relapse down the road.
Objective #1: Develop and document the history of use and any previous treatment attempts and relapses. Include the date the objective was established, as well as a date for targeted completion.
Objective #2: Identify and list triggers that lead to desiring alcohol and could result in relapse. Include the date the objective was established, as well as a date for targeted completion.
Objective #3: Create and write out a relapse prevention plan. Include the date the objective was established, as well as a date for targeted completion.
Interventions: The clinician will help the patient identify factors that have led to excessive and frequent drinking in the past. This process will include triggers and situations that may prompt relapse later on. The clinician will educate the patient on the risks of continuing to abuse alcohol and assist in the development of a plan to avoid and overcome trigger situations to prevent relapse. These interventions will be administered during individual therapy sessions.
Frequency: 60 minutes per week
Duration: Four to six months
Sample 2
Problem: "My family has threatened to kick me out if I don't stop drinking."
Goal: Strive to resolve conflict within the family while also maintaining sobriety.
Objective #1: During group sessions, identify the ways family conflict led to alcohol use and how alcohol use has contributed to family conflict. Demonstrate this cycle through the use of a worksheet that can be reviewed in the session. Include the date the objective was established, as well as a date for targeted completion.
Objective #2: Identify two or three individuals who don't drink to spend time with. Include the date the objective was established, as well as a date for targeted completion.
Objective #3: Identify family situations that may act as triggers for drinking. Include the date the objective was established, as well as a date for targeted completion.
Interventions: The clinician intends to explore the relationship between alcohol abuse and family conflict during group and individual sessions using a variety of therapy types, including cognitive behavioral therapy (CBT). The clinician will also aid the patient in identifying and cultivating relationships with friends who do not consume alcohol.
Frequency: 60 minutes per week in a mixture of group and individual sessions
Duration: Four to six months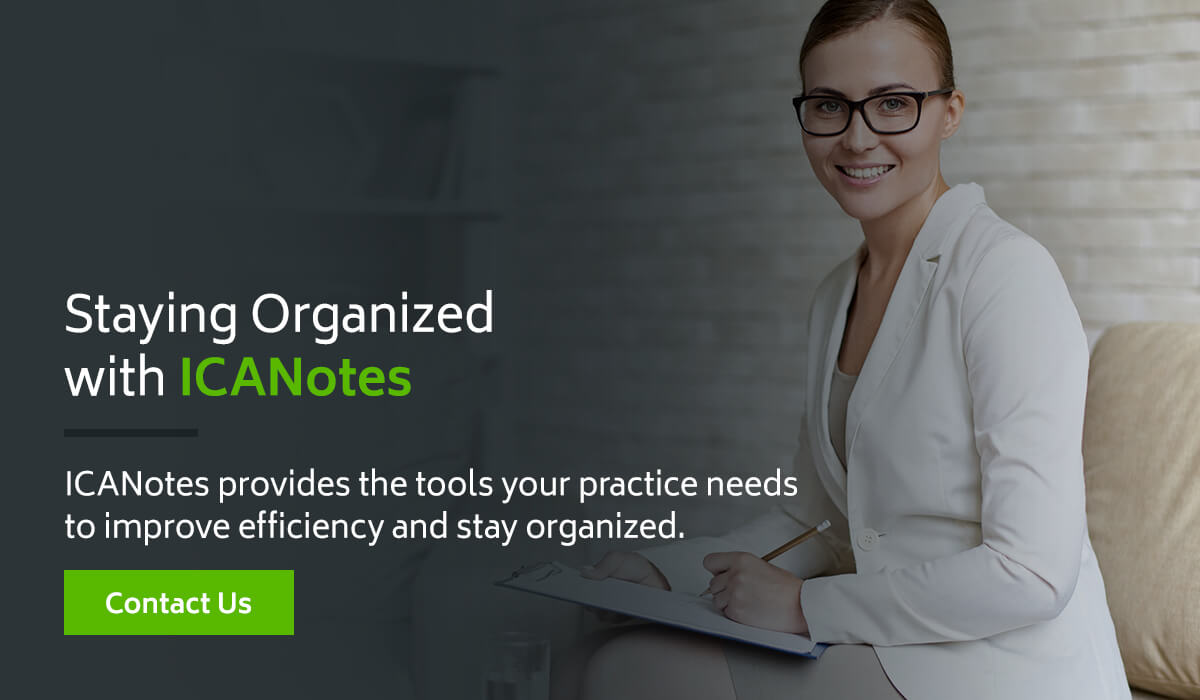 Staying Organized with ICANotes
Besides being a critical and effective way to treat clients, developing and documenting an addiction treatment plan follows strict rules among insurance companies and federal health agencies. Documenting what the problem is and the solutions you have developed is essential for maintaining transparency and good business practices.
Developing treatment plans can be challenging simply because it takes time to document everything. ICANotes provides the tools your practice needs to improve efficiency and stay organized. You'll spend less time on paperwork and more time spent helping clients.
To learn more about creating effective treatment plans, browse our blog for additional resources.
Related Posts
Creating a Depression Treatment Plan
Guide to Creating Mental Health Treatment Plans
How to Make Progress With Your Clients in Their Treatment Plans
Write Better Treatment Plans