When your client clicks the door shut in your office on their way out after a session, your work isn't finished — you're faced with the time-consuming and challenging task of completing a therapy note. You toil looking up the proper billing codes for insurance and ensure you are using the specific phrasing needed.
By the time you've completed the task and check the clock, you've spent 30 minutes of your precious time on one therapy note. Worse, upon reviewing the note, you notice you've forgotten key information and used the wrong billing code.
As a behavioral health clinician, you may face these note-taking challenges on a daily basis. Fortunately, ICANotes can help you combat or avoid these challenges altogether.
ICANotes is our behavioral health notes software. With a workflow that is chart-centric and intuitive, ICANotes is a fully configured electronic health record (EHR) software that can be used for therapy practices, behavioral health, mental health professionals, addiction treatment and psychiatry. ICANotes offers point-and-click templates and a clinical content engine that help you reduce the amount of time spent documenting patient care. These features also enable you to bill confidently and receive the maximum amount of reimbursement.
Medical regulations and compliance can be consuming and complex. Fortunately, our mental health EHR software solution is fully compliant. With ICANotes, you can meet regulations and stay compliant with ease, and our therapy notes software will allow you to dedicate more of your time to your clients and the goals of your practice.
To ensure compliance, we keep our behavioral health EHR system updated on the latest regulations, such as:
Failing to comply with these standards may lead to large fines or ineligibility for reimbursements from Medicaid or Medicare. This is why we do all we can to maintain strict adherence to the regulations relevant to your practice. Check out how the use of a behavioral health EHR can allow you to use your time more efficiently with this video:
How ICANotes Helps You Write

Faster and Better Notes
With ICANotes, you can write therapy notes with minimal typing, which means you will spend less time writing progress notes after your client leaves. Many clinicians can write their notes during the client's session. You can also write higher-quality therapy notes, ensuring the information you include is accurate and thorough and gets you the maximum reimbursement possible.
Say goodbye to the hassle of constantly looking up the proper codes and allocating hours of your time each day just to complete therapy notes. With ICANotes' coding tool, you can get your time back, avoid note-taking mistakes and be able to dedicate more of your energy to your patients.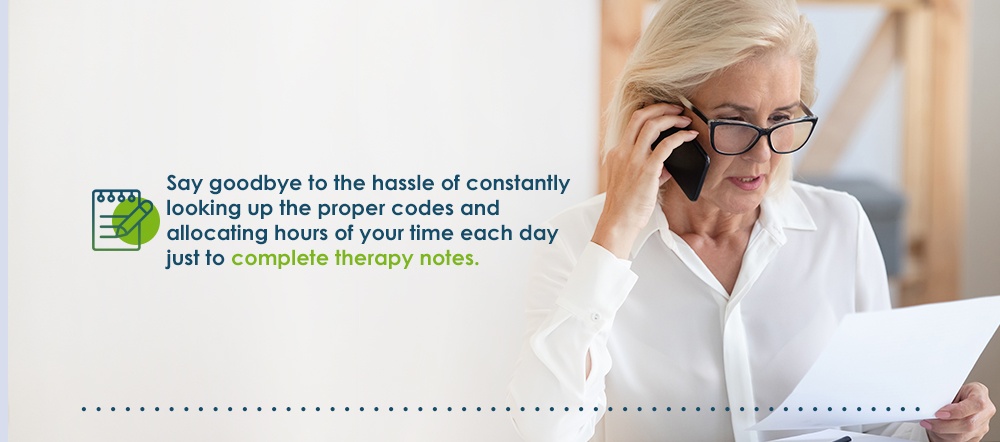 Statistics on How ICANotes Improves

the Note-Writing Experience
Statistics show that ICANotes improves the note-writing experience. For example, say the documentation time for each of your patients is around 20 minutes. If you have six patients per day, your documentation time will take up about two hours each day. With ICANotes, your documentation time for each patient can be reduced to just five minutes. This means your total documentation time per day will be a total of 30 minutes.
With this example, ICANotes can save 25% of your time on each note you write. In this case, ICANotes frees up 90 minutes every day that could be spent on patient care or other tasks. If you choose to hold an extra session and you charge $100 for each session, you could earn an additional $25,000 per year. This is a return on investment (ROI) of nearly 2000%.
You can estimate your ICANotes ROI with our ROI calculator. If you want to experience these benefits, you can do so by signing up for a free trial today.
The testimonials below from our ICANotes users demonstrate how much their work life has improved while using our software.
"I love, love, love, love ICANotes. If it were a human I would marry it!! As a therapist, I hate writing notes, but now it's like my life is my own again. I know that this sounds weird, but I am absolutely telling the truth about this. I never get this excited about anything that's related to documentation, and I have tried everything from recording sessions to using microphones to speak my notes and have the computer translate them into words...uuugggghhhhh I spent more time correcting the word "chicken" or something else that I never said it was crazy...."
- Raquel Lumia,
MA, MS, LMHC, CCTP
"I can honestly tell you I love ICANotes. There is nothing more positive in my practice in terms of logistics paperwork (the stuff I hate so much) than my incredible delight with your system. I recommended it to every private practice friend of mine and anybody who's even considering going into private practice because it is so incredibly positive, and I think it's the greatest thing in the whole wide world."
- Anna Mercatoris,
LPC
"You have a lifetime customer! I just love this program and it speeds me up so much."
- Jody Grimison,
RMHC
"I have used several platforms for similar positions — ICANotes is head and shoulders above all of them. ICANotes is designed in the real way and flow of the work. The integration of the required documentation and serving the client's need is efficiently designed."
- Natalie Jones
"MAGNIFICENT! I am so impressed with your clinical content and how much time it will cut down for me on my documentation so I can focus on my patients and not the minutiae of writing my notes. Every therapist should have ICANotes. You have thought of everything. Documentation is the worst part of the job and you make it easy."
- Stephine Smith,
LCSW, CADCII
What Can

ICANotes Do for You?
The key features of ICANotes can help you achieve your goal of writing higher quality notes in less time. Some of these key features include: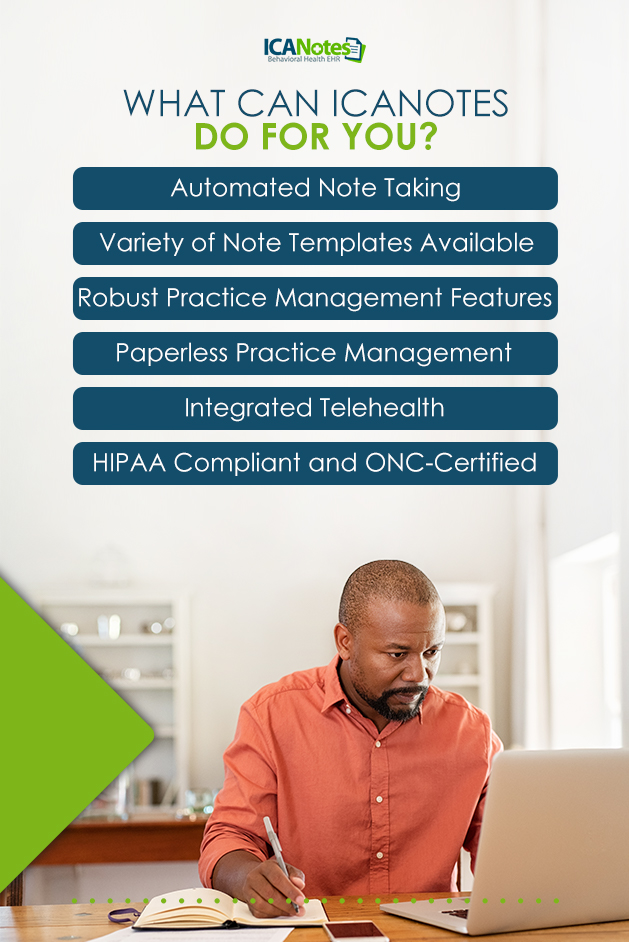 1. Automated Note Writing
Automated note writing means less typing for you. Rather than manually typing out every word, your therapy notes can be automated when you select relevant symptom and treatment buttons, allowing you to save time while creating better progress notes, treatment plans and therapy notes. Our EHR uses shortcuts and even allows you to create your own note buttons to tailor the note writing process to meet your needs.
2. Variety of Note Templates Available 
With our available note templates, you don't have to start from scratch every time you need to write a therapy note. A template will include important information that should be present in a therapy note, including:
Names
Date
Type of session
Start time
Patient's progress since the previous session
Observations about client
Short description of session
Therapeutic interventions
Suicide and violence risk assessments
Substance use
Next appointment date
Homework
End time
Signature
You can customize templates to ensure they meet the needs of your practice.
3. Robust Practice Management Features
Our practice management software can make your life as a behavioral health therapy provider easier. Rather than spending hours creating invoices, processing payments or filing insurance claims, practice management software lets you focus more on your patients. This software will increase your practice's efficiency and your clients' safety, along with reducing the amount of paperwork you need to deal with.
Our practice management software includes the following features:
Intake: Practice management software offers electronic intake, allowing the client to enter the majority of their information online prior to their appointment. This speedy check-in process allows staff members to spend more time providing clients a positive experience and less time gathering information.
Scheduling: Among a practice management system's most convenient features is a robust scheduler. Color-coding systems and appointment types are customizable in an intuitive interface. Your patients may also be able to log into the patient portal to check their upcoming appointments.
Claim tracking: Submitting claims is a time-consuming aspect of insurance processing. With practice management software, you can accomplish this electronically and send claims to a clearinghouse or insurance payer, freeing up more of your staff's time.
Secure messaging: Practice management software may include a messaging feature that lets patients communicate securely with providers, which minimizes the number of phone calls staff will have to make.
Recording patient data: In practice management software, you can track information about your patients, like demographics. You can also generate reports with these parameters, as this information can be useful in measuring performance.
Billing and processing payments: Practice management software can handle billing procedures like payment processing. You can keep a detailed record of client billing and set up notifications that alert you when a patient has an open balance.
Insurance scanning and eligibility: With practice management software, you can capture proof of insurance. This eliminates the need to take time to copy the proof of insurance and eliminates the risks associated with physically storing this private information. You can also use practice management software to check a patient's eligibility for insurance, which is particularly useful as this can be a time-consuming procedure.
4. Paperless Practice Management
ICANotes offers paperless practice management, allowing you to manage your therapy practice from any electronic device:
Billing: Simplify your billing with our integrated system to create CMS forms, superbills and statements. You can use our credit card processing system or accept cash and checks.
Scheduling: You can manage appointments and appointment reminders efficiently through our user-friendly solution for patient scheduling.
Communication: ICANotes offers a secure messaging system that is fully Health Insurance Portability and Accountability Act (HIPAA) compliant that you can use for electronic communication with your client base inside and outside of the office.
Document management: With ICANotes, you can easily upload scanned photos and documents. You can also securely send and receive documents through electronic fax or direct messaging.
5. Integrated Telehealth
The ICANotes Telehealth feature allows therapists to conduct sessions from a distance. If you are concerned about serving your patients while limiting exposure to illness, you may want to add the ICANotes Telehealth feature to your ICANotes plan. Benefits that telehealth can offer you and your clients include:
Convenience: Telehealth sessions can be joined from anywhere as long as you and your clients have a secure internet connection, making telehealth a convenient care option for both you and your clients.
Improves access to care: If a client has medical issues or does not have reliable transportation, this can prevent them from accessing care outside of the home. With telehealth, barriers are removed and clients can join a therapy session from home.
Flexible schedule: Since telehealth sessions are more convenient, you can have a more flexible schedule, as you can adapt and even increase your hours. Your clients may also be able to access behavioral health care outside of their usual schedules.
Increases income: With telehealth, you may be able to increase your income by adding hours, gaining more clients and dealing with fewer no-shows.
Individuals who have been discouraged from pursuing therapy due to social stigma may be more comfortable with telehealth sessions, as they can join a session from the comfort and privacy of their home. ICANotes Telehealth can be added to an ICANotes plan for just $10 per user.
6. HIPAA Compliant and ONC-Certified
On top of reducing documentation time, ICANotes also improves compliance. HIPAA is the most extensive form of compliance that you have to worry about as a behavioral health professional. Under HIPAA, strict guidelines are placed on how clinicians share and use protected health information. HIPAA is the regulation that carries the largest fines for violations and the most stipulations, which is why our HIPAA-compliant EHR is so useful. ICANotes is also an ONC-Certified EHR software.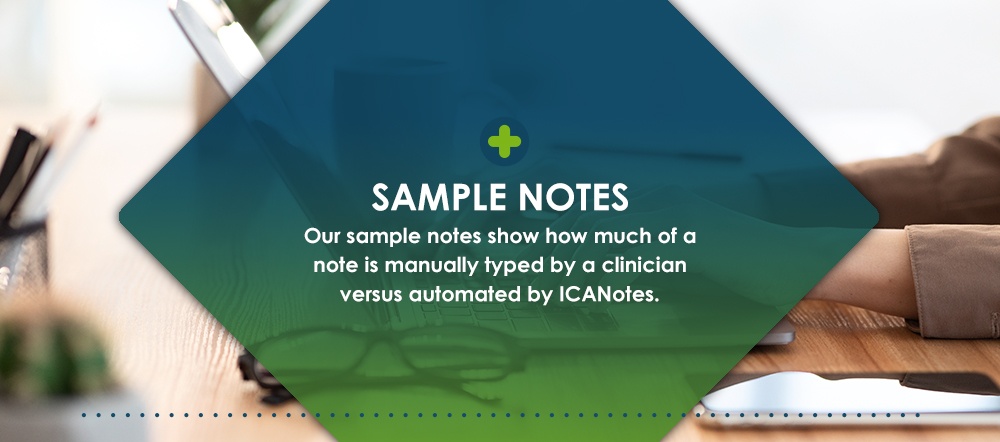 Subjective: 
Piper states, "I feel better today. I think my depression is improving. The therapy is helping."
Objective:
Compliance with medication is good. Her self-care skills are intact. Her relationships with family and friends are reduced. Her work performance is marginal. She has maintained sobriety. Ms. Chapman has normal food and fluid intake. Weight is stable and unchanged. Sleep problems are reported. Difficulty falling asleep is reported. Difficulty staying asleep is reported.
Request a

Free Trial of ICANotes
If you are searching for a behavioral health EHR software suite with clinical note capabilities, look no further than ICANotes. Founded in 1999, we can work with any clinical discipline in both inpatient and outpatient settings, delivering the most intuitive and clinically robust charting solution for the behavioral health specialty. If you are a behavioral clinician or organization, you may choose to turn to us when:
You are spending too much time creating documentation.
You are losing money due to under-coded notes or rejected claims.
You are frustrated by the turnaround time and cost of transcribing dictation.
You are seeking a therapy note-writing software solution that combines practice management and electronic billing with charting.
Your job has become more stressful and difficult due to the healthcare environment's increasing complexity.
You are uncertain whether your documentation adheres to regulations and worry you may face paybacks in the event of an audit.
Your practice can use ICANotes immediately and rely on it to ensure your behavioral health documentation is comprehensive, sophisticated and quick enough to meet even the most rigorous standards. Are you looking to write faster and better therapy notes? Request a free ICANotes trial today to test out our automated progress notes software for yourself.
Intuitive, Accessible, Time-Saving
ICANotes - the only EHR software that actually thinks like a clinician.