Effective Digital Marketing Strategies for Your Therapy Practice
As a behavioral health professional, you likely didn't take many digital marketing courses in college. While you may not feel prepared for the marketing skills you need to run your therapy practice, it's not too late to learn. Marketing your business online is critical to attracting new clients and getting your name seen by the right audience. Many small businesses rely on an online presence to provide valuable exposure that fuels their operations.
Marketing doesn't have to take too much time away from clients or your personal life if you use effective strategies. In this post, we'll explain how to market yourself as a therapist, so you can show potential clients you're available to help them.
Table of Contents
Why You Need to Market Your Therapy Practice
When many clients decide they want to see a therapist or psychologist, one of the first things they do is search online. In fact, nearly a third of online consumers use the internet to search for local businesses every day. Since most potential clients will go online to search for therapists in their area, you want them to be able to find you and contact you to make an appointment. This is where digital marketing comes into play.
The right marketing strategies accomplish the following:
Help clients find you: You likely entered the realm of psychotherapy because you enjoy helping people. But you can't help others if they cannot find you. By marketing your practice, you make yourself accessible and you enable clients to find a professional who can meet their needs. With a third of Americans showing signs of clinical depression or anxiety, clients need your services more than ever.
Help grow your practice: Marketing your practice can help you fill your schedule and relieve financial pressure you may be experiencing. Your staff can also benefit from your marketing efforts and how they bring clients into your practice.
Help keep clients engaged: Marketing can be a way to engage clients in their treatment and help them stay on track. For example, if you continually post interesting and relevant articles on your website, you can help clients practice self-care while also getting your name out there and showcasing your expertise.
Ask Yourself These Questions to Determine Your Marketing Strategy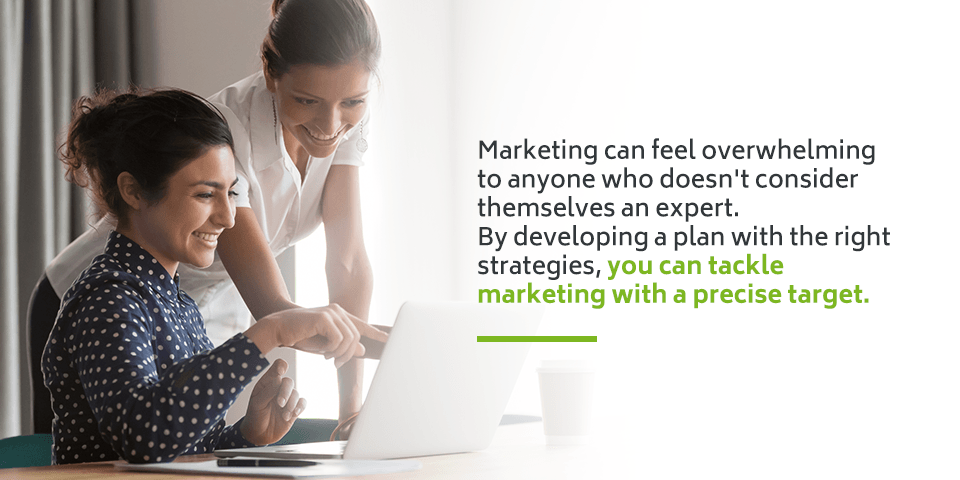 Marketing can feel overwhelming to anyone who doesn't consider themselves an expert. By developing a plan with the right strategies, you can tackle marketing with a precise target. Before you begin advertising your practice, ask yourself questions:
Who do I want to reach? You need to know who your target audience is before you start marketing your practice. For example, if you specialize in treating elderly clients with depression, you won't want to spend time and energy advertising your practice to adolescents with substance use disorder. Create a clear picture of your ideal clients in your mind, and consider the age groups, gender and income levels you work with. Also, think about the issues you want to help your ideal clients solve. Let this image guide you through your marketing efforts.
What do potential clients need in my area? It helps to know what potential clients in your area need and if these needs are being met. If you're able to fill an under-served niche, you can quickly grow your practice. By conducting market research, you can figure out if your region needs a particular service that you might fill. For example, perhaps after researching you find that clients are looking for therapists who specialize in eye movement desensitization and reprocessing (EMDR). Perhaps you're one of the few therapists in your area who is qualified to provide EMDR treatment. If this is the case, you may want to reach clients interested in EMDR through marketing.
There are plenty of tools to help you research your region's needs and pinpoint your niche and target clients. You can start by searching for local therapists with Google and seeing what's already available. You can also use Google Keyword Planner to see how often local clients search for certain keywords or phrases.
Another way to conduct market research is to check out online directories, such as Psychology Today, or review sites. This will give you an idea of the type of services available in your area and what clients want. To learn more about your region's demographics, consider visiting the resources listed by the U.S. Small Business Administration.
Digital Marketing Strategies for Therapists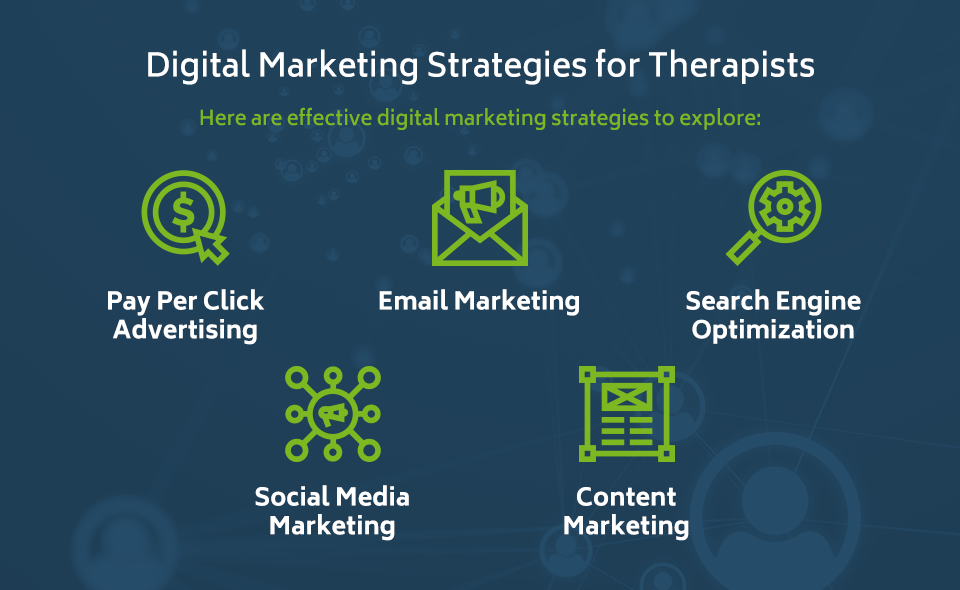 After conducting market research and getting a better idea of the local services available and sought-after, you can reach out to potential clients and promote your practice. You don't have to use every digital marketing strategy, but many of these methods complement each other. It may take some trial and error before you discover what works for you. Here are effective digital marketing strategies to explore:
1. Pay Per Click Advertising
How does pay per click (PPC) work? Imagine you google "therapists in Nashville." The first few search results that pop up will include advertisements you can click on. If you click on one of the ads, the advertiser will pay Google for your click because Google helped lead a potential client to their website. Businesses might expect to pay Google between $1 and $2 for each click on their search network.
There are many platforms for PPC, including Google, Facebook and Bing. Several PPC platforms, such as Google Ads, use a bidding system. Google Ads runs an auction every time there is ad space available on a search result to determine which ads appear in that space. To participate in the auction, you'll make a bid. You might place a bid for specific keywords, like "art therapists Austin," for example.
You'll only pay when someone clicks on your ad. However, you won't know if a competitor bid a higher or lower amount than you for the same keywords. If you find that you didn't bid high enough and your ads aren't showing up as frequently as you would like, you can go back and raise your bid. Over time, you'll get an idea of how high you need to bid to get the attention you want.
PPC advertising may not be for everyone, but if you have a little room in your marketing budget to explore this option, it's worth considering. Here are some benefits of PPC advertising:
Produces results quickly
Encourages immediate action
Reaches clients who are actively searching for the type of services you offer
Easy to measure and modify
If you want to start attracting clients to your practice's website without waiting for your blog content to gain exposure, PPC advertising can be worthwhile. To learn more about PPC for a therapy practice, visit this beginner's guide to Google Ads provided by the American Psychological Association.
2. Email Marketing
Email marketing involves sending emails that promote your services and help develop or maintain relationships with clients. Email marketing is an excellent way to share content with your target audience and spread awareness of your practice. According to HubSpot research, 78% of marketing professionals have seen email engagement grow over 2019, and 73% believe email is important to a business's success.
Email marketing can be even more advantageous than social media marketing because clients are more likely to see your emails than the content you post on Facebook. However, it can be beneficial to use social media and email marketing together. Here are some ideas of content to include in your emails:
Blog post links
Book, event or workshop promotions
Information about the services you offer
Helpful insights about a mental health problem
To get started with email marketing, you'll first need to select a secure email service provider. Then, you'll need to get people to sign up to receive emails. One way you can do this is to add email sign-up options to your blog posts. Once you have a list of email subscribers, make sure you group them into segments based on demographic information or whether they are past, current or prospective clients. Segmentation allows you to target subscribers in groups rather than send out general emails that may not be relevant to every client.
Try to send emails to subscribers at least once a month to keep them engaged. If possible, consider sending emails weekly to keep your name fresh in recipients' minds.
3. Search Engine Optimization
Search engine optimization (SEO) is a process that enhances your content and helps clients find you on search engines. To illustrate this principle, imagine you write an article on your blog about the benefits of exercise on mental health. You want this blog post to show up in the top search results if someone searches the phrase "mental health and exercise." SEO uses several strategies to tweak your article and get it to the top of the search results list.
Since most of those searching for answers online start with Google, it makes sense to optimize your content to rank high with Google. You'll want to create content that Google will likely include in the top results. In general, Google wants helpful information that answers questions quickly. If you can provide accurate, clear answers in your content, you're off to a great start.
Incorporating SEO can be fairly simple on a basic level. If you create quality, original content, you're already applying a few SEO practices. Here are some additional tips:
Include long-tail keywords: Keywords are the words searchers type into the search bar. You'll place keywords in your titles, content and links. Long-tail keywords involve three or more words and are usually better than one or two words because there's less competition. For example, using the keyword phrase "anxiety counselor in Wichita" may be better than "anxiety counselor." Start a list of long-tail keywords you'd like to include by considering the services you offer.
Use a plug-in: Consider adding a plug-in to the website software you use to enhance your SEO. One example is Yoast, which is a free WordPress plug-in designed to help you optimize your content for Google.
Include your contact information on every page: Make sure every page on your website has your name, number and address. This can help Google find you when users look for local therapists.
It's important to remember that SEO takes time to produce results. But it is worth the effort in the long run because more clients may find you, visit your website and stop in your office.
4. Social Media Marketing
You can use social media platforms such as LinkedIn, Twitter or Facebook to attract new clients or network with other mental health professionals. Your social media page should reflect your website and share details such as your contact info, biography and services you provide. You can use your account to interact with clients, comment on posts, provide links to your blog and share inspiring thoughts.
With most of the adult population using social media, it can be an excellent marketing tool. However, if you feel uncomfortable using social media due to ethical concerns or other reasons, you can choose to market your practice differently. If you enjoy using social media and decide to test it out for your therapy practice, here are tips to consider:
Use a professional profile picture.
Be sure to include your contact information.
Use easy-to-read language.
Post content that will catch your target audience's attention.
Keep your practice's social media account separate from your personal accounts.
Never disclose personal information about your clients on social media.
Do not ask or suggest clients follow you on social media.
Create a social media policy to share with clients.
5. Content Marketing
Content marketing is a way for clients to get to know you before they ever step foot in your practice. It can also help existing clients stay engaged and develop a sense of trust. Content marketing generally involves creating and sharing free articles, videos or podcasts. You can publish the content you produce online, either on your website, social media page or both.
The point of content marketing is to provide helpful information and gain followers, establish expertise and ultimately attract clients to your practice. As mentioned above, you can also use SEO-optimized content to improve your rankings in search engines. Not sure what to write? Here are some tips:
Consider writing posts relating to common issues your clients have and advice you often offer.
Create content aiming to answer questions clients commonly ask.
Write intriguing openings to encourage readers to click on your content or continue reading.
Always proofread content and check for grammar and spelling errors.
Fact-check your information and include links to your sources.
Avoid large blocks of text and instead write short, simple paragraphs containing only a few sentences.
Ensure the content prompts readers to take action at the end of each piece. You might ask them to subscribe to your blog, read another article or contact your office to schedule an appointment. Aim to publish at least two articles a month on your blog and make sure each post is at least 300 words long.
Common Marketing Mistakes to Avoid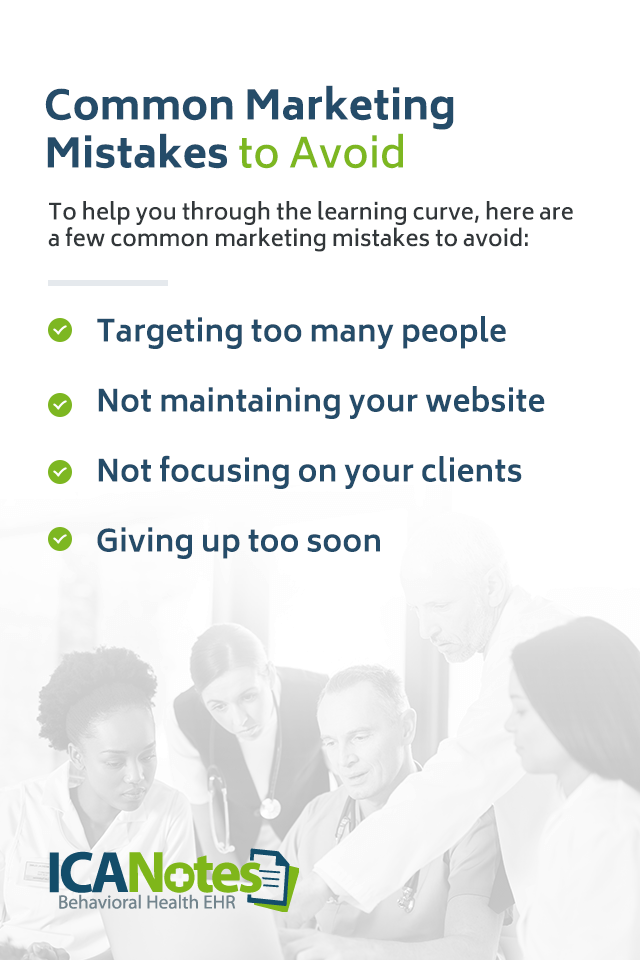 After you begin marketing your practice or trying new strategies, you can see what works and what is less effective for you. To help you through the learning curve, here are a few common marketing mistakes to avoid:
Targeting too many people: If you target too many people, you'll make it harder to set yourself apart from a crowd and connect with the type of clients you want to attract. Instead, you want to imagine your ideal client and get as specific as possible. When you understand who you're trying to reach, you can craft relatable marketing content that speaks to them personally.
Not maintaining your website: Make sure you build a functioning, attractive and user-friendly website. Your website can make a great impression if it's well-maintained, frequently updated and visually appealing.
Not focusing on your clients: Your blog, social media posts and any content you create should focus on helping your clients. Even in your biography, you'll want to talk about how and why you can help clients. Clients visit your website to find out if you can solve problems for them, so you'll want to show them you have solutions.
Giving up too soon: Some strategies, such as SEO, may not produce results overnight. It takes time for websites to rank on the first few pages of search results, but the longer they're active, the higher they'll climb. Keep track of your results, learn from your mistakes and be patient.
Learn More With ICANotes
As a behavioral health professional, you worked hard to earn your credentials and build your practice. You owe it to yourself and your clients to market your services and grow your business, so you can continue to use your talents. With a little time and effort, you may be surprised at the difference it makes.
For more helpful tips on the subject of behavioral health, you can browse our blog. If you're ready to make your therapy practice more efficient, sign up for a free trial of ICANotes electronic health record (EHR) software, designed for behavioral health professionals.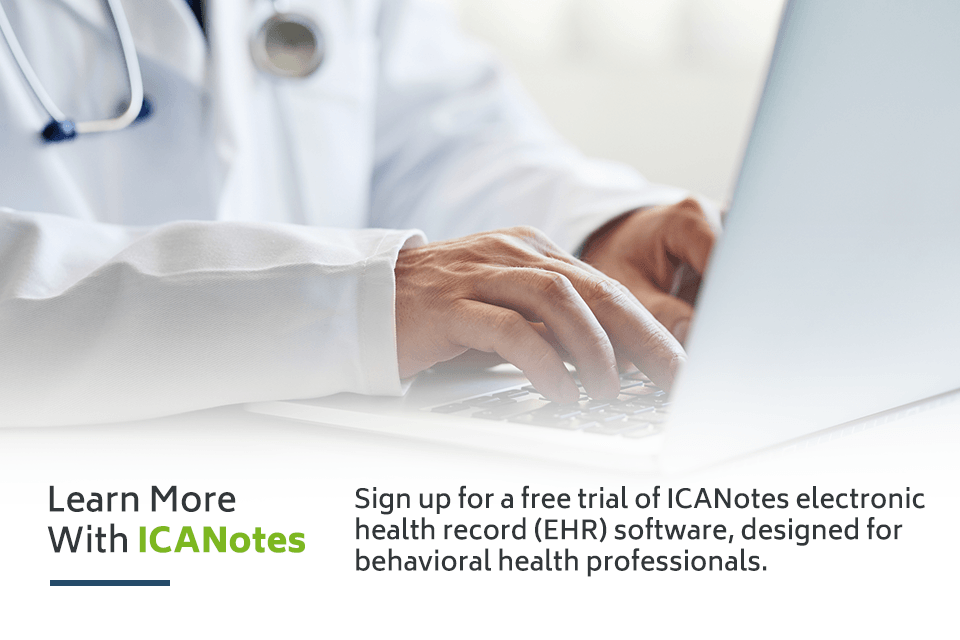 Related Posts:
Seven Strategies to Gain More Clients for Your Practice
Is Telemental Health Right For Your Practice?
How to Minimize No-Shows in Your Therapy Practice
How to Increase Client Communication