Seven Strategies to Gain More Clients for Your Practice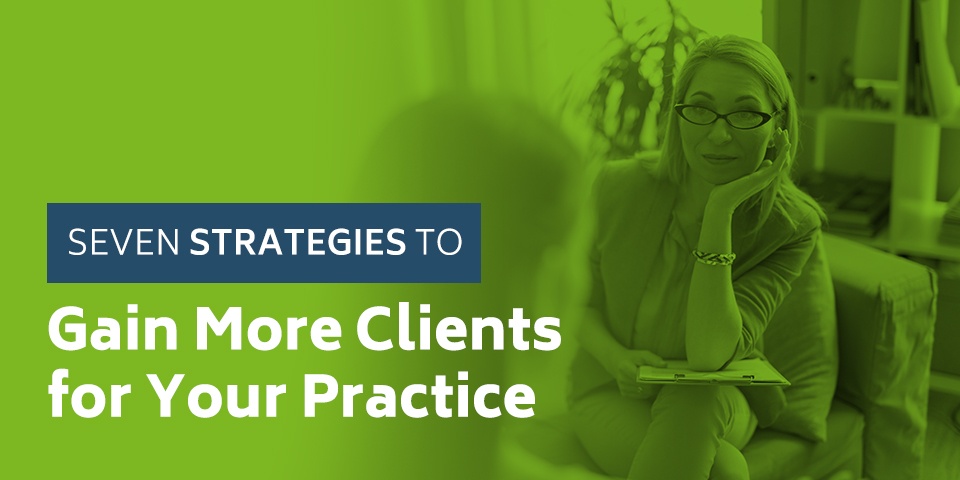 When you are part of a small or growing mental health practice, finding new patients can be a challenge. You'll need to learn how to grow a client base and market yourself as a therapist — but it's often easier said than done.
Luckily, we're here to help. In this guide, we'll point you in the right direction with several tips on how to get counseling clients through your doors.
Table of Contents
Seven Marketing Strategies for Therapists
Marketing may not be a familiar concept for many behavioral health professionals, but in today's highly competitive landscape, it's an essential skill to learn. The following are simple yet effective marketing strategies you can use to promote your practice and build your clientele:
1. Create a Patient Persona
Part of successful marketing is reaching the right patients at the right time, meaning you need to have a clear idea of who the ideal patients are. A patient persona is a fictional individual that serves as a representation of a particular group of patients that share certain characteristics. To create a patient persona, you need to identify:
Treatment goals
Demographics
Hobbies and interests
Challenges and pain points
If you are a child psychologist, for example, one of your patient personas could be a 10-year-old boy with PTSD who loves online gaming and struggles with possible ADHD. By looking through this lens before preparing marketing materials, you can create and distribute content that speaks to the parents of such a patient.
2. Identify Patient Needs and Expectations
What is it your prospective patients are looking for when they interact with your marketing materials? Perform an evaluation of your client-facing materials, such as your website or the resources you provide in-office, considering the patient personas you want to attract.
You may find that patients are frustrated with an out-of-date or unresponsive website. Maybe they want to know more about you and your experience but can't find this info when they look for it. Perhaps they clicked on an ad to learn more about a specific condition, only to find there are no corresponding blog posts on the site. Be on the lookout for anything that can expand the value you provide to your prospective patients.
3. Be Responsive

Altering your services or behavior based on feedback can bring welcome changes that help grow your client base. Consider creating a feedback form to give current patients and ask them what you can do better. You may uncover new services you can start providing or processes you can improve to create a better patient experience.
Read the reviews clients leave on sites like Google to see if any of them have legitimate complaints or suggestions that can be applied to your practice. Being willing to improve your services based on feedback is a great way to get counseling clients through word of mouth.
4. Create a Referral Network
To increase the number of patient referrals you get, you first need to create a network. While you're in competition with other mental and behavioral health providers in your area, there's no reason competition can't be friendly. Networking with clinicians in other specialties increases the chances that other professionals will send clients your way when they're a good fit for you.
Physicians can be another valuable source of counseling referrals. Many doctors have patients complete routine screenings for depression and anxiety, and if they know you are looking for therapy clients, they may include you in their referral network.
Having a quality EHR with significant interoperability features can increase your chances of garnering referrals from physicians, as it will be simpler to request and transmit their charts once you begin providing care.
5. Train Your Team Properly
Your care team, including any administrative staff, needs to be as competent and efficient as possible when it comes to operating your EHR. Because the EHR is your main method of recording clinical information about patients, it's imperative that all staff are familiar with the charting features available. Taking accurate notes on intake appointments and having them available online tells prospective patients that your practice is committed to accuracy.
Training your staff on your EHR is also essential for maximizing efficiency. When clinicians are well-versed in efficient charting, they can spend more face-to-face time with patients. Administrative staff who can confidently navigate the EHR make scheduling and billing simple before and after appointments.
6. Take Notes From Your Competition
You don't have to come up with all your ideas from scratch. There are plenty of marketing strategies that therapists can use. Spend some time reading through your competitors' reviews to find examples of why patients chose them and what they do well to retain those patients.
Be sure to visit competitor websites and see how they use social media to interact with the public. Does one competitor get thousands of views on their weekly vlog? Watch for a while and find out why. Is another competitor using banner ads to advertise? Look into whether that form of advertising is right for your practice.
With a little research, you're bound to uncover some strategies you haven't yet tried to get counseling clients. Some of the methods used by larger organizations will be financially inaccessible to smaller or single-provider practices, but you can still take note of the overall approaches and see how you can transfer them to your own efforts.
7. Use Digital Tools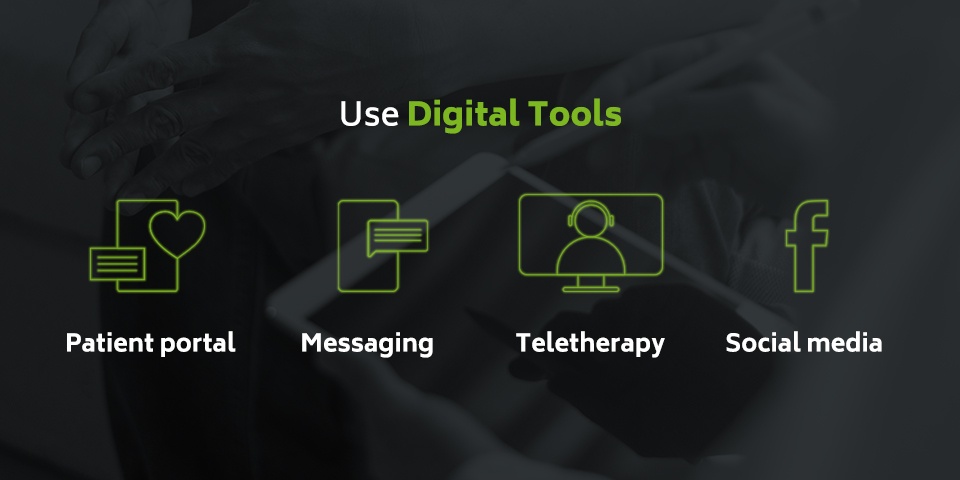 Today, it's not enough to simply operate a website. To grow your client base, you need to take advantage of multiple digital tools that show your dedication to learning new systems that improve patient care. Some tools you should consider include:
Patient portal: This technology allows for electronic intake, eliminating the hassle of paper, faxing and scanning. Patients can also view important documents and manage their appointments, giving them greater power over their treatment.
Messaging: Consider methods other than phone calls to schedule appointments and deliver important reminders. Utilize email and even text messaging to expand your patients' options for communication.
Teletherapy: Providing care remotely can attract a whole new group of patients, including clients in other states. Providing teletherapy is a draw for people with conditions like anxiety or agoraphobia, or people who lack transportation or have another reason why in-person therapy is not an option.
Social media: Poke around on social media, and you'll find that every successful business and brand has a presence on at least one platform.
Taking advantage of digital practice tools can make you stand out among your competitors by promising new patients a more convenient and individualized experience.
Using Social Media to Attract Clients
Of all the digital tools available to mental health professionals, learning how to get counseling clients through social media is often the most complex. No matter your level of experience with this form of marketing, you need to know what potential clients are looking for. For a successful social media marketing campaign, you need to offer:
Information: Patients frequently use social media to find facts and statistics about conditions that affect them or their loved ones.
Support: People frequently look for emotional support related to their conditions.
Encouragement: Potential clients may take to social media looking for encouragement and hope that a clinician can provide effective treatment.
Comparison: Many people find it helpful or comforting to compare their experiences with others struggling with the same condition.
Expression: Simply vocalizing their experience is a common reason for people to use social media.
As a provider, you can take advantage of social media by providing information, support and encouragement to people who interact with your channels. The three most common platforms used by behavioral health professionals are Facebook, YouTube and Twitter. Generally, utilizing a mix of all three is ideal for casting the widest net, but you have to take each platform's strengths and weaknesses into account.
Facebook
Facebook is a natural entry point for many businesses. It's been around long enough that most people are familiar with it even if they don't necessarily use it often. Approximately 79 percent of people ages 18 to 29 use Facebook, making it one of the most heavily populated social media platforms around.
A Facebook business profile can provide similar information to that found on your website, such as your location and contact info. Patients can also leave reviews or ask questions on the page, giving you an opportunity to show your knowledge and people skills to prospective patients.
YouTube
If you are very information-oriented and would like to share your knowledge of mental health topics, a YouTube channel may be a good way to get counseling clients. The video format allows you to make short, visually attractive videos that catch the eye.
Videos with voiceover can be effective, but appearing in videos yourself helps give potential patients a good idea of the demeanor and personality they can expect. This glimpse can be a deciding factor in whether someone chooses to make an appointment with you.
Twitter
Twitter users are younger, more educated and have higher incomes than American adults overall. This platform is good for sharing bite-sized pieces of info and having simple interactions with prospective patients, thanks to its 280-character limit.
For success on this platform, you'll need to learn how to use hashtags and images to appeal to potential clients.
Consistency With Content
Using social media as a marketing tool requires consistency. Prospective patients generally like to see a consistent history of posts in order to consider an account worth engaging with.
Many professionals create a social media schedule where they post at set intervals. This requires taking the time to create multiple pieces of content at once and setting them to post at the scheduled time. However, posting manually creates a natural point at which to respond to comments and messages or interact with other users.
The frequency of your posts matters, too. In general, more is better. The more content people can engage with, the more they share it and attract more potential clients. If you can post to Twitter twice a day and upload two YouTube videos per week, that's great. However, most clinicians don't have the time to produce high volumes of content. When you're starting out, a small goal like making one post per week is enough to start attracting more clients.
Keeping the Clients You Earn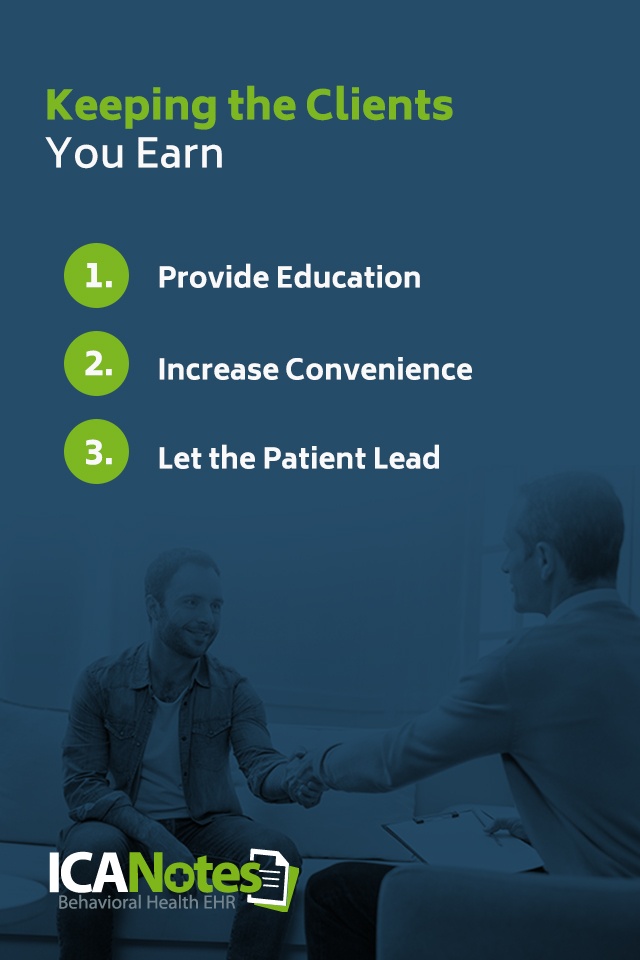 Once you have a client on your books, you want to keep them for as long as they continue needing mental health treatment. Patient turnover is bad for business and bad for your clients if they transition to a less appropriate form of care or stop receiving care at all.
To make the most out of your marketing efforts and retain your clients, be sure to:
1. Provide Education
People who haven't sought out therapy before often don't understand what they are signing up for. They may believe it takes a certain number of sessions to be "cured" and then feel disappointed to find out it doesn't work that way. In initial sessions, be sure to discuss the patient's expectations for treatment and work together to create a road map for treatment. This can reduce the likelihood that a patient will leave because they're unhappy treatment isn't "working" as quickly as they anticipated.
2. Increase Convenience
Therapy is a significant time commitment for many busy Americans, and every moment spent waiting around or filling in repeat forms can breed frustration. Using an EHR with scheduling features can streamline the process, reducing wait times for your patients. With a patient portal, clients can also manage their own appointments and set up reminders that can reduce missed appointments.
3. Let the Patient Lead
A degree of flexibility is necessary to retain some clients, especially if there are multiple issues that need to be addressed. You may find that asking the patient what they would like to work on first is an effective way of keeping them engaged. Your carefully planned course of treatment is still the most crucial aspect of therapy, but you can often make accommodations for patient preference that increase participation and retention.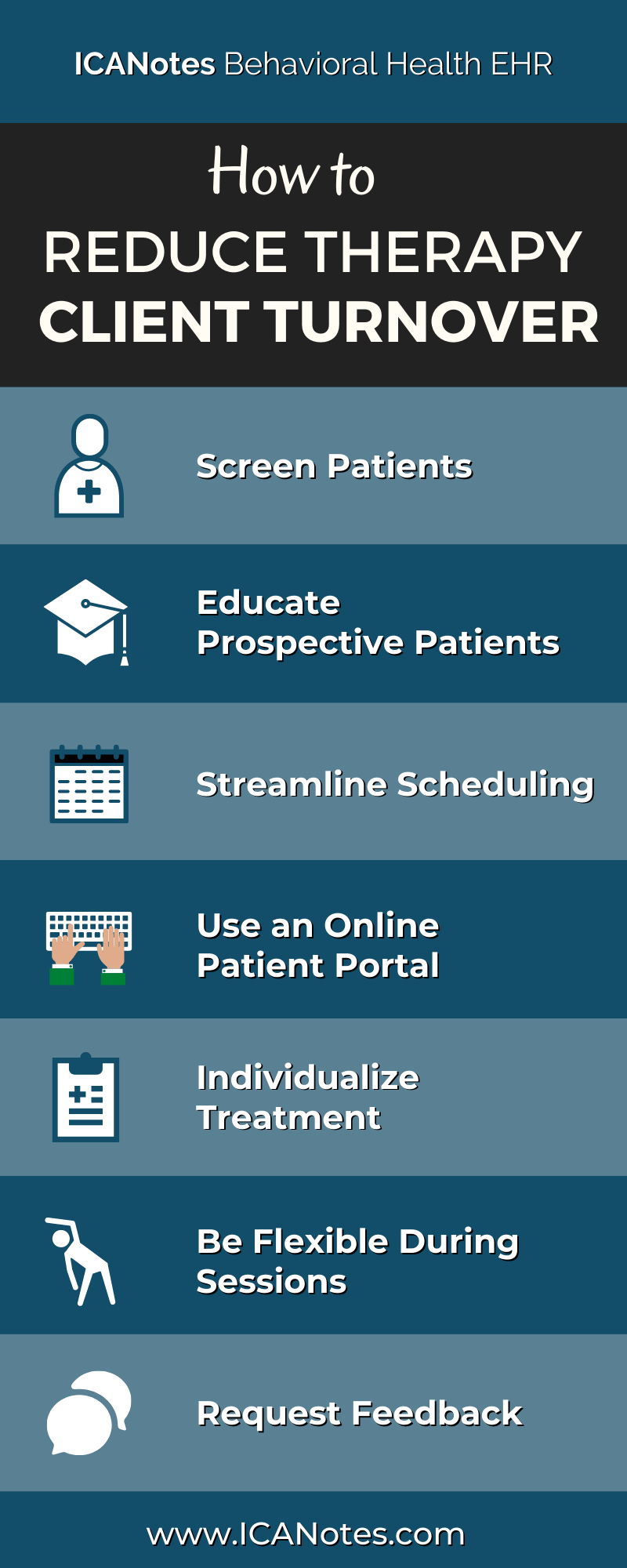 The EHR That Works for You
Most of the time, clients don't just fall into your lap. Learning how to increase therapy clients and keep them coming back for the course of treatment is a challenge, but the marketing strategies for therapists we've covered are excellent places to start.
ICANotes is a behavioral health EHR that provides the most cutting-edge tools and features to improve your care, attract clients and keep them more satisfied with their treatment. We proudly support clinician efforts to improve mental and behavioral health practices, and we are happy to answer your questions about gaining clients and beyond.
Call ICANotes at (866) 847-3590 or fill out our contact form to find out more. If you're ready to see what ICANotes can do for you, you can request a free trial of the software.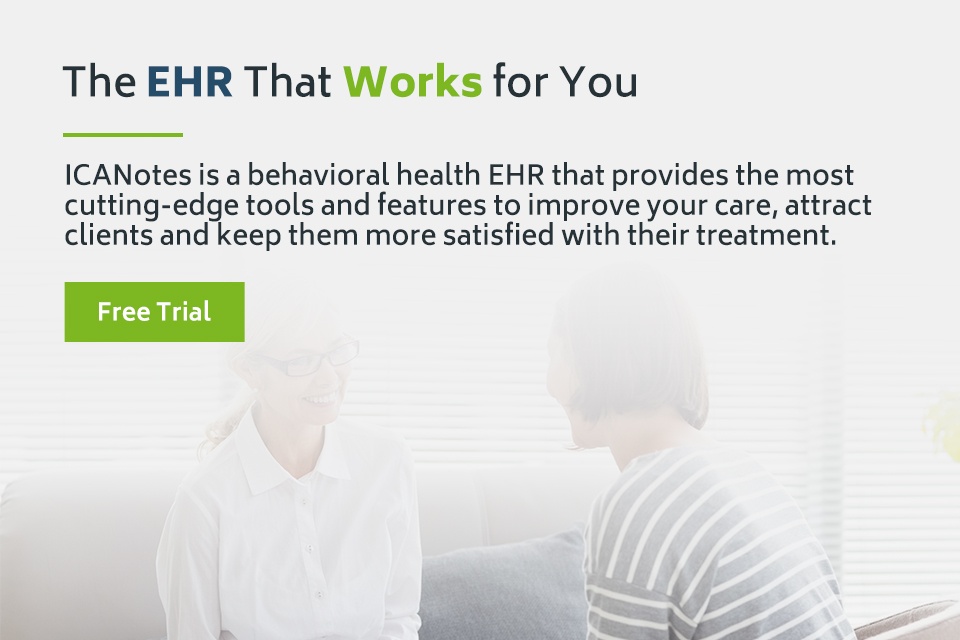 Related Posts: