What to Know About the New E/M Coding Changes for 2022
The Centers for Medicare and Medicaid Services (CMS) and the American Medical Association (AMA) have made significant changes to Evaluation and Management (E/M) coding, which took effect on January 1, 2021. The CMS and AMA designed these changes to reduce the documentation burden that physicians face and give health care providers more time to focus on patient care.
All health care providers must learn how these changes will impact their workflow. It's also vital that medical professionals ensure their electronic health record (EHR) system has implemented these modifications. Accurate coding allows health care providers to get reimbursed for their services. On the contrary, coding errors might lead to delayed payments, denied claims or audits. It's always best to stay up to date on the AMA's current coding manual.
Overall, E/M coding can be confusing. Fortunately, the new E/M coding changes aim to clear up some of the confusion and make it easier for physicians to get reimbursed. In this post, we'll discuss the key E/M coding modifications for 2021 and how they decrease unnecessary paperwork.
Table of Contents
What Are Evaluation and Management Codes?
Evaluation and Management refers to a section of Category I current procedural terminology (CPT) codes. E/M coding includes CPT codes in the numerical range 99201 to 99499. These codes are meant to classify the medical services a clinician provides to evaluate patients and manage their health care. Physicians use E/M coding to get reimbursed by third-party payers.
Evaluation and Management Coding Examples
Physicians and other qualified health care providers use E/M codes for most patient visits. For example, a general practitioner might select an E/M code based on the total amount of time they spend with a patient in a day. If a doctor spends 45 minutes to 59 minutes related to a patient's care, they might use the CPT code 99204 to get reimbursed for their services. Total time includes the following activities:
Preparing for the patient's appointment
Obtaining or reviewing the patient's history
Performing an exam or evaluation if medically necessary
Orderings tests, medications or procedures
Documenting the patient's information in the EHR
Communicating with the patient and their family
In the behavioral health field, psychiatrists may use E/M coding to bill for medication management. Primary care doctors might also use E/M coding in conjunction with mental health services.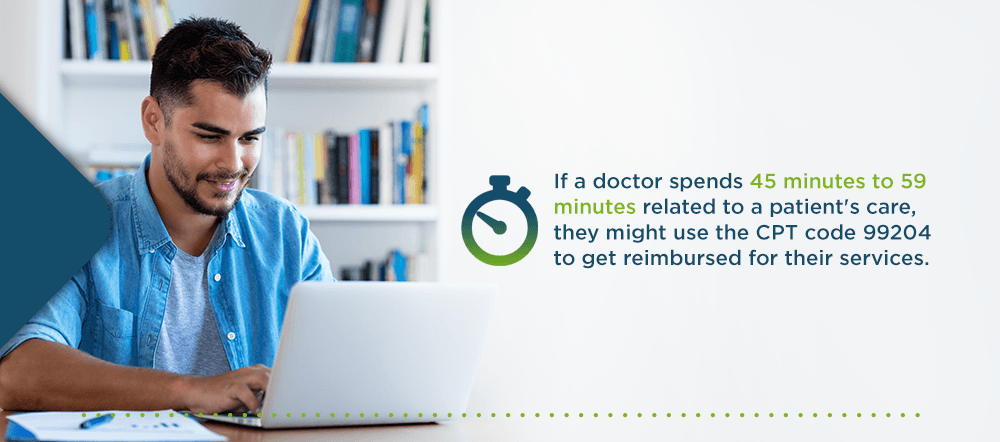 What Are the 2021 E/M Coding Changes?
First, it's essential to note that the new E/M coding changes only apply to office or outpatient settings and do not affect all other E/M settings, such as emergency departments or assisted living facilities. Here are the key changes:
1. Physicians Can Select E/M Codes Based on Medical Decision-Making or Total Time
Physicians no longer have to use the 1995 or 1997 Documentation Guidelines for Evaluation and Management Services for office visits. Instead, doctors can choose the appropriate E/M code based on total time or medical decision-making (MDM).
If psychiatrists provide E/M services in addition to psychotherapy, they must select the appropriate CPT code based on MDM, not time.
2. Time Has a New Definition
Time is now defined as the total time a physician spends on a patient's care on the day of the encounter, and it is no longer limited to face-to-face interactions. Time has also been expanded to include other health care providers who spend non-face-to-face time caring for a patient on a specific date.
Activities that count towards "total time" include tasks like documenting the patient's information in the EHR. However, activities that are typically performed by nursing staff should not be included in the total time. If a doctor completes documentation on a different day, that also cannot count towards total time.
The time reporting requirements have also been revised. For example, before 2021, CPT code 99202 meant the physician "typically" spent 20 minutes face-to-face with a new patient. In 2021, the code 99202 can bill for 15 minutes to 29 minutes of total time on the day of the encounter.
3. The Titles of the MDM Elements Have Changed
Although much of the MDM table remains unchanged, the titles of the different elements have been revised to reflect the decision-making process better. Here are the changes:
Presenting Problems is now Number and Complexity of Problems Addressed
Diagnostic Procedures Ordered is now Amount and/or Complexity of Data to Be Reviewed and Analyzed
Management Options Selected is now Risk of Complications and/or Morbidity or Mortality of Patient Management
To select a level of E/M service, two out of the three elements must be met, rather than all three.
4. Code 99201 Is No Longer an Option
Doctors used the CPT code 99201 in the past to describe new patients who received E/M services in an office or outpatient facility. The visit entailed straightforward medical decision-making, and the physician typically spent 10 minutes face-to-face with the patient. In 2021, the code 99201 was deleted. Physicians can use code 99202 instead.
5. History and Physical Exam Elements Have Been Removed From E/M Selection
The history and examination components will no longer influence code selection or be key elements of the E/M service. Now, history and examination elements are only required for E/M reporting if they are medically appropriate. Even though history and physical exam elements may not be required for coding purposes, clinicians should still document these components to provide high-quality care and establish medical necessity.
6. There's a New Prolonged Service CPT Code
Physicians can use a new add-on code — CPT code 99417 — to bill for an E/M service that went 15 minutes beyond the highest level E/M code for new or established patients. Doctors can only use the new code when they select an E/M service based on total time.
How Do These Changes Reduce Documentation Burden?
The E/M coding changes could help reduce documentation time for a few reasons. First, physicians can use simplified time increments to choose a CPT code. They no longer have to worry about confusing terms like "midpoint" or "threshold" to select the appropriate E/M code, which means they can spend less time figuring out which code to use.
Also, since the E/M selection process has been narrowed down to two components — MDM or total time — physicians do not need to include other elements that aren't considered medically necessary for a patient's treatment. This removes unnecessary steps in the workflow and gives physicians more time to focus on relevant information and patient care.
Simplify Documentation With ICANotes
Like the new E/M coding changes, ICANotes EHR software was designed to benefit psychiatrists and other behavioral health professionals by reducing the documentation burden. With ICANotes, your practice can use automatic E/M coding, customizable note-taking templates, e-prescribing, integrated billing solutions and other time-saving features to streamline documentation and get paid faster.
To experience ICANotes firsthand, request your free trial today. If you would like to learn more about the new E/M coding changes and how ICANotes implements these modifications, please join our webinar.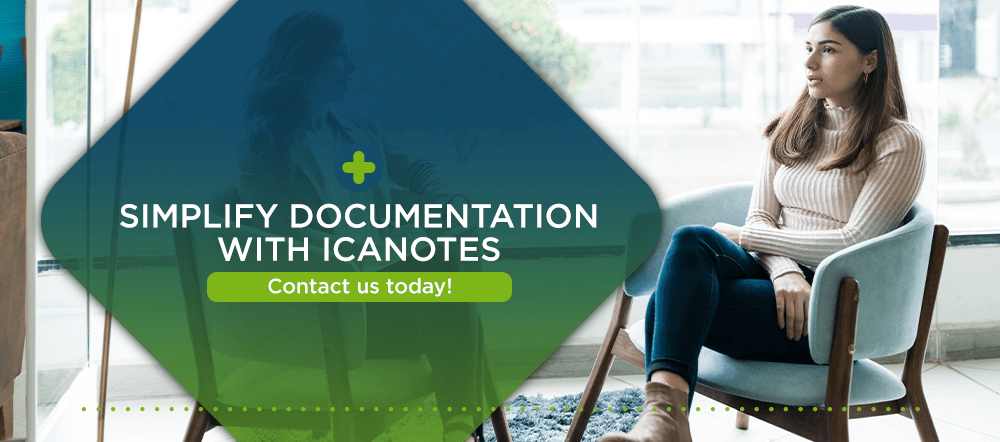 Related Posts
Upcoming 21st Century Cures Act Changes
What Are the New Classifications in the DSM-5?
CPT Code Basics: What You Should Know
Billing Pitfalls for Mental Health Clinicians
Mental & Behavioral Healthcare Billing: How to Maximize Your Reimbursement Rate
Sources: