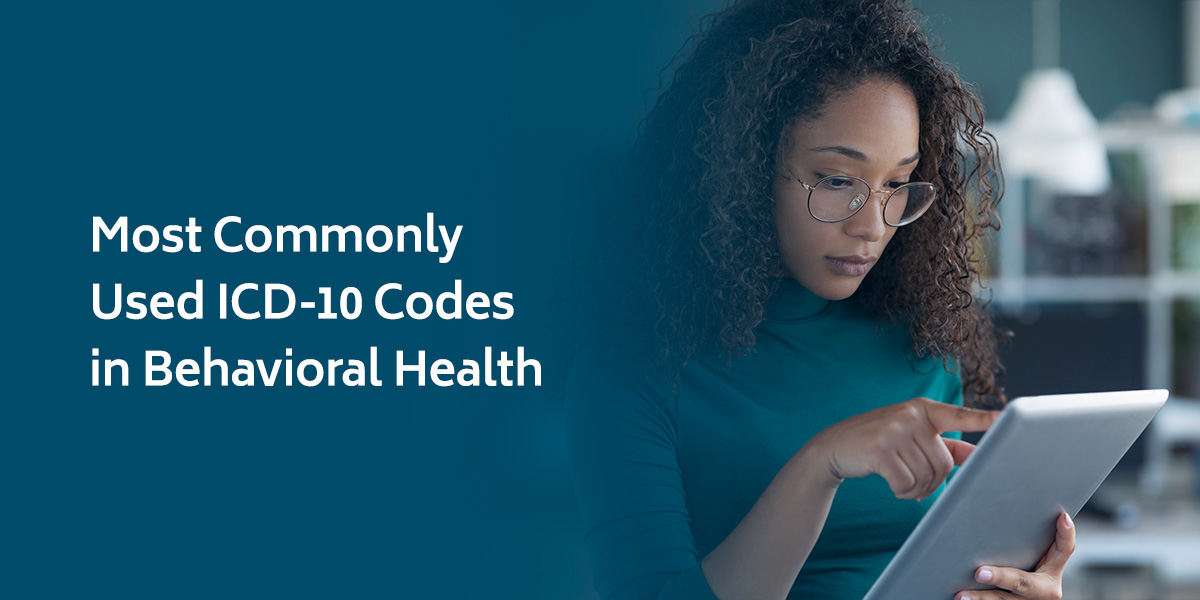 You probably didn't start a career in mental health because you love charting, but unfortunately, it's a significant part of the medical field. In your work as a behavioral health professional, you'll almost certainly use ICD-10 codes, which are a staple in medical environments worldwide and a requirement for most insurance claims.
This classification system contains tens of thousands of codes. Of course, you don't need to know all of them, but some are more prevalent. We've compiled the most common mental health diagnostic codes in this ICD-10 cheat sheet for therapists, psychiatrists, and other behavioral health professionals.
ICD-10 codes come from the 10th revision of the International Classification of Diseases, a framework created by the World Health Organization. Providers use ICD codes across different areas of medicine, including clinical care, research, and insurance billing. They represent conditions, diseases, symptoms, injuries, external causes, abnormal findings, and other aspects of diagnoses. The United States developed a version of the ICD-10 to fit the unique American healthcare system. Health professionals use ICD-10 Clinical Modification for medical claims in all settings.
Mental health providers typically use these codes to relay information to insurance providers, justifying why they rendered services and facilitating reimbursement. You might use current procedural terminology codes, too. While CPT codes describe the services rendered, ICD-10 codes describe the factors that make the services necessary. The ICD-10 codes also support care delivery, providing at-a-glance information on a client's condition and treatment history. You might use the ICD codes from another provider's report to quickly inform your current assessment.
As we discuss ICD-10 codes, remember that ICD-11, the latest version of this system, came out in 2022. The U.S. is still evaluating it and making changes, but will likely start transitioning to ICD-11 in the next few years. You'll need to keep up with these changes to stay compliant and use up-to-date tools.
How Are ICD-10 Codes Organized?
Different letters in the ICD-10 codes correspond to categories of illnesses. For instance, issues with the circulatory system fall between I00 and I99. Mental health providers typically work with symptoms in three categories.
G: G00 through G99 are for nervous system conditions, which include Alzheimer's disease.
Z: Z codes reflect situations requiring services, even if a specific disorder is not present. For instance, you might use these codes when treating someone dealing with problems with their spouse or partner or when conducting an assessment on behalf of an authority group.
F: You'll find most mental health ICD-10 codes in the F range. These include mental, behavioral, and neurodevelopmental disorders, each broken down into more specific categories.
Most Common ICD-10 Codes in Mental Health Cheat Sheet
The Most Common Behavioral Health ICD-10 Codes Cheat Sheet is available for download in a PDF format, allowing you to easily print and share it with colleagues or keep it on your computer for easy access.
Though you might use any number of ICD-10 codes during your practice, here are some of the most common mental health diagnostic codes.
1. Substance Use Disorders
This category contains diagnosis codes for mental health issues related to substance use and dependence.
F10.1: Alcohol abuse
F11.20: Opioid dependence, uncomplicated
F11.23: Opioid dependence with withdrawal
F13: Sedative, hypnotic, or anxiolytic-related disorders
2. Schizophrenia and Other Non-Mood Psychotic Disorders
Codes F20-F29 cover non-mood psychotic disorders like schizophrenia and schizoaffective disorder.
F20.0: Schizophrenia, unspecified
F25.0: Schizoaffective disorder, bipolar type
F25.1: Schizoaffective disorder, depressive type
F29: Unspecified psychosis not due to a substance or known physiological condition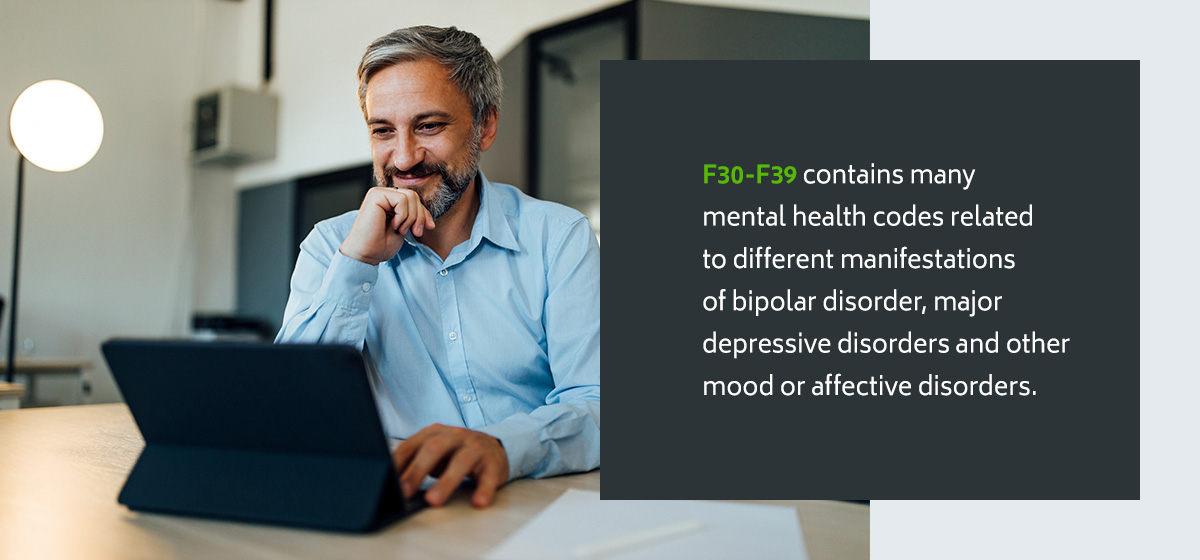 F30-F39 contains many mental health codes related to different manifestations of bipolar disorder, major depressive disorders, and other mood or affective disorders. General codes include the following.
F31: Bipolar disorder
F32: Depressive episodes
F33: Major depressive disorder, recurrent
The individual codes under these numbers address factors like remission status, severity, the presence of psychotic features, and the type of episode, such as manic or depressed bipolar episodes. They offer granular insights into a patient's condition.
4. Anxiety, Dissociative and Other Non-Psychotic Mental Disorders
F40-F48 is also a sizable section, with various anxiety-related diagnoses such as these.
F40.01: Agoraphobia with panic disorder
F41.1: Generalized anxiety disorder
F41.9: Anxiety disorder, unspecified
F42: Obsessive-compulsive disorder
F43.1: Post-traumatic stress disorder
F43.2: Adjustment disorders
More specific codes might include chronic or acute presentation, associated symptoms like depressed mood, anxiety, and disturbances of emotions and conduct.
5. Disorders of Adult Personality and Behavior
In this section, which covers F60-F69, you'll find the following.
F60.3: Borderline personality disorder
F64.2: Gender identity disorder of childhood
6. Behavioral and Emotional Disorders With Onset Usually Occur in Childhood and Adolescence
While F90-F98 symptoms and diagnoses usually present in childhood or adolescence, clinicians can use codes like these with patients of any age.
F90: Attention-deficit hyperactivity disorders
F91.1: Conduct disorder, childhood-onset type
F91.3: Oppositional defiant disorder
F93.0: Separation anxiety disorder of childhood
The G section of ICD-10 covers various degenerative diseases of the nervous system, but mental health providers typically only work with those related to Alzheimer's disease under G30. This code has specific options for onset timing.
Lastly, you may need to use the Z category to explain external factors leading to your services. Frequently used Z codes include the following.
Z03.2: Observation for suspected mental and behavioral disorders
Z04.6: General psychiatric examination, requested by the authority
How to Enter Mental Health Diagnostic Codes in ICANotes EHR
Your electronic health record should make it easy to find ICD-10 codes and include them in your progress notes and charts. ICANotes is one such EHR designed for behavioral health. From the patient chart or your progress note, you can quickly enter ICD-10 codes by clicking on the diagnosis field. You can search for a code by description or enter it directly. In ICANotes, you can also copy ICD-10 codes from previous progress notes for recurring or chronic diagnoses.
You can even create a custom shortlist with some of your most frequently used codes. Adding behavioral health diagnostic codes follows the same click-based system as the rest of ICANotes, so you can minimize manual typing and focus on what's important.
Learn More About ICANotes EHR Software
ICANotes makes entering ICD-10 codes simple and fast. It also helps with nearly every other aspect of behavioral health, with tools for charting, document management, patient portals, scheduling, and much more.
Clinicians turn to ICANotes to tackle the growing complexity of their careers and increase the available time they have to spend providing high-quality care. The platform can provide peace of mind, better reimbursements, and built-in compliance. Learn more about ICANotes, or reach out to us today to schedule your demo or a free trial!