Create better notes with less typing thanks to our clinically robust EHR for behavioral and mental health professionals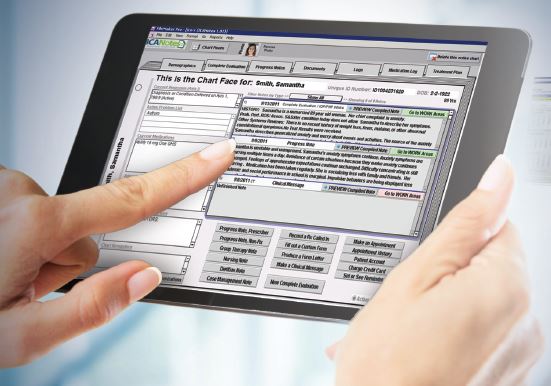 ICANotes is a comprehensive electronic health record (EHR/EMR) system designed by a clinical psychiatrist for the mental health specialty. Our EHR and practice management software helps you create flawless, clinically-relevant notes in less time, giving you more time to spend with patients and grow your practice.
ICANotes supports both inpatient and outpatient mental health programs. Our system also supports sub-specialists working with Children and Adolescents, Substance Abusers, Eating Disorders, and Geropsychiatric Patients. ICANotes automatically determines the highest billable coding level your note supports so you can confidently bill at the maximum level of reimbursement.
Our EHR is web-based, allowing you to easily and securely access and work on your patient records from any computer or smartphone with an internet connection.
Click the icons below to learn more about the features of our behavioral health EHR software.
Charting
Clinically robust pre-configured templates for all disciplines and settings with the option to add custom content if desired. Designed to help you get the maximum reimbursement rate possible while giving you more time to spend with your patients. Easily create comprehensive Initial Assessments, Progress Notes, Group Therapy Notes, Treatment Plans, Discharge Summaries and more in just a few minutes!
Practice Management
Our practice management features allow your entire staff greater convenience and ease -- meaning you can maintain a paperless practice from any device! Our EHR is designed with practices in mind, which is why we've included features such as:
User-friendly patient scheduling to manage appointments efficiently
Document management to easily upload scanned documents and images
HIPAA-Compliant secure messaging for communicating in and out of the office
Integrated billing to make it easier to collect payments and create statements
Patient Portal
Our Meaningful Use Stage 3-Certified Patient Portal gives you all the functionality needed to optimize patient engagement and support a paperless practice. Our patient portal is integrated with our EHR system to provide a secure way to connect with patients electronically or give them access to their medical history. If desired, our premium portal also allows your patients to complete intake forms online, complete electronic forms required for your practice (and import directly to the Patient's chart), see upcoming appointments and prescribed medications and schedule email appointment reminders. 
Security
In today's technology-driven world, it is imperative that you maintain HIPAA compliance to avoid potential lawsuits or breaches of patient data. ICANotes provides a fully HIPAA-compliant EHR solution to help you maintain compliance and keep your patients' data secure. We comply with all HIPAA requirements and include features such as: 
Individual authentication of users
Access controls
Audit trails
Protection of remote access points
Access establishment modification
Alarm and event reporting
Privacy of psychotherapy notes
Prevention of alteration or destruction of the electronic health record
Encryption
Billing
Our flexible, integrated EHR allows you to simplify the billing process so you can get paid faster. Our system integrates everything so you can create statements, superbills and CMS forms all in one place. With ICANotes you can accept cash, check or credit card payments so you can bill the way you want. Whether you are looking for a way to streamline billing for self-pay patients, make it easier to submit insurance claims for reimbursement, create batch statements or customize statements, ICANotes is your one-stop-shop to handle all of your electronic billing needs. You can even continue your existing billing clearinghouse, billing service or billing application and integrate with our platform to make it easier to provide them with any required forms or ANSI 837 files. 
Assessment Tools
With the ICANotes Behavioral Health EHR, clinicians have access to more than 75 different electronic rating scales and assessment tools for adults and children. These rating scales and behavioral health assessments are integrated with the patient's mental health chart and treatment plans to ensure all patient records are easily accessible and secure. Built-in electronic assessments are available for depression, anxiety, PTSD, mood disorders, substance abuse and so much more, allowing clinicians to spend less time on paperwork and more time with patients.
Designed by a clinical psychiatrist, ICANotes has fully configured clinical content for all mental health disciplines and settings.
Clinicians can add custom content to meet specific needs.
ICANotes helps clinicians quickly create detailed and individualized electronic mental health records with no typing or dictating. Practice management functionality is included for scheduling, e-prescribing, billing, and reporting.
ICANotes helps mental health providers:
Reduce documentation time
Eliminate transcription expenses
Minimize medical-legal risk
Code at the maximum level of reimbursement
Comply with Medicare and Medicaid requirements