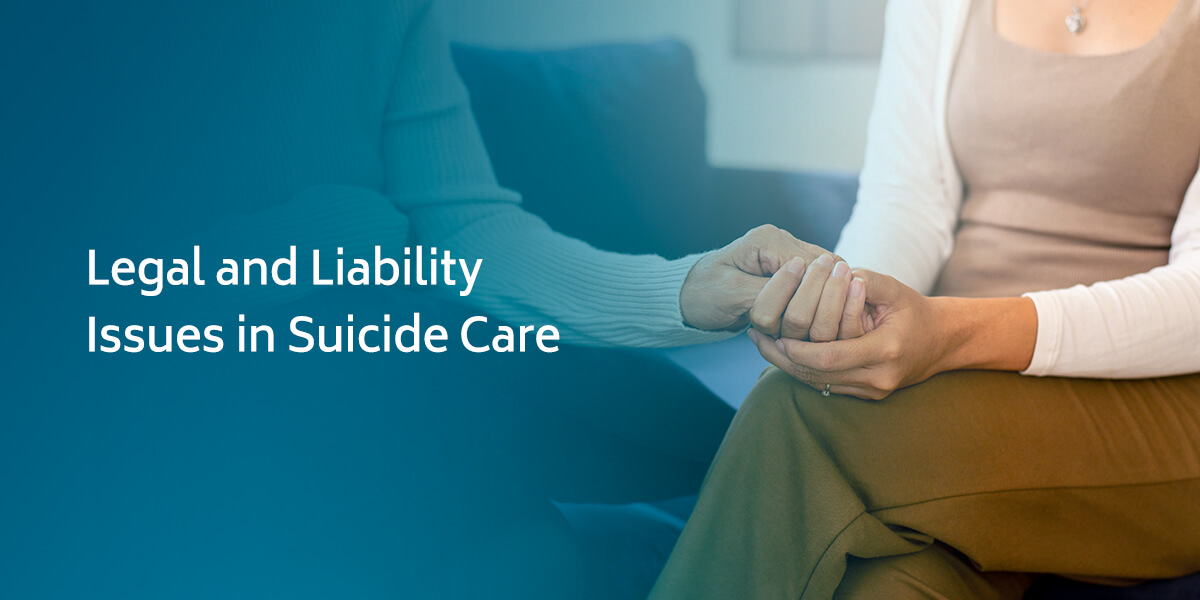 Legal and Liability Issues in Suicide Care
Delivering quality care and treatment is a priority for behavioral health specialists. If one of your patients admits to feeling suicidal or having suicidal intent, you must follow proper procedures in your state and ensure they get the help they need. When implementing suicide prevention practices, you may have concerns about liability risk. Legal issues in suicide care can be challenging to navigate if you don't already have a step-by-step plan.
With thorough documentation and communication processes, you can fulfill your professional responsibility and provide timely and effective treatment for your client. Accurate documentation and a clear protocol also enable you to better communicate with other providers on the care team to manage suicide risk and keep your clients safe.
Exclusive Guide & Checklist
Suicidal Ideation Assessment Tools
These tools aim to help clinicians effectively assess and document suicidal ideation during patient encounters. With these tools, you will be able to better support your patients and reduce the risk of suicide.
Liability and Legal Concerns
In a behavioral health setting, liability refers to a legal case of malpractice that can occur if a counselor or mental health professional fails to provide documentation or treatment for a client known to be suicidal. Therapists and other mental health providers treating suicidal patients must do their due diligence and ensure proper screening, risk assessment, pursuit of appropriate treatments and accurate documentation throughout treatment.
Because suicide is one of the leading causes of liability concerns against behavioral health providers, it's crucial to know how to minimize liability and appropriately address suicidal concerns with evidence-based prevention strategies.
If a patient ends their life, the behavioral health professional is liable for a lawsuit. In court, the plaintiff will have to prove that the therapist's omission or act fell below the standard of care required for a suicidal patient, increasing their risk of harm.
Foreseeability, which is the reasonable anticipation a therapist may have that an individual will likely harm themselves, plays a central role in preventing liability and legal concerns. With proper assessment, therapists and counselors can predict a patient's risk for suicide and implement a critical treatment plan.
As a behavioral health provider, there are some crucial areas of concern to avoid a medical malpractice suit when counseling a suicidal patient.
Evaluate suicide risk at intake and during each session.
Conduct regular mental status examinations.
Refer the patient for hospitalization, if necessary.
Implement safeguards to protect clients from self-harm.
Establish a formal treatment plan.
Consider existing suicide risk, the client's history of suicidal ideation or depression and previous suicide attempts.
Collaborate with the client's psychiatric and medical care team.
Determine the support system in treatment planning.
Identify substance use, mood disorders or stressful life events that may increase suicide risk.
Document each session with the patient and note all referrals, risk factors and behavioral observations.
Contact emergency services if the client poses an imminent harm risk to themselves or others.
If you are counseling a patient expressing suicidal thoughts, tendencies or intentions, it's your responsibility to be as accurate and thorough as possible in your clinical documentation. Your therapy notes can play an instrumental role in reducing liability risk and ensuring your patient gets the care they need. High-quality documentation that reflects careful and thoughtful suicide assessments also enables you to evaluate your patient's progress and modify your treatment plan as needed.
When a client is a danger to themselves, you may have to share your session notes with their physician, psychiatrist, or family members to prevent self-harm. Your legal right to breach this confidentiality depends on state and federal laws.
For example, in California, Section 56.10(c)(19) of the Civil Code states that a therapist can disclose specifics about their patient if they have good reason to believe it will prevent or reduce the threat of harm. In some states, you also have a duty to report suicidal ideation, even if the client claims they have no intention to harm themselves. Always check with your supervisor and review your state and federal laws for reporting procedures.
This Safety Plan is a step-by-step guide designed to help you create a personalized plan for clients with thoughts of self-harm.
If a counselor gets sued for negligence after a patient ends their life, evidence must prove that the therapist's conduct was negligent. Without proper documentation and treatment to reduce suicide risk, a lawyer may prove that the plaintiff would have remained unharmed without the therapist's actions.
The four elements of negligence that can lead to a malpractice lawsuit include the following.
Duty to the patient: The behavioral health professional owes a duty of care to provide necessary treatment or refer them to appropriate services.
Breach of duty: Also called negligence, breach of duty refers to a therapist's violation or failure to apply the standard of care for at-risk patients.
Injury or harm: The patient commits suicide or attempts to, leading to significant compensable injury.
Causation: The therapist's actions or inactions, such as lack of treatment, proximately caused the patient's injury or suicide, which was foreseeable to the therapist.
As a behavioral health clinician, you are legally responsible for reporting a suicidal client's intentions or refer them to appropriate treatment services, such as inpatient hospitalization. While you have a duty to your patient to uphold confidentiality, their risk of harming themselves sometimes overrides this. You are also responsible for protecting your client by warning their providers, family members or partner of their suicidal intentions to reduce the risk of harm. Remember that such reporting requirements differ by state.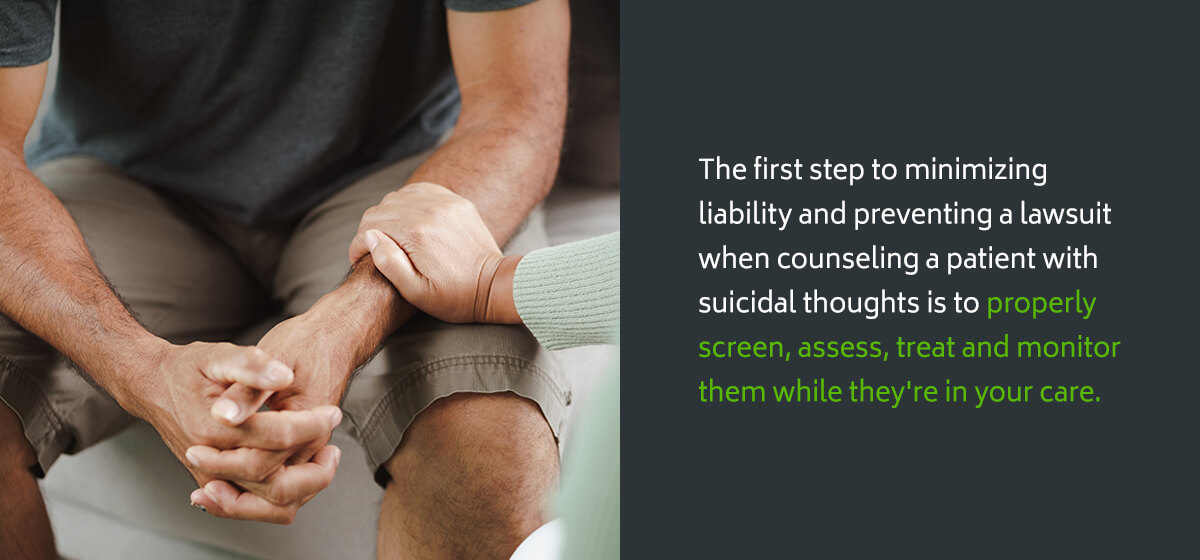 Screening and Assessment for Suicide Risk
Navigating legal challenges in suicide care can seem overwhelming, but it's not impossible. The first step to minimizing liability and preventing a lawsuit when counseling a patient with suicidal thoughts is to properly screen, assess, treat and monitor them while they're in your care.
Routine screening is vital to identifying and delivering appropriate care for patients experiencing suicidal ideation. You can use to accurately identify and evaluate suicide risk. These can guide your intervention and help you develop an individualized safety plan.
The Patient Health Questionnaire: Commonly used to screen for depression, the PHQ-9 also helps therapists identify potential outcomes such as suicide and address passive suicidal ideation in patients. If a patient endorses suicidal ideation, therapists must administer a more detailed suicide risk assessment.
The Columbia-Suicide Severity Rating Scale: The C-SSRS is a standardized tool therapists can use with children, adolescents and adult patients who show signs of suicidal thoughts or behavior. This screening tool helps therapists better understand the risk level someone faces and assess for passive and active suicidal ideation, intent, behavior and plan.
The Ask Suicide Screening Questions Toolkit: The National Institute of Mental Health developed the ASQ Toolkit as a standardized suicide risk screening tool therapists can use for patients ages 8 and older. It only consists of four yes/no questions, making it quick and effective for therapists to determine if a patient needs further mental health/suicide safety assessments or treatment.
Trust ICANotes EHR Software With Your Patient Documentation
As a behavioral health clinician or therapist, you want to deliver the best possible care to your patients. By implementing proper documentation and legal protocol practices, you can minimize suicide risk for your client and avoid liability issues for your practice. If your current note-writing methods are ineffective, time-consuming, or disorganized, it can be challenging for you to have a clear account of every interaction with your client or referrals you've made.
At ICANotes, it's our goal to make documentation easier, faster, and more effective for behavioral health specialists. Our intuitive, user-friendly EHR software lets you quickly review your notes before a session, share a client's records with necessary care teams, reduce documentation errors, and help you remain compliant.
At ICANotes, it's our job to give you thorough, accurate documentation to keep your patients safe. To learn more about our EHR software, request a free trial or watch a live demo online. We also invite you to contact us today if you have any questions.