ICANotes Sponsoring NAADAC Webinar "The Progress Note: Where Law & Ethics Meet Efficiency"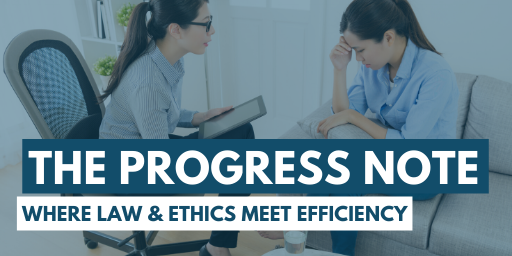 Looking to update your documentation practices? ICANotes is sponsoring a NAADAC webinar titled "The Progress Note: Where Law & Ethics Meet Efficiency" on March 25, 2020, at 3 p.m. ET. The webinar will spend an hour and a half talking about how to update your current documentation methods to reflect ethical and legal specifications. Tune in to the webinar for a presentation from an expert in the field and discussion with other attendees. If you are a professional in the behavioral health field, this webinar will serve as an important resource when looking at your own practices.
The Progress Note
The upcoming webinar will cover unknown legal risks your practice may take when recording notes about patients. Learn from Elizabeth Irias, MS, LMFT, about the best legal and ethical documentation procedures for your practice. Irias will draw upon her years of reviewing utilization and clinical documentation to offer attendees key insights on the point where law and ethics meet in taking notes during patient visits.
Irias's work with clinicians to help them reduce their risk and liability gives her a thorough understanding of how documentation impacts a practice. She founded the "Clearly Clinical" podcast that serves as a continuing education tool for those in the behavioral health field. Irias's insight and expertise can help you improve the documentation in your own practice.
What to Expect
During the webinar, Irias will outline guidelines for ethical and legal documentation. She will also dispell misconceptions and formerly accepted methods of taking notes. Her goal is to help behavioral health professionals improve their care while fostering the right methods of documentation. As part of the presentation, she will go over specific codes of conduct and offer ways to incorporate them into your practice.
Attendees will leave with three main takeaways:
An understanding of the legal and ethical implications of faulty documentation practices.
Knowing how to apply the components of quality clinical documentation.
Being able to define "medical necessity" in relation to clinical documentation.
From the outlined presentation to discussion among those in attendance, the webinar will also offer plenty of benefits and takeaways in addition to the main three.
The webinar is free for all professionals to attend. It can count toward continuing education hours for both attendees with membership to NAADAC. We encourage those in the fields of counseling as well as those interested in learning about addiction-matters to check out the webinar.
ICANotes Sponsored Webinar
ICANotes is proud to sponsor The Progress Note Webinar. We believe this webinar will instruct attendees on how to avoid legal and ethical dilemmas when it comes to documenting patient appointments. Being in the field, we understand the need to educate health professionals about this topic before they find themselves in a negative situation.
Our electronic health record system provides the ideal way to take notes for the behavioral health specialty. For this reason, we wanted to be involved in The Progress Note Webinar. If your behavioral health practice needs a new way to record health records electronically that is also legal and ethical, contact ICANotes today.