What Does HIE Mean for You and Your Practice?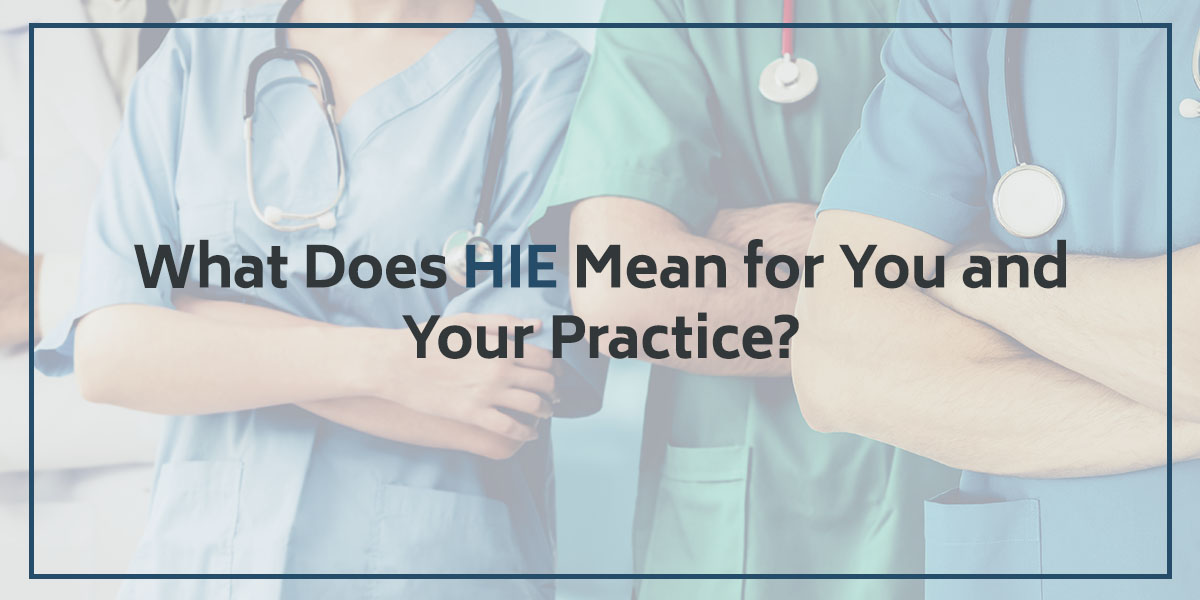 Although the majority of patient information is still stored in paper files in medical offices, healthcare providers are making great strides to transfer this data to a digital format. When this is the case, the electronic health information exchange (HIE) can help streamline communications between physicians, specialists, nurse practitioners and other healthcare providers, as well as patients themselves.
This, in turn, improves the quality, speed, cost and security associated with providing patient care. It can also create greater opportunities for interoperability and the benefits associated with it, such as more referrals and patient resources. With all that in mind, what does HIE mean, and how does it affect your practice?
Table of Contents
What Is HIE?
For consistent lines of communication between behavioral health professionals, their practices and the patients they serve, it's also important to clearly understand how HIE functions as both a concept and service.
First, according to HealthIT.gov, the terminology "health information exchange" can function as either a verb or a noun. HIE is a verb when referring to the actual sharing of patients' information and clinical data between authorized parties via a secure electronic method. On the other hand, when it refers to a specific organization — such as a state-mandated HIE — that provides the service to exchange patients' data electronically, it functions as a noun.
The importance of HIE as a service can best be understood by noting its three primary functions:
Directed exchange: In this form of exchange, healthcare providers can share information to help coordinate the health care of patients. An example of this would be a primary care professional electronically sending a summary of a patient's information to a specialist the patient has been referred to.
Query-based exchange: This exchange allows providers searchable access to patients' information, for example, in instances of unplanned care. A query-based exchange is extremely helpful in emergency room situations to inform physicians of a patient's current medications and any adverse reactions to medications.
Consumer-mediated exchange: This allows patients to access, correct and manage their health information and health care electronically. In instances when billing information needs correcting or a new provider needs access to a patient's data, a consumer-mediated exchange is highly useful.
Benefits of the Health Information Exchange
Beyond the convenience and speed of electronically sharing patient health information, HIE offers many benefits. Some of the most noteworthy advantages and improvements to health care include that it:
Saves lives: With access to patient's information, professionals can more consistently avoid medical mistakes — especially in prescribing medications.
Saves money: Through better-coordinated care, fewer costly treatments will be duplicated.
Engages patients: As a result of patients' access to their information, they're more educated and involved in their health care.
Protects public health: The monitoring and reporting of public health issues are more readily supported.
Supports technology: HIE is a technical vehicle for the deployment and updating of emerging electronic healthcare tools, such as clinical support and treatment software.
In behavioral health contexts, HIE can offer a bigger picture of a patient's health and enable greater care coordination.
HIE and Interoperability
At its core, interoperability refers to the ability of two systems to exchange information and use that information effectively. It is often used to discuss technological capabilities and how various systems "talk" to each other. Various proprietary systems don't always allow for this kind of communication because they code and set up data in different ways that are unreadable by other platforms.
Interoperable systems communicate well and standardize information. The result is accessible to the providers reading it, from clinicians using two disparate systems within a hospital to emergency room providers that need quick access to a person's medical history.
As you can imagine, HIE plays a significant role in creating interoperable systems. In fact, Congress took steps to improve HIE and interoperability with the help of programs like Meaningful Use. Meaningful Use legislation offers incentives for providers to show that they're using their electronic health record (EHR) effectively and meeting certain objectives. Aside from better EHR use, another benefit of this push for interoperability is that it makes it easier to aggregate information for tracking and evaluating public health, such as in the instance of outbreaks.
Many behavioral health providers haven't been too involved with meaningful use in the past, but the increase in demand for interoperability means that it is becoming more and more relevant to mental health facilities. Aside from the overall benefits HIE offers a practice, interoperability also puts you in a more competitive position, as providers want to partner with other providers who have access to these health information networks. It makes healthcare exchanges much simpler and more effective for the patient.
Interoperability could also affect the number of referrals received, along with patients who would prefer to work with a provider offering access to their data in one place, such as through a connected online portal. Merit-based incentives can be affected by a lack of interoperability, as well. With less efficiency and poorer or untracked outcomes, practices without HIE can miss out on valuable funding.
State Adoption of HIE
Overall, the adoption of state-led HIE programs is increasing. However, in-depth evaluations of state-led HIEs show that states are still far from equal in their participation rates. Much of the disparity appears to be tied to funding issues.
In general, since Congress passed the HITECH Act in 2009 to promote the electronic use of health records, states that have taken a more active role in HIE development — such as New York, North Carolina, Colorado and Indiana — have by far led the way in HIE participation.
The Office of the National Coordinator for Health Information Technology — or ONC — received funds as a result of the HITECH Act with the stated goal of providing all U.S. states and territories with financial support to set up HIE programs. As part of its support, the ONC instituted the HIE Challenge Grant Program, which received a further $16 million in 2011. An updated list of HIE awards by state is available for the public to view.
ICANotes: Helping Clinicians With HIE Integration
While the concept of HIE is very promising and its presence on the American healthcare scene looks set to grow, for healthcare professionals — as well as patients — plenty of questions still need to be answered. One important question is, "How is the electronic exchange of clinical data impacted when a patient moves out of state — and switches from one HIE program to another?"
In keeping with our tradition of superior technical support for all matters related to EHR, ICANotes sponsored a webinar to answer all your questions regarding HIE. To learn more about HIE Integration, view the recording below or contact us today!
Related Posts
How Mobile Devices Impact Patient Satisfaction
How Artificial Intelligence (AI) Impacts Healthcare Technology
How Smartphones Are Changing the Game for Electronic Medical Records
What Is the Best Way to Transfer Mental Health Records to a New Practice?
Are Mental Health Record Guidelines the Same for Every State?
Last updated 8/20/21