Chapter 3: Types of Notes Therapists Use and What Therapists Should Include in Their Notes


Note-taking is a critical part of a therapist's job. A therapist may be required to keep records for a set number of years, depending on their state's regulations, and it's recommended that all psychologists adhere to the APA's record-keeping guidelines.
Detailed, accurate notes allow therapists to get reimbursed. Most importantly, therapy notes enable counselors to monitor their patients' progress and implement effective treatment plans that the entire healthcare team can support.
Therapists take several kinds of notes as they complete a range of services. Most of these notes are required to receive reimbursement from an insurance company or government program. In this chapter, we'll explore the common types of notes therapists take and provide tips for writing. If you want to learn more about the easy-to-use note templates you'll find in ICANotes EHR software, check out our features or contact a representative to learn more.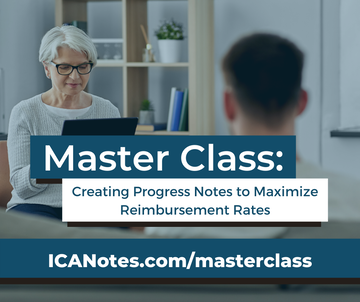 Enroll in the Free Online Master Class
Biopsychosocial / Initial Assessments
The initial assessment occurs during the first session with a client. During the initial evaluation, the counselor will ask the client questions about their current situation, their symptoms and why they are seeking therapy. Usually, clients are asked to complete a form before the session to answer basic questions and provide some background information. For example, with ICANotes, clients can access the patient portal to enter or update demographic details as well as their medical history. The counselor will ask additional questions that are not covered on the form. When used to make a diagnosis, the initial assessment is known as the clinical interview.
What Is the Purpose of an Initial Mental Health Assessment?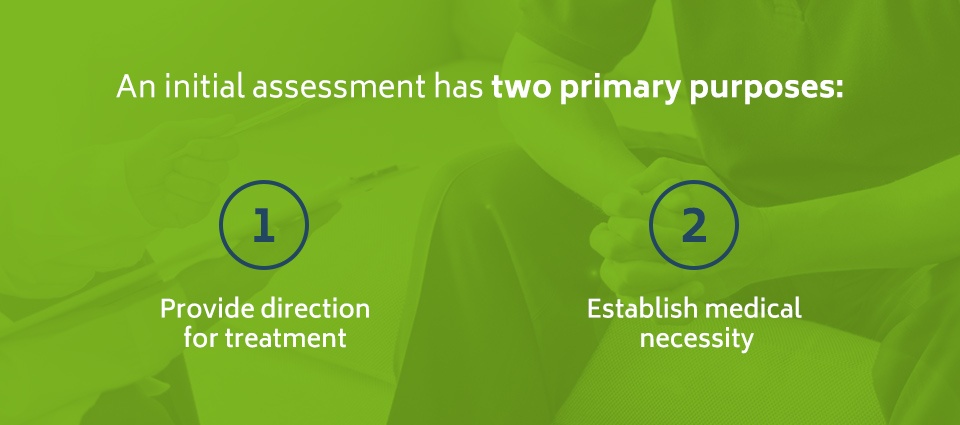 An initial assessment has two primary purposes: to provide direction for treatment and establish medical necessity. During the initial evaluation, the counselor will gather information about the client, such as their mental health history, relationship status, financial situation and other factors that influence mental health. The counselor will also note any non-verbal behaviors to help them form a diagnosis. The initial assessment is the first step to building a treatment plan.
What Is a Biopsychosocial Assessment?
A biopsychosocial assessment considers how biological, social and psychological factors all impact a client's mental health. This type of assessment helps a counselor fully understand their client and why they are seeking help. For example, the biological aspect of the evaluation will look at substance use and any medical issues, while the psychosocial component will investigate problems at home or with family life and answer questions about the client's feelings and thoughts.
Is a Biopsychosocial Assessment the Same Thing as an Initial Assessment?
A biopsychosocial assessment is a comprehensive approach to an initial assessment that focuses on a client as a whole. Depending on the source, you may also see this assessment listed as a "Complete Evaluation."  No matter how this assessment is labeled, it is one method counselors use to determine a diagnosis and a treatment plan. 
What Information Should Be Included in a Biopsychosocial Assessment?
Counselors should try to cover the following areas when conducting a biopsychosocial assessment:
Reason:

Include the reason the client seeks counseling and the history of the problem. What symptoms contribute to the problem, what has the client tried in the past, and how have symptoms progressed over time? Also, include the client's goals.

Medical history:

Include current and past medical conditions and medications.

Mental health history:

Document history of trauma, and include mental health symptoms, diagnoses, and medications from the present and the past.

Social history:

Include information about your client's relationships and support systems, and also write down details about their educational and employment status and history. Include any military involvement.

Legal involvement:

Document any involvement your client has had with the legal system, such as past arrests, convictions and lawsuits.

Substance abuse history:

Write down whether or not your client has a history of substance abuse or currently uses drugs or alcohol. Take note of the last time they used and if they've received treatment in the past.

Mental status:

Include notes about the client's behavior, appearance and current mood. Write down any symptoms you observe.

Summary:

Include your impression of the client and a summary of their current issues and patterns you noticed. Report treatment recommendations.
Are Initial Assessments Required for Insurance Reimbursements?
Although documentation requirements vary depending on the insurance company, the initial assessment is generally required to prove the medical necessity of treatment. Medical necessity is needed for reimbursement from many insurance payers and government programs like Medicare and Medicaid. The initial assessment provides relevant information to establish medical necessity, such as a client's mental health history and diagnosis. You might use Medicaid or Medicare documentation guidelines to help you file claims with any insurance company.
How Frequently Do You Need to Take a Complete Evaluation for a Patient?
Depending on a mental health plan's requirements, you may have to perform an annual assessment in addition to the initial evaluation. How often you need to assess your patients depends on their condition and goals. Although an initial evaluation is necessary, it doesn't mean it's the only assessment you'll ever need to perform.

Your client's concerns and circumstances will change throughout treatment, so you may need to reassess their initial goals to meet their current needs. You'll also use assessments throughout the process to determine whether treatment is working for your client. You can compare assessments to the initial evaluation to check progress, and if the client is worse, you can make adjustments to their treatment plan. Likewise, you may need to conduct several evaluations or assessments before you are ready to determine a treatment plan.
Complete Evaluation Checklist
Here are questions to keep in mind when developing an assessment:
How did the client find your practice?

Who is the client, and what is their demographic information?

What's the client's level of education?

What is the client's source of income?

What prominent health issues do they have, if any?

Are they on any medications?

Do or did they use substances?

Are they facing legal issues?

What are their presenting concerns or complaints, and when did they begin?

What is their psychiatric history?

What is their family history?

What is their history with relationships, work and school?

What is their treatment history?

Are they currently a risk to themselves?

What is their mental status?

What are their goals with treatment?
Watch our software video to learn how to complete an evaluation note using ICANotes EHR for behavioral health.
Psychotherapy Notes
Psychotherapy notes refer to a mental health professional's personal notes. A psychotherapist may take psychotherapy notes during a counseling session. These notes are kept separate from the client's records and billing information. Counselors may not share their psychotherapy notes without obtaining a patient's consent first. However, in certain situations, such as if a counselor receives a subpoena, they may be required to disclose their notes. Otherwise, psychotherapy notes are protected by HIPAA privacy laws and must be kept confidential at all times.

What Is the Purpose of a Therapy Note?
The purpose of a therapy note is to help a counselor provide the best service possible. It's meant to include their thoughts, feelings and observations so they can refer to this information when creating an effective treatment plan.
What Needs to Be Included in a Psychotherapy Note?
Psychotherapy notes are only meant to help a therapist treat a client, and there is no required format they must follow. A counselor should write whatever they feel will help them do their job. For example, a counselor might include a hypothesis rather than a diagnosis, or any private thoughts or feelings they have during a session. A psychotherapy note does not include medication information, diagnoses, treatment plans or test results.
Are Therapy Notes Required for Insurance Reimbursements?
Psychotherapy notes are optional, and they are not required for insurance reimbursement. As long as psychotherapy notes are kept separate from a client's medical records, an insurance company cannot refuse payment for not seeing the private notes.
How Frequently Do You Need to Take a Therapy Note for a Patient?
Since psychotherapy notes are not required, you get to decide how often you wish to create them. Some counselors see note-taking as a helpful tool in treating clients and may choose to write psychotherapy notes during every session. Others prefer to take notes later so they can give their clients their full attention.
Do Patients Have the Right to See Psychotherapy Notes?
According to the Department of Health and Human Services, patients do not have the right to see a counselor's psychotherapy notes. However, patients can request to see the notes, and it is up to you to decide if it's in their best interest.
Therapy Note Checklist:
Therapy notes may be helpful in organizing your thoughts, feelings and observations to treat a patient better. There are no rules when it comes to writing psychotherapy notes, but you might include the following details:
Changes in client behavior

Hypotheses

Observations

Hunches, thoughts and feelings

Questions to ask
Check out our video to learn how to create a Psychotherapy note in less than three minutes using ICANotes behavioral health EHR software.
Progress (SOAP) Notes
Progress notes are legal documents. These notes are records of your client's status and progress. Unlike psychotherapy notes, progress notes are read by other staff members to help provide patient care. Progress notes should be brief, clear, accurate and HIPAA-compliant. They should follow a template to keep documentation uniform among all staff members.
What Is the Purpose of a Progress Note?
A progress note communicates treatment plans to other staff members and provides relevant and critical information about each patient. Progress notes serve as evidence of the medical necessity of treatment. Counselors refer to progress notes to refresh their memory before a session and may use the information to complete billing tasks accurately.
What Needs to Be Included in a SOAP Note?
Progress notes must include details that demonstrate the medical necessity of the services provided.

Therapists use the SOAP (subjective, objective, assessment and plan) format to write progress notes and ensure they cover the required information. SOAP notes include the following:
Subjective:

The patient's chief complaint as described in their own words.

Objective:

The counselor's specific and measurable observations.

Assessment:

A summary of the client's situation, their goals and reasons to continue treatment.

Plan:

What the therapist plans to do to treat their client and how they will help them achieve their goals.
Are Progress Notes Required for Insurance Reimbursements?
Progress notes are generally required for insurance reimbursement, but exact requirements depend on the insurance company. For example, to bill Medicare for services provided, you'll need to submit detailed, accurate progress notes along with the appropriate CPT and ICD codes. Any insurance company may request documentation demonstrating your patient's diagnosis, dates of service, treatment plans and other related details to ensure you're submitting claims appropriately.
How Frequently Do You Need to Take a SOAP Note for a Patient?
Counselors are advised to write progress notes immediately after each session with every client, while they still remember the details. Some insurance plans might require counselors to complete SOAP notes within a certain timeframe. For example, according to Alameda County's Medicare documentation requirements, progress notes must be entered into a client's records within one business day of the date of service.
SOAP Note Checklist
Every SOAP note should start with the date and time of the session. Ask yourself these questions to make sure you've covered the basics:
Does the SOAP note connect to the client's treatment plan and demonstrate their status and progress?

Are the client's name and identifier on the top of each page?

Are any abbreviations used consistent and legible?

Would anyone be able to read the note and understand the client's progress?
To learn how to write progress notes using ICANotes EHR software, check out our SOAP note video.
BIRP Notes
BIRP (behavior, intervention, response and plan) notes are another format used to create progress notes. BIRP notes must include the services provided and details about the client's response to treatment.
What Is the Purpose of BIRP Notes?
Like progress notes, BIRP notes document the services provided and are used to prove the medical necessity of treatment.

Counselors and staff members use BIRP notes to record patient progress and monitor the effectiveness of treatment. They can refer to BIRP notes when they need to review a client's records before a session.
What Information Should Be Included in a BIRP Note?
In general, BIRP notes should include the following information:
Behavior:

The counselor's observations and the patient's statements, including direct quotes or paraphrased information.

Intervention:

The methods used to address the patient's goals, statements and observations.

Response:

How the client responds to the current intervention methods and any progress they've made toward reaching treatment goals.

Plan:

The course of action designed for the patient and any revisions made to the current treatment plan.
Are BIRP Notes Required for Insurance Reimbursements?
BIRP notes may replace SOAP notes as required supporting documents for insurance reimbursement.
How Frequently Are BIRP Notes Taken for a Patient?
BIRP notes should be taken any time a counselor provides a service for a client. It's important to check the documentation requirements set by each insurance company.
BIRP Note Checklist
Like progress notes, BIRP notes should be as accurate and specific as possible to prove the medical necessity of your client's treatment. Use this checklist to help you make sure each note covers the requirements:
Does the note connect to the treatment plan?

Are the client's strengths and limitations regarding goals noted?

Is the note dated and signed?

Is it legible?

Is the client's name included on the top of each page?

Does it reflect any changes in the client's status?
To learn more about creating BIRP notes with ICANotes, watch our video.
Mental Health Treatment Plans
A treatment plan is a detailed course of action written specifically for a client to help them reach goals related to therapy. The therapist and client work together to create goals and objectives the client can reach. The treatment plan is typically part of a client's progress notes.
What Is the Purpose of a Mental Health Treatment Plan?
Treatment planning is important in counseling because it guides clients toward reaching their mental health goals.

Treatment plans also help counselors and other staff members monitor a client's progress and make adjustments when needed. You might think of a treatment plan as a map that provides directions on how to reach goals and solve the problems presented during the initial assessment.
What Information Should Be Included in a Mental Health Treatment Plan?
When creating a treatment plan, counselors should generally aim to include the following information:
The client's demographic information and psychological history

A diagnostic summary

Goals that address each problem

Timelines for reaching goals

A description of services to be provided and the frequency

Signatures of both the client and counselor
Are Treatment Plans Required for Insurance Reimbursements?
Treatment plans may be required as a supporting document for reimbursement. Likewise, an insurance company might ask to see a treatment plan during a review. Each insurance company will provide specific guidelines. Generally, treatment plans are vital to getting approved to provide more services.
How Frequently Do You Need to Create a Treatment Plan for a Patient?
Counselors usually create a treatment plan during the intake process and may review the plan as needed or required.

Some insurance companies or programs require periodic treatment plan reviews and updates. For example, an insurance company might require you to review a client's treatment plan after 30 days and update the plan after 90 days or whenever there's a significant change in a patient's condition. A counselor should review a treatment plan any time they question its effectiveness.
Treatment Plan Checklist
It's most important that treatment plans include feasible goals that relate to the diagnoses and which the client is willing to reach. With that said, use this checklist to help you create a solid treatment plan:
Do the goals address the issues listed in the plan?

Are goals achievable during treatment?

Are objectives measurable and specific?

Is there a timeframe for the objectives?

Does the client understand what's expected of them?

Is the treatment plan tailored to suit the patient?

Is the plan dated and signed by all parties involved in its creation?
Watch our video to learn how to create a mental health treatment plan using ICANotes.
Discharge Summaries
A patient's discharge summary is a formal report written by a behavioral health professional at the end of a treatment program or hospital stay. A discharge summary is a legal document that must be free of errors to protect the patient's future health. It includes information such as the treatment provided, the efficacy of the intervention, recommendations for future services and referrals. A discharge note is less comprehensive than a summary and is a brief statement that includes the reason for the discharge, the date and a follow-up care plan.
What Is the Purpose of a Discharge Summary?
Discharge summaries communicate a patent's aftercare plan to outpatient providers. It may also provide instructions for the patient and their family. Overall, it's a critical document that supports the patient's safety.
What Information Should Be Included in a Discharge Summary?
The Joint Commission, which is a nonprofit organization driven to improve healthcare and safety for the public, provides elements that hospital discharge summaries should contain.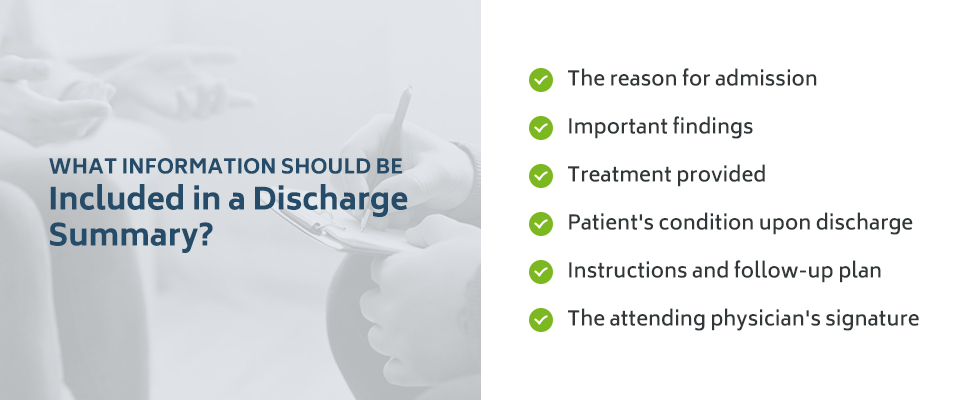 Those are:
The reason for admission

Important findings

Treatment provided

Patient's condition upon discharge

Instructions and follow-up plan

The attending physician's signature
It's also important to include any pending results from tests or lab work, as well as a complete list of medications.
Are Discharge Summaries Required for Insurance Reimbursements?
A discharge summary or note is a required document for patients with Medicare or Medicaid. Other plans may vary in terms of documentation requirements. Writing a discharge note may be considered an administrative task and not a billable service unless it's part of a session with the client. A discharge summary may be considered billable if it's clinically necessary for the continuity of a patient's care and would be viewed as a part of planned development services.
How Frequently Do You Need to Create a Discharge Summary for a Patient?
A discharge note should be created whenever a patient ends treatment or transfers to a different service provider. A discharge summary is necessary whenever a patient is released from the hospital.
Discharge Summary Checklist:
Ask yourself the following questions when creating a discharge summary:
Does the summary include all diagnoses?

Does it include all procedures performed and tests completed?

Are there discharge instructions for the patient to follow?

Does it include an accurate and comprehensive medication list?

Does it include the patient's status upon discharge?

Are there recommendations and referrals for aftercare?
To learn how to write a discharge summary using ICANotes, check out our video.
Try ICANotes Today
As a therapist, you know it's hard to underestimate the importance of taking good notes. Documentation is a critical part of the job for dozens of reasons. Notes help you organize information, emotions and feelings as you help each client navigate through various issues. They help you recall important details so you can provide high-quality care. Progress notes are also necessary documents for proving the medical necessity of your services. As the CMS says, "If it is not documented, it has not been done." Despite all of this, your patients come first. Fortunately, note-taking does not have to be the bulk of your day.
ICANotes behavioral health EHR software makes it easy for therapists to quickly take robust HIPAA-compliant notes and improve insurance reimbursement rates. With ICANotes, you can complete progress reports, treatment plans, discharge summaries, billing tasks and more in one easy-to-use comprehensive platform. As a result, you can expect to reduce the time you spend on documentation, all while coding at the maximum level of reimbursement. To learn more, contact our team or request your free trial today!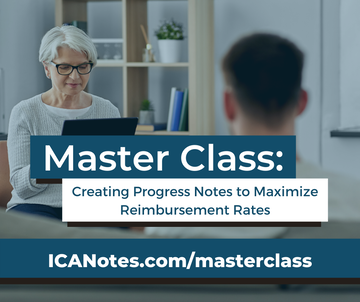 Enroll in the Free Online Master Class
Download PDF