How Do Insurance Companies Reimburse for Therapy Sessions?

After you've made it onto an insurance panel, you can look forward to accepting more patients. However, billing for mental health services can be challenging when you take insured clients. Amid billing-related frustration, you might find yourself wondering: How do therapists get paid?
In this chapter, we aim to answer that question. We'll also provide tips for increasing your reimbursement rates. Behavioral health billing can seem confusing at first, but with the right tools and mindset, it can fit into your practice seamlessly. If you have any questions about ICANotes behavioral health EHR and how it can help you get paid faster, our representatives are waiting to assist you.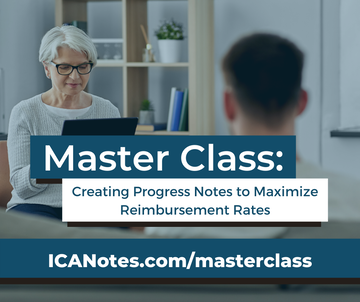 Enroll in the Free Online Master Class
Claim Your Free Trial of ICANotes
Are Mental and Behavioral Health Services Covered by Insurance?
Are insurance companies required to cover mental health benefits under the Affordable Care Act (ACA)? It depends. According to the ACA, which was signed into law in 2010, most small and individual insurance plans, including ones sold on the Health Insurance Marketplace, are required to cover mental health and substance use disorder services. These plans must cover 10 categories of essential health benefits, which includes mental health services. All Medicaid programs, for example, provide some level of mental health services.
Large group health plans are not required to offer essential health benefits. In general, a large group health plan covers employees of employers that have 51 or more employees.

What Mental Health Benefits Are Covered Under the Affordable Care Act?
Under the ACA, clients with Medicaid or Medicare have access to a range of mental health services. Likewise, patients with any marketplace plan can expect coverage of the following services:
Behavioral health treatment such as counseling

Mental and behavioral health inpatient services

Substance use disorder treatment
Marketplace plans cannot deny coverage for having pre-existing mental health conditions, nor can they put a limit on the coverage for any essential health benefit. Those who have plans outside of the marketplace, (Medicaid or Medicare) have to check the descriptions of their benefits to see what coverage they have.
What Is the Mental Health Parity and Addiction Equity Act?
The Mental Health Parity and Addiction Equity Act (MHPAEA) is a federal law that requires health insurance companies to treat mental health and substance use disorder services equal to medical and surgical treatments regarding coverage limitations and financial requirements. For example, if a client's insurance company charges a $20 copay to visit their family doctor, they must not charge more than $20 for them to visit a therapist. Nor can companies charge a higher deductible for mental health visits than medical visits. This rule applies to most, not all, medical or surgical services. But it gets trickier.
The MHPAEA allows insurance companies to limit mental health visits if they deem a service "medically unnecessary." In addition, the law only applies to health insurance companies that choose to offer mental health and substance use disorder benefits in the first place.

Patients must understand that the MHPAEA does not require health insurance companies to provide mental health coverage. While the law only applies to diagnoses covered by a plan, an insurance carrier is allowed to exclude certain diagnoses.
Although the MHPAEA is an improvement on past parity laws, insurance companies have found ways to make it difficult for patients to receive mental health care by raising deductibles and decreasing the number of providers in their network. This makes it challenging for therapists to join networks or find patients who can afford their services, even with insurance. Just like therapists, some patients have to weigh the pros and cons when considering private pay vs. insurance.
Does Medicaid Cover Mental Health Services?
Medicaid is a government-run program administered by individual states that provide health coverage to individuals with very low income. According to Medicaid.gov, it's the single largest payer for mental health services in the country.
All Medicaid programs are required to provide coverage for certain behavioral health services. This includes inpatient and outpatient services for medically necessary conditions. Other services are optional and depend on state regulations. For example, all states must include prescription drug coverage. However, the specific medications covered differ between states. Clients with Medicaid need to know the specific coverage they have in respect to their location.
How Much Does Medicaid Reimburse for Therapy?
The type of license you hold affects the amount of reimbursement you'll receive from Medicaid. Rates are set according to "practitioner levels." For example, a psychologist is considered a Level 2 practitioner, while a licensed professional counselor (LPC) is a Level 3 practitioner. A Level 2 practitioner will receive a higher reimbursement rate than a Level 3 or a Level 4. So, while a psychologist may be reimbursed $72 per 45-minute session, an LPC will be paid $55 for the same amount of time.
Where a counselor practices and the procedure code they use also affect Medicaid reimbursement rates. For example, in Mississippi, the psychotherapy code 90832 receives a $59.13 payment rate per unit, while the family therapy code 90846 is paid $95.01.
Does Medicare Cover Mental Health Services?
Medicare is a federal health insurance program administered by the Centers for Medicare and Medicaid Services (CMS). It provides coverage for individuals over the age of 65 or who have a disability. Some clients are eligible for both Medicare and Medicaid, which work together to lower their costs further.
Those with Medicare can expect coverage for the following mental health services after deductibles and coinsurance have been applied:
Psychiatry visits

Sessions with a clinical psychologist

Lab tests

Outpatient treatment for drug and alcohol use

One depression screening per year

Individual and group psychotherapy

Family counseling

Psychiatric evaluation

Diagnostic tests
Behavioral health professionals who accept clients with Medicare coverage most follow strict compliance guidelines to get reimbursed and avoid fines. Compliance program guidelines can be found in the Prescription Drug Benefit Manual and the Medicare Managed Care Manual.
How Much Does Medicare Reimburse for Therapy?
Medicare sets reimbursement rates for mental health services that are typically lower than the amount a private insurance company would pay. If you accept the prices set by Medicare, you can check the fee schedule at CMS.gov.
The fee schedule lists the maximum payments Medicare gives to participating providers. Reimbursement amounts vary depending on a provider's location. To give you an idea of what to expect, Medicare paid around $84 for a 45-minute psychotherapy session in 2015, according to APA Services.

What Is the Average Reimbursement for Psychotherapy?
Dr. Enrico Gnaulati reports that the average reimbursement rate for psychotherapy paid by private insurers is about $88 for a 45-minute session. Cash-only therapy practices can charge whatever they feel is fair payment for their services.
What Mental and Behavioral Healthcare Services Are Most Frequently Denied by Insurance Companies?
The following services are most frequently denied by insurance companies or do not typically receive the highest reimbursement rates:

Any services deemed medically unnecessary:

Although insurance companies have to follow some guidelines established by federal and state governments, they otherwise get to decide

if a treatment is considered necessary or not

. If they don't feel a service is medically necessary, they can deny your claim. Medically unnecessary services may include exams or diagnostic tests that do relate to a client's symptoms or excessive therapy sessions.

Two services in one day:

Insurance companies often will not reimburse for more than one mental health service provided on the same day. This can be challenging if you provide both group and individual counseling to the same client in a single day. You can call a client's insurance company to see if they'll authorize more than one service for special circumstances.

Unauthorized services:

Some insurance companies require you to obtain authorization for mental health services, such as a therapy session, to get reimbursed. You may also need preauthorization to see a client you've already counseled a certain number of times or to administer a psychological test. Medicaid, in particular, requires preauthorization for many services,

such as non-emergency hospital admissions

. Although most basic mental health services do not require an authorization, it's always a good idea to check.

Alternative and complementary therapies:

Under

Medicare

, some services may be considered unnecessary, such as acupuncture or transcendental meditation. Mind-body techniques such as biofeedback may be reimbursed, but the rates are typically low. For example, according to the Association for Applied Psychophysiology and Biofeedback (AAPB), reimbursement from Medicare

may be between $40 to $50 per session

, regardless of session length, if specific criteria are met.
If you're unsure whether or not your services will be covered, it's best to call the client's insurance company directly to verify coverage. It's also essential to find out if preauthorization is required.
What Information Do Therapists Submit to Insurance Companies to Get Paid?
After you're accepted to an insurance panel, you should receive information about billing, such as how to submit a claim, what services are covered and how much you can expect to receive for your work. Your reimbursement rates will be set when you sign a contract with an insurance company, and these amounts typically do not change unless you request an update directly. Payment procedures vary depending on the insurance company or state's government-run program. Generally, to bill insurance companies for counseling, therapists need to submit an accurately completed claim form that includes the following information:
The client's demographic information

The date the service was provided

The insured party

An International Classification of Diseases (ICD) code

Current Procedural Terminology (CPT) codes
Most claims are sent electronically following a HIPAA-compliant, standardized format.
You can take steps to make sure you get paid the highest rate possible, but some factors that influence reimbursement rates may not be so easy to control. These include: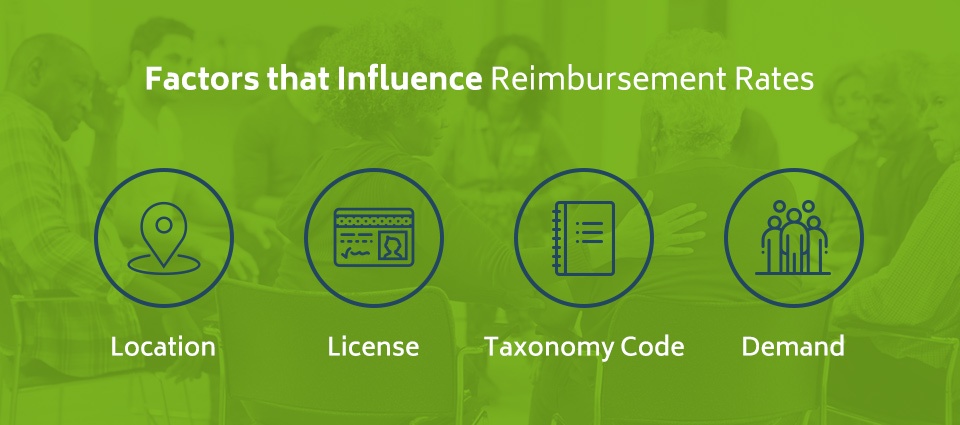 Location:

The location of your practice impacts your reimbursement rates. Usually, a practice that is located in an under served area will receive a higher rate than one that's surrounded by other mental health service providers.

License:

The type of license you possess also impacts how much you'll be reimbursed for your services. Generally, licensed counselors who hold a master's degree will receive lower reimbursement rates than psychologists possessing a doctorate degree. Medicaid uses different practitioner levels to classify mental health professionals and determine rates.

Taxonomy code:

Health care providers choose a taxonomy code to identify their specialty. In

2005

, the CMS mandated that all HIPAA covered providers apply for and use a National Provider Identifier (NPI) in basic transactions such as submitting claims. They must choose a taxonomy code when applying for an NPI. For example, the taxonomy code for an addiction counselor

is 101YA0400X

. Your taxonomy code can impact your rates if an insurance company sees a need for your specialty in your area.

Demand:

Some insurance panels are already full of providers. Companies that are more difficult to get into likely pay better, however, it may be easier to find a spot on an insurance panel that offers lower rates. The only way to find out which insurance carriers provide rates you're willing to accept is to research and see who's accepting applications in your area.
Are you wondering about out-of-network billing for psychotherapy? If you serve a client whose insurance you do not accept, you can give the patient a "superbill". The superbill will include the CPT codes, the amount charged, the amount the client paid and where the payments should go. Your client will then submit this bill to their insurance company to get reimbursed. You might also send the claim on behalf of the client.
What Information Do Therapists Need to Submit to Insurance Companies to Make Sure They Are Reimbursed at the Highest Possible Rate?
Many practices collect less than 85% of the money owed to them by insurance companies, according to the American Counseling Association.



Insurance claims must include certain pieces of information to get paid, and every detail must be correct. Here's what you need to include for the highest rate possible:
Correct CPT codes:

Providers need to make sure the CPT codes on each claim are error-free to get the proper reimbursement amount. CPT codes can impact whether a claim is denied or accepted, as well as the reimbursement rate. For example, if a therapist forgets to add an Evaluation and Management (E/M) code to a CPT code, they may miss out on a higher reimbursement rate. Frequent errors could also lead to an audit or charges of fraud. Encourage staff members to doublecheck codes before submitting a claim. Make sure staff members

are not copying and pasting

information, either, as cloning data can only lead to issues.

Correct ICD code:

It's also important to submit the correct ICD code which describes a client's diagnosis. The CPT code you choose should relate to the ICD code. Make sure to update ICD codes for each client as diagnoses change.

Accurate demographic information:

Your client demographic information should be correct and up to date on each claim. Make sure it includes their full legal name, date of birth, address and gender. You'll also need to include their insurance information, such as their subscriber ID. It helps to scan or photograph the front and back of a client's insurance card, so you have their information on file.

Extended sessions codes:

Extended sessions,

or those that last longer than 60 minutes

, are sometimes necessary for treatment. Some plans might reimburse the same rate for 45 minutes as they do 60 minutes or require preauthorization, so it's a good idea to check with a client's insurance carrier regarding longer sessions. Otherwise, make sure you code for extended sessions properly, so you're paid fairly for the time you spend with clients.
The key to maximum reimbursement is accuracy. Accuracy helps you avoid denied or rejected claims, and shows an insurance company the services you provided for the correct amount of time and the reasons why they were necessary.
What Is the CPT Code for Counseling?
If you're wondering how to bill insurance companies for counseling, you'll need to familiarize yourself with CPT codes. CPT codes tell insurance companies what they need to reimburse you for. Commonly used CPT codes for counseling include:
90832:

30 minutes of individual psychotherapy

90834:

45 minutes of individual psychotherapy

90837:

60 minutes of individual psychotherapy
Can You Bill for Documentation Time?
Generally, you cannot bill for the time you spend on documentation. However, in some cases, you might document information while conversing with the client, which would be a billable service. For example, if you're documenting patient information while at the same time educating the client, you can include this as part of your session if the client is engaged and not just passively listening.
How Do You Bill a Psychological Test?
Behavioral health professionals must use the newest CPT codes to bill insurance companies for psychological tests. For example, a psychologist would use the code 96136 to bill for the first 30 minutes of test administration and scoring, and 96137 for each additional half-hour.
How Can Psychotherapists Increase Their Reimbursement Rates?
Submitting claims on time is one way to get paid as a therapist.
However, there are also ways to increase insurance reimbursement rates for therapy sessions and other mental health services. Here are some tips: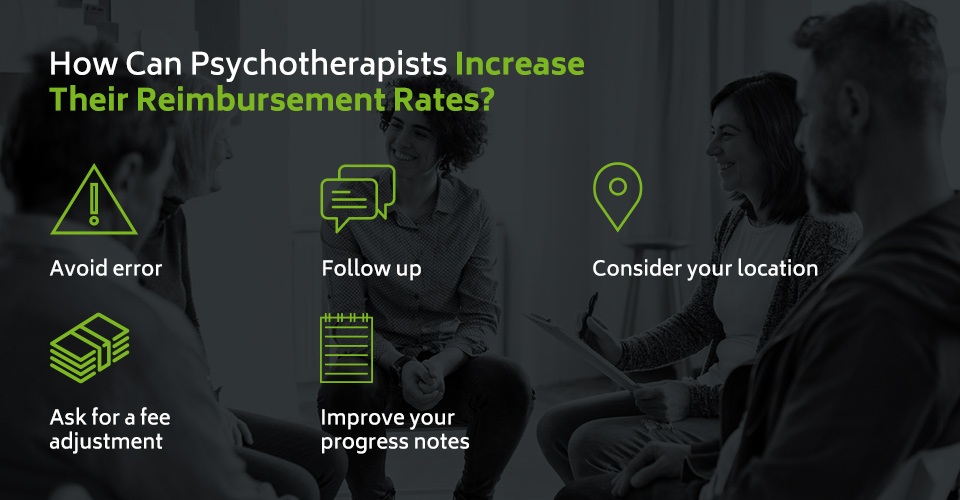 Avoid error:

Prioritize accuracy. Take the time to

make sure patient and insurance provider information is correct

and up to date with every claim and every patient. Also, check for missing data and make sure you're using the most recent codes. An automatic coding system can save you this step.

Follow up:

When possible, contact your client's insurance carrier to check the status of your claim. You may be able to catch an issue or mistake before the claim is denied, which can speed up the process and lead to fair reimbursement.

Ask for a fee adjustment:

Insurance companies typically do not adjust reimbursement rates with inflation, but that doesn't mean you need to accept too-low rates. Contact the insurer and request a small raise every year for your most commonly used CPT codes. For example, you might ask for a 5% increase each year for a frequently used code like 90834.

Consider your location:

This tip mainly applies to behavioral health professionals who are relocating or searching for a place to open a practice. As mentioned earlier, underserved areas typically offer higher reimbursement rates. You might consider moving to a high-demand area if you wish for the highest possible reimbursement rate.

Improve your progress notes:

Take thorough, accurate progress notes so you can easily prove the medical necessity of your services. This will help ensure you use the correct codes and receive the maximum reimbursement rates. It helps to include timelines in your treatment plans so insurance carriers can envision how they'll spend their money and for how long.
Behavioral health professionals know how time-consuming documentation can be, but it's a critical step in obtaining reimbursement. Use ICANotes to take progress notes quickly and submit accurate claims effortlessly, and maximize reimbursement.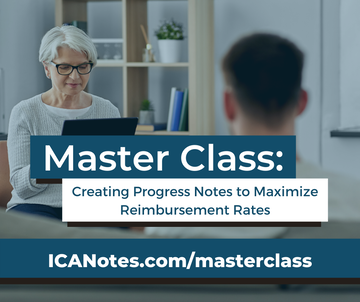 Enroll in the Free Online Master Class
Claim Your Free Trial of ICANotes
Download PDF