Master Class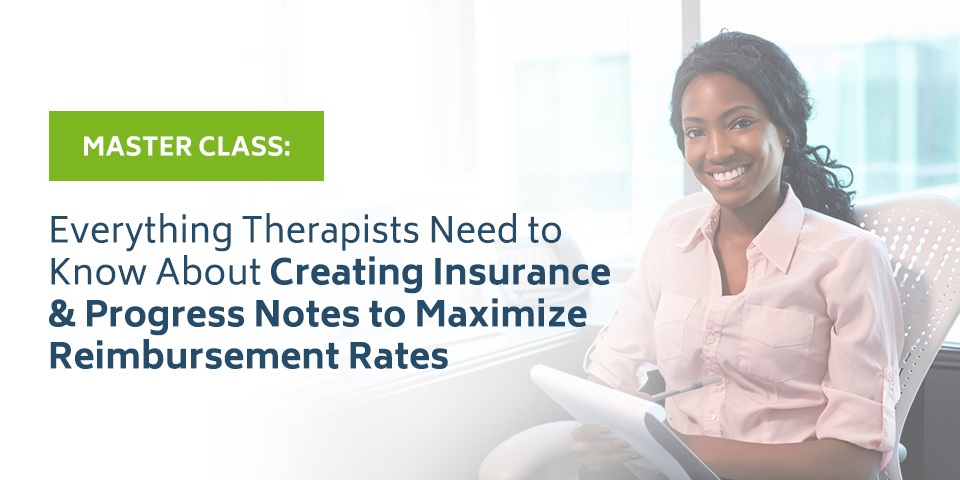 What You'll Learn In This Master Class

If you work in the behavioral health field, it's likely you have a passion for helping people and would rather not spend your energy dealing with insurance companies. Even though you may need to work with insurance companies to get paid and continue to serve your clients, it doesn't mean billing tasks should take up most of your day. With the right tips and tools, you can prioritize patient care and spend much less time worrying about documentation and insurance.
In this master class, we'll show you how to use therapy notes to maximize insurance reimbursement rates so you can focus on treating your clients. We'll cover topics such as:
The pros and cons of accepting insurance
How to choose insurance networks to join
Behavioral health services most frequently accepted and denied by insurance carriers
Factors that impact your reimbursement rates
Types of notes therapists use and what they should include
Working in the behavioral health field is extremely rewarding, but comes with challenges. At ICANotes, we offer behavioral health EHR software that makes documentation quick, easy and HIPAA compliant. With ICANotes, you can spend more time focusing on your clients and less time fighting for reimbursement. Start your free trial of ICANotes today!
Claim Your Free Trial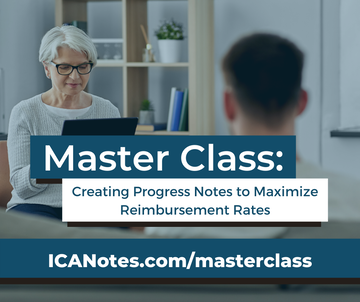 Enroll in the Free Online Master Class
What Are Progress Notes?
Progress notes include essential information about each client, such as a patient's diagnosis, symptoms, treatment plan and response to therapy. Progress notes must be kept separate from psychotherapy notes. Unlike psychotherapy notes, which are a counselor's private notes, progress notes are meant to be shared with a client's insurance company as well as other professionals on the healthcare team.
What Every Therapist Needs to Know About Insurance and Progress Notes
Therapists, psychologists, and other behavioral health professionals must keep accurate and up-to-date progress notes to receive reimbursement from insurance providers. Even private practices that only accept self-pay clients should maintain progress notes for ethical and legal reasons. Record-keeping, in general, is a fundamental part of running any psychotherapy practice.
Why Are Therapy Progress Notes Important?
Progress notes are critical to the success of a mental health practice for the following reasons:
They inform therapists about a client's condition: Progress notes educate therapists and other behavioral health employees about a client's current status, medical history and diagnosis. Without progress notes, a therapist would have to rely on their memory to treat clients or relearn the details of each client's life with every session. Note-taking makes the job much more relaxed and less error-prone for everyone involved in a client's care.
They communicate treatment plans to other staff members: Progress notes communicate a client's treatment plan to all staff members on a behavioral healthcare team. When staff members have access to clients' records, they can stay on the same page, make informed decisions and provide client care with confidence.
They protect therapists legally: Progress notes help protect counselors from liability. Notes may be audited or subpoenaed, so therapists need to create accurate and detailed records of the services they provide.
They allow for reimbursement: Progress notes play a major role in insurance reimbursement. Insurance companies may require progress notes as proof that a client's care is medically necessary. Insurance carriers use this information to determine whether to approve or deny a claim.
Why are Progress Notes Important for Better Patient Care?
Progress notes keep therapists informed about a patient's response to treatment. This helps them make better decisions, which ultimately benefits the client. Progress notes are also critical to patient care for the following reasons:
They help secure coverage: Progress notes contain the details insurance companies need to determine whether or not to cover the client's mental health services. Without progress notes, an insurance company would have a reason to deny payment for services.
They help all members of the team provide the best care: Progress notes help all staff members learn about each client and provide the best care possible. Clients with co-occurring disorders are likewise better equipped to receive care from various health care providers sharing information between practices via electronic health record (EHR) software.
They allow for faster and more individualized treatment: Patients don't have to wait for therapists to learn about their condition and mental health history each time they visit. Therapists only need to refer to a patient's progress notes to continue where they left off, which saves everyone time and reduces the risk of error.
What Do Insurance Companies Need From Progress Notes?
Insurance companies review a client's notes when deciding whether or not they will continue to cover the cost of the patient's care.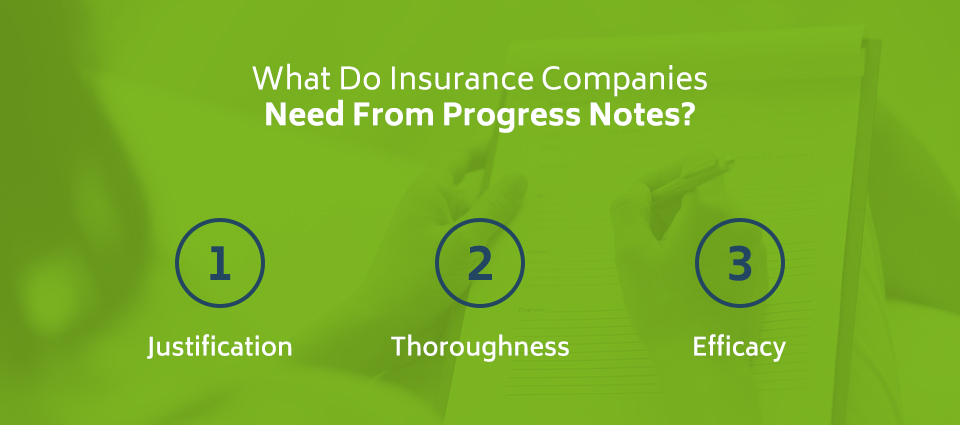 As they review the notes, they'll generally look for the following information:
Justification: An insurance company will not continue paying for a client's mental health services if they feel it's unnecessary. By documenting a patient's symptoms and progress, counselors can prove that their treatment methods are justified.
Thoroughness: An insurance payer will want to review a thoroughly documented assessment before determining whether a treatment plan is feasible. Counselors will want to include specific details in their notes, so insurance companies do not have to question the reason for treatment.
Efficacy: A client's progress notes should address current issues that relate to their diagnosis and should demonstrate the effectiveness of the services provided. An insurance company will want to see that they're paying for treatment that works.
What Notes Are Required (Even If a Therapist Only Accepts Self-Pay Clients)?
Therapists who only accept self-pay clients are not required to take progress notes for insurance purposes, but it is highly recommended they do. It is a counselor's ethical responsibility to create and maintain records so they can provide the highest standard of care. The American Psychological Association (APA) offers record-keeping guidelines to help psychologists make educated decisions about documentation. Any therapist, whether they only accept self-pay clients or not, can benefit from keeping progress notes and psychotherapy notes.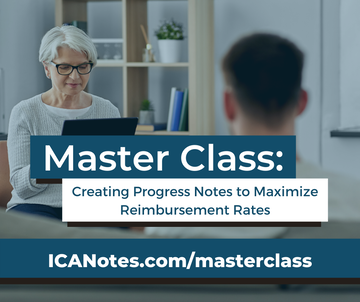 Enroll in the Free Online Master Class
Chapter 1: Should Therapists Accept Insurance or Just Self-Pay?

Many therapists find themselves wondering if they should or shouldn't accept insurance. Both options present advantages and disadvantages worth considering. If you're not sure which path to choose, know that there is no right or wrong answer. Whether you accept insurance or only self-pay clients is up to you and your goals as a behavioral health professional.
In this chapter, we'll explore some of the challenges of accepting insurance at your private practice, as well as the advantages. We'll also provide tips for choosing an insurance network to join.
Do Therapists Have to Accept Insurance?

Therapists and psychiatrists are not required to accept insurance, and many choose only to treat self-pay clients. Psychiatrists, in particular, often opt only to accept self-pay patients. For example, a study published in JAMA Psychiatry found that acceptance rates for all types of insurance were substantially lower for psychiatrists than for doctors in other specialties. On the other hand, some therapists may feel they need to accept insurance to reach a more diverse client base.
Why Do Some Therapists Accept Only Self-Pay Clients?
Some clients may feel puzzled when they find psychiatrists and therapists not taking insurance. There are several reasons why mental health professionals only accept self-pay clients. According to the JAMA Psychiatry study, the main reason psychiatrists only accept self-pay clients is to avoid the low reimbursement rates offered by insurance companies. Another reason is the shortage of psychiatrists. With such a great demand for psychiatrists, there is no need for them to accept insurance.
Low reimbursement rates also explain why some psychologists and counselors do not accept insurance. According to NPR, most insurance companies pay in-network therapists between $60 and $80 an hour, which isn't enough for a decent wage in cities like Los Angeles or San Francisco, where the current market rate is closer to $200 per session.
A third reason is paperwork. Some therapists simply do not want to spend a half-hour completing paperwork for every hour they spend with a client to meet an insurance company's documentation requirements, as they prefer to spend more time directly assisting their patients.
Challenges of Accepting Insurance in a Therapy Practice

Taking insurance poses certain challenges. Here are the most common issues associated with insurance acceptance:
Low reimbursement rates: Insurance companies traditionally reimburse behavioral health professionals at low prices. According to the APA, many insurance companies haven't raised their reimbursement rates for behavioral health care providers in as many as 20 years, even though the cost of running a practice is on the rise. Some insurance companies have reduced their reimbursement rates. For these reasons, it may make more sense to accept clients who are willing to pay higher rates out of pocket.
Complicated billing: Billing an insurance company can be a complex process. It takes time and effort to submit claims properly using the right codes and sending them to the correct department. If claims are incomplete or inaccurate, they'll be rejected, leading to delays in payment and/or a lower than anticipated reimbursement. Some therapists may not be able to hire an administrative team to handle billing tasks for them and ensure accuracy. As a result, it may seem more manageable and less costly to avoid insurance companies altogether.
Payment delays: When therapists accept insurance, they are not immediately paid for their services. According to United Policyholders, insurance companies are required to pay submitted claims within 30 to 45 days in most states — if a claim is approved. If a claim is rejected, therapists will need to spend time correcting and resubmitting for adjudication. If a claim is denied, they may have to file an appeal or accept not getting paid at all. On the other hand, if therapists only take self-pay clients, they can ask for payment immediately.
Loss of autonomy: Therapists may avoid accepting insurance so they can follow their own rules and not feel pressured to form a diagnosis to justify a claim. They may want the freedom to treat a patient as they see fit and not be dictated by the requirements of an insurance company. When a counselor only takes self-pay clients, they are also free to set their own rates.
Overall, insurance companies lead to frustration for many therapists who don't have the time or resources to bear an administrative burden. Patients likewise bear the frustration of not receiving the care they need when therapists don't accept insurance or when rates are not affordable. For example, according to the State of Mental Health in America 2018 report, an estimated 47% of adults with a disability do not receive mental health treatment due to cost.
Benefits of Accepting Insurance at Your Therapy Practice
Therapists want to help individuals with mental health issues regardless of their payment method. Fortunately, accepting insurance has many advantages, such as: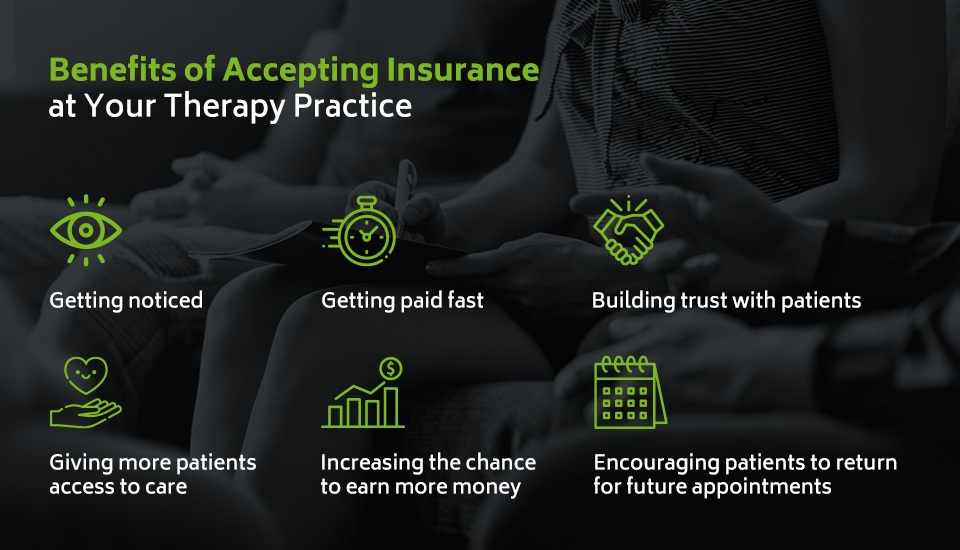 Giving more patients access to care: One in five American adults are not able to receive treatment for mental health conditions for reasons such as insufficient funds and lack of access to treatment providers. Accepting insurance opens your door to a broader range of clients in need of care.
Increasing the chance to earn more money: If you accept insurance, you can serve both insured and out-of-pocket clients. You're no longer limited to counseling only clients who can afford therapy, which means you'll potentially fill more appointments and earn more money.
Getting noticed: Patients will find your business as they check their insurance company's directory of in-network providers. You won't have to rely as much on advertising to reach more clients.
Encouraging patients to return for future appointments: When patients have a way to pay for mental health care, they can continue with therapy and complete their treatment plans. However, patients who are expected to pay out of pocket may not be able to afford future appointments.
Building trust with patients: Patients who find you through their insurance company will often see you as a credible option right away because they trust their carrier wouldn't list a non-reputable practice. Patients might also have more trust in your practice simply because you accept insurance.
Getting paid fast: When you join an insurance network, you can receive a quick reimbursement on a claim submitted on time. You won't have to worry about patients paying outstanding bills, or in some cases, never paying. Big insurance companies like Blue Cross may pay you in two or three weeks.
How to Choose Insurance Networks to Join
If you've decided to take the leap, you're probably wondering how to accept insurance as a therapist. The process of joining an insurance network is called medical credentialing or described as getting on an insurance panel. To get credentialed, you'll need to fill out applications with the insurance companies you want to join. Each insurance company has its own panel. To get credentialed, you will be required to complete one or more applications with each payer individually. Here are a few tips to help you get started:
Research and make a list: The first step to getting credentialed is to research insurance companies and decide which ones you're interested in joining. Start by investigating the insurance companies that serve your state and then look more in-depth at your available options. Generally, large private insurance companies offer the highest reimbursement rates, while Medicaid and Medicare pay lower rates. Besides reimbursement rates, consider payment speed and what's required to get reimbursed. Visit each company's website and read their credentialing instructions. You might also consider asking other therapists for recommendations or feedback about their experience accepting insurance.
Prepare to complete the CAQH: Many large insurance companies work with the Council for Affordable Quality Healthcare (CAQH) as part of their application process. After applying to a payer, follow-up to inquire about your CAQH number. Once obtained, you can complete the CAQH application online, which you only need to complete once.
Contact insurance companies often: To ensure your application is being reviewed, follow up with each insurance company every time you send them a document. After you've sent them all of the necessary information, call them every two weeks to check on the status of your application.
Consider asking for help: As a therapist, you may not have the time needed to ensure the credentialing process goes smoothly. Rather than get a rejected application and have to start all over again, consider hiring someone to help you complete the process quickly and correctly.
Expect to set aside 10 hours of focused time with each insurance company you apply to. In total, you can anticipate the entire insurance credentialing process to take a total of about three to four months (assuming there are no major issues with your application(s)).
When you join an insurance network, you take a new step in your career as a mental health professional. There's plenty more to learn about the process and efficient documentation, but you don't have to do it alone. For more documentation tips, advice and recommendations, check out our blog or contact us today.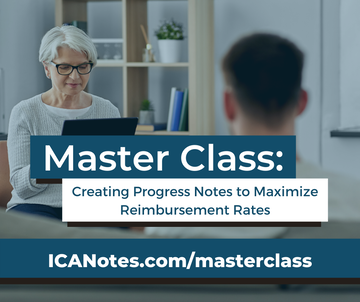 Enroll in the Free Online Master Class
Take Better Notes with ICANotes
How Do Insurance Companies Reimburse for Therapy Sessions?
Download PDF